Executive Summary
Innovation is an ongoing process that involves recognizing an opportunity, creating an idea out of the opportunity, designing or inventing relevant development towards an idea, prototyping the idea from an existing product, the actual production of the idea by coming up with innovated good or service and introducing the product to the market for sale. In the capacity of an innovation consultant, I have been requested to investigate Balfour Beatty's innovation process. In this report, critical aspects of innovation will be evaluated by discussing theories and models of innovation. The report will be presented to the company's management for adoption. It will incorporate the analysis and evaluation of the company's potential problems, probable solutions, and the likely hurdles that the proposal for change will face.
Introduction
Nagji and Tuff (2015) define innovation as a strategy that drives an organization a notch higher in terms of product viability, market dominance, and general business lifeline. The process of innovation is pinned on several theories that focus on how organizations innovate to gain competitive advantage and relevance in their markets (Butryumova et al. 2015). The theory of Industrial Economics offers important concepts that guide innovation (Jaruzelski, Loehr, & Holman 2011). Accordingly, innovation is a factor of resources that an organization or entity invests in research and development. In addition to the above theory, different models and tools are viewed as essential in the innovation process. For instance, the Chain-Linked Model is one of the most well-known innovation frameworks (Jaruzelski, Loehr, & Holman, 2011). The model represents the
technical activities that occur in an innovation process, the external forces present in the marketplace, and the complex interactions between various stages of the process.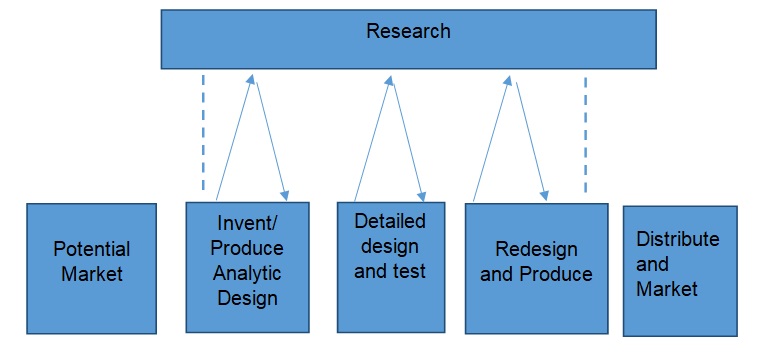 The above model puts in place five steps through which a good innovation should take place. The innovation process starts with the identification of a potential market at which new products will be aimed (Butryumova et al. 2015). The construction company focuses on the high-end market segment, meaning that it emphasises high-value projects such as the building of houses, roads, and other major constructions. Hence, the potential market for the company comprises majorly large developers and governments. As such, high competition is witnessed (Espinosa, Nan, & Carmel 2015). Therefore, looking for potential market is limited to the above client base. The company should go beyond its home market to ensure that it achieves its growth target (Yanchenko 2013). The second process involves the designing and production of a design of the product. This process involves identifying specific needs and solutions demanded by the potential markets and consequently, designing and producing products that address those needs in the most appropriate and cost-effective manner. In this case, the process recognises other existing solutions from competitors and thus the need to ensure that they design and produce solutions that are better when compared to the present ones.
The third step is a detailed design and test of the product. While a company may strive to design and produce new or better innovations for a given problem, the outcome of such efforts does not always translate into better results (Butryumova, Karpycheva, Grisheva, & Kasyanova 2015). In this case, before introducing a technology or an innovation, it is critical to ensure that the product actually functions as anticipated. Consequently, testing the product or service that has been innovated is an important step of proving whether it is ready for the market (Jaruzelski, Loehr, & Holman 2011). The next step is redesigning and producing the product after it has passed the initial tests. Once a product undergoes the previous stage of designing and testing, a detailed report of the findings of the test informs the redesigning or adoption of the product as it is, including the consequent decision to proceed with its production (Butryumova et al., 2015). The test reports inform the areas that need to be redesigned for errors and problematic areas to be eliminated before they can be scaled to the market level production (Lee, Hallak, & Sardeshmukh 2016). Lastly, the product can be distributed and introduced to the market. This stage is the final in the innovation process where the product is distributed and introduced to the market to respond to customer needs.
Company Overview
Balfour Beatty is a leading infrastructure development organisation based in the United Kingdom. The company operates in a highly competitive world where innovation is very crucial in establishing and maintaining competitive advantage (Espinosa, Nan, & Carmel 2015). Having operated for more than a century, the company boasts of a rich intercontinental infrastructural acquaintance, which reinforces people's lives, societies' activities, and financial development (Balfour Beatty 2015). The company develops assets infrastructure that supports the society's functionality and thriving.
Internal factors such as the leadership structure and management have an impact on the innovativeness of any company (Espinosa, Nan, & Carmel 2015). Balfour Beatty is publicly traded and hence has a board of directors who make the key decisions of its business (Lee, Hallak, & Sardeshmukh 2016). Such a structure can work for or against its innovation process since the organisation focuses on making the best decisions that will bring unsurpassed value to its shareholders (Butryumova et al. 2015). Based on the organisation's culture, it is important to note that the company strives to be innovative in its activities to maximise profits while at the same time remaining competitive and ahead of other players in the industry.
The competitive nature of the industry requires smart innovation considerations to keep it influentially afloat while at the same time overcoming the prevailing stiff global competitive threats. The company recognises 3D as one of the technologies, which it predicts to be its future bright limelight. Another important innovation initiative is the S-development, through which the company wishes to accelerate the innovations that are already in place (Brown 2015b). The S-development emphasises the dispensing and promoting stage of the Chain-linked Model of innovation.
Company's Innovation Process
The company has heavily invested in three main innovation frameworks. The S-Development is aimed at accelerating sustainability in innovation that already exists in the company's business. The company is involved in an array of infrastructure on the international scale. Hence, in line with Nagji and Tuff's (2015) views, its innovation efforts have to be harmonised in creating a globally acceptable standard and off-board infrastructure to guarantee profit maximisation, client satisfaction, and/or meeting the contemporary international environmental obligations. Robson (2016) shows the role that innovation has played in uplifting the image of the University of Surrey.
The3D Technology framework accentuates the theme 'Where Physical Meets Digital'. The company has seen the need to cut the costs of using the traditional architectural paper drawings by focusing on sustainable and recognisable digital deliverables to provide value to its clients. This technology is beneficial since it aims at cutting the amount of waste that is released to the environment (Markatou & Stournaras 2013). Therefore, the company embraces the 3D technology as an architectural and information tool that can integrate various skills into economical, sustainable, and excellent digital projects and presentations (Brown 2015a).
The 'S-Development' framework is aimed at accelerating sustainability in innovations that are already available in the company's business (Santos, Pache, & Birkholz 2015). The model involves internal innovators who carry out connection tasks, leading innovators who do the showcasing work, and third-party innovators who undertake catalytic strategic alliances. Some of these innovation developments are shown in the Table 1 below:
Innovation
How it is realised
Result
New products
A drive for choice of products for clients that are decarbonisable, resource, and energy efficient
Zero carbon building,
renewable resources, and
Energy efficiency
Materials
Acceleration of client value
Engagement facilitation tools with clients concerning significant issues that relate to sustainability aspects such as biodiversity, climate change, and greenhouse gas emissions
Water foot printing,
carbon foot printing,
biodiversity, and
climate change adaptation
Efficiency
Continuous improved programmes that aim at offering enhanced recycling, re-use, and operational competence in the company
Recycling and re-use,
elimination of reworking through BIM
electro-synthetic geokinetics
Social performance
Programmes of social importance that aim at shaping the company's contribution to the community (Klievink & Janssen 2014)
Balfour Beatty apprenticeship
Partnership with Heathrow sustainability
Parklife
Building of a better future
Table 1: Innovations in Balfour Beatty Company. Source: (Balfour Beatty 2015).
External factors such as competition are crucial issues for consideration in the innovation process in a company. To address these issues, the company works in partnership with other businesses that are involved in infrastructural innovation. Working with other businesses gives them a chance for businesses to create and exploit new ideas. In turn, Balfour Beatty gets an opportunity to learn from the diverse inputs that the businesses bring. Brand (1998) confirms the effective role that knowledge management plays in steering a company's innovation process. According to Chittoor, Aulakh, and Ray (2015), such knowledge sharing is facilitated by allowing the businesses to understand the company's market base and its clientele environment and needs for them to acquire sustainable solutions to the identified needs.
Despite the company's focus on sharing, such an approach is not adequate since not all companies are ready to share their technologies. In most cases, they share what they feel is safe for their competition (Espinosa, Nan, & Carmel, 2015). As such, Balfour Beatty must also invest in its technologies and consequently have its patents that will offer it a competitive advantage in the market. The company's innovation process is incomplete since it focuses majorly on marketing and enhancement of the existing innovations. It has not invested heavily in modernism through research and development. This gap is a major disadvantage, which will affect its innovation process. This approach to innovation leaves the company vulnerable to other competitors who have invested profoundly in research and development to the extent of responding better to market dynamics and competition.
New Products
The appreciation of innovation without new ideas and products is unsustainable by itself. Sears (2010) explains the need for companies to focus of bettering their day-to-day operations by welcoming new ideas. Therefore, Balfour Beatty recognises the importance of coming up with new ideas that it incorporates within its products to satisfy the ever-changing preferences and needs of its clients. The new products are aimed at ensuring that the business has decarbonised operations and/or has a reduced resource utilisation level, hence lowering its operating costs, lifecycle replacement, and maintenance expenses. The new technologies, which are mainly renewable, include biomass power, biomass conversion, wind power, concentrated solar power, small-scale hydropower, renewable heat incentive, and solar photovoltaic. In addition, the company is involved in the production of zero carbon buildings such as the Lady Bird Johnson School in Texas, Zero Carbon Office Hong Kong, and M&S Cheshire Oaks ECO Store in the UK among others.
Potential Innovation Challenges
It is crucial to note that Balfour Beatty has to face various challenges in its innovation plans. Big firms in the infrastructure industry such as Laing O'Rourke, Balfour Beatty, and Arup have well-structured and systematic innovation programmes, which help them to take advantage of the potential creativeness of their supply chains and the organisations' economies of scale. However, according to Shic et al. (2015), apart from acting as an innovation catalyst, the massiveness of such firms can turn into innovation blockages. Therefore, they need a clear innovation strategy, which will allow the company to not only focus on incremental innovation but also lead to breakthrough innovation (Lee, Hallak, & Sardeshmukh 2016).
Currently, the company has focused majorly on improving and strengthening its existing innovation. This strategy is counterproductive in a market where competitors are keen on introducing new and revolutionary products. Balfour Beatty Company faces potential challenges, which include the prevailing market pull and/or technology forces (Butryumova et al. 2015). Such challenges have resulted in innovation crisis. Finding a balance between market satisfaction, technology, and revenue generation can be a challenge to Balfour Beatty (Chulu 2015). The state of market has the probability of pushing Balfour Beatty into creating imbalance between technology demands, revenue making, and regulatory obligations.
On the other hand, technology push has the potential of dictating the company's strategic direction. The need to conform to the newest technology in the market while at the same time satisfying clients and/or generating revenue may be a significant challenge to the company (Winter & Govindarajan 2015). For instance, the company may plunge into a state where it has to follow the leader in technological innovations as a basis to maintaining relevance in the construction industry. The company's closed innovation model that involves the in-house-based R&D will infringe its possibility of harnessing the most potential innovation strategies in the end. The challenge will be felt in the company's process of producing and marketing its products through its discoveries and intellectual property (IP) privileges (Lewandowska 2014).
Potential Solutions
Lemanowicz (2015) reiterates that potential solutions to the above potential problems rely heavily on the viability and cumulative nature of the company's innovation strategy. The improved innovation model that is shown in the Appendix section incorporates innovation theories that explain the cumulative innovation strategy. Hence, for this company to attain a perfect competitive equilibrium, it needs to focus on industrial and institutional economics.
According to Tidd, Bessant, and Pavitt (2005), companies that succeed in their innovation adopt the 4P-framework to help them in exploring the innovation base. The 4P-framework includes Position, Product, Paradigm, and Process (Tidd, Bessant, & Pavitt 2005). Industrial and institutional economics will help the company to consider non-convexity concepts and externalities while at the same time accounting for the uncertainty of public goods (Vasina 2015). The move will enable it to have an understanding of its innovation that runs across different market structures. For example, according to research by Wienclaw (2008), intermediate market structure, which is not entirely monopolistic or completely competitive, is conducive for technological advancement. In this context, technological advancement is defined by the agent's role in terms of whether the company wants to play in the field as an entrepreneur or investor. As an entrepreneur, Balfour Beatty will rely on the manipulation of the existing gaps in the market to generate revenues. As an investor, the company will rely on buying and contracting innovation-savvy entities to carry out its projects.
However, to be on the safe side in the future, Balfour Beatty needs to harmonise the two traits of being an entrepreneur and an investor. By so doing, the company will become an industrial economic developer by causing destabilisation in the market, thus maintaining the leading status ahead of its existing competitors, thanks to its updated innovation technology (Wienclaw 2008; Brown 2015b). Institutional money matters reveal how externalities boost innovation. When the company takes the lead in innovation, it will reserve internalised externalities of property rights. Therefore, its intellectual property privileges will benefit its patented innovations, thus providing more incentives, which will be used to further its innovation. The company needs to embrace an open innovation strategy where it will avail room for external involvement through the generation of cross-based ideas, technologies, and discoveries through corporate strategies (Bevanda & Turk 2011). The company must realise the importance of corporate strategies. By taking the lead in innovation technologies and patenting its innovations, it will enjoy the business environment created by its collaborators who are also potential competitors.
Potential Hurdles
The company's innovative strategy is not prone to various hurdles due to various underlying factors. For instance, transaction costs play a crucial role in steering innovation (Balfour Beatty 2015). In some countries, IPR costs such as certification, information, and enforcement impede the process of testing a particular idea. Thus, Balfour Beatty, which is an international company, may incur such a hurdle. The status of the formal and informal sector is another factor that will influence the company's technological innovation. For instance, according to Jaruzelski, Loehr, and Holman (2011), culture is a key determinant of the intensity of R&D. Countries, which have an almost homogeneous culture and norms have relatively stable political institutions compared to those that have segmented cultures and norms. In addition, other private infrastructural R&Ds dictate the eminence of institutional environment.
Another hurdle that the company is most likely to face in the future is finding a balance between collaboration, culture, and capability (Jaruzelski, Loehr, & Holman 2011). The company's culture that is characterised by shared beliefs, attitudes, and values that define successful innovation will need to be spread across all corners of management to enhance its vision, strategic planning, and leadership goals. Capability will entail rigorous procurement progress and finding a good engagement ground with technology providers, contractors, designers, and supply chain partners. This process will involve training, facilities, people, expertise, and data information systems. On the other hand, collaboration is effective in driving effectiveness in innovation with the company's partners, including its clients and other stakeholders in its supply chain (Lewandowska 2014; Espinosa, Nan, & Carmel 2015). The intensity of participation among partners will depend on whether the company has adopted an open or closed business interaction platform.
Conclusion and Recommendations
From the discussion, it is realisable that Balfour Beatty is a notch higher in terms of innovation. It has substantial market share. However, its S-development strategy is counterproductive. It will work against the company's future progress through innovation. The focus on the already existing innovation will work at its disadvantage because it will hinder innovations in the future. In addition, such a strategy will lead to laxity in allocating more revenues to research development, thus affecting the company's innovativeness and competition in the highly aggressive environment. Productivity will be possible when the company follows the Chain-linked Model. The approach will allow it to look for new potential markets. Hence, it will innovate towards providing solutions to the specific needs of such markets. In addition, the company needs to consider patenting most of its innovation technologies for the proceedings from its R&D innovation technology to be used to further its innovation sustainably.
References
Balfour Beatty 2015, Balfour Beatty plc SWOT Analysis, Web.
Bevanda, V & Turk, M 2011, 'Exploring Semantic Infrastructure Development For Open Innovation', Proceedings of the International Scientific Conference, vol. 1, no. 1, pp. 363-386.
Brand, A 1998, 'Knowledge Management and Innovation at 3M', Journal of Knowledge Management, vol. 2, no. 1, pp. 17-22.
Brown, A 2015a, '3D Printing in Instructional Settings: Identifying a Curricular Hierarchy of Activities', TechTrends: Linking Research & Practice to Improve Learning, vol. 59, no. 5, pp. 16-24.
Brown, A 2015b, Leading Innovation in a Digital Economy, University of Surrey, Guildford, England.
Butryumova, N, Karpycheva, S, Grisheva, K & Kasyanova, E 2015, 'Obstacles to Small Innovative Companies' Development: Case Study of Nizhny Novgorod Region', Journal of Technology Management & Innovation, vol. 10, no. 4, pp. 74-84.
Chittoor, R, Aulakh, P & Ray, S 2015, 'Accumulative and Assimilative Learning, Institutional Infrastructure, and Innovation Orientation of Developing Economy Firms', Global Strategy Journal, vol. 5, no. 2, pp. 133-153.
Chulu, B 2015, 'Perpetual Betterising: A Grounded Upgrading of Disruptive Innovation Theory Resolving Co-dependent Socio-economic Main Concerns', Grounded Theory Review, vol. 14, no. 2, pp. 34-54.
Espinosa, A, Nan, N & Carmel, E 2015, 'Temporal Distance, Communication Patterns, and Task Performance in Teams', Journal of Management Information Systems, vol. 32, no. 1, pp. 151-191.
Jaruzelski, B, Loehr, J & Holman, R 2011, The Global Innovation 1000: Why Culture is Key, Booz & Company Inc., New York, NY.
Klievink, B & Janssen, M 2014, 'Developing Multi-Layer Information Infrastructures: Advancing Social Innovation through Public–Private Governance', Information Systems Management, vol. 31, no. 3, pp. 240-249.
Lee, C, Hallak, R & Sardeshmukh, S 2016, 'Innovation, entrepreneurship, and restaurant performance: A higher-order structural model', Tourism Management, vol. 1, no. 53, pp. 215-228.
Lemanowicz, M 2015, 'Innovation in Economic Theory and the Development of Economic Thought', ASPO, vol. 14, no. 4, pp. 61-70.
Lewandowska, L 2014, 'Franchising as a Way of Creating Entrepreneurship and Innovation', Comparative Economic Research, vol. 17, no. 3, pp. 163-181.
Markatou, M & Stournaras, Y 2013, 'Innovation for Entrepreneurship: Is New Technology a Driving Mechanism for the Creation of a Firm?', Journal of Global Business & Technology, vol. 9, no. 2, pp. 1-11.
Nagji, B & Tuff, G 2015, 'Managing Your Innovation Portfolio', Harvard Business Review, vol. 1, no. 1, pp. 1-12.
Robson, K 2016, 5G Innovation Centre, University of Surrey, Guildford, England.
Santos, F, Pache, A & Birkholz, C 2015, 'Making Hybrids Work: Aligning Business Models and Organisational Design for Social Enterprises', California Management Review, vol. 57, no. 3, pp. 36-58.
Sears, J 2010, Innovation Management, University of Surrey, Guildford, England.
Shic, F, Smith, D, Horsburgh, B, Hollander, E, Rehg, J & Goodwin, M 2015, 'Catalysts for Change: The Role of Small Business Funders in the Creation and Dissemination of Innovation', Journal of Autism and Developmental Disorders, vol. 45, no. 12, pp. 3900-3904.
Tidd, J, Bessant, J & Pavitt, K 2005, The Innovation Strategy, Wiley, Hoboken, New Jersey.
Vasina, A 2015, 'Development of Infrastructure as an Important Factor of Regions' Economy Structuring', Research Papers of the Wroclaw University of Economics, vol. 1, no. 394, pp. 196-206.
Wienclaw, R 2008, B2B Business Models, Web.
Winter, A & Govindarajan, V 2015, 'Engineering Reverse Innovations', Harvard Business Review, vol. 93, no. 8, pp. 80-89.
Yanchenko, Z 2013, 'Improvement of Terminological Approaches to Innovation Notion Definition', Problems of Economy, vol. 1, no. 2, pp. 196-200.
Appendix
Improved Innovation Model