Brief Introduction
The many effects associated with globalization have led to the existence of the world as a global village. As such, stiff competition has been the order of the day as planners of world economies try to innovate in selected lucrative areas of economy. For instance, the usefulness of tourism and the increased entry of new destination markets have forced all destinations to compete by emulating at global levels to win on the lucrative shares of tourist markets (Hassan et al., 2010). In his research work, Balakrishnan (2009) established that "travel and tourism is the second largest global industry with daily revenues of approximately US$2 billion, and investments of 12 percent of world GDP". To add, close to 12% of the world population has been flying globally in search of tourism leisure and ventures. The preceding assertions evidence the fact that lately, the key term that has elicited keen interests to many economic planners is 'destination branding'. Destination branding was defined by Cai (2002) as "selecting a consistent brand element mix to identify and distinguish a destination through positive image building". It has been recently adopted as perhaps the most powerful and the best marketing weapon readily available to most contemporary destination planners and marketers.
The increased interest in destination branding has led to many nations investing large portions of their money resources to derive valuable brand assets (Lee & Fayrene, 2011). In the year 2006 alone, 194 nations, amongst them world economic powers such as USA, China, India, Germany, UK, Australia and UAE just to name a few were known to have clamoured for a share of the tourist's mind, heart and wallet. This was supplemented by the unplanned spending of a whooping US$ 1,480 billion on destination branding in the same year (Balakrishnan, 2008). In a nutshell, to date, few success stories exist in the destination branding strategies.
Following on the above, the researcher asserts that the problem statement for this proposal emanates from a number of enticing reasons. Firstly, despite UAE being well known as the 3rd best for business and the 4th best for conventions, the country is absent amongst the top ten successful country brands (Future Brands, 2009). Secondly, the author established that since the year 2008, United Arab Emirates has carried out a number of strategies (presented as 9 pillars and 4 focus areas in Abu Dhabi's Vision 2030) to help the middle-east nation achieve its economic milestone. The country's target milestone has been to diversify its oil dependent economy, with tourism being targeted for improvement as one of the focus areas. This has seen the government of His Highness President Khalifa, channel lots of monetary and time resources (through the local authorities) to help in branding UAE's major cities as tourist destinations. Abhu Dhabi being the main contributor emirate (with 59%) to the country's GDP has been chosen alongside Dubai as the UAE's destination brands. However, having established from previous research works that the path to successful destination branding is endowed with abundant challenges that can present destination steering teams with difficult marketing adventures, the researcher deemed it of necessity to comprehensively explain a number of key factors which are necessary to be considered by the steering teams to help them brand Abu Dhabi state as a successful tourist destination.
The proposed study has therefore both managerial and academic significance and justification. On a managerial perspective, the proposed study is intended to depict factors necessary for establishing successful destination branding strategies. This can be practically applied in real world contexts by planners or steering teams for maximization of destination returns. Nonetheless, the academic justification is derived from the fact that there has been less academic research in this important area. As such, if approved, the proposed study findings can be adopted and improved by future researchers for their various academic benefits.
Research Questions
As previously stated, the study aim is to explain in detail key successful factors worthy consideration by Abu Dhabi's local authority in branding the state as a key tourist destination to attract tourism and other investments thus diversifying its oil-dependent economy. The following is a statement of the proposed objectives:
To identify and explain key factors necessary for creating a successful tourist destination.
To list and explain challenges associated with tourist destination branding
To clearly explain what destination branding is and what it is not.
To establish reasons why there is need for Abu Dhabi to diversify its oil-dependent economy.
To state reasons why Abu Dhabi has been proposed as a key focus destination brand by the UAE government
To document some of the impacts likely to occur in case of a successful or a failed destination branding scheme.
The following research questions have been derived from the study's aim and objectives;
State some of the key factors worthy considering in destination branding.
List and briefly explain some of the challenges associated with destination branding.
Explain what destination branding is and what it is not.
State a number of reasons why it is necessary for Abu Dhabi and UAE at large to diversify its oil-dependent economy.
What are some of the reasons behind the selection of Abu Dhabi as one of the two UAE's destination brands?
What are some of the impacts likely to occur to a nation or a city in instances of successful or failed destination branding efforts?
Relevance to existing literature
Rao (2004) postulated that a literature review helps to sharpen and define the understanding of the existing knowledge in the problem area by providing a background for a research project and making a reader aware of the current status of the issues of discussion. To accomplish this, the author intends to narrow down on the study's aim and objectives and as such, the following advancements and argumentations (as derived from previous research works) will be incorporated in the final study paper if mandate will be granted by the project instructor.
Definition of destination branding
Previous studies justify the notion that a plethora of terms that exist or relate to destination branding have been at the forefront of the many failed destination branding strategies. This is so because these terms have caused confusion to implementation teams.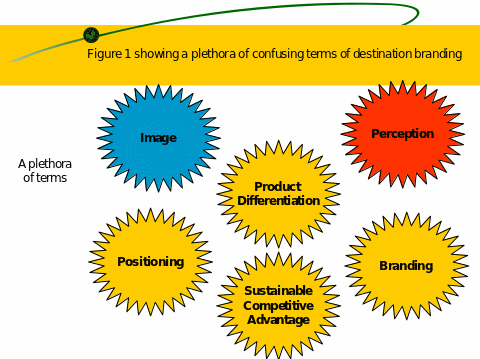 To help us derive a clear understanding of the term, Wang and Pizam (2011) advanced the articulation that the term "referred to the overall impression that the name or symbol creates in the minds of consumers, including the product's functional and symbolic elements". They went ahead to expound on their definition by insisting that it encompassed perceived benefits, symbols, name, physical characteristics and reputation of a product (in this case a destination).
Morrison and Anderson (2002), having agreed with the above definition, went ahead to establish that destination branding were not;
Advertising slogans
Logos to stick or place at strategic places
Distinctive color schemes
Brochures or websites
Vacuous statements dreamt by locals to improve community self-images
"Pet" ideas by local politicians or other influential citizens to drum up support for all types of developments in cities
Despite the efforts of the above three scholars, the author established that their works did not clearly establish a linkage between destination branding and tourism. The author therefore proposes to address this shortcoming in the final paper.
Factors to consider in destination branding
Baker (2007), while studying on some of the successful factors that smaller cities needed to implement to achieve successful destination branding, came to the conclusion that one thing is for sure: "there is no 'silver bullet' or one-size-fits-all solution that will quickly deliver a sustainable brand strategy". He went ahead to defend this assertion by stating that while there existed a number of generic brand planning stages for service and consumer brands, all had a key characteristic of containing the following steps (which also topped-up as the key factors for consideration).
Assessing or analyzing the situation;
Defining of the brand;
Communication the brand; and
Managing the brand
The author will incorporate a discussion of the above factors in the final paper.
However, the author established that Baker's (2007) work was deficient in addressing how individual elements in the formulation of brand strategies varied with respect to budget availability, city's size, development stage, sophistication of the market, economic base complexity and accuracy of external markets as well as existing city image. These deficiencies will be critically analyzed in the final case study paper.
On the other hand, Morrison and Anderson (2002) were of the view that the following factors formed the 5 phases of destination branding:
Market investigation, its analysis plus its strategic recommendation
Development of the brand identity
Launch and communication of the brand vision
Implementation of the brand
Monitoring and evaluating the brand.
The following figure 2 depicts their views on the monitoring and evaluation stage.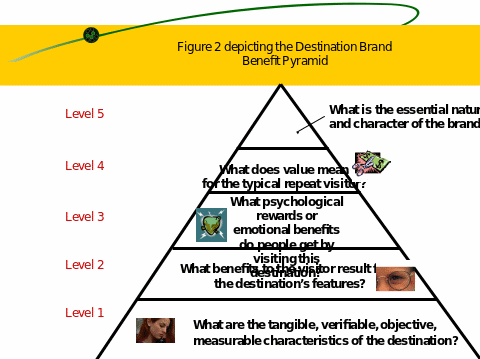 Moreover, the components were summarized by Balakrishnan (2009) in his pictorial representation as below: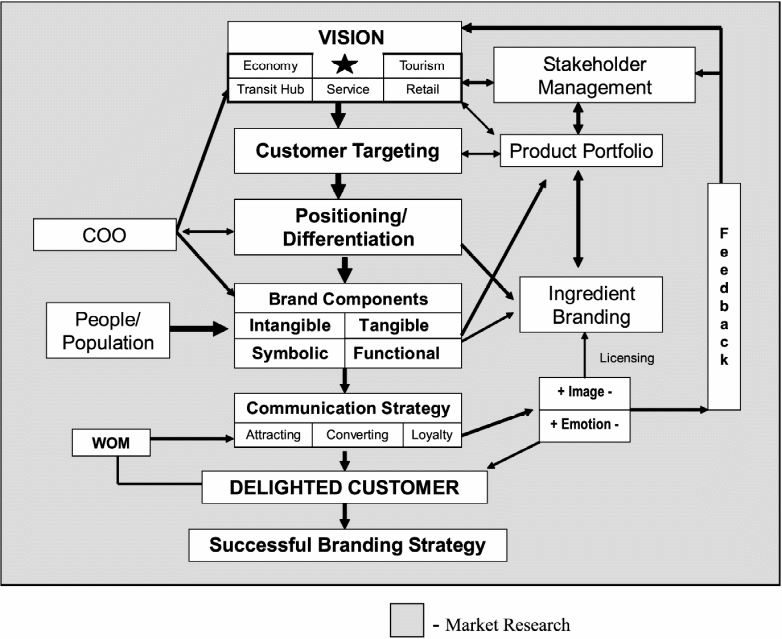 Challenges associated with destination branding
Again, the research article by Morrison and Anderson (2002) documented clearly the challenges associated with destination branding as follows:
Destinations were composite as opposed to single products. As such, they contained a mixture of varying components (commonly referred to as marketing mix).
Destination marketers possessed little control over destination mix.
Channeling of inadequate funds towards branding efforts.
Interference by external forces (e.g. political interference).
However, while acknowledging the findings of his fellow scholars (Hosany et al., 2007; Hankisnson, 2005), Balakrishnan (2008) highlighted the following as the key foundations and reasons behind his development framework on destination branding:
past history;
Geographical constraints (weather, location, resources, people and infrastructure);
Inherited names;
. Stakeholders – such that destinations are run by governing bodies. As such, they are influenced by other stakeholders especially in the decisions making processes; and
. personal, consumer, business and government service dependency
Reasons behind the branding of Abu Dhabi as a destination hub Balakrishnan (2008) stated that the key reasons behind the choice of Abhu Dhabi as one of the two destination brands emanated from the fact that the state was the largest economic contributor to UAE's treasury. The state contributes an approximate of 59% with 56% being oil-dependent. This evidences the motivational factor behind proposing to carry out this study to help in diversify its economy.
To add, Abu Dhabi is one of the most fascinating and most visited global cities in the world. Amongst its rich assets, the T-shaped city boasts of an abundant number of tourist attractions key amongst them being the towering buildings with all kinds of fascinating shapes, a fishing village, lakes, beaches, artificial islands and the glittering and innumerable malls. To add justification for its selection, the following also top as its tourist attractions: the Corniche Road, The Craft Centre for women, The Heritage Village and the White Fort. The later is commonly referred to as the Al Hosn Palace. All the above have continued to attract an increasing tourist populace that has in turn been accompanied by a number of economic impacts. In line with the above reasons, the author deemed this sub-section to have been comprehensively covered and will be thus incorporated as such.
Impacts of destination branding
A strong destination brand is likely to benefit both consumer and business communities (Wang & Pizam, 2011). This is so because they are likely to attract and solidify the increasing stakeholder networks in addition to attracting loyal customers.
Tellingly, strong destination brands add value to stakeholder relations by clarifying of values as well as increasing confidence.
Moreover, Glaser (2010) summarized the benefits of a strong destination brand by alluding in a nutshell that "it is a value generator for touristic destinations". This was expounded further to mean that the generated value increases the level of both the residents' and visitors' satisfaction.
In this sub-section, the author established that almost all scholars had concentrated on the positive impacts associated with this business venture. A complete 'blackout' is given to the occurrence of negative impacts that include amongst others the strain caused on the developing world economies in their efforts to meet the many costs of implementing the venture. To address this shortcoming, the researcher will clearly identify and discuss all the negative effects associated with destination branding.
Research methodology
As the saying goes, the qualities of research projects are best determined by how well the research design was well understood and formulated. Based on this assertion, this chapter proposes and mentions details of the pertinent issues that will be used in the collection and analysis of the collected data. As such, it includes the proposed research design, study participants/population, sampling technique for the study participants, and the tools for data collection as well as its analysis.
Research design
A research design can be thought of as the structure of research. It holds all the elements in a research project (Kothari, 2004).
Research methods
Since the proposed case study involves a study of aspects related to marketing, the researcher points out that a mixed approach (also referred to as triangulation) will be employed. As such, both qualitative and quantitative research will be used to assist in bridging the existing gaps between quantitative and qualitative methods. The above methods will involve the use and review of data from varied sources, often derived by use of differing methodologies addressing the problem question. Other than the marketing aspects that led to the selection of this mixed approach, the researcher was also motivated by the fact that thankfully, new scholars are being trained in the use of both qualitative and quantitative methods to address the same topic. This assists in establishing the topic's validity and reliability (VanderStoep & Johnston, 2009). As such, the researcher proposes to use sequential explanatory strategy whereby he /she will start with quantitative approach to collect data then use qualitative research technique to analyze the data. This will be followed with derivation and analysis of findings.
Rational for the mixed approach
As earlier highlighted, in choosing the triangulation design, the author had found out that increasingly, the benefits of combining quantitative and qualitative methodologies are being recognized thus strengthening research design and the validity of results (Cornell & Eskin, 2003). Firstly, the use of the two is likely to allow the researcher in confirming research findings and as such assist in obtaining depth and breadth of information. This is so because the formulated research questions call for the integration of the two approaches.
Secondly, themes derived from the use of the proposed focus groups (a data collection approach for qualitative design) will be tested on the study samples by use of the quantitative approach
Thirdly, qualitative approach will be useful in assisting the researcher to keenly learn the vocabulary and as such discovering the thinking patterns of the study's participants.
Fourthly, the two methods will supplement each other in the following manner: qualitative interviews will be maximized in exploring participant attitudes as well as testing their reactions in detailed manners for possible interventions. In return, this will be evaluated further by use of quantitative questionnaires.
Study participants/target population plus the rationale for their choice
The research intends to collect data from the following participants:
Members of the taskforce that was mandated by His Highness, President Sheikh to survey the UAE environment and create a long-term roadmap for its Emirates (read Abu Dhabi for this proposed case study).
Members of the Abu Dhabi Tourism Authority (ADTA) that was established in the year 2004 to enhance the diversification strategy. The rationale behind the selection of its participants rests on the premise that since this authority has wide-ranging responsibilities that include amongst others promoting the emirate's tourism as a world-class distinct destination. As such, the views of its members stand to form the key findings for the study's themes.
Members of the Abu Dhabi Council for Economic Development (ADCED). This was established by the government as a joint private-public sector in the year 2008. ADCED offers advisory support to the Department of Planning and Economy to assist in the development of UAE's economic strategies. The rational for its selection rests on the notion that since it includes members drawn from the government and the private sector, the researcher also stands to gather insightful data on the themes of the topic. This is so because members of this council continue to take active roles in branding Abu Dhabi as a tourism destination brand.
Members drawn from The Department of Tourism and Commerce Marketing. As the name suggests, participants from this department are likely to provide reliable data especially to the challenges that have been encountered in marketing Abu Dhabi as a tourist destination brand.
In a nutshell, the author asserts that the above groups are therefore preferred as study participants due to their level of involvement and experience in handling tourism and destination branding efforts. Their views are therefore likely to form the research data for derivation of research findings and their analysis.
Methods of data collection
Both primary and secondary data collection techniques will be utilized. Primary data collection instruments will include structured interviews, questionnaires and use of focus groups. Documented sources will be the only secondary source instrument.
Primary sources
Questionnaires
The author points out that questionnaire will be used to capture views of the still to be selected sample participants. Likewise, questionnaires will allow the respondents to answer questions at their own time and be free to give any information in the absence of the interviewer.
Interviews
Also, interviews will be solely used on a limited number of top or highly ranking participants to reduce on the time and money resources. Though to be used to a limited level, the researcher was motivated by the fact that it involved an interaction process that was likely to elicit more relevant information. These will in turn assist in formulation of relevant findings and their correct interpretation and analysis. To add, the researcher would like to highlight that the kind of interviews to be applied in this study will be open-ended. This is the case because the researcher seeks to obtain relatively large amount of raw data from the respondents. This will ensure reliability and effectives of study results. To end, the researcher avers that this approach is likely to supplement one of the key weaknesses associated with the use of questionnaires. As Weinhardt (2008) found out, this is by providing an extremely high response rate.
Focus groups
The third primary data collection technique will involve selection of small study samples from the 3 participant groups. The researcher will use persuasive skills to draw them to a discussion table. Here, the researcher will ask inquisitive and open-ended questions about their opinions, perceptions, attitudes and beliefs towards efforts of strategically branding Abu Dhabi's as a tourist destination. The main reason why this data collection was incorporated in the study was because of its strength in allowing interactive discussions that are likely to elicit more hidden facts thus addressing inadequacies in the data collection stages.
Secondary source
Documented sources
These will review of sources like journals, online books, published books, thesis and dissertations among others; addressing the same topic (read destination branding). They will provide past references and findings hence revealing knowledge gaps for improvement.
As postulated by Housden (2008), secondary methods of data collection are quick and inexpensive approaches. As a result, the researcher stands to benefit from this advantage. In addition, in using this method, the researcher will be particularly interested in narrowing down on specific issues that are crucial in developing any tourist destination brand. This will be achieved through proper formulation of questions that will be searched on the internet using Google scholar and book engines.
To conclude, as demonstrated in the above chapters, the researcher would like to state that if given approval, this proposal will be developed to meet to meet the high expectation of its dissertation level.
Reference List
Baker, B. (2007). Destination branding for small cities: The essentials for successful place branding. Oregon, USA: Destination Branding Book.
Balakrishnan, M.S. (2008). Dubai – a star in the east: A case study in strategic destination branding. Journal of Place Management and Development, 1(1), 62-91. doi: 10.1108/17538330810865345
Balakrishnan, M.S. (2009). Strategic branding of destinations: A framework. European Journal of Marketing, 43(5/6), 611-629. doi: 10.1108/03090560910946954
Bell, C. (2008). 100% Pure New Zealand: Branding for back-packers. Journal of Vacation Marketing, 14(4), 345-355. Doi: 1177/11356766708094755
Cai, L. A. (2002). Cooperative branding for rural destination. Annals
Cornell, J. & Eskin, F (2003). Problem-based learning for health improvement: practical public health for every professional. UK: Radcliffe Publishing.
Future Brands (2009). Country brand index, 2006.
Glaser, I. (2010). Churín -Village destination branding in the Peruvian Andes. Germany: GRIN Verlag.
Hassan, et al., (2010). Perception of destination branding measures: A case study of Alexandria destination marketing organizations. IJEMS, 3(2), 269-288.
Housden, M. (2008) CIM coursebook: Marketing information and research. Oxford, Butterworth-Heinemann.
Kothari, C.R. (2004), Research methodology, methods and techniques. 2nd edn. New Delhi: New Age International (p) Ltd, Publishers.
Lee, G.C. & Fayrene, Y.L. (2011). Customer-based brand equity: A literature review. Researchers World-Journal of Arts Science & Commerce, 2(1), 33-42.
Morrison, A.M. & Anderson, D.J. (2002) Destination branding. UK: Purdue University Press.
Rao, D.B. (2004). School teacher effectiveness. New Delhi: Discovery Publishing House.
VanderStoep, S.W. & Johnston, D.D. (2009). Research methods for everyday life: blending qualitative and quantitative approaches. San-Fransisco, USA: John Wiley & Sons.
Wang, Y. & Pizam, A. (2011) Destination marketing and management: Theories and applications. Oxfordshire, UK: CABI.
Weinhardt, C., Stean, L. & Jochen, S. (2008) Designing business systems. London, Springer.