Abstract
Business communication in Bangladesh has attracted great concern among different scholars across the globe. In regards to the developments of globalization in recent days, Bangladesh has been dragging behind due to its high concern for culture. This has highly impacted business communication in the country thus calling for further research. Based on the high accord on protocols, customs, and cultures, high levels of inefficiencies in business communications are in prevalence. In this case, intensive training and more courses on business communication should be adopted by Bangladesh students and professionals. This will entail empowerment on modern business communication strategies which are not only globally acceptable but also competitive.
Objectives of the Study
The general objectives of the study were to assess
the opinions of the experts on the condition of business communication in Bangladesh,
determine if the employees have any needs for training on business communication,
determine the international standards of business communication needs, and (4) recommend any training needs.
Introduction
In the currently revolutionalizing world, the business community has been put under immense pressure to demonstrate excellence. This is a result of globalization and the growth of technology. In regards to this scenario, increased activity in the global scene has been witnessed. This has not only opened up new opportunities for businesses but also posed new challenges. Business organizations and personnel are required to adopt the most efficient strategies to enhance their success and survival in the global markets. In particular, the issue of business communication has been the most profound as far as business operations in the 21st century are concerned. In this case, business professionals are required to be efficient in adopting the most effective communication strategies. The issue of cultural diversity has been identified as the most focal factor, which business personnel should put in mind while thinking of communication strategies. In the case of Bangladesh, the issue of culture has overwhelmed the nation thus influencing all business communication and operations. With this in mind, there is every need for Bangladesh students and professionals to be equipped with more training and courses. In this research paper, an extensive exploration of the deficiency of business communication in Bangladesh as well as the need for more training and courses will be offered.
Methodology
In regards to the methodology for the study, qualitative research will be adopted. This is based on the descriptive nature of the topic. The topic of business communication in Bangladesh is descriptive, thus calling for qualitative responses. Qualitative research design stands to be the most suitable for the topic. About the diverse nature of the topic, this research design will help in the mobilization of adequate information for addressing all aspects of the topic. The qualitative research design will help in the mobilization of adequate information for addressing the research topic. Through qualitative research design, the participants will be offered a chance to offer their opinions. Both primary and secondary data will be incorporated into the study. This will help in the provision of sufficient data for addressing the research topic and questions. In particular, the primary data will be collected from business organizations, students, and professionals in Bangladesh. Through qualitative research design, the participants will be offered a chance to offer their opinions. This is unlike the adoption of quantitative data, which relies more on statistical data. It is worth noting that qualitative research design will help in the efficient analysis of the ideas obtained in the research study. This will involve the use of focus groups, questionnaires, written tests, and interviews. On the other hand, secondary data will also be incorporated into the study. In the case of secondary data, books and journals will be adopted. This will involve an in-depth and extensive review of the literature on the topic.
Exploratory Survey
A focus group of teachers of business communication and business managers was presented with the question, "What are the conditions of Business Communication and its needs in Bangladesh." According to them, only a limited number of courses and programs are available in the country. All agreed that no comprehensive plan or program exists in Bangladesh for students and professionals. In recent times, some professional institutions like prothom all jobs are offering short training programs for professionals. That gave the opinion that employees learn most elements of business communication while they are at work through routine work-related activities.
A group of 10 managers, all of whom have MBA or postgraduate degree in commerce and had completed at least one advanced course in business communication, were asked, "Do the employees under you have adequate academic knowledge of business communication?" Eight of the respondents said, "No." Then they were given a list of business communication topics including communication principles (strategies, type, process), written communication (letter, memo, report) oral communication, listening skills, cultural/ethical issues related to communication, electronic communication (email), conflict/negotiation, presentation skills, etc., and were asked to select three topics that have serious lacking among the employees. The most common answers were: written communication (8), electronic communication (7), oral communication (5), and communication principles (5).
Later 10 randomly selected employees who work under these managers were asked to write a simple formal job application letter to the multinational company using fictitious information. Each sample had numerous technical flaws according to international standards. The most obvious flaws found were: Nine out of 10 did not follow the well-known block or mixed block format of a letter, there was no common pattern among the writer about the way the date was written. Additionally, strategizes used to composition were not clear in seven of the 10 letters. In addition to technical problems, the letters had numerous linguistic errors. Some of the problems could be solved with some simple training and practice. Therefore, it was clear that the writers did not have any training to improve their professional writing skills.
Literature Review
The concept of business communication has been highly disregarded in Bangladesh. As observed by Kwintessential (2011: 1), Bangladesh is highly overwhelmed by culture, protocol, etiquette, and customs which have adversely affected business communications. Sultana (2009: 277) indicated that the population of Bangladesh embraces etiquette and cultural values at the expense of modern business communications. The issue of business etiquette, manners, and traditions has been overwhelming across the nation. This is directly dictated by the society's cultures and traditions which require good relationships and interactions among the people.
A study by Gregory (2010: 1) has indicated that modern business communication strategies and practices have not been adequately embraced in Bangladesh. The key issue in concern, in this case, is the traditional and inefficient business communication strategies adopted in the country. Sultana (2009: 277) indicated that the issue of culture has adversely influenced all sectors of the economy and more so business practices. Logan (2008: 113) postulated that Bangladesh is a hierarchical society, whereby people are respected based on position and age. It is worth noting that older people in Bangladesh are highly respected and viewed as wise, thus calling for respect. Male dominance has also been witnessed in the country thus affecting all other sectors. In this case, age, title, and gender has been identified to play a vital role in all sorts of communication and decision making.
As observed by Evans (2008: 286), business communication in Bangladesh has been badly hit by the customs and traditions held by the population. Krizan (2010: 87) indicated that greetings are only undertaken between people of the same sex. In this case, men and women are not allowed to share greetings. This is not good for business practices in the sense that free interactions between people of the opposite sex who may in this case be clients and business agents are obstructed. The issue of indirect or implicit communication in Bangladesh has been explicit. In this case, people tend t communicate in a rich, long, and contextualized sentence. This mode of communication has been very strange to foreigners in the country who are in most cases seen as rude (Evans 2008: 286). This has created a great challenge in business communication thus calling for transformation.
A study by Hangreaves (2010: 113) indicated that there is a great need for further developments in business communication in Bangladesh. This is primarily for students and professionals in the country. This can only be attained through the provision of changes in the curriculum through the adoption of new courses and intensification of the training processes. As argued by Hall (2008: 513) Bangladesh business education curriculum should be improved to incorporate more efficient business communication strategies. With the high growth of globalization and liberalization of markets, business communication in Bangladesh should be streamlined. This will help in the cultural acceptance and accommodation of foreigners. Presently, cultural orientation has significantly impacted business communication. This is so because foreigners or even most of the local business personnel are not able to efficiently operate in the local markets. By streamlining the communication strategies, students will be empowered with better communication strategies (Hangreaves 2010: 113). This will be aimed at enriching the current communication strategies to accommodate global expectations.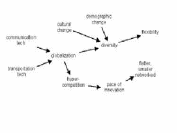 Havaldar (2010: 418) depicted that business professionals and students should be empowered with modern business communication skills. The issue of hierarchical communication should be abolished. As observed by Bagazonzya (2010: 70), Bangladesh is a hierarchical society whereby all decisions and communications are done from top to bottom. This is not only inefficient but also inappropriate for present businesses. The issue of horizontal communication should be embraced. This will create a better environment for doing business whereby all people within the organization will be free to share their opinions. Hierarchical communication which is currently prevailing in Bangladesh is affecting the provision of opinions and ideas from those referred to as juniors. With such a situation, the issues of innovation and efficiencies in the business world have been locked out. On the other hand, business training and courses for students and professionals should incorporate technologically supported communication strategies. In this case, the issue of Information technology and communication should be embraced (Hall 2008: 513). Automated communication should also be embraced. By undertaking these strategies, the current challenges in business communication in Bangladesh will be overcome.
Conclusion
In light of the research study on Bangladesh's business environment, it is apparent that there is a serious communication crisis. Business communication in the country has in this case been efficient. This is about the cultural orientation of Bangladesh society. Society has high regard for protocols, customs, etiquette, and cultures thus affecting smooth and efficient business communication. In response to this crisis, business students and professionals should be empowered with modern business communication strategies. For instance, automated communication, IT management, and horizontal communication should be adopted. These strategies will help in ensuring that business operations in Bangladesh meet global expectations. This will help in countering the challenges which are currently faced by the business community in Bangladesh today.
References
Bagazonzya, H. (2010) Linking up and Reaching out in Bangladesh: Information and Communications Technology for Microfinance. London: Routledge, 70-97.
Evans, T. (2008) International Handbook of Distance Education. New York: Wiley & Sons Press, 286-302.
Gregory, A. (2010) 12 Secrets of Effective Business Communication. Web.
Hall, L. (2008) Encyclopaedia of Business Information Sources. New York: Routldge, 513-542.
Hangreaves, A. (2010) Second International Handbook of Educational Change. New York: McGraw Hill Press, 113-135.
Havaldar, T. (2010) Business Marketing: Text & Cases. New York: Prentice Hall, 418-424.
Krizan, A. (2010). Business Communication. London: Routldge, 87-105.
Kwintessential. (2011) Bangladesh Culture and Society. Web.
Logan, S. (2008) Asian Communication Handbook 2008. London: Wiley & Sons Press, 113-135.
Sultana, N. (2009). The Bangladesh Diaspora in Malaysia; Organisational structure, Surviving Strategies and Networks. New York: McGraw Hill, 277-301.