Objectives
The accounting software-as-a-service (SaaS) industry is highly saturated and presents low barriers to entry. Thus, the level of competition is high. Skwile is a London-based fintech company offering a single product, CaFE (Cash Flow Engine), a software extension for cloud-based accounting applications that acts as a digital CFO and creates cash flow forecasts based on accumulated financial data. Currently, the company serves a small number of clients, most of whom are SMEs and accountants for small firms. Skwile's marketing for the product is not bringing significant results. Therefore, it is necessary to review the industry and the product to develop an effective marketing strategy for CaFE.
Methodology, Data Collection and Analysis
This research implements a mixed method approach, drawing upon a survey, interviews, a literature review and case study analyses. The survey collected information from potential clients of CaFE, while the interviews aimed to gather the impressions of current active and episodic users. Case studies were used to analyse competitors, Skwile and the industry as well as to establish the theoretical underpinnings of marketing.
Results
The collected data revealed that accountants are largely unaware of CaFE's existence. In fact, most do not use cloud-based services, although the participants expressed interest in such a tool's usability and flexibility. Examining the various levels of SMEs also showed that not all firms need extensions like CaFE. Interviews with current users disclosed SMEs' dependence on accountants as well as a lack of understanding in such areas as daily cash flow monitoring and problem prevention. Case study and literature review analyses indicated that Skwile does not possess the same partnerships and financial resources as its competitors.
Recommendations
The company should focus on creating value and increasing brand recognition through AIDA and SQIP frameworks. An emphasis on customer education and continuous interaction should increase recognition. Social media platforms should be used to engage clients and target a specific audience because they allow one to operate on a limited budget.
Introduction
At the present time, the London-based company Skwile offers a product called CaFE (Cash Flow Engine). This is a software extension that allows small and medium-sized enterprises (SMEs) and accountants to calculate their cash flow forecasts using actual data instead of suggested budgets or theoretical predictions based on market experiences (Introducing CaFE n.d.). The functionality of this product is intended to offer companies and individual financial professionals an accessible and visual report of current and future cash flow. Nonetheless, the firm's existing marketing strategy is not providing Skwile with successful results as the level of awareness about this project among specialists remains low. Thus, it is necessary to analyse the current strategy and environment of the company and its industry to determine actions that can facilitate identifying the firm's target audience and promoting CaFE.
Background
Company Description
Founded in 2014, Skwile is a small fintech (financial technology) business based in London, UK that offers software products for accounting purposes. Currently, the company employs nine people, each working in a different sphere, including business development, marketing, IT (information technology), product development, consulting and more. CaFE (Cash Flow Engine), a software-as-a-service (SaaS) product, represents Skwile's main offering, and the company is focused on providing services to small business owners. Skwile's CEO and founder, Makoto Fukuhara, believes that SMEs in the UK can benefit from using advanced and affordable technology. Moreover, he states that by implementing new solutions into their daily activity, small companies can work with the same degree of effectiveness as large enterprises (About us 2018). As a result, these business entities should significantly contribute to the country's economic growth and have the ability to compete with larger businesses. Similarly, the company's blog and suggested informational documents show that SMEs are among the primary target audiences for the company and its services.
The company's timeline indicates that its software development process progressed from the initial idea to a fully functioning product in a short amount of time (Figure 1). Within two years of Skwile's 2014 start date, a beta version of the product was launched for testing. The following year, the company introduced many new features to their product, and it also initiated the firm's first promotion strategies, attracting a number of business owners and accountants. Currently, Skwile works with 144 SMEs and 36 accountants. Overall, these 180 clients use CaFE for their business needs, with SMEs managing their own entities and accountants assisting their respective clients.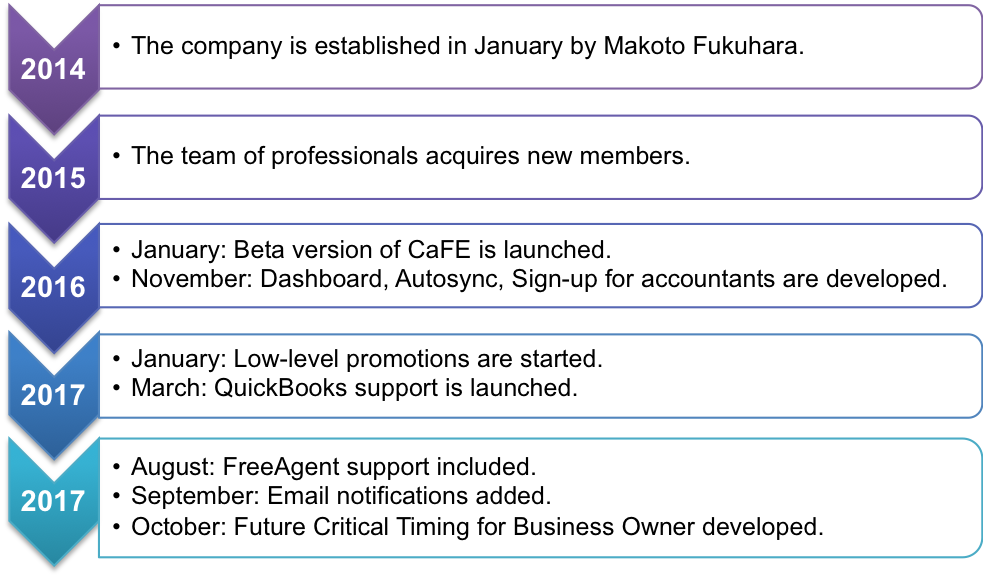 The target audience for CaFE is separated into two main categories: SMEs and accountants. According to Skwile's team, the firm is more focused on the first category of clients than the second due to the firm's ideology that emphasises helping small business owners to maintain competitiveness. Nevertheless, an important factor to keep in mind is that accountants usually work with multiple companies and are often employed by small organisations, a factor that raises the potential number of clients for CaFE. The current ratio of the firm's clientele is 20% accountants and 80% SMEs, but the former should not be overlooked because of their potential marketing opportunities.
Skwile employs two distinct business models for their product. The first is a so-called "freemium" model in which the product is offered to the target audience free of charge, and all necessary functions are included in the package. Business advisors and companies can create an account on the company's website and receive access to the Dashboard. The second model is a white-label product; although provided by banks and lenders, it is operated using CaFE and is offered to the company's clients on a paid subscription basis. This latter application provides an available source of revenue for the company; the process of helping clients with transactions is described in Figure 2.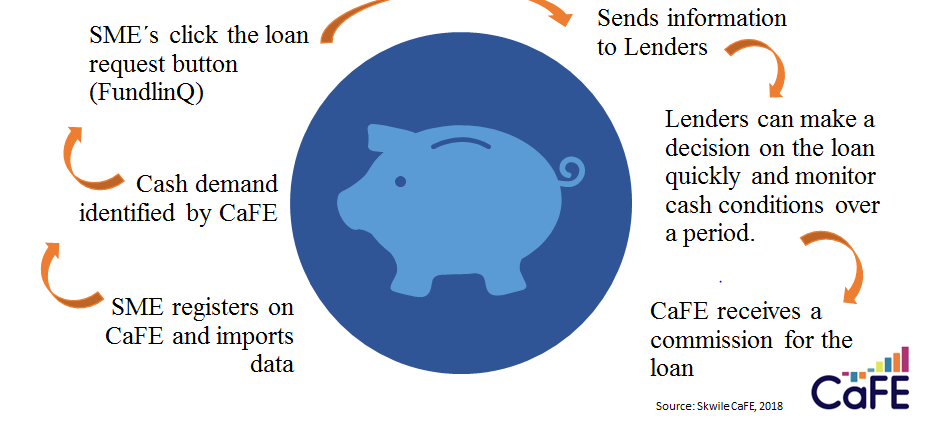 The current report, however, focuses on the first business model as the most active approach for attracting clients to the firm's product at the present moment. Furthermore, this model serves as the foundation of the company's strategy to attract SMEs – without it, the second model will not function as a separate entity as it will lack representation and recognition. Thus, the marketing strategy researched in this report is targeted at finding ways to promote the freemium option.
Using the first business model, the company is striving to achieve two goals. The original, short-term aim of Skwile has been to reach a critical mass of users within the next three years. This goal has a concrete time frame but does not mention the number of clients needed to stabilise the company's operations. Nevertheless, this objective fully aligns with Skwile's motivation to grow, and the primary focus for the next few years should be on making the business stable and self-sufficient. A long-term goal of the company is also reflected in its ideology: Skwile aims to support disadvantaged SMEs by providing them advanced tools with the ultimate purpose of boosting the UK economy. Overall, these objectives adhere to the firm's philosophy and represent the company's system of values for employees as well as the product.
Product Description
CaFE is the only service that Skwile markets to its clients at the moment. It is a software extension, meaning that financial professionals have no need to purchase or install any additional hardware to run this program on their computers. However, as a supplementary product, it requires an interface with existing cloud accounting software to function. Currently, the product supports such applications as Xero, QuickBooks and FreeAgent – cloud-based accounting software platforms that target SMEs. CaFE functions as a virtual CFO, managing client companies' cash flow. The product collects data from connected cloud-based applications and analyses data connected to invoices (overdue and outstanding) and bank balances. Moreover, it develops cash flow projections automatically, using the client company's bank balance as a basis. This is a unique feature of the application because it does not require manual operations or predictions from financial officers. Finally, CaFE also provides its users information in the form of reports and balances, showing historical changes, vital financial ratios, possible plans and outcomes. Interestingly, an automated scenario analysis also compares worst results with the originally developed plan as well.
In terms of additional features that help navigate the extension, CaFE also offers live online customer support and a blog with manuals, suggestions and advice on how to manage financial operations. Furthermore, an FAQ section presents multiple videos and documents explaining the functioning of CaFE. The dashboard also sends notifications to clients, ensuring their engagement with the system. Recently, the company added invoice tracking to the product, which provides users with an advantage over using software extensions having a narrower focus. However, CaFE still does not offer budget projection and planning and multi-currency calculations. The first feature is in the stage of development and will be added soon, while the second is not mentioned in the company's plans.
The main idea behind CaFE is that it uses the concrete information available to the business owner to calculate available cash and present reports showing past, present and future cash health. In contrast to other approaches such as budget and cash flow forecasting, implementing numerical data eliminates the need for financial officers to use suggestions and predictions. Moreover, CaFE's purpose is to design reports in a way that is simple to understand, providing SMEs with critical changes, intelligent insights and automated projections. As a result, it is expected that SMEs will be able to oversee their financial operations and changes in cash flow more easily than they would if they were to manually review their accounting information.
Industry Overview
The company operates on the software market, focusing on the sphere of accounting cloud-based applications. Thus, these branches should be analysed to reveal current trends and opportunities. Recognition and the popularity of the SaaS industry is growing every year as new technologies emerge to allow businesses and individual users to transfer most of their operations and data to the cloud. Thus, the popularity of SaaS products is increasing as well, presenting new opportunities for software companies while also elevating competition to a new level (Figure 3). According to the latest trend analyses, subscription-based products are continuously appearing as new start-ups enter the market (Hoke 2018). Currently, AI (artificial intelligence) and machine learning are receiving significant attention for the SaaS industry. As a result, IT companies are joining in the process of AI development, adding new services and features to their existing products. The focus of these software applications is functionality – they create highly personalised solutions for companies and present ways to make software respond to particular needs (Hoke 2018).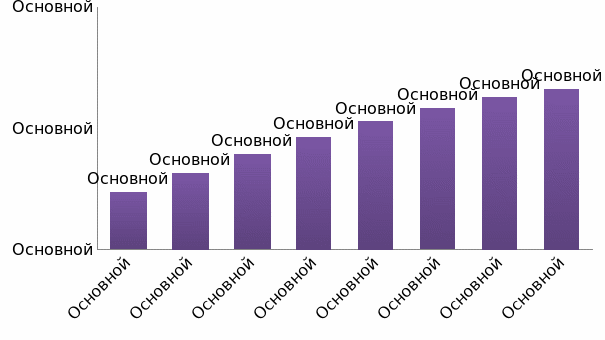 In the face of ever-evolving technological offerings, customers are likely to demand a personalised approach and an effective way to communicate with software on a more engaged level. Skwile's CaFE incorporates these features because it presents SaaS that creates customised reports and plans for companies based on their data and automatic calculations. The extension takes existing information and integrates with programs already in use to present a simple and visually appealing solution.
The next industry trend lies in the shift towards customer success as a crucial purpose of services. The long-term goal of Skwile suggests an aim to improve clients' economic growth, and the firm's members clearly understand this trend and are acting accordingly. The need to provide customers not only with a comfortable but also fruitful experience in using their services encourages software developers to engage their strategic and marketing departments. In addition, target audiences are also becoming narrower than before for companies wanting to provide personalised services. Thus, vertical SaaS is gradually replacing its horizontal counterpart, meaning that software is being developed for particular industry sectors and professionals instead of a focus on a product that can be used by virtually anyone related to the business sphere (Hoke 2018). For example, CaFE's features are unique to the financial needs of SMEs and their accountants.
Finally, the focus on customer retention is replacing customer acquisition due to the growing number of competitors in the field. Usability, therefore, comes to the forefront of requirements for all applications. Customers are seeking mobile SaaS products and the implementation of various devices. Furthermore, such concepts as DaaS (Desktop as a Service) and PaaS (Platform as a Service) are beginning to gain significance in the industry (Hoke 2018). These allow companies to develop new features for their existing products and change the original version without driving customers away or limiting their access to certain services. Moreover, a company's perception of the aspects of a product that their customers are requiring or ignoring can reshape the program to fit clients' needs without losing the main portion of product users. Remote working, flexible hours, use of personal devices – these changes in business operations are guiding software developers in designing their products.
Business Environment
An overview of the industry allows analysis using Porter's 5 Forces model. First, the competition levels in the sector are clearly rising, and new companies are continuously appearing in the SaaS market (Hoke 2018). Moreover, as new firms target specific professionals and branches of business, their competitors, while becoming fewer, are presenting similar solutions to clients. As an outcome, the competitiveness in the software technology industry is remaining high (Demirgüç-Kunt et al. 2017). The market for SaaS is saturated, and the competition will continue to increase as shown in the trends reflecting companies' interest in AI and machine learning technologies. According to statistics, the size of the public cloud software market will grow each year, putting additional pressure on both small and large businesses (Statista 2018).
The potential for entry for new firms is high because software development does not require substantial financial resources or a large number of people (Burns 2016). The company under consideration, for example, has only nine members who contribute their varied experience to one product. Such a system of operations allows start-ups to establish themselves quickly because the functionality of their service matters more than their size. These aspects show that both the expansion of the industry and low barriers to entry have the potential to create new players with a strong influence on the market. The direction of SaaS development is not rooted in tradition or brand adherence; new technological advancements are more important to customers than the old ways of dealing with information. Thus, new entrants have a substantial opportunity to succeed in a short period of time. At the same time, the increasing number of participants is also driving innovation and requiring competitors to change and improve quickly and efficiently.
The power of suppliers is low because SaaS developers rely on a small number of additional resources. Cloud service developers and internet providers are the only suppliers who significantly affect the business in this case. On the other hand, customers possess substantial authority in the industry because their demand drives innovation, eliminates whole companies and products and ensures or takes away financial stability from business owners (Demirgüç-Kunt et al. 2017). This point is especially relevant to the current trend of client-oriented product development and marketing. In the case of CaFE, the product is designed to adjust to clients' demands. Nonetheless, some additional flexibility may contribute to the app's appeal.
Finally, the threat of substitutes is high for some SaaS firms and low for others, depending on their chosen niche and products. For example, if a business creates an idea for a product and releases it for public use, competitors may use it to design and improve on their own allocations. The increasing pace of innovation is also endangering products that cannot implement changes quickly, lessening their relevance to customers. Thus, it is evident that the software development industry has a high threat of substitutes, including new versions of the same products as well as concepts offering different approaches to the same problems.
Project Objectives
The background information on the SaaS industry and the description of the business environment as well as the overview of the company and its product reveal that the project needs to focus on strategic marketing for CaFE. Skwile offers a software solution that can compete with older products in the market and can present a viable alternative to other SaaS extensions. However, its lack of representation and a low level of customer awareness are limiting the reach of the business and, therefore, preventing Skwile from further developing its projects. Consequently, the following questions are outlined for this research:
What is the target audience for CaFE?
What are the main barriers that prevent SMEs and accountants from integrating CaFE into their systems and using them for cash flow management? Which factors and aspects of the product attract clients and encourage them to switch from their current applications or try such software as CaFE for the first time?
What marketing approaches can Skwile use to raise awareness of CaFE and increase its customer base?
These questions reveal the nature of the project and support one primary objective: developing a marketing strategy for CaFE to grow the customer base and increase retention of its critical mass.
Literature Review (Theoretical Underpinnings)
In order to create a new marketing strategy, it is necessary to assess the failings of the current strategy and present a range of the theoretical models used in this sphere. Moreover, discussing a suitable research philosophy is also important. The research methodology for such projects should incorporate both quantitative and qualitative methods to evaluate the processes that both the industry and customers value. For this purpose, a 'research onion' approach can be used, encompassing philosophy, strategy and techniques (Saunders, Lewis & Thornhill 2009). These concepts will be discussed in more detail in the research method. However, any proposed marketing choices should be related to the history of advertising and promoting products.
The history of marketing goes beyond the internet and other ways of disseminating information and services. Before the advent of the innovative strategies that have emerged in recent years, one of the most popular frameworks had been the 4 Ps of marketing. This system focused on such aspects as Product, Price, Promotion, and Place, believing these characteristics to be the only ones deserving attention from manufacturers and sellers (Wani 2013). However, as businesses and people changed, so did the market environment, and as a result, the old system became ineffective in promoting new technology and services. Thus, a new framework had to be introduced to fulfil the requirements demanded by rapidly changing industries.
In response, the SAVE model was presented as an alternative to the 4Ps approach. Focusing on such factors as Solution, Access, Value, and Education, instead of targeting the external presentation of businesses and products, this model focuses on internal qualities and meanings (Wani 2013). First, the 'Solution' aspect shifts all business operations from physical products to solution-based services. Customers purchase products to use them for problem-solving. Therefore, developing solutions should become a focus for companies, and the product should be presented as the answer to an issue that clients experience and want to resolve.
Second, the aspect of 'Place' is replaced by 'Access', meaning that ownership and physical existence of the product are no longer relevant to customers (Wani 2013). Many services are offered on a fully digital basis, eliminating the need to create or indicate a special place for the product. Thus, the client's access to a service becomes the main concept behind using it. When people connect to the internet and pay to download and use specific programs, they are exercising their ability to access information and goods.
Third, the 'Price' factor is replaced by 'Value', shifting the user's concerns about cost to a determination that the product is worth its price (Wani 2013). If an offered service or item fails to offer value, then any amount of money or contribution seems excessive. In contrast, if a particular company provides goods and solutions that seem valuable to clients, the latter may view their pricing options as favourable and fair. This focus on value encourages companies not only to review their products but also to search for specific communities and niche groups to promote their goods.
Finally, the aspect of 'Education' becomes more important than 'Promotion' (Wani 2013). Customers want to learn new information pertaining to the product and the sphere of its use. Thus, businesses can act as knowledge sources for their clients, offering new solutions based on information that describes and explains the problem and its reasons. Moreover, this process can contribute to the development of trusting relationships between companies and customers as well as create a sense of familiarity with the sphere, increasing customers' confidence and professionalism. Thus, the SAVE marketing framework changes the mindset of companies and leads to a customer-oriented approach.
Researchers interested in marketing and business growth have established that customers are at the centre of every promotional strategy that any company may create. According to Weinstein (2012), businesses can learn to increase the value of products to customers by ensuring that certain areas of their business adhere to particular standards. The SQIP framework, for example, includes such aspects as Service, Quality, Image, and Price. The first condition is service, which relies on the intangible characteristics of the firm and the product (Weinstein 2012). The second aspect deals with the quality of the product. In this case, customers' expectations play a significant role because their evaluation of a product is related more to their perception than specific measurements or standards of quality enforced by institutions or the business owner.
Third, the presentation of the firm to the client can enhance or destroy its value. Communication with the customer, the language presented through the website and advertisements, product design, ethical considerations, political stance and ecological concerns contribute to the image of the company (Weinstein 2012). Both individual and group perceptions matter here as people are often influenced by their friends, loved ones, co-workers and other communities. The final aspect that affects the customer's decision is the price of goods (Weinstein 2012). Even if the client feels the need to purchase a product, the individual's financial situation may limit the ability to pay. This factor can be used to create particular niches of customers and interested stakeholders.
Another traditional strategy that firms can use is called the AIDA model, an abbreviation that stands for 'Awareness, Interest, Desire and Action' (Rawal 2013, p. 38). While the previously discussed approach emphasises ways to attract and retain customers in digital industries, the AIDA model focuses more on communication with clients than on any particular products themselves. This approach proposes a set of actions that a brand should go through in order to compel the customer to complete a purchase. The first step is Awareness, during which the company will disseminate information about their goods and present them to potential clients. Next, the firm should use this information to generate Interest by explaining why its products will benefit buyers and encourage them to pay more attention to the features, additional details, differences and peculiarities of the offered services (Rawal 2013). Here, the SAVE model's aspects of 'Solution' and 'Value' can be brought up as similar concepts since they also engage the customer and discuss the advantages of purchasing or acquiring an item.
The next step is focused on increasing a consumer's Desire to buy a product. The seller can achieve this outcome through establishing a relationship with a customer. An emotional connection to a particular brand and a clear understanding of the brand's personality can lead to a positive response, increasing a customer's desire to use the services of a specific business (Rawal 2013). Finally, after the client expresses the need to purchase something, the company should interact with the individual, encouraging the future buyer to take action. Here, such activities as phone calls, newsletter subscriptions, sales notifications, brochure downloads, online chats and other options can be employed (Rawal 2013). It is important to note that this model does not account for retention practices as it is limited to single purchases. Nevertheless, these steps can assist companies in developing a detailed marketing strategy that focuses on customers' emotions.
The final theoretical framework requiring discussion is the concept of critical success factors (CSFs), which emphasises that businesses require certain elements to reach success. Each industry and sector needs individual CSFs for their operation; for example, CSFs for cloud-based accounting software developers will differ from those of clothing retailers (Guha, Kettinger & Teng 1993). However, some fundamental key factors can be outlined for most businesses, especially if they are in the initial stages of entering the market. Clarity of goals and the vision of the company are essential to its establishment (Guha, Kettinger & Teng 1993). Available resources and standard procedures should also be documented to avoid any problems.
Efficient budgeting is another CSF. Without creating a plan for the future, a company can lose its path and fail to reach its objectives (Guha, Kettinger & Teng 1993). The people participating in the project should work as a team and be qualified to fulfil their duties; thus, these CSFs are vital for workers to succeed in their positions. Furthermore, a particular structure is necessary, enabling a manager or an experienced person to lead the way and encourage advancement. Finally, the company's management should assess the current conditions and past trends in order to identify weaknesses and risks that may develop in the future (Guha, Kettinger & Teng 1993). Such action is needed to create a contingent and viable strategy for the business.
Research Method
Chosen Methodology
The chosen methodology relies on the frameworks discussed above along with such philosophical notions as interpretivism and realism. The company's goals should be viewed with particular customer needs in mind as well as the characteristics of the SaaS industry. Thus, realism appears more viable than idealism for achieving research objectives. Interpretivism and positivism are both needed to collect and analyse information adequately, but the first approach is more useful for finding concrete solutions than the second. Interpretivism and realism are used to interpret qualitative data and present a point of view that acknowledges the current state of the business, while positivism can be employed to review quantitative data.
The research incorporates a mixed method approach that involves a survey as a source of quantitative information and interviews as a method for collecting qualitative data. The previous literature review can assist in identifying the business's CSFs and approaches to marketing to be supported by data analysis. Here, case studies of different companies are created to assess the future direction that the company should choose to overcome existing issues.
Data Collection
The first part of the research involved a survey of those who can potentially or already use CaFE for cash flow management. Fifty individuals agreed to participate in the study and provided answers to such questions as 'Which accounting software do you use?', 'How important is cash flow management on a daily basis?' and 'What do you do to prevent cash flow mistakes?' These and similar inquiries along with demographic data could be expected to demonstrate the target audiences for CaFE and reveal common problems in the sphere of accounting that can be solved with the help of software extensions. The results of an additional survey of five accountants showed their engagement with the system and were used in case studies' formation.
The interview part of the data collection targeted inactive users of CaFE, occasional users, active users and past clients. The participants were also separated into groups of accountants and SMEs to assess the differences in their interaction with the program. As a result, five SMEs and nine accounting firms participated in the open structured interviews to discuss the presentation and features of CaFE as well as its usability, integration with other services, customer awareness and competitive ability. Finally, a literature review and investigation into competitors' information were conducted to collect data about Skwile's potential and disadvantages.
Data Analysis
In order to analyse data collected from surveys, descriptive statistics were used to represent demographic data and percentages of various products' users. Percent distributions were created to show prevalence rates in the answers. Information gathered from interviews were reviewed to identify patterns in participants' comments about marketing issues, software requirements, familiarity with other programs and other potential barriers to CaFE's marketing success. Finally, the information about competitors and theoretical concepts was modelled into case studies and comparisons to formulate recommendations.
Key Findings
Target Audience
The demographic data indicate that most participants work in such spheres as banking and finance, are between the ages of 25–44, and have a bachelor's degree or a professional certificate (Table 1). These data are necessary to establish the level of knowledge that the individuals possess regarding cloud-based software programs and their extensions. Here, it is evident that accountants constitute a significant part of all professionals who are exposed to the specific software.
Table 1: Demographic Data – Age, Qualification, Occupation.
Age
Number
Percentage
18–24
8
16%
25–34
14
28%
35–44
19
38%
45–54
8
16%
Other
1
2%
Qualification
Number
Percentage
A level
2
4%
Vocational training
3
6%
Bachelor's degree
23
46%
Master's degree
8
16%
Professional certificate
13
26%
Doctorate
1
2%
Occupation
Number
Percentage
Banking, Finance
29
58%
CEO
4
8%
Sales
9
18%
Office and administrative work
4
8%
Student
1
2%
IT
1
2%
Other
2
4%
Total
50
100%
The survey results reveal that only a small number of people use specific accounting software that can be combined with CaFE. As shown below, the majority of respondents prefer Microsoft Excel, a non–cloud-based offline software product that does not support any type of SaaS accounting expansion as discussed (Figure 4). The second most popular platform is Sage, a product used by in-house accountants who are hired by SMEs. It is possible to assume that the high prevalence of Sage and Microsoft Excel users is based on their knowledge of cloud-based services and their exposure to programs in the workplace (40% of all respondents stated that they learned about their current software in the workplace). Furthermore, some SMEs may not need to use other applications because their cash flow does not render data that has to be processed through CaFE. Nonetheless, a high percentage of participants expressed interest in using CaFE for accounting purposes.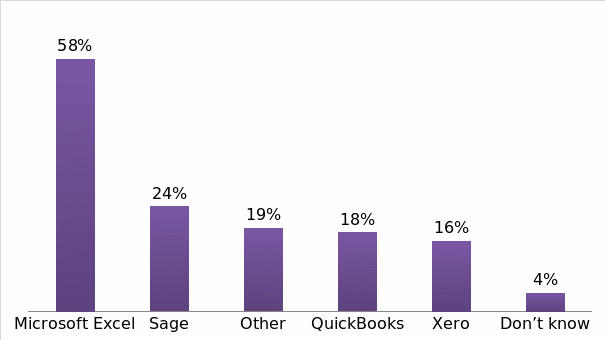 An interest in regular cash flow management was apparent among participants. Moreover, the majority stated that they could detect a potential cash shortfall in advance. The correlation between education and interest in SaaS software reveals that participants who have earned a higher degree are more likely to try CaFE. Overall, 50% of the participants indicated that they are open to using CaFE. The majority stated that managing cash flow on a daily basis is vital to the financial health of an organisation, and 38% of them reported that it is extremely important. The numbers imply that the service of cash flow management applications can be useful to many SMEs. However, due to the nature of some markets, CaFE's particular functions are not required for some persons to support their businesses. Thus, the target audience can be limited to larger SMEs with trained accountants having a BS and an MS degree.
Barriers to Improvement
A number of factors that decrease the competitiveness of CaFE are evident. Porter's five forces analysis supports interview findings that the company's level of competition is high and the industry is saturated with new start-ups and large organisations. Changing customer requirements are further increasing the need to be flexible, which CaFE cannot manage due to its limited set of functions. The small size of the company and its low level of publicity limit both financial and strategic opportunities for Skwile as the existing team members are focusing on the side of development and not marketing. Lack of market research, therefore, is preventing the company from producing any relevant strategy on its own. The SAVE model indicates that CaFE does not offer any opportunities for education, and thus, the product is likely to remain invisible and undesirable for clients.
Competitor Analysis
Services that lend themselves to analysis as competitors to CaFE are Fluidly and Float. Functions and aspects differ in some areas; however, their main features are similar to those of CaFE. Float is a cash flow tool that generates forecasts using data acquired from cloud-based software such as QuickBooks, Xero and FreeAgent (Float 2018). Its range of features is similar to that of CaFE, but it also offers additional budgeting possibilities. Similarly, Fluidly focuses on accounting records and cash flow forecasting based on cloud data and invoice management. However, neither competitor offers a freemium option; instead, they have a system of paid services. To aid in comparing the three companies' services, Table 2 presents a full range of similarities and distinguishing features. The comparison shows that although CaFE is a recently introduced product, its development has reached a point where it can function similarly to other SaaS applications and offer improved services to its clients for free, focusing on commissions and subscription payments from large entities.
Table 2: Product Comparison for CaFE, Fluidly, Float
Category
CaFE
Fluidly
Float
Product
Purpose
Cash flow management/ Virtual CFO
Invoice management/ CRM
Cash flow management (High level)
Users
Business owners
(Top management)
Commercial lenders
(by White Label)
Bookkeepers/Sales administrators
Business owners (Top management)
Sales/Administrators
Supporting accounting apps
Xero, QuickBooks, FreeAgent
Xero (QuickBooks Online and FreeAgent are coming in the end of 2018 or in 2019.)
Xero, QuickBooks, FreeAgent
Pricing
Business user
Freemium/ Premium
£25 (Basic), £49, £75, £199
£49, £99, £199
Accountant user
Freemium/ Premium
£299/20-entity, £549, £999
* No data
Commercial lender
'Negotiated' for super users
* No data
No (No Fintech model)
Overdue
Invoices
Receivables
Yes
Yes
Yes
Payables
Yes
No
Yes
Outstanding
Invoices
Receivables
Yes
Yes
Yes
Payables
Yes
No
Yes
Bank balance
Yes
No
Yes
Cash flow projection
Yes (Bank balance basis/Auto)
(Receivable invoices basis)
Yes (Bank balance basis/Manual)
Notifications (Alerts, email notifications)
Yes (Cash short risk/Reconciliation)
No (Coming soon)
Yes
Budget planning
No (As of September 2018)
No
Yes
Reports
Historical bank balance
Yes (90-day)
No
Yes
Financial reports
Yes (with financial key ratios)
No
Yes
Invoice tracking
No
Yes (by Customer)
Yes
(Introducing CaFE n.d.; Float 2018; Fluidly n.d.).
The case studies, the literature review, and meetings with the company's members reveal a number of challenges that CaFE and Skwile currently face. First, the client base for the product is too small to increase circulation and bring new customers to the company. The SAVE framework shows that the efforts of the company do not contribute to its visibility, and the survey findings above also support this result. Advertisement of the products by word of mouth and referrals is not active at this stage as the company does not encourage customers to participate in such activities regularly.
Financial challenges also limit the outreach of the company and provide competitors with a significant advantage over Skwile (Figure 5). The abovementioned competitors have a more stable budget and longer exposure to the market, while Skwile's lack of experience negatively affects its level of engagement with potential users. Although the company offers a solution that is accessible due to its freemium feature, a low level of recognition remains the central barrier to growth.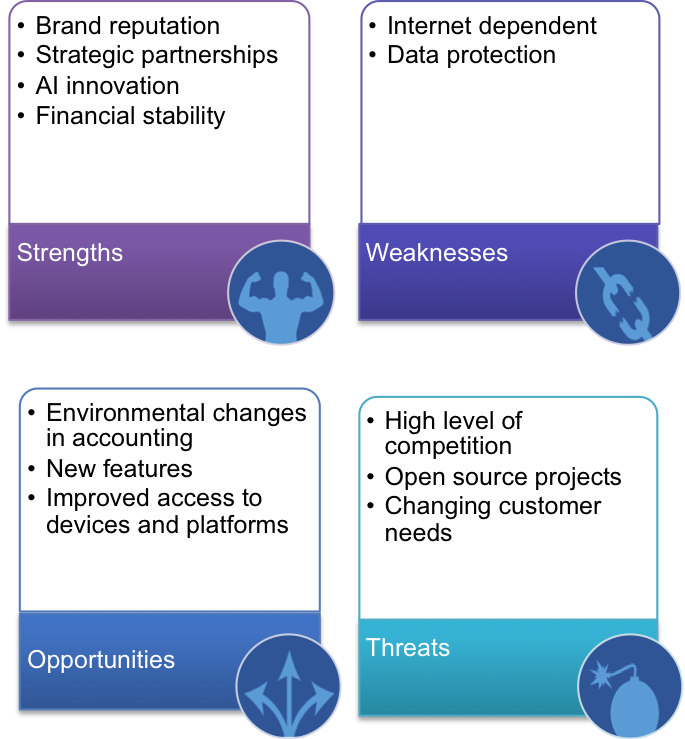 Recommendations
The analysis and theoretical foundations present a number of possible improvements that can lead to Skwile developing an effective marketing plan. First, the firm should increase its efforts to improve brand recognition. As the survey shows, people are unfamiliar with CaFE; thus, their relationship with the company is not established enough for them to become interested in the product. As the AIDA model of marketing indicates, Skwile needs to improve brand recognition by providing potential clients with more information about the product, highlighting its benefits and specific features and creating value from intangible and tangible sources.
Furthermore, the SQIP framework also offers advice for the issues that Skwile is facing. The abovementioned creation of value should focus on the company's service and image first because the price aspect is not as crucial in the freemium option offered by CaFE. However, intangible resources – knowledge, support, education, communication and others – can substantially improve the level of awareness and expose the product to more potential clients. The image of the company should also be enhanced through marketing and participation in events such as conferences and meetings with accounting specialists.
CSF and SWOT analyses indicate that Skwile lacks strategic partnerships that can increase communication and brand recognition. While the company's funds may be limited, healthy relationships with other companies and professionals may lead to new opportunities for advertisement. Social media campaigns can assist the company as they can be useful for small companies with niche audiences and small budgets. Moreover, a high level of interaction on such platforms can benefit the company's image and increase feedback, providing an educational opportunity for clients and an information-gathering tool for Skwile.
Conclusion
The market for financial and accounting software is continuously developing and growing, following the rising interest of businesses in the latest technological advances. Companies that aim to succeed in this sphere by offering unique or niche products should correctly represent their brand and market their goods and services to the right customers. Skwile should note that the limited outreach of the company is the main barrier to its growth. Targeted marketing on social media, strategic partnerships and increased brand recognition efforts should assist Skwile in promoting CaFE and establishing this service as a viable competitor in the SaaS market.
Reference List
About us 2018. Web.
Burns, P 2016, Entrepreneurship and small business, 4th edn, Palgrave Macmillan Limited, London.
Demirgüç-Kunt, A, Klapper, L, Singer, D, Ansar, S & Hess, J 2017, The Global Findex database 2017: measuring financial inclusion and the fintech revolution, The World Bank, Washington, DC.
Float 2018, Take a tour. Web.
Fluidly n.d., About: intelligent cashflow. Web.
Guha, S, Kettinger, WJ & Teng, JT 1993, 'Business process reengineering: building a comprehensive methodology', Information Systems Management, vol. 10, no. 3, pp. 13-22.
Hoke, N 2018, Five emerging SaaS trends to watch in 2018. Web.
Introducing CaFE: putting you ahead of your clients' cash flow n.d. Web.
Rawal, P 2013, 'AIDA marketing communication model: stimulating a purchase decision in the minds of the consumers through a linear progression of steps', International Journal of Multidisciplinary Research in Social & Management Sciences,vol. 1, no. 1, pp. 37-44.
Saunders, M, Lewis, P & Thornhill, A 2009, Research methods for business students, 5th edn, Pearson Education Limited, London.
Statista 2018, Total size of the public cloud Software as a Service (SaaS) market from 2013 to 2020 (in billion US dollars). Web.
Wani, T 2013, 'From 4Ps to SAVE: a theoretical analysis of various marketing mix models', Business Sciences: International Research Journal, vol. 1, no. 1, pp. 1-9.
Weinstein, A 2012, Superior customer value: strategies for winning and retaining customers, 3rd edn, CRC Press, Boca Raton, FL.