Executive Summary
National Ferries Company is the sole provider of ferry services in the Sultanate of Oman. In this report, the primary aim was to conduct an investigation about the problem of change resistance among employees and determine strategies that the management of the company can use to address the problem. The researcher relied on secondary sources, mainly books, journal articles and reliable online academic materials to inform the study. The analysis reveals that change resistance is a common problem not only at this company but also in many organisations around the world. People often fear changing from one system to another because of various reasons. However, it was concluded that the management of National Ferries Company has a responsibility to ensure that employees overcome the fear of change. This firm cannot afford to ignore change if it seeks to achieve growth in the local and regional markets. The researcher has identified major theories, concepts and models that can be used to promote change. It is also recommended that this firm should embrace a culture of change by promoting continuous learning among workers. The new skills would enable them to undertake new responsibilities effectively and without the fear of making critical mistakes.
Introduction
Background
National Ferries Company plays a significant role in the Sultanate of Oman's transport sector. According to Yun, Bliault and Rong (2019), the long coastal line in the country makes sea transport one of the most popular means of movement from one part of the nation to the other. Locals and tourists visiting the country enjoy using the services of the company because it offers them the opportunity to have a view of the beautiful coastal line. The country remains one of the leading tourists' destinations in the Middle East and North Africa (MENA) region (Ham, Schulte-Peevers & Walker 2016). It means that the government and private entities in the transport sector must put in place measures that would facilitate effective movement of people through popular means of transport. In an effort to improve service delivery in this sector, National Ferries Company became a member of ASYAD Group. The entity is wholly owned by the government and provides an integrated logistics company. The move was seen as an effective strategy to streamline services offered by the ferry company and to pool resources needed for research and extension.
The unique position of this company in the country where it does not face competition offers it the opportunity to register impressive growth. Although the market size has been growing rapidly because of the population increase, National Ferries Company faces no direct competition. The full monopoly means that the company can define terms of operations, which customers have to observe because they lack any clear alternative. However, that does not mean the firm can dictate unfavourable terms to its customers because it enjoys monopoly in the market. It must understand customers' needs and develop products that meet their expectations. The aim of this paper is investigate causes of change resistance at National Ferries Company with the objective of finding ways through which the management can address the problem. The paper will use qualitative methods of data analysis to address the problem identified.
Problem Statement
National Ferries Company has overcome many challenges in the market over the years to become one of the most preferred transport companies in the Sultanate of Oman. Issues such as long procedures for sales and approval, which was caused by a commitment of the top management threatened to paralyse the operations of this firm. However, the firm was able to overcome these challenges in the market. It even went further to come up with effective ways of integrating both local and foreign employees in a cohesive workplace environment where the primary focus of every employee is to offer quality services to customers (Ahmed & Rab 2014). However, resistance to change is emerging as a major challenge that may threaten the success of this firm in the market. According to recent company reports, some employees are slow when it comes to adopting change. Others fear that some of the proposed changes may threaten their position within the firm. As such, they are not enthusiastic when it comes to embracing new concepts and strategies. The problem has caused delays in the implementation of various projects in the company. As Biech (2016) observes, it is impossible to resist change in the current dynamic business environment. The company should find a way of dealing with this problem to ensure that it remains relevant in its service delivery.
Importance of the Study
The Sultanate of Oman is one of the rapidly developing economies in the MENA region. The government has made substantial investment into the infrastructural sector as a way of promoting economic growth. Road and rail systems have been modernised to meet regional standards set by neighbouring countries such as the United Arab Emirates. However, water transport still plays a critical role in the sector because of the country's long coastal line. Given the fact that National Ferries Company has the exclusive mandate of facilitating transportation of passengers in the sea, it has to ensure that its operations reflect the changing forces in the market. The inability or unwillingness of the employees to embrace change may have serious consequences on sea transport in the country. It would mean that while other countries in the region are modernising their sea transport system, the Sultanate of Oman will be stuck will old systems and practices, which are not only expensive to manage but also fail to meet expectations of travellers (Darke & Walsh 2017). This report is important because it focuses on identifying factors that cause such resistance and ways in which they can be addressed. The use of Ishikawa diagrams as an analytical tool will help in understanding causes of resistance at the company, the SWOT analysis will explain the internal capacity of the firm, while PESTEL will enable the researcher to analyse the external environment. The study will provide recommendations to the management about what needs to be done to eliminate resistance among employees.
Analysis
National Ferries Company has a crucial role of facilitating movement of passengers from one part of the country to another and its success relies on the ability of the relevant stakeholders to embrace change. Issues such as fleet optimisation, enterprise resource planning, warehousing/inventory management, new market penetration, enhancement of performance cannot be realised if stakeholders at this company resist change. The following aspects of management are critical in ensuring that this company achieves specific objectives in its operations.
Cause and Effect Analysis
The Ishikawa diagram, popularly known as fishbone diagram, can help to understand specific causes of resistance to change at National Ferries Company. As shown in figure 1 below, one of the main issues at NFC is policies, which emphasize consistency over creativity. The staff are expected to work in a consistent manner based on company policies and principles, and that is why they rarely consider being creative when offering services to customers. As Voehl and Harrington (2016) explain, employees should be agents of change. However, that is not the case at this company. Some of the procedures at NFC also hinder creativity. For instance, the strict policy that requires junior employees to get approval of the top management unit before they can consider embracing emerging technologies is a major hindrance. It means that when the approval is not given, employees have to ignore emerging technologies.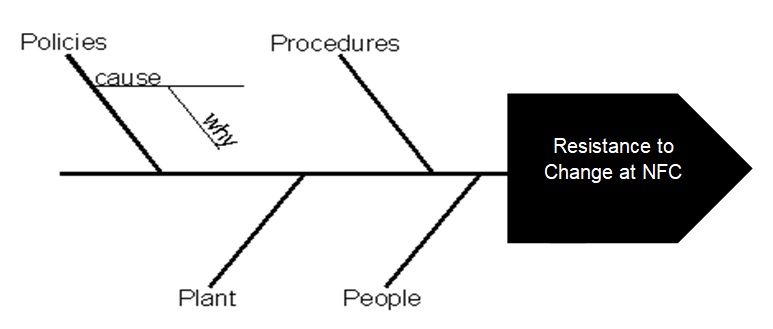 The diagram also identifies the plant as another major concern. Employees at NFC can only embrace change if the plant is modernized. Some of the ferries at this company are relatively old, making it difficult for employees to introduce new technologies. People operating at this company also have a significant impact on the ability of the company to embrace change. However, the analysis shows that employees at this firm are reluctant when it comes to embracing change. This problem is discussed in details in the section below.
People
The analysis conducted reveals that employees at the company have demonstrated their reluctance to embrace change. Hana (2015) argues that the inability of employees to embrace change is often a reflection of ineffective leadership. As such, the first step in addressing the current problem at this company is to discuss Leadership and Managing People (LMP) theories to understand what is lacking at this firm. Contingency theory is one of the concepts of managing people, which have gained popularity over the recent past. The theory holds that there is no best way of organising an entity, leading an organisation or making decisions (Kogon, Blakemore & Wood 2015). Different scenarios may require different solutions based on various internal and external environmental factors. This theory is specifically important for National Ferries Company when developing and entrenching change culture. It will remind employees that they should not be rigid in their respective assignments. They must understand that different forces and changing environmental factors may require them to redefine the approach they use when undertaking different activities.
The analysis of this firm has revealed that some employees have deliberately avoided the plea by the top management to embrace new systems based on international best practices. The leadership of this firm would have to embrace McGregor's Theory X, which holds that employees are lazy, unmotivated and will always try to avoid their responsibilities (Wang & Ahmed 2016). As such, they should be guided through strict principles and policies. This approach of leadership would be appropriate at the initial stages of introducing change culture. When the management is assured that employees are embracing change, it would be appropriate to embrace transformational concept of leadership. This theory requires leaders to work with teams to identify the needed change, create a vision based on the internal and external forces and guide people towards the vision through inspiration and close relationship with followers (Voehl & Harrington 2016). In this case, the management of this company would need to create a new vision that is based on changing trends and inspire employees using various incentives to ensure that they are willing and capable of redefining their approach of undertaking various responsibilities.
Change can also be promoted through the leadership perspective (LP), as Huemann (2016) observes. Leaders must also appreciate that sometimes their organisations may fail to realise specific goals because of poor leadership. Lehman Brothers, one of the largest financial institutions in the world during its time, almost collapsed because of poor management principles embraced by those who were trusted with top leadership (Huhtala et al. 2015). Eastman Kodak once controlled over 90% of the world's market share in the film industry. However, it failed because the management was not keen on embracing the new concept of digital films (Audretsch, Link & Walshok 2015). National Ferries Company can easily go through the same route if the management fails to understand the need to promote change. The concept of followership may help in addressing this challenge. According to Wang and Ahmed (2016), followership refers to the willingness of an individual to cooperate and work together with others towards achieving specific goals. It means that one can only be a leader if he understands what it takes to be a follower.
The top management should express their sense of followership by diagnosing specific factors that cause employees to resist change. Instead of reasoning as a manager who issues commands to subordinate officers, one should try to reason at the same level as the employees of the firm. Kloppenborg (2015) explains that one of the reasons why people reject change is because of the fear of the unknown. Many may feel that when a new system is introduced, such as ticket automation, they may end up being jobless. Such fears should always be addressed effectively every time a new system is introduced. Other employees may fear that the new system may render their skills and experience useless to the company. Regular training before, during and soon after the introduction of such new systems may help overcome these challenges. Regular training and effective communication are essential on overcoming most of the issues related to resistance to change (Pauleen & Wang 2017). The company should also avoid unjustified elimination of employees when introducing new systems.
Financial Aspect
The challenge that National Ferries Company faces would require financial resources to overcome. The department of Research & Development (R&D) should start by investigating the internal and external factors that make employees at this firm to resist change. The management of the company would need to invest in such projects to ensure that the exact problem is diagnosed so that appropriate corrective measures can be taken. Employees' empowerment is crucial when trying to promote a culture of change within the firm. It means that the firm should set aside some funds that can be used to support workers in their advanced education. They can be sponsored by the company in their higher education at local universities, especially for evening classes after work. However, Kloppenborg (2015) warns that such steps should be taken with caution. Before awarding such scholarships, the management should ensure that beneficiaries are loyal to the company. It is not prudent to spend money and time on an employee who would easily move to another company soon after training. When employees are empowered, they will deliver better results in their work and will be ready to embrace change. The improved performance of the workforce will be reflected in the financial statement of the firm. The company will register reduced cost of operation while at the same time increasing its revenues and profitability.
Marketing
National Ferries Company may enjoy the monopoly in the market but that does not mean it does not need to engage in marketing activities. The company has a mandate that was given to it by the government of ensuring that it facilitates movement of people from one place to another within the city. The ability to deliver on this mandate depends on the strategies it uses to understand and respond to needs of its customers. In this context, marketing should majorly focus on regularly engaging customers to understand what they need. Some of these customers may be foreigners while others might be locals who have travelled to other countries and have used better ferry services. When they are engaged, they can share their views about changes that they hope to see at the company in an effort to improve value that they get when using ferry services. The problem that this firm faces is the resistance to change. When conducting a market research, Sornarajah (2015) explains that, there should be a genuine willingness among employees to implement new strategies based on the outcome of the study. First, the workforce must realise that a problem exist with the current system that requires fixing. Secondly, employees must realise that sometimes the research may recommend drastic changes in the normal operational activities within the firm.
The company may consider expanding its operations to the regional market. In such a case, then marketing will be critical in its success. The same services are already available in the regional market. The company would have to ensure that it competes against the current players to expand its market share. Rieder (2015) warns that most governments prohibit promising what a company does not deliver in the promotional campaigns. National Ferries Company cannot claim to be a dynamic company that is keen on understanding customers' changing needs if its employees resent change. The company has no alternative but to redefine its approach to change management as a way of enhancing its marketing strategies. The current problem would hinder it from developing promotional messages that would attract customers both in the local and international markets.
Strategy
The National Ferries Company has been enjoying market monopoly over the last several years because the government has not licensed any other company to offer similar services. However, Goksoy (2016) warns that socio-political and economic changes may sometimes force a government to change its policies towards the issue of monopoly. The current situation may change and the company may find itself struggling with new and more dynamic firms for the market share in the country. Ignoring the need to embrace change may have devastating consequences. It would be necessary to embrace appropriate change management strategies to ensure that it remains competitive in its operations. SWOT analysis would help in analysing the internal environment while PESTEL analysis would help to understand the external forces that have impact on the firm's operations and ability to manage change.
SWOT. National Ferries Company can only overcome the current challenges if its management has the capacity and willingness to confront issues that have been identified. Conducting a SWOT analysis would help to understand capabilities and weaknesses of the company as well as opportunities and threats in the market (Choi, Jeong & Lee 2014). The main strength of the company is its experience in the market. The company has been operating in the country for some time and understands customers' tastes, preferences and environmental forces that cannot be ignored. The financial growth is reflected in its increased operation over the years. Statistics from the company shows that the number of passengers who used the services of this company in 2016 was 165,884, which was 12.55% increase, compared with the previous year's 147,380. The company also registered a 4% increase in the number of vehicles transported within the same period, from 38,115 to 39,667. In the same period, the tones of good ferried by NFC increased from 4,564 to 12,741, which represent a 179% growth. Figure 2 below summarises the information.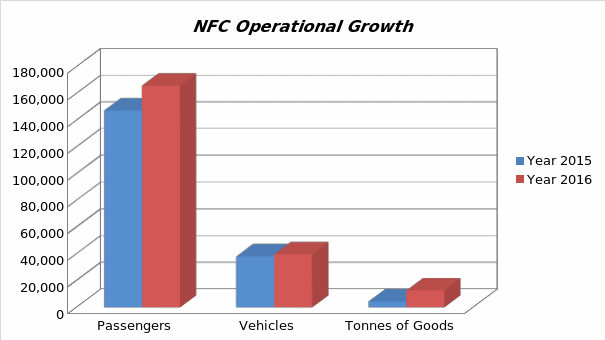 It is clear that the company has put in place measures that would help it increase its expansion in the local market. Despite the consistent growth, it is important to appreciate that the company faces some challenges in the market. One of the main weaknesses of this firm is its inability to influence employees to embrace change. It is apparent that the management has failed to use various leadership concepts and theories to influence decisions of different stakeholders, especially its employees.
The market presents opportunities that the firm can use to achieve massive growth both locally and in other regional markets. One of the biggest opportunities that this company should capitalise on is the fact that it is operating as a monopoly. The fact that the firm has no competition in the local market means that it can dictate terms of operation without fearing how its rivals will respond. The growing population in the country is another opportunity for the company (Hassan, Marimuthu & Johl 2015). As the number of people who need these services increase, the income of the company will also increase. The support the company gets from the government, through ASYAD Group, also makes it easy for this company to consider exploring new markets (Darke & Walsh 2017). The management of the company should be ready to deal with various challenges in the market. Changing tastes and preferences of customers may be a major concern if this firm is unwilling to change. The presence of alternative services such as travel by air or road may also reduce the number of customers for this company. Table 1 below summarises the strength, weaknesses, opportunities and threats that the company has to address.
Table 1: SWOT Analysis.
Strength

Financial capacity
Experience in the market

Opportunities

Market monopoly
Growing population
Government support
Regional market

Weaknesses

Inability to embrace change
Inadequate leadership

Threats

Presence of substitute products
Changing tastes and preferences
PESTEL. The external environment has a significant impact on the ability of National Ferries Company to overcome challenges that it faces in the market. The PESTEL model makes it is possible to analyse the political economic, social, technological, ecological and legal factors that affect the company. The political environment in the country is suitable for a firm that is operating as a monopoly. Pugh (2016) explains that such firms are viewed with pride and their success is considered a success to the country. It means that this shipping company not only enjoys government support but also the support of the public. The economic environment is also beneficial to this company. According to Darke and Walsh (2017), the Sultanate of Oman has experience a consistent economic growth over the past two decades. It means that people can afford to travel because they are financially empowered. Figure 3 below shows the consistent GDP and GDP per capita growth of Oman from 1985 to 2015.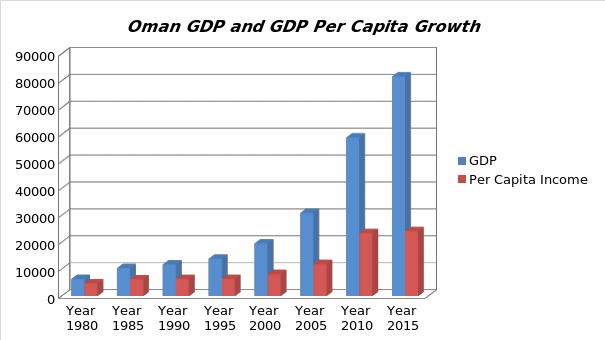 The social environment also has a significant impact on the ability of this firm to achieve success in the market. Although the country is predominantly Islamic, the society has embraced liberalism and people of all faith and gender can share coaches in a train without religious restrictions. As shown in figure 4 below, the consistent population growth is another benefit that this company will benefit from in terms of an increase in its customer base. The society has also been keen on embracing technological changes, which is a factor that should worry the management. Technological changes cannot be ignored, which means that the leadership of this company must find ways of promoting a culture of leadership (Have et al. 2017). The firm should ensure that it understand trends brought about by emerging technologies and align its operations in an appropriate way.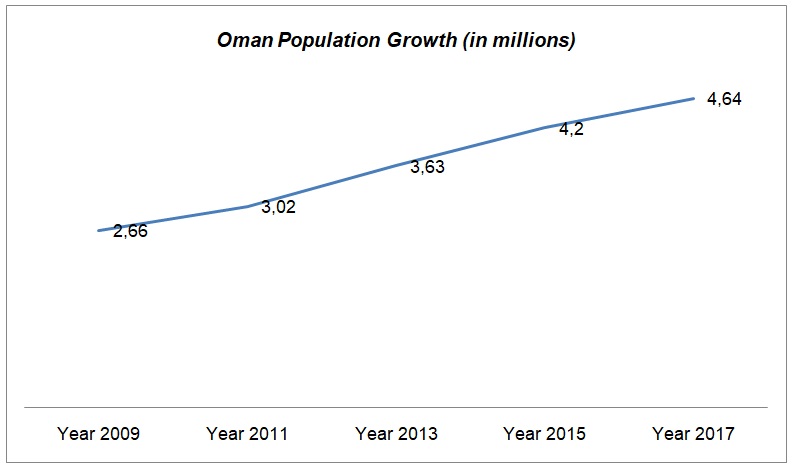 Ecologically, sea transport may become one of the most preferred means of moving goods and services from one place to another. A ferry can carry as many as 1500 passengers or more (Ahmed & Hamdan 2015). It means that one ferry can eliminate the need to have 50 buses on the road from one destination to another. As such, National Ferries Company may get the support of environmentalists if the management can ensure that problems such as oil spillage and other water pollutants are properly managed. The legal environment allows this company to operate as a monopoly. It also allows the company to develop and implement a culture that defines how its employees should undertake their responsibilities. As long as the firm's policies are within the country's legal framework, it is possible to develop change management concepts that all stakeholders, especially its employees, should observe.
Operations Management
Resistance to change may have a serious impact on a firm's supply chain management. According to Wang and Ahmed (2016), most companies are currently using automated systems to determine the current inventory, when it should be replenished and qualities that should be met. The new inventory management approach requires a firm to embrace change because it is based on emerging technologies. When employees at this company are willing to embrace change, it may not be possible to use such a system. The firm may be forced to use traditional methods, which are costly and less effective. When procurement process is poor, it may not be possible to purchase quality products. Qasim (2014) also notes that the use of traditional methods may create room for theft of public resources because of the complicated supervisory methods used. The operations management at the firm should be automated to improve efficiency.
Project Management
The concept of project management has gained popularity over the past several years as the most preferred way of undertaking major developmental activities. Holloway (2014) explains that project management makes it possible to plan (set timeline, funds needed to complete different activities and define expected outcome) for such developmental initiatives. At National Ferries Company, project management would help in implementing such initiatives. Project management theories and models popularly used in other government projects should be applicable in this project. One such theory is the closed-loop project management model shown in the figure below.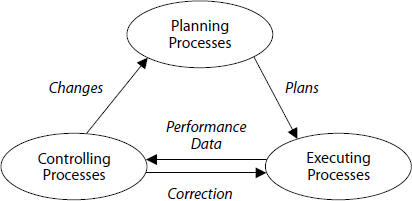 As shown in the model, the whole process starts with planning. The team should plan for different activities identifying individuals who should take part at different stages and expectations they have to meet. The project should then be executed based on the plan. The team should be ready to make changes/corrections when it is necessary. These goals cannot be realised when dealing with a team of employees that is not ready to embrace change. It is strongly recommended that the management of this company should be strict when enforcing change management policies. If large firms that operated in the global market such as Lehman Brothers were forced out of the market because of poor leadership, the National Ferries Company can face the same fate. As such, employees should realise that they have no option but to embrace change. Sometimes it may not be easy to dismiss employees who have worked with the firm for several years (Courpasson & Vallas 2016). However, that may be one of the last alternatives when enforcing the concept of change management. It should be clear that the interest of the company is paramount and that everyone should be focused on protecting it.
Critical Review of Literature
The concept of change management in an organisational context has attracted the attention of many scholars over the past several years. Campbell (2014) argues that the paradox in change management is that although an organisation cannot avoid it, it is common to see people express their discomfort towards it. The emerging technologies, changing tastes and preferences and environmental forces are some of the major drivers of change. In the current society where global warming and climate change are becoming a reality, it is almost impossible for a firm to ignore their carbon emissions. Customers tastes and preferences are also changing because of new technologies and practices in modern society. Success of a firm is defined by its dynamism and the ability of its employees to adopt new systems and practices (Jabri 2017). In this section of the report, the researcher will review relevant literature about dangers of change resistance and how this problem can be overcome to enhance success of a firm.
Factors That Cause Resistance to Change
According to Kloppenborg (2015), it is not possible for a firm to resist change. Sometimes change may take place gradually and without the stakeholders having to make radical adjustments to cope with new systems. In other cases, change may be a sudden event that forces all the relevant stakeholders to make drastic changes in their respective responsibilities. The top management unit has a primary responsibility of ensuring that forces of change are managed within the right time to avoid negative repercussions. The following are some of the primary causes of resistance to change.
Procedural reasons. Resistance to change can be caused by procedural factors, as Campbell (2014) suggests. One such procedural issue is lack of effective communication. When planning to introduce a new system within an organisation, the management unit is expected to pass the information to all the relevant stakeholders (Ahmed & Rab 2014). First, the shareholders, through the board of governors, should be informed about the intended change and manner in which it will affect the financials of the organisation. They should know what to expect, the benefits of the new system and any other relevant factor that may have a significant impact on the firm. Secondly, the management should inform employees about the planned change. Jabri (2017) argues that once the top management unit has developed a new policy, it is the responsibility of the junior officers to ensure that it is implemented. Problems often arise when the management unit fails to realise the significance of engaging employees from the initial stage of policy development. They should know the relevance of the new system, why the firm has to abandon the current system, their expected roles and new skills that would be expected of them once they start operations.
When the information about the need for change comes at the last minute, when employees are expected to implement it, then a section of the workforce may express their discomfort. Bleistein (2017) explains that sometimes employees may resist change just to express their displeasure towards the management for lack of adequate consultation when changing from one system to another. Others may feel they are not ready to embrace the new system because they have not been given a proper explanation about the need to change from one system to the other. Biech (2016) emphasise the need for the management to avoid the perception that employees must always follow instructions given to them even if they were not given prior notice of the intended change. Both vertical and horizontal forms of communication are critical when planning to introduce change.
Skills disconnect is another major factor that would make some employees to resist change. In 1980, Eastman Kodak enjoyed a global market share of over 90% in the film industry (Campbell 2014). The firm felt that its near-monopolistic position in the market would enable it to dictate terms of operations in the market. It became the first firm to create the digital film, but the management felt that the new product would cannibalise their already popular films. As such, the firm made no effort to train its employees regarding the new invention. In effect, it was unable to embrace the new product that became popular in the local and global market (Darke & Walsh 2017). After a short while, Fujifilm was able to overtake Kodak as the global leader in the film industry. Employees should be adequately trained whenever a firm is planning to introduce a new system. At the planning stage, the management should determine whether the current workforce has adequate skills and experience that can enable it deliver results when change is introduced. When it is established that there is disconnect between skills of employees and responsibilities that they need to address, the gap should be addressed. Goksoy (2016) believes that people who have needed skills to undertake a new responsibility are less likely to resist change.
Perceptive reasons. Perceptive reasons may also be a major factor that may cause resistance to change in an organisational setting. The manner in which, employees perceive a new system often define whether they will accept. When they believe it would promote positive change among the workers and in the entire organisation, they may support it. On the other hand, when they feel threatened by the new system, they are likely to reject it. Insecurity is a major problem when trying to implement change, as Jabri (2017) notes. Employees often want to be assured of their jobs even after a new system is implemented. The problem is that sometimes technology may render services of some employees irrelevant. Bleistein (2017) explains that in the past, companies had to keep physical records in a library or a store. It meant that a large number of people had to be employees to help in managing the files. However, the emergence of digital databases has made the work of these individuals irrelevant. An individual using computer can handle files that previously required 20 people to manage. The fear that some of these changes may render a section of the workforce jobless may be a reason why they feel uncomfortable.
Selective perceptive of objectives is another major factor that may make employees to reject change. The problem can manifest itself in two different ways. First, the selective perceptive of objectives may be caused by the management. Hana (2015) explains that sometimes managers may not be comfortable embracing change because of the associated cost or any other reason. As such, they may fail to articulate reasons why it is important to embrace change. Misrepresentation of information may cause resistance as employees may fail to understand the relevance of the new system. Secondly, the selective perceptive of objectives may be on the side of the junior employees. Instead of making the right interpretation of the issue presented to them, they may make wrong conclusion because of the fear of the unknown. Holloway (2014) argues that dealing with such problems is critical when implementing new strategies within an organisation. Misinterpretation or misrepresentation of information should be avoided at all costs.
Behavioural reasons. Behavioural reasons may also cause resistance to change within a given organisation. The concept of status quo is a common problem when enforcing new laws, concepts or strategies. Huemann (2016) believes that one of the common practices in ferries is to have a team of security officers who inspect passengers before boarding the ferries. Others are assigned the responsibility of ensuring the security of passengers who are in the ship moving from one location to another. Officers who enjoy their role of conducting physical inspection of passengers would feel their jobs are threatened. They want to maintain the status quo to not only retain their jobs but also enjoy a sense of power. The thought of having to sit in an office and monitor closed-circuit television (CCTV) and other electromagnetic devices that scan passengers and goods may not be as thrilling compared with engaging passengers directly. The problem is that a firm cannot maintain status quo for long if it seeks to achieve success in the market. It reaches a stage where it has to embrace change as the only progressive way of achieving success (Pauleen & Wang 2017). Employees should be reminded that sometimes there might be no alternative to the new system.
Departmental politics is another major concern that may limit the ability of a firm to embrace change. In a financially strained organisation, it may be necessary to introduce new systems and structures in stages (Huhtala et al. 2015). The top management unit can opt to introduce changes from one department to another. However, such a strategy requires an understanding among all stakeholders involved, especially departmental heads. In some cases, members of the department selected may feel targeted by the top management unit. They may express their displeasure through go-slows or deliberate attempt to thwart change efforts. Competition among different departments may also be a major problem. Kloppenborg (2015) emphasises the need for the top management units to work closely with all heads of department. Whenever a new system is introduced, all parties involved should understand why it is relevant, reasons why a specific department has been chosen to when initiating the concept and plans that the firm has to roll out the new concept in the entire firm.
Concepts, Theories and Models of Change Management
Resistance to change can be a serious problem that may hinder the ability of a firm to manage market challenges such as competition, changing tastes and preferences of customers and technological changes. Bleistein (2017) argues that it is the responsibility of the top management unit to find ways of overcoming the problem of change resistance. Forces that make employees to resist change should be identified and eliminated to ensure that a firm can achieve the level of success desired. In this section, it is important to identify concepts, theories and models of change management that an organisation can embrace.
Lewin's model of change management. Kurt Lewin proposes an approach that should be used by organisations of different sizes to manage change. In this theory, Lewin argues that it is common for people to resist change (Qasim 2014). However, when specific steps are taken, employees can understand the need for the new system and support the effort of introducing change. The model proposes three stages of implementing change in an organisation. The first stage is described as unfreezing, where employees and other relevant stakeholders are prepared for change. At this stage, Pugh (2016) argues that the management should ensure that workers are fully prepared for change. They should know the weaknesses of the current system and understand why the firm feels that a new system would be more appropriate. When the management is sure that the entire team is ready, the next step is to initiate change. The process of executing the intended change is critical in ensuring that the desired level of success is realised.
The implementation should strictly follow the plan that had been developed (Beech & MacIntosh 2017). It is common for the management to redefine the plan at the implementation stage when it is noticed that some of the strategies were not practical. However, such changes at the implementation stage should be explained to the affected individuals to avoid the feeling that they were misled during the planning stage. Care should be taken to ensure that all stakeholders are on board when moving from one platform or system to another. The last stage when using this model is the refreezing process. At this level, the team will ensure that changes introduced become permanent (Qasim 2014). Employees should learn how to work effectively as per the changes introduced. In case weaknesses are noticed in terms of the potential of employees to work under the new system, corrective measures should be taken to improve their skills. On-job training may be an effective way of enhancing their skills. Figure 2 below shows Kurt Lewin's change model.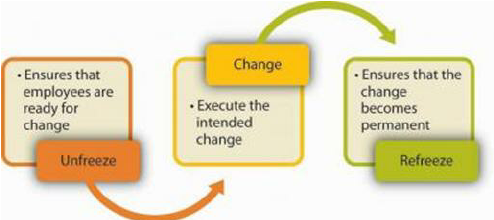 Kotter's theory. When managing change in an organisation setting, Kotter's Theory can be used to reduce or eliminate resistance among employees. This theory emphasises the need to avoid sudden changes and instead define simple stems that should be taken to achieve the new vision (Kotter 2014). According to Bleistein (2017), it is normal for people to develop fear when they are informed about a new concept or system they have to embrace. However, when they are allowed to make simple steps from the current practice to the desired level, then most of them will not even realise that that have made major steps towards a new direction. The theory identifies eight steps that the management should encourage when introducing change, as shown in figure 3 below: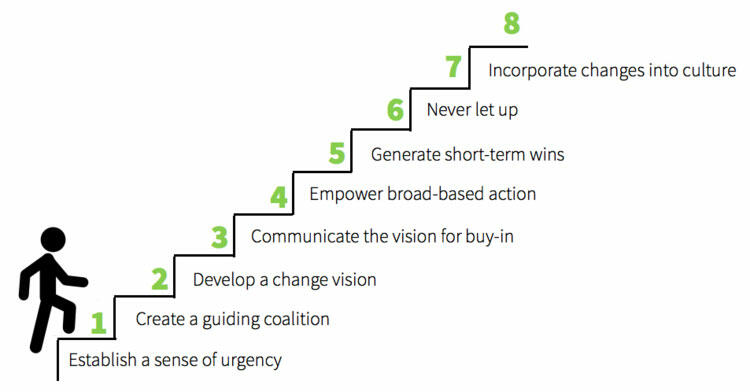 The first step is to establish a sense of urgency where employees are made to realise that the current system has major weaknesses that have to be addressed (Bleiklie, Enders & Lepori 2017). The stage helps in changing the mentality of employees by convincing them that the organisation can only achieve sustainability if change is embraced. The second stage is to create a guiding coalition that will be responsible for different activities (Beech & MacIntosh 2017). When faced with challenges relating to change management, people tend to perform when they are in coalition. They can share ideas and address such challenges as a team. The third step is to develop a change vision. The vision helps in identifying the specific target that the team should realise. There should be a specific aim that should be realised. Hughes (2016) advises that when developing change vision, it should be aligned with the overall vision and mission of the firm. The vision should be simple and convincing to the targeted audience.
The model states that in the fourth stage, there should be a clear communication of the vision to the workers (Rieder 2015). Once a vision is developed, it is necessary to ensure that employees embrace it. At this stage, the management will focus on convincing the entire team of employees and other relevant stakeholders such as the board of directors and shareholders that the vision is in line with the primary goals and mission of the organisation and cannot be ignored under the new environmental forces. The fifth stage is to empower broad-based action. Every team or coalition members should have specific responsibilities they have to undertake. However, they need to understand that their individual or group activities should help in realising the broader vision of the firm. For instance, the marketing unit must realise that they can only promote products offered by the firm. As such, before developing promotional messages, they have to work closely with the production and operational departments to determine the appropriate message they need to present to customers.
The sixth stage identified in this model is to generate short-term wins (Sornarajah 2015). Employees may be discouraged from undertaking a new task because the goal may seem unrealistic based on their perceived capabilities. However, when the short-term goals are set to be realised within specific period, it becomes easy to implement the new system. Weekly or monthly goals are often appropriate in determining whether the team is making adequate progress towards the vision. The short-term wins offer the motivation that employees need to move towards the primary goals under the new system (Rieder 2015). It reminds that that they have the capacity to deliver impressive results even under the new system that they feared. The seventh step is never to let up (Beech & MacIntosh 2017). Once the team realises that the team is moving in the right direction based on the change vision introduce, the management should find ways of supporting them. Training is one of the best ways of offering the support that they need.
The final stage is to incorporate changes into culture. Kotter believes that a new concept can only remain permanent in an organisation if it is incorporated into the firm's culture (Benn, Edwards & Williams 2014). Organisational culture defines standard practices that every employee and other stakeholders have to embrace. It determines what employees consider normal. When these changes are incorporated into the culture of an organisation, they will become normal practices that acceptable to every worker. Hughes (2016) warns that such new concepts should only be incorporated into company culture if they are widely acceptable among all the relevant stakeholders.
Conclusion
National Ferries Company has to redefine its organisational culture to ensure that its employees and other relevant stakeholders are willing to embrace change. The study shows that although the company enjoyed monopoly in the industry, the management cannot ignore the power of alternative products in the market. The long stretch of coastal line makes water transport one of the most popular means of movement in this country. However, it does not mean travellers cannot opt to use road, rail or air transport. Comfort, safety, convenience, timeliness and sometimes speed are the main factors that define the choice travellers when planning to move from one location to another. When this company fails to remain innovative, it would not have the capacity to improve the quality of its services to its customers. The problem would be worsened by the desire of this company to explore new markets within the region. Neighbouring countries such as the United Arab Emirates and Saudi Arabia have well established ferry companies offering quality products to local customers. Unlike in Oman where National Ferries Company enjoys a monopoly, the foreign market poses serious challenges that it has to overcome. The quality of its services in these foreign markets would define its ability to maintain sustainable operations both locally and in the foreign market. As such, the firm has to address the current problem of change resistance among its employees.
The information obtained from review of literature helps to identify ways in which a firm can deal with the problem of change resistance. It is normal for people to develop fear towards a new system. The fear of the unknown is often one of the major factors that make employees to become reluctant towards new systems. While a section of the workforce may be concerned about losing their jobs because of the new skills that would be needed under the new system, others may be concerned about the fact that their experience, which gives them a competitive edge over young employees in the job market, would be irrelevant. Addressing these concerns would help in promoting a change culture. The study suggests that change should be a systematic process where everyone is involved at the initial stages of policy development. Instead of making change a sudden phenomenon, the management unit should always start by involving employees and explaining to them why the current system is weak and what needs to be done to address the problem. The management should inform them of the need to move away from the old practices to a new approach of undertaking various activities. National Ferries Company should ensure that junior employees are involved at the policy formulation stage to make them feel that they are part of the system.
Recommendations
National Ferries Company currently faces a major problem of change resistance among its workforce. The problem will not only limit its ability to achieve success locally but will also frustrate its desire to explore new markets within the region. As shown in the paper, failure to adjust its operations may make alternative products offered by companies in the road, rail and air transport sectors more appealing to customers than what the firm offers. As such, the management must take immediate measures to address the current problem in an effective way. The following recommendations should be considered as the firm tries to overcome this problem among its employees:
The management should introduce a learning culture among its employees as the best way of continual improvement of their skills. The firm can collaborate with local institutions of higher learning to help improve skills of their workforce. The training should be conducted at least after every three years and every time the management plans to introduce a major change within the firm.
The human resource management should strive to have a highly diversified team of employees. Nationality, gender, age and religion should be the principal factors that should be considered when trying to promote diversity. The strategy will help to ensure that workers at this firm have the capacity to understand specific tastes and preferences of diversified customers who often use services of this company.
Reward is another strategy that can help promote a culture of change within a firm. When introducing a new system, the management can develop a strategy where those who register exemplary performance are given financial benefits as a way of encouraging them to embrace a culture of change.
The management can use non-financial incentives as a way of rewarding employees who demonstrate willingness and capacity to embrace change in an organisational setting. Public recognition is one of the less costly but very effective ways of rewarding employees who show exemplary performance in their workplace.
Every time the management introduces a new practice based on the changes in the market, an effort should be made to ensure that it is incorporated into the company's organisational culture.
It may not be possible to avoid the use of punishment as a way of fighting resistance to change within this organisation. Although the priority of the management should always be to motivate and encourage everyone to embrace change, a few elements may not be willing to do so because of personal interest. Such workers can influence others negatively. As such, the management should let everyone know that those who are too rigid to embrace change may be dismissed as a way of ensuring that the firm remains sustainable.
What I Have Learnt
My MBA journey has been characterised with important lessons learnt in and out of classroom. One of the important lessons I have learnt is how to embrace change and manage challenges associated with it. I love technology but sometimes I fear consequences of change. The fear of the unknown is one such issue that I have been battling before I started my MBA classes. The feeling that my knowledge and experience would be rendered irrelevant once a new system is initiated is one of the issues that I have had to deal with in the past. However, I have learnt that I can be an agent of change. The world is dynamic and almost everything is changing, including I who has to go through the aging process. As such, I cannot resist change but instead embrace it as a means of moving from the old practices to new and better systems. The knowledge gained through my academics and personal experiences made me to understand that attitude plays a primary role in defining one's ability to embrace change. When an individual develops fear towards change and believes that they cannot work effectively under the new system, they limit their capacity to learn and deliver whenever their organisation introduces change. I have also learnt about the importance of diversity in the workplace environment.
Kolb's Learning Cycle
Kolb's theory of learning cycle identifies four stages of knowledge acquisition, which I believe I have gone through in my MBA journey. Concrete experience is the stage when a learner encounters new knowledge or experience, especially in a classroom setting. The second stage of reflective observation involves reviewing the experience. One tries to understand a concept beyond its theoretical form, as Biech (2016) observes. Active experimentation is the third stage where a learner makes an effort to try out what has been learns in a practical setting. I have always tried to embrace some of the theories of change management that requires active involvement of all stakeholders at the planning stage to ensure that cases of resistance are reduced as much as possible. The last stage of the abstract conceptualisation where a learner is expected to make conclusion based on the experience gained. I have concluded, based on personal experience that Kurt Lewin's theory of change management is an effective way of managing resistance to change. Figure four below shows the stages of learning cycle as identified by Kolb.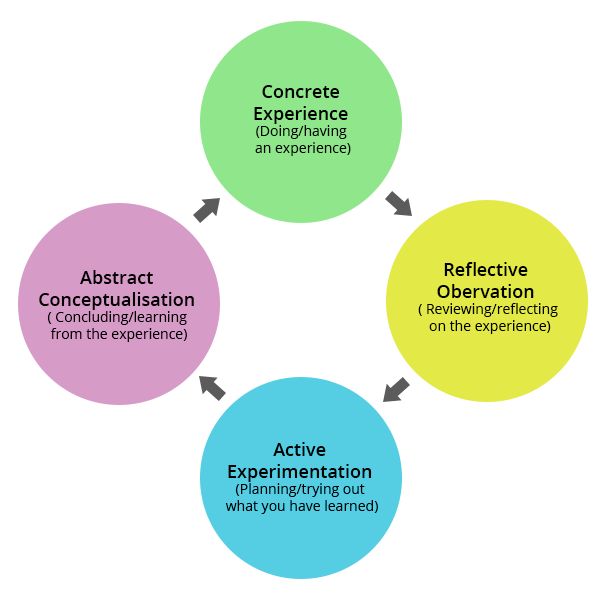 How I Can Improve
I need to improve my knowledge when it comes to managing change. Emerging technologies are transformative and sometimes they have profound impact on the manner in which specific activities are carried out within a firm. Continuous learning will equip me with skills needed to ensure that I can change from one approach of undertaking my responsibilities to another based on the changing environmental forces. I also need to improve my knowledge on how to deal with the issue of managing diversity in the workplace. Over the past two decades, Oman has experienced an influx of foreigners coming as tourists, asylum seekers and job hunters. In such a diversified community, it is important to know how to work closely with people of different culture, religion, gender, age and sexual orientation to enhance harmony. Having a personal development plan would help to identify specific activities that I need to take to ensure that I gain new knowledge and improve my capacity to work effectively in an environment where change and diversity are common factors.
Personal Development Plan
According to Biech (2016), having a personal development plan is critical for an individual who is keen on improving their skills and capabilities in a given field. The whole process starts when an individual acknowledges that despite the current skills and capabilities, personal weaknesses exist, which may hinder an individual from achieving his full potential. At that moment, the individual will make an effort of dealing with the identified challenges to help improve personal performance. Figure 5 below is a personal development cycle that I believe would help me to address my current weaknesses and improve my capabilities both in a workplace environment and from a social perspective.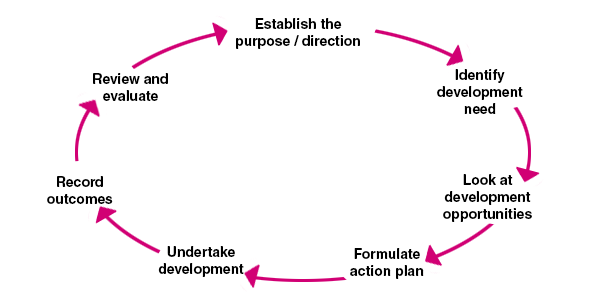 The first step, as identified in the figure above is to establish the purpose or a sense of direction. One needs to understand what should be achieved by the end of the development cycle to have an effective plan (Darke & Walsh 2017). The next step is to identify development needs. With the purpose clearly defined, one can determine specific needs that would help realise the set goal. The third stage involves looking at development opportunities (Hana 2015). The opportunity can present itself in the form of going back for further studies to acquire skills that may not be gained through work experience. When the best alternative is selected, then an individual needs to formulate an action plan. In my case, I will need to determine when I need to determine how to balance my work and academic life to ensure that I do not underperform in any of them. Goksoy (2016) notes that sometimes it may not be easy to attend classes and at the same time remain punctual and effective at work. Attending evening classes at a local institution of higher learning may be the best alternative of addressing the challenge.
When an effective plan has been formulated, the next step is to undertake development. This stage involves taking specific actions in line with the formulated plan. If I cannot get academic leave from my employer, then the only option I have is to take evening classes. I should ensure that I could move easily from work to school within the shortest time possible to attend the classes. The next step, as shown in the development cycle above, is to record outcomes. At the end of every semester, there will be an assessment to ensure that a student has gained knowledge based on the curriculum set by the institution. However, the student also has a responsibility of ensuring of assessing the current skills gained in the classroom. One of the best ways of recording the outcome is to determine of one can implement principles learned in classroom in a practical context. The final stage is to review and evaluate the outcome. At the end of the personal development cycle, I would need to review and evaluate my skills to determine if my performance is better than they were before starting the process.
Personal Goals and Timelines
When seeking personal development, it is advisable to set personal goals and timelines within which they should be realised. Doing so makes it easy for one to conduct a personal assessment to determine if progress has been made. One of the main goals I need to achieve within the next one year is to become a better decision-maker in the workplace. In most of the cases, I prefer giving my opinion to the superior officers so that they can make decisions and give me instructions on how to undertake specific responsibilities. I need to change that approach as I seek to achieve career growth. I plan to make decisions, based on my knowledge, experience and consultation with colleagues and junior officers and share the view with senior officers. Instead of just giving an opinion, I want to give them a plan of action, with detailed explanation of why a given decision was made and the manner in which the firm would benefit if it were implemented. The management can then propose changes to my plan, explaining issues that should be improve to realise better results.
Upon completion of this MBA, I believe I will have the capacity to work closely with colleagues from a diversified background. Society is becoming increasingly diversified and so is the workplace environment. Rigid stereotypical thinking where one generalises an entire population lazy, unreligious or criminal-minded can have serious negative impact on a firm. I should be objective in my assessment of individuals, especially the colleagues I will be working with at the company. I should understand that I could not share my religious beliefs and cultural practices with everyone. As such, I would have to learn to respect their culture as I expect them to respect mine. As long as their practices do not have a direct or indirect impact on my life and on the company, I should not be concerned or even determined to influence them to embrace my culture and religion.
Aids and Monitoring of Progress
When one focuses on personal development, it is important to have ways of monitoring progress. Holloway (2014) argues that it is important to know milestones achieved after a specific period and actions needs to be done to achieve the primary goal. One of the aids that I intend to use to monitor my progress is academic performance. I have invested time and energy in my academic work. I will know whether I have made progress if I pass my final MBA exams by the end of the course. It will be a sign that I have gained new knowledge that would enable me to achieve career growth. Another major aid would be promotion at the workplace.
According to Jabri (2017), firms often promote individuals they consider invaluable. When they realise that an employee has the capacity to make the right decision when faced with dilemma and other challenges at work, then they will place them in positions of management. A promotion at workplace will be a sign that top managers trust my capacity to make correct choices and to lead others in my department. It will also be an assurance that I am making positive steps towards achieving career growth toward becoming a top executive in this company. I also intend to work closely with my colleagues at work to monitor my progress. I will request members of my department to post small anonymous notes on the suggestion box stating whether I have registered improvement in terms of the ability to manage diversity, communicate effectively and deliver on my responsibilities as expected by the affected individuals within the firm.
Reference List
Ahmed, B & Rab, K 2014, 'Foreign direct investment and economic growth in India: a study', International Journal of Research in Management & Social Science, vol. 2, no. 3, pp. 1-5.
Ahmed, E & Hamdan, A 2015, 'The impact of corporate governance on firm performance: evidence from Bahrain stock exchange', European Journal of Business and Innovation Research, vol. 3, p. 5, pp. 25-48.
Audretsch, B, Link, A & Walshok, M (eds) 2015, The Oxford handbook of local competitiveness, Oxford University Press, Oxford.
Beech, N & MacIntosh, 2017, Managing change: enquiry and action, Cambridge University Press, Cambridge.
Benn, S, Edwards, M & Williams, T 2014, Organizational change for corporate sustainability, 3rd edn, Routledge, New York, NY.
Biech, E 2016, Change management training, ATD Press, Alexandria, VA.
Bleiklie, I, Enders, J & Lepori, B (eds) 2017, Managing universities: policy and organizational change from a western European comparative perspective, Springer, International Publishing Cham.
Bleistein, S 2017, Rapid organizational change, John Wiley & Sons, Hoboken, NJ.
Campbell, H 2014, Managing organizational change, Kogan Page, Philadelphia, PA.
Choi, BP, Jeong, JG & Lee, Y 2014, 'Diversity and firm performance: an analysis of different level of management composition', International Journal of Business Research, vol. 13, no. 1, pp. 87-94.
Courpasson, D & Vallas, SP (eds) 2016, The SAGE handbook of resistance, Sage, New York, NY.
Darke, D & Walsh, T 2017, Oman, Bradt, Chalfont St Peter.
Dievernich, FE, Tokarski, KO & Gong, J (eds) 2014, Change management and the human factor: advances, challenges and contradictions in organizational development, Springer, Cham.
Goksoy, A 2016, Organizational change management strategies in modern business, IGI Global, Hershey, PA.
Ham, A, Schulte-Peevers, A & Walker, J 2016, Lonely planet Oman, UAE and Arabian Peninsula, Lonely Planet Publications, Oakland, CA.
Hana, U 2015, 'Competitive advantage achievement through innovation and knowledge,' Journal of Competitiveness, vol. 5, no. 1, pp. 82-96.
Hassan, R, Marimuthu, M & Johl, SK 2015, 'Diversity, corporate governance and implication on firm financial performance', Global Business and Management Research: An International Journal, vol. 7, no. 2, pp. 28-36.
Have, S, Have, W, Huijsmans, A & Otto, M 2017, Reconsidering change management: applying evidence-based insights in change management practice, Routledge, New York, NY.
Holloway, G 2014, Change management: new words for old ideas, Xlibris, Bloomington, IN.
Huemann, M 2016, Human resource management in the project-oriented organization: towards a viable system for project personnel, Routledge, New York, NY.
Hughes, M 2016, The leadership of organizational change, Routledge, New York, NY.
Huhtala, M, Tolvanen, A, Mauno, S & Feldt, T 2015, 'The associations between ethical organizational culture, burnout, and engagement: a multilevel study', Journal of Business Psychology, vol. 30, no. 3, pp. 399–414.
Jabri, M 2017, Managing organizational change: process, social construction and dialogue, Palgrave Macmillan, London.
Kloppenborg, T 2015, Contemporary project management: organize, plan, perform, 3rd edn, Cengage Learning, Stamford, CT.
Kogon, K, Blakemore, S & Wood, J 2015, Project management for the unofficial project manager: a Franklin covey title, BenBella Books, Dallas, TX.
Kotter, JP 2014, Accelerate: building strategic agility for a faster moving world, Harvard Business Review Press, Boston, MA.
Pauleen, D & Wang, W 2017, 'Does big data mean big knowledge? KM perspectives on big data and analytics', Journal of Knowledge Management, vol. 21, no. 1, pp.1-6.
Pugh, L 2016, Change management in information services, Routledge, New York, NY.
Qasim, AM 2014, 'The impact of corporate governance on firm performance: evidence from the UAE', European Journal of Business and Management, vol. 6, no. 22, pp. 118-122.
Rieder, A 2015, Employee reactions to organizational change: how change agents can overcome, GRIN Verlag, Munich.
Sornarajah, M 2015, Resistance and change in the international law on foreign investment, Cambridge University Press, Cambridge.
Voehl, FH & Harrington, J 2016, Change management: manage the change or it will manage you, CRC Press, Boca Raton, FL.
Wang, C & Ahmed, P 2016, The development and validation of the organizational innovativeness construct using confirmatory factor analysis', European Journal of Innovation Management, vol. 7, no. 4, pp. 303-313.
Yun, L, Bliault, A & Rong, HZ 2019, High-speed catamarans and multihulls: technology, performance, and applications, Springer, New York, NY.
Bibliography
Rick, T 2011, Top 12 reasons why people resist change, Web.
Sutevski, D 2010, 28 factors, or causes of resistance to change, Web.
Tanner, R 2019, Organizational change: 8 reasons why people resist change, Web.