Executive Summary
Pleasure Parking Limited, a parking bay service provider shall be registered in Kenya in January 2009. The company shall be located at Amazon house situated behind Kenyatta Avenue Nairobi Main Street. Currently, the Nairobi city council (NCC) the main parking service provider is unable to cope with the increasing number of motorists in the Nairobi Central Business District (NCBD). The increased number of motorists is attributed to the improved economy, an increase in the middle-class bracket, and a poor public transport system. Pleasure parking limited (PPL) will ease the opportunity to construct a 10 storey parking building that will offer 800 parking bays, with state of art technology at a fordable rate to both corporate and individual customers. In addition to offering humble secure parking, PPL will provide a waiting bay fully equipped with reading tables, magazines, and novels.
In only 3 hours we'll deliver a custom Pleasure Parking Limited's Detailed Business Plan essay written 100% from scratch
Get help
PPL will target corporate institutions for their staff, individuals, and motorists seeking short-term parking. PPL will operate in the transport industry under the parking segment regulated by the NCC. According to research, there are 3000 existing parking bays in Nairobi against over 4000 motorists, with an exponential growth rate. PPL envisages operating quarterly, individual monthly, and short-term parking fees of 5.7 million Kenya shillings, 1.0 million Kenya shillings, and 1.1 million Kenya Shillings, respectively. To create awareness of the services, PPL will aggressively market its services through the local FM stations, Bill Boards, offer promotions and discounted rates to customers who make early bookings.
PPL will be managed by a managing director, with a wealth of experience in the private sector. Mr. Mutua who has managed several successful businesses in Nairobi is an accountant by profession and holds a Bachelor of Commerce degree from the University of Stockholm. The finance and administration manager, Mr. Karani holds an MBA in business administration and has managed the car parking system at the JKIA for over 8 years. PPL will commence operations with a staff complement of 16, of which 3 supervisors have experience from the existing key parking bays in Nairobi. The team is well trained in customer service, competent drivers, and experienced security personnel.
The company will purchase a parking operating system from KAPS services limited a renowned company in the transport industry. The parking process will offer motorists' options such that those who wish to park their cars will be offered valet service by the parking assistant. Corporate and post-paid individual customers will use swipe cards to access the parking bays, will short-term parking motorists will pay for the services on the exit. The efficient systems are complemented by well-trained and competent staff to ensure customers are consistently delighted by our services.
To enable PPL to operate in the market, the principal shareholders will contribute ksh. 6 million as owner's equity in addition to the land and building currently valued at ksh.40 million. PPL will seek debt financing of ksh.60million, to purchase off the operating system from KAPS limited. The servicing of the loan will commence in September 2009, three months after commencement of operations, as PPL will seek a six-month moratorium period during construction. The quarterly sales proceed from corporate institutions will be used to repay the principal and interest for the debt while proceedings from monthly payments will be used to meet operation costs. Interest on key investor capital will be paid half-yearly commencing January 2010. Thereafter, dividends will be paid to all investors proportionate to their investing amount.
In its future plans, PPL will provide an exclusive Health Club and a restaurant to diversify its products, as well as adding value to the existing business.
Phase I
The Business Description
The company shall operate under the name, pleasure parking services, PPL with a commencement date in June year 2009, in accordance with the laws of Kenya. The brand name pleasure parking as a business name gives an inviting feeling to would-be customers by stirring a desire to experience pleasure in parking.
Academic experts
available
We will write a custom Company Information essay specifically for you for only

$16.00

$11/page
Learn more
Business Vision and Mission
The vision
To become the preferred car parking service provider in all major towns in Kenya
The mission
To offer the highest quality parking services to motorists through the use of world-class technology.
Business goals
To be the preferred provider in the industry by being the market leader in business
To expand the business to offer exclusive parking services to other cities in Kenya.
To increase the disposal income by supplementing the current income with the business
The proprietor aims to be fully personally employed in the next 2 years
To attract and retain the largest market share offering the parking spaces in Nairobi of up to 30%
Type of Business Ownership and Share Capital
The company shall operate as a private limited company with a share capital of 1.5 million Kenya Shillings being the shareholder's contribution to the business. The company owners shall run the business as a limited liability company which has the following benefits;
It's a legal entity and capability to sue and be sued in a court of law.
The company management can appoint a legal officer to take care of the business's legal issues.
In a limited company, there is continuity of business despite changes of owners or even death of owners.
Free transferability of an interests-each member of the company has the ability to transfer his/her shares of the company to another person.
Centralized management –an executive committee or a management team is involved in the daily operations.
The Business Location
The business shall be located in:
Name of the building ———— Amazon house
The physical address ———— at the junction of Loita Street and Market Street Behind total petrol station on Koinange Street.
The postal address ———— P.O. BOX 21683-00505 Nairobi
Email: ———— pleasureparking.co.ke
15% OFF
Get your very first custom-written academic paper with 15% off
Get discount
Website: ———— www.pleasureparking.co.ke.
The location was chosen due to its competitive edge in terms of the following characteristics.
Strategic location behind the CBD main street Kenyatta Avenue, along Market Street.
Its close proximity to customers in various businesses that houses our target market such as Barclay's plaza and Chester house.
Transport network accessing the parking bay is excellent. The parking bay is served by three major highways into the city centre from up market areas of wetlands, Ngong road and valley road.
The Nature of Business and Industry Trends
The Nature of Business
Pleasure parking services shall offer secure 24 hour parking services. The proprietor shall construct a ten storey building for parking only with a study room stocked with reading tables, story books and magazines.
The Industry Analysis
PPL shall be operating in the transport industry in the parking services sector. The industry has got several segments such as road construction, contractors, transportation i.e. the public transportation and parking sectors which is mainly managed by the local councils. In the case of pleasure parking the company will need to work with the legislature of city council of Nairobi which is managed by the Nairobi city council. NCC regulates planning and licenses construction which PPL will require. The industry requires the business investors to be politically connected as witnessed by the current market players such as Silo Park which is owned by Jared Kagwana a former powerful politician and local authority's pension owner.
The main players in bay sub sector industry include:
The Nairobi city council
The lap trust
Intercontinental hotel
Sife international
Silo park house
The factors that affect the industry today include:
The industry is highly politicized by both the government and the public, because it is viewed as service provided by the public sector
The economy has been growing at a stable rate and thus the disposal of city residents which has increased number of motorists hence increasing the demand for parking space.
Get your customised and 100%

plagiarism-free

paper on any subject done for only

$16.00

$11/page
Let us help you
The positive changes in the economy has affected the social status of Kenyans today, and the middle class income earners have increased demand for better amenities.
The Product and Service
Our business shall consist of 10 floors of exclusive parking at Amazon building with the following unique features;
Valet parking services is a new concept in Kenya which is only available at the Staley hotel and Silo park house parking bay. Pleasure parking will offer this service to its customers.
Car lifts shall be installed for use by the motorists. This current technology is currently in use at the Silo park house and it will be replicated by PPL.
Larger available parking spaces available to accommodate larger corporate institutions and 320 short term spaces which will address the motorists' dilemma in Nairobi.
A fully equipped waiting room with reading chairs and tables for children and magazines for adults.
The opportunity and entry strategies
The opportunity
Pleasure parking will seek to capitalize on the following reasons that typically make the business viable:
Competitor Failure
The Nairobi city council has been unable to meet the demand of parking in the city, especially in the CBD.
Differentiation
The company shall offer the same product that is currently in the market but will differentiate at a later stage, and this will be achieved by;
Offer state of technology to park cars in the parking bays
Use of valet services to assist motorists to park their cars on top floor of the building.
A well equipped study room and waiting bay will be provided for motorist convenience.
Offer 24 hour security services for cars parked and CCTV services.
Cost of Fuel
The rising cost of fuel shall hinder the use of two cars in the family. To car inflation and to utilize the available income well, pleasure parking will offer awaiting bay with a well stocked study room for the children and spouses sharing car.
Business Continuity
The infrastructure of business exists; research has proven that in Kenya today the surest business to engage in with surerity of non failure is offering parking services. This investment is deemed the least risky in terms of failure.
Entry Strategies
Differentiation
Pleasure parking key entry strategy will be to offer the same product currently in the market but wit a difference. The parking bay offered by pleasure parking will include;
A well equipped study room for children to do their homework
Use of world class technology
Competent staff to offer talent services
24 hours security services and CCTV services.
Low Cost Product
PPL shall bench mark with the existing competitors use charges that attract customers.
Innovative Product
The idea of the use of state art technology in the parking by using lifts will be a good entry strategy for the company.
High Profile Launch
Publicity and high profile launch will be a key penetration strategy. The company shall use several media stations to advertise the services offered by the pleasure parking.
Promotion Offers
The company shall offer prizes to be won for parking space for the first three months over the radio Fm stations by callers to captivate motorists.
Marketing Plan
The Market Analysis
The objective of establishing the business is to:
Serve 30% motorists market in the business
Increase sales by 50% for the company
Maintain a net profit of 30%
Attract new customers
Remain in the market as a major player in the parking industry.
Market Definition
Pleasure parking will be targeting a niche market for the middle and upper class that access the city centre from two major highways; valley road and uhuru highway. The target will include:
Young and old motorists who can afford to pay monthly parking fee
Corporate institutions located in the area which include Kenya airways, Laico regency hotel, and KCB kipande house.
Business enterprise within 500 meters of the parking bay.
Major Customers
Pleasure parking anticipates having the following as its major customers:
Corporate institutions-these are the corporate firms that operate within a radius of 500 meters from the proposed parking bay.
Individuals-the lower managers and officers who are able to buy cars but they do not have parking spaces located to them by their employers.
Private business- the location of pleasure is strategic in that there are a lot of private business and entrepreneur operating within the proximity for instance Loita house, Dye and Blair investment bank and various shop owners.
The SWOT Analysis
The following is SWOT analyses for pleasure parking services which will enable the company understand its potential against its competitors.
Strengths
Availability of building for project development
Access to capital for project development
Offer secure parking bay
The use of modern technology
Strategic location
Access to good operating system
Weaknesses
No previous records of services
No political clout
Few experienced staff
Opportunity
Increased in demand for services to be provided
Competitors' failure to meet demand
Good pricing and entry strategy
Threats
Political clout necessary for survival
Competitor's limitation of services by pleasure parking.
Estimated Market Share and Sales Projections
Using the information in Figueira, Jose and Greco, Salvatore book, the company estimates to have a share of at lest 30%. This will be because of the availability of almost 1000 parking slots at pleasure parking. The allocation of temporary parking slots will accommodate motorists who park fro a shorter periods thus enabling the firm to handle more customers (Jose, Figueira, 2005). The following table shows sales projection at different levels:
| | | |
| --- | --- | --- |
| Corporate parking | Qtly in advance | 320 slots (80 by 40) |
| Individual parking | Monthly in advance | 240 slots (80 by 3) |
| Temporary parking | Daily/hourly | 240 slots (80 by 3) |
The estimated sales for the above slots are as follows:
Corporate parking
320 by 6000
1,920,000=
individuals
240 by 6000
1,440,000=
Daily/hourly
200 by 150 by 25
750,000=
Hourly
40 by 150 by 25
150,000=
Total monthly sales
4,260,000=
The Overall Market Strategy
In the marketing mix, the organization will be dealing with controllable variables that are important to the satisfaction of the target market. These variables shall include:
The Price
Benchmarking and pegging our prices between the highest chare and medium cost will enable us target the market niche required.
Promotion
Sales promotion trough the local FM radio stations will be key to success of pleasure parking. We will offer a few monthly parking slots for free through the media to attract customers and discounted rates for corporate for those who pay in advance for a certain minimum number of parking slots.
Place
Place (distribution) in our case this will be the service delivery. We will offer timely, courteous services to all motorists.
Physical Location
By being on the second row behind the main street, we will market the strategic location for entry and exit into the city centre. Further we will encourage motorists who do not access the city centre through the two major highways to take free exercise by parking at pleasure parking and taking a walk to their offices. This may be an attractive way of marketing the location.
People
Our staff will be in uniform at all times and they will be alert to park and bring down cars as the customers demand. We will train the staff to ensure that services offered are of high quality which is important for our niche market.
Process
Our customers are educated and knowledgeable. This means that the use of an efficient and effective payment system will be desirable for marketing the business.
The Pricing Policies and Strategy
A firm's competitive environments affect the market strategy. To come up with reasonable prices the company will seek to employ the following methodology.
A) Conduct a Price Survey
We shall carry out a survey of prices offered by our competitors in Nairobi to ensure that our pricing will be acceptable to our customers. Below is a table indicating competitor rates against proposed pleasure parking services rates.
charges
Nairobi city council
Sifa international
Hotel intercontinental
Pleasure parking.
1.
Daily rate
70.00
130.00
600.00
150.00
2.
Monthly rate
1,300.00
2,600.00
10,000.00
5,000.00
3.
Monthly reserved
This service is n/a
5,000.00
10,000.00
5,000.00
4.
Corporate service
This service is n/a
4,000.00
8,000.00
6,000.00
5.
3 months
3,900.00
12,000.00
26,000.00
18,000.00
6.
Half year
7,800.00
24,000.00
48,000.00
36,000.00
7.
One year
15,600.00
48,000.00
90,000.00
72,000.00
8.
Executive parking
service not available
Service not available
90,000.00
( per year)
84,000.00
@7,000 per month.
B) Costing
To ensure the company does not price itself out of the market, pleasure parking will price its services between the highest in the market at the moment, intercontinental hotel and the lowest, the Nairobi city council. This will be done taking into account the capital invested and the expected return. The cost of operating the study room will also be considered when pricing our services. Benchmarking will therefore will be a critical success factor.
Customer Purchase
Since will be dealing with institutions and individuals, we expect that our parking spaces will sell in bulk and hence we will be in a position to offer quantity discounts which will make our prices very competitive. We can further have irresistible offers of parking such as for every 20 parking, you get a discount rate, the use of promotional marketing concept will be an added advantage for the company as we will be able to attract customers by giving discounts for those customers who book either for a monthly or quarterly parking in advance for 2 months before the official opening of the parking services.
Sales Tactics
To improve on our turnovers especially for temporary parking, we will have a clear notice board which is well displayed with our daily and monthly rates written on, outside our parking areas to attract motorists. To improve on sales, we shall place adverts on our temporary parking rates in strategic places in the city centre.
Service and Warranty Policies
We will endeavor to have workable service level agreements with corporate intuitions especially due to the security of their staff cars and any natural calamities that may occur at pleasure parking. Pleasure parking will ensure to have good insurance policies in place to guard against any loss and mitigate risks.
Advertising and Promotion Programs
Advertising is a method of making customers aware of available products and services. Pleasure parking services will seek to use the most cost effective means and these will include:
Phase Three
Organization and Management Plan
Organizational Structure & Operations
The management team will compromise of one Managing Director, a non-executive managing partner, and the Finance and Administrative Manager. The day to day operations of the company will however be done by the MD and the F & A manager. The chart below shows the flow of information and the chain of command within an organization. Since we are in the start level, the business will have a lean structure so that we minimize on the operational cost so that the business can break even as soon as possible.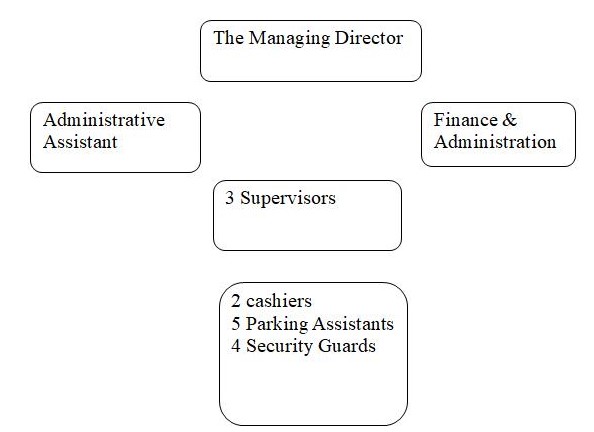 PPL will have a flat structure which is important for decision making. It removes red tape and bureaucracy to make decision making faster. All Parking assistants will report to the supervisors who will report to the manager.
The management will employ communication for TQM strategies such as adopting a flat structure, facilitate bottom-up communication for feedback and inclusive decision making for all staff. Further, the management will ensure all their staff attends relevant training that will empower the employees to make informed decisions.
The employees will further be empowered to make decisions, make mistakes and to learn from them to ensure the employees are equipped in dealing with customers. The management will encourage vertical and cross functional teams to integrate quality service and teamwork.
Key Management Personnel
Ben Mutua-Managing Director
The managing Director and also a co-owner of the company shall be Mr.Ben Mutua a business man in the private sector. He holds a Bachelor of Commerce Degree and has passed CPA II and has attended international training in management. Before joining the private sector, Mr. Mutua was managing the Pan Afric Hotel as its MD for 2 years and was a logistics Manager at Kenol/Kobil for 5 years. The MD designate has a wealth of experience in the private sector dealing in the Hotel industry, and consultancy in logistics and service delivery.
Juma Karani-Finance & Administration Manager
Until joining Pleasure Parking, Juma was an employee of the Kenya Airports Authority in-charge of parking and airport logistics. He served in this capacity for 8 years during which period he was sentimental in the installation of the new parking payment system at the Jomo Kenyatta Airport. He therefore has a wealth of hands-on experience with parking logistical operations and systems. Juma holds an MBA in Business Administration and a Bachelor of Arts in sociology from the University of Nairobi.
Administrative Assistant
He / she will be in charge of the internal logistics of the company. She/he will attend to customers' promptly; oversee the responsibilities of the office assistant that doubles as the messenger and office cleaner. She/he will assist in the logistical operations of the of the company, and will on day to day basis, liaise with the MD on any operational issues. The staff will require having a diploma in Management and basic typing skills.
Parking Assistants
The Parking Assistants will assist motorists to either park their cars or guide them to their designated parking bays. They will ensure that all lifts are serviced properly and assist the security officers in maintaining law and order at the parking bay. The minimum qualification required will be form IV certificate, fluent in English and Kiswahili, holding a valid driving license for at least 2 years and have a certificate of good conduct.
Management Compensation and Ownership
The management of the company will include the Managing Director, who will be in charge of the day to day operations of the company. He will be deputized by the Finance and Administration manager. The two will form the top management team of Pleasure Parking. Finance and an operations manager will be tactical officers who will be the implementers of policies and operations for the company.
The management will be paid a negotiable monthly salary. The managing Director will be paid a subsidized salary for the first three months due to the high capital investment into the business. However, all travel expenses, lunch and any other incidental expenses incurred on behalf of the business will be paid by the company. On the fourth month, the MD will be paid a salary of 90,000 Kenya Shillings.
Human Resource Strategies
In managing the staff at Pleasure Parking, the company shall endeavor to employ the following strategies:
Recruitment
To recruit key personnel, the company will head hunt for the Finance and Administration Manager to ensure it benefits from the best in the market and one with experience in logistics and parking services. The manager employed will be entrusted with daily collections and the appropriation of funds for the company. So the management will be seeking to employ someone they can trust with the overall administration of the business.
Selection
The selection process will be through interviews both written and oral for the top 3 positions. Supervisors will have a rigorous safety and driving tests to ensure they are capable of offering good leadership and coaching for the drivers/security officers under them.
Incentives and Employment Agreements
In addition to the above human resource strategies the management will employ the following management strategies; an all inclusive decision making policy for all staff, maintain an open door policy and will encourage innovation and creativity to improve services and processes will be encouraged and rewarded. The company will offer two year renewable contracts (Bruce Overton, et.al, 2008).
Supporting Advisors and Services
The company will employ the services of legal advisors; Musyoka & Wambua advocate who have been handling the personal matters of the proprietor. Further, PPL will tender for the services of auditors and will open an account at KCB Kipande House, a stone throw away from PPL. The decision to open the account at KCB is purely based on proximity to the service and considering the company may be handling large amounts of money on daily basis, it would be advisable to bank several times a day and choose the most convenient bank.
Operations and Production Plans
Manufacturing and Operational Plans
Plant Location & Facilities Required
Pleasure Parking will be located at the junction of Loita Street and Market Street on Amazon House. For effective operation, the company will purchase a tested and currently operational system in other parking lots. KAPS Limited will provide the operating system. In addition the company shall import from Germany parking lifts to be used to park cars on the higher floors.
Capital Equipment Plans
Using the guidelines in (Raymond etal, 1998 Chapter !7-6) book, The company will require purchasing capital equipment for construction and the operating system during several phases of the project with the costs broken down as below:
Construction Costs
| | |
| --- | --- |
| Description | Total |
| Preliminaries | 100000.00 |
| Substructure (Foundation wall + column bases) | 7,500,000.00 |
| Superstructure (Columns, beams , walls | 6,000,000.00 |
| Roofing | 4,500,000.00 |
| Finishes/Fitting | 3,000,000.00 |
| Electrical Works | 8,000,000.00 |
| Contingency | 1,000,000.00 |
| V.A.T 16% | 4,816,000.00 |
| TOTAL | 34,916,000.00 |
Parking Operating System
Description
QTY
Unit Price
Total (Kes)
1
Entry Station Inclusive of ticket issuing machine, card reader and power supply
3
460,000.00
1,380,000.00
2
Exit Station Inclusive of Ticket reading machine, card reader and power supply.
3
460,000.00
1,380,000.00
3
Cashier station, Casual Parker Software, Ticket Validator, POS Printer, Cash drawer and PC.
4
355,200.00
1,420,800.000
4
Management Station, System controller report software For report, logs, system management e.t.c.
2
440,000.00
880,000.00
5
Barrier Gate
3
250,000.00
750,000.00
6
Installation Works,Network, power cabling, installation accessories, brackets
Sum
195,000.00
195,000.00
7
Training and commissioning
Sum
110,000.00
110,000.00
Sub Total
6,115,800.00
V.A.T (16%)

Total

978,528.00

7,094,328.00
Pre-Operational Costs
| | |
| --- | --- |
| Items | Amount in Kes |
| Equipment Installation | 34,916,000.00 |
| Electric lifts (car) | 5,000,000.00 |
| Electric lifts (persons) 3 @ 1,500,000 each | 4,500,000.00 |
| Trading license | 15,000.00 |
| Water deposit | 1,200.00 |
| Telephone P.B.B.X | 15,000.00 |
| Operating system (KAPS Ltd) | 7,094,328.00 |
| Project research | 300,000.00 |
| Professional Fees 5% project amount | 2,325,000.00 |
| Advertising and information for opening | 500,000.00 |
| Miscellaneous | 500,000.00 |
| Chairs and Tables | 88,000.00 |
| Stationery | 10,000.00 |
| Staff Uniforms | 14,000.00 |
| License/legal 2% of project amount | 950,000.00 |
| Stamp and seal | 5,000.00 |
| | |
| Total Costs | 56,238,528.00 |
Requirement for Services
For efficient delivery of services requires PPL is strategically located close to its niche market, offering convenience to its customers. It further offers secure parking, at affordable rates which service is offered by well trained parking assistants in customer care.
Production/Operation Processes
Operations
When using the operational process concepts illustrated in Jay, Heizer's book, all the operations of the parking will be under the Administration manager with the assistance of parking assistance and security guards. The company will purchase a parking MIS system from KAPS Limited (Heizer, 2005).
The implementation of a well designed charging regime for parking fees at the temporary parking area as well as good management of prepaid parking will ensure proper revenue collection.
Parking Flow Chart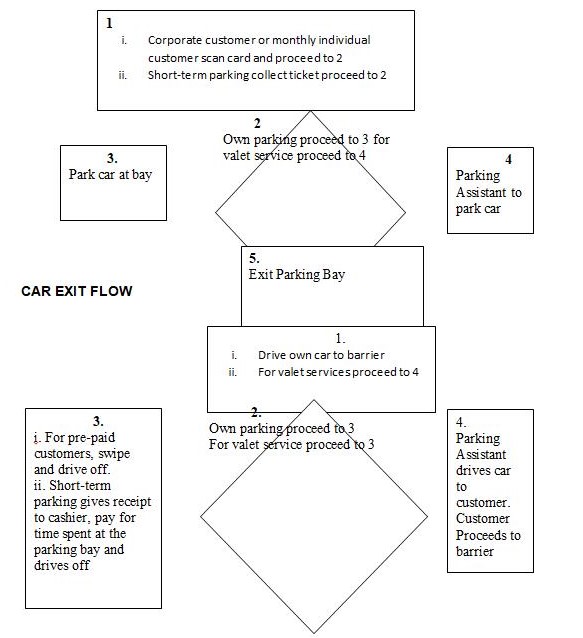 Strategy and Plans
Pleasure Parking will manage the daily operations of the company and shall target corporate customers who will secure parking slots for its staff and pay for this parking quarterly in advance.
This will ensure Pleasure Parking is liquid to manage its obligations especially in the repayment of bank loans. The companies that pay for at least 30 slots will be given discounted rates. Daily audit of the temporary parking and checking of access by card holders will be done to ensure unscrupulous motorists do not defraud the company.
Regulatory and Legal Issues
PPL will comply with the labor laws which cover the Employee Act, Compensation Act and the Health and safety Act. Also the company Act will be adhered to which includes the registration of business, the annual returns and the payment of taxes. PPL will also comply with the required environmental standards monitored by NEMA and other set bodies as well as the zoning laws which designate certain areas for certain businesses.
4.2.0 Major Difficulties and Risks
PPL envisages the following difficulties and risks in the business
| | | |
| --- | --- | --- |
| | Risk | Solution |
| 1. | Theft of cars, Pilferage from cars | Install CCTV and security guards |
| 2. | Accidents, theft, natural disaster | All inclusive Insurance cover |
| 3. | Failure of machinery- lifts & power | Frequent maintenance of equipment and extra stand-by generators |
| 4. | Smoke from cars-environment & Health | Install exhausters to suck out smoke |
| 5. | Loss of key employees | Offer good remuneration package & benefits |
| 6. | Competition & inflation | Diversify products |
| 7. | Safety, fire | Have periodic fire drills, install fire extinguishers etc. |
In addition to the above other negative aspects of the services offered by Pleasure Parking may include:
Some motorists may be afraid of heights and may not be able to park their cars for fear of accidents.
Costs of parking may be prohibitive to some motorists to some motorists and this may create a rift of the 'poor' and the 'rich'.
To mitigate these negative aspects of the parking services, the business shall:
Offer valet services for motorists who are not comfortable driving 10 floors up as well as install car lifts.
Charge penalty fee for customer who delay in picking their children/Spouse after closing hours of the study room.
Introduce monthly payment packages for willing corporate customers who are unable to make bulk payments for the service on quarterly basis.
References
Heizer, Jay. (2005) Operations Management, Prentice Hall publishers.
Raymond, F.Vailleux, and Lous W. Petro, (1998) Tools and Manufacturing Engineers Handbook, Society of Manufacturing Engineers Publication, Chapter 17-6.
Bruce, B. Overton and Stoffer E. Susan, (2008) Executive Compensation Answer Book, Aspen Publishers.
Jose, Figueira, and Mathias, E. Greco, (2005) Multiple Criteria Decision Analysis: State of the Art Surveys, ISBN: 978-0-387- 23067-2.