Introduction
The world is facing the worst economic crisis in face of the recent credit crunch, instability across various regions and economies, global warming and failure of the global monetary system, geopolitical systems, terrorism threats etc. These conditions create new challenges for business faced with intense competition, dynamism, sustainability and leadership, in face of dangers faced, internally and externally.
In only 3 hours we'll deliver a custom The Low Cost Carriers Industry: The Norms of This Industry and How It Operates essay written 100% from scratch
Get help
Aviation industry is no different than others. It has always been assumed to be growing upwards, providing better services, increased operational & strategic capabilities and provide for a better brand image of the nation from which they operate.
These expectations were however tarnished in wake of the terrorist attacks on September 11, 2001 as well as the catastrophes it triggered. This day alone, changed the psychology of the aviation industry forever.
The aviation industry has seen difficult times in wake of the tremors received during the 1991 Gulf War as well as the oil crisis of the 1970s (Werner Delfmann, 2005). Similar were the aftereffects of 9/11 that resulted in an almost simultaneous retaliation in the shape of two wars, resulting in a new crisis for oil among fear and further deepened concerns among the general public of safety in this sector.
Also, with the global economic growth slowing down, amidst rising commodity and prices, has also resulted in shaping consumer preferences when willing to travel. Consumers now look for cheaper means to travel, with reduced time, easy transfers and low costs incurred on services that may be acquired at will, rather than being forced in the overall brand offering. This low-cost trend gave the aviation industry a new niche for operations and boosting growth, low cost carriers.
This paper aims to discuss low cost carriers industry in general, the norms of this industry and how it operates. Furthermore, the main focus of this research is to identify a branding situation that calls for the selection of two brands, from this industry, discuss the two at length on how they project and present themselves to retain the customer's attention and loyalty to the brand, thus contributing towards the brand equity.
Changes for the Aviation Industry
Commoditization in the aviation industry and the emergence of low cost carriers has brought with it new challenges for the aviation industry (Werner Delfmann, 2005).
Academic experts
available
We will write a custom Branding essay specifically for you for only

$16.00

$11/page
Learn more
On one hand, this has reaffirmed the importance of point-to-point transfers, ensuring direct transfer of flights rather than the traditional hub-and-spoke method. These transfers result in an effective reduction in time, cost and ensure the maximum efficient usage of the aircrafts and the personnel involved. From the consumer point of view, this also results in reduced frustration, as well as baggage efficiency, engaging in through baggage transfers.
Secondly, this has brought new business definition for airports previously considered "less" important as compared to central airports, resulting in emancipated growth with low cost carriers looking for optimum cost-efficient solutions. This has re-emphasized on the importance of these airports and resulted in their growth, due to fast turnaround time, and an increased number of flights. These changes have posed new challenges for the traditional aviation industry still struggling with high fares and changing customer preferences.
Low Cost Carriers
Low Cost Carriers provide for air travel services at very low costs as compared to traditional airlines, by reducing many of the services offered to the passengers, during the overall lifetime of the service. Benefitting from the current geopolitical scenario worldwide as well as technological advancements, this industry uses any of the following strategies to cut down on the overall costs:
Brand Extensions – Aviation companies operating in low cost areas are mostly acquisitions and acquisitions by companies operating in the industry for a long time, with an existent brand image. Most new low cost carriers enjoy enhanced brand equity, derived from the parent company's practices, reputation and involvement.
Fleet of similar type – Having this strategy allows for a reduced investment, both cost and time-wise for regular maintenance, availability of spare parts, personnel training etc.
Convenient Fares ­– LCC1s charge one way fares for passengers instead of conventional round trip arrangements, allowing for consumers to be more flexible in choosing their desired airline
Point-to-Point transfers – This allows for maximum usage of the aircraft, as well as saving up on time of the transfer of baggage, passengers as well as transit. Point-to-point transfers are very quick and efficient as compared to the traditional hub-and-spoke strategy of flight transfers.
No Passenger Differentiation – Low Cost Carrier airlines use single class status for all passengers' classification and seating
Human Capital Utilization – Low Cost Carrier Airlines employ lesser amount of personnel, training them to perform multiple duties, ensuring maximum utilization of resources, in lesser amounts of cost.
Online Purchase – Through the elimination of travel agents, and support for purchase of tickets using the World Wide Web, allows a large amount of cost saved, in lieu of convenience, availability and ease of access.
Value Added Services – Virgin also provides for additional services while in flight, such as additional viewing time of its satellite television, on-board meals and other purchases.
Jetstar Airways
Jetstar Airways was created in response to the competition offered by Virgin Blue in the LCC sector of the aviation industry. A low cost brand extension by Qantas to dominate this sector of the aviation industry as well, Jetstar was initially operating as Impulse Airlines when it was acquired by Qantas and re-launched, three years after major competitor Virgin Blue, already operational since 2000.
An extension of the Qantas brand, Jetstar enjoys many benefits from the equity formed by Qantas. However, the practices of the company are not predated by the management system running Qantas, and its management operates largely independent from its parent company. Jetstar, from the time it was launched, has had the most successful launch of a low-cost airline ever, despite it being still two weeks from its scheduled service. (Rochfort, 2004)
Jetstar won the 2007 award for the best low cost airline in a survey conducted by Skytrax, based on passenger interviews, online and by e-mail, travel questionnaires, telephonic interviews as well as interviews conducted from selected passengers (2008).
Factors of Differentiation
Jetstar presents a completely different and unique set of features and benefits for its customers that make it preferable among other low cost airlines. Based on our understanding, we aim to carry out an analysis of the features of this brand in terms of strengths, weaknesses, opportunities and threats.
15% OFF
Get your very first custom-written academic paper with 15% off
Get discount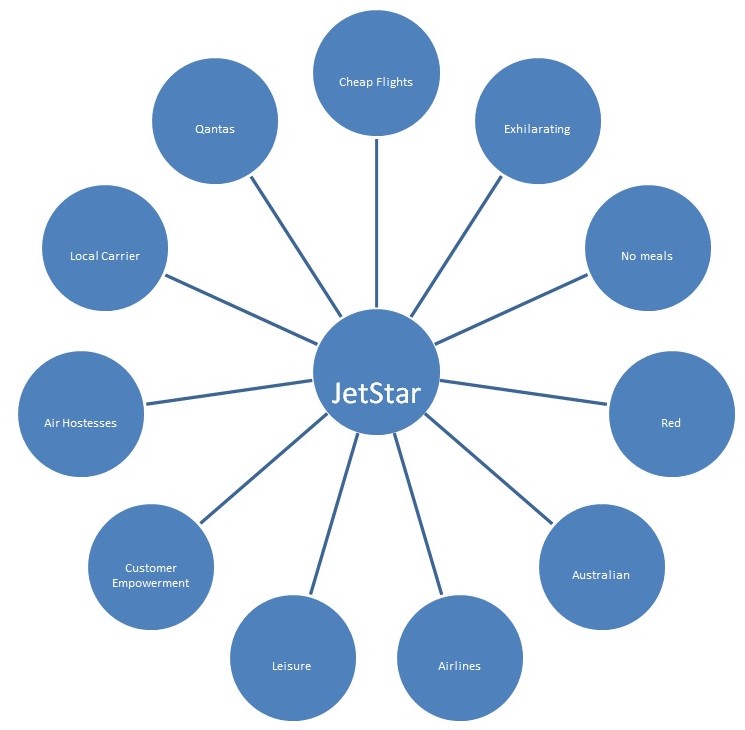 Low Fares: Jetstar uses low-cost as its primary strategy for attracting new customers. The company is primarily targeting leisure travelers (Forsyth, 2005), unlike competitors Virgin Blue and others attracting price-sensitive business travelers.
Customer Control: Customer empowerment is at the core of Jetstar Airways, allowing for customers to reserve their seats while booking.
Jetstar – Brand Analysis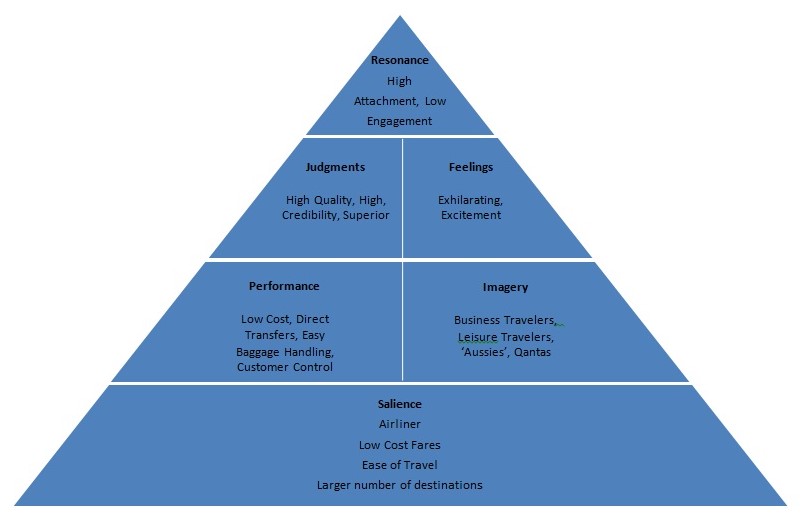 Core Identity
Jetstar offers innovation in low cost travel, with the quality, warmth and passion of Qantas to those traveling for fun, as well as for business.
Product Thrust: Cost-Effectiveness, Differentiation & "Aussieness"
User Profile: Leisure Travelers
Performance: Quick travel, easy baggage handling
Value: Empowerment to choose services to avail
Extended Identity
Personality: Attractive, symbolic, memorable and communicative
Relationship: Funky and colorful
Tag Line: "It's All About Choice"
Brand Ambassador: Magda Szubanski
Associations: Sponsors – The Gold Coast Titans
Official airline of the Australian National Rugby League Team
Value Proposition
Functional Benefit: Low-cost, quick travel services, designed around people. Translating customer 'experience' into actual service, as you want it to be.
Emotional Benefit: Forcing deep bonds with customers by allowing customers to select their seats upon booking. A sense of connection to one's roots, becoming a part of the 'Australian' way.
Self Expressive / Symbolic Benefits: Qantas, a renowned name in aviation, innovation in services.
Credibility: Challenge to convention, longer presence in the market of the parent company, Qantas.
Virgin Blue
A low cost brand extension of the Virgin Group, Virgin Blue bears the world renowned Virgin name prestigiously owned by Sir Richard Branson (BBC News, 2003), to operate as a LCC in Australia. It is the second largest airline in Australia among low cost carriers.
Virgin Blue uses low cost fares as the main punch to its overall strategy, attracting a large pool of customers, by selling its tickets on a one-way basis (Xomba, 2008), rather than on roundtrip basis to make these more affordable for their customers.
Factors of Differentiation
Like all brands, Virgin Blue possesses features that make it unique, favorable, preferred and chosen over other brands. At the same time, there are some less favorable that do not go with the customers, making them chose other brands providing similar benefits with a different combination. Based on our understanding, we aim to carry out an analysis of the features of this brand in terms of strengths, weaknesses, opportunities and threats.
Get your customised and 100%

plagiarism-free

paper on any subject done for only

$16.00

$11/page
Let us help you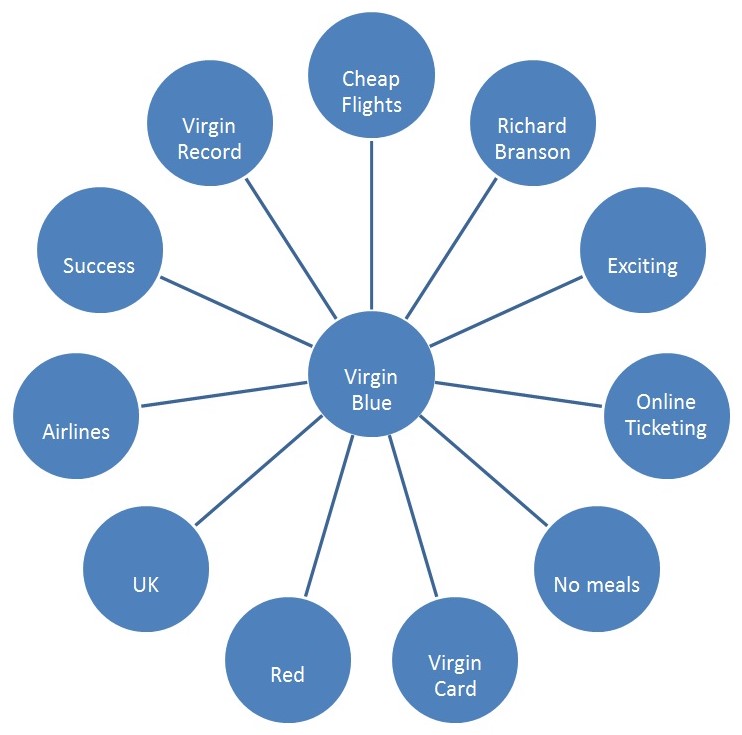 Strong Brand Presence: The airline enjoys a strong brand presence in its association with the Virgin group. Also with the personality and fervor of Sir Richard Branson, his willingness to try new things, being rebellious are the features that make this brand interesting to customers.
Fleet Business Model: Virgin Blue has centered its cost saving strategy on keeping aircraft of the same model in its fleet, Boeing 737 (PR Newswire, 2001). This allows for the company to save costs on maintenance, spare parts and training etc. At the same time, using the same aircrafts in its fleet preserve an image consistent with the customers as well.
Sponsorships: Virgin Blue has made its presence felt in many ways in Australia, through sponsorships, marketing promotions, endorsements and advertising campaigns, some of which are:
NRL – Virgin Blue signed a deal with South Sydney Rabbitohs (Asia Travel Tips, 2007). This achieved two objectives for the firm; firstly, association as of the people, for the people, through sponsorship in a major game watched by citizens across Australia. In this context, the airline also designed its aircrafts with the flag of the rugby league team.
NBL – The airline is the official sponsor of the Australian National Basketball League, as well as title sponsor for NBL's Brisbane Bullets.
Innovation:  The airline has been innovative in its approach of using its services architecture to facilitate its customers. The company's concept of aerial billboards, painting its aircrafts with promotions for products as well as government, has served as a source of revenue for the company.
Negative Publicity: The company has also faced negative publicity and less favorable opinions in wake of a few incidents that made a mark on its reputation, and also left the consumers in question about the credibility and the promise the brand made with its customers, and in general, the entire public:
Virgin Blue made waves when a case was filed against it in lieu of discrimination over the age of flight attendants, and the company's refusal to recruit such individuals. Flight attendants from another airline filed a lawsuit when the company rejected their applications citing reasons of being 'over age' and not suitable for the job. The court ruled in favor of the flight attendants and won compensation against discriminatory behavior.
Virgin Blue – Brand Analysis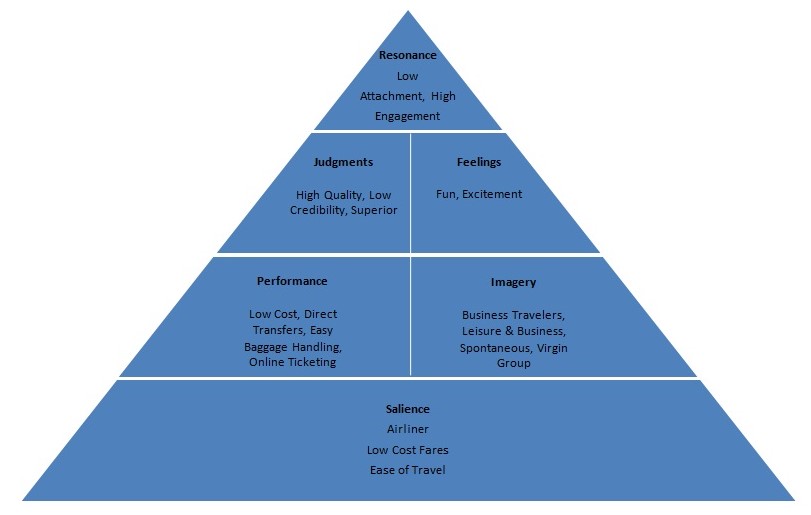 Core Identity
Offer best quality services to business travelers seeking low-cost, direct transfers, with the innovation and facilities synonymous with Virgin group.
Product Thrust: Cost-Effectiveness, high-end services
User Profile: Business Travelers
Performance: Quick travel, easy baggage handling
Value: Local airline
Extended Identity
Personality: Rebellious, free-spirited and attractive
Relationship: Energetic
Tag Line: "Get What You Want"
Associations: Sponsors – South Sydney Rabbitohs, Brisbane Bullets
Official sponsor of the Australian National Basketball League (Virgin Blue, 2008)
Value Proposition
Functional Benefit: Low-cost, quick travel services. Targeted around the customer's level of satisfaction and affordability
Emotional Benefit: Exploring the rebellious side of the Australians, being free-spirited and building a strong bond with them through sponsorships of sports
Self Expressive / Symbolic Benefits: Virgin Group and Sir Richard Branson, highly renowned for his rebelliousness, free-spirit and willingness to try new things.
Credibility: Challenge to convention
Overall Comparison
In terms of the overall comparison, we can rate Virgin and Jetstar on the following: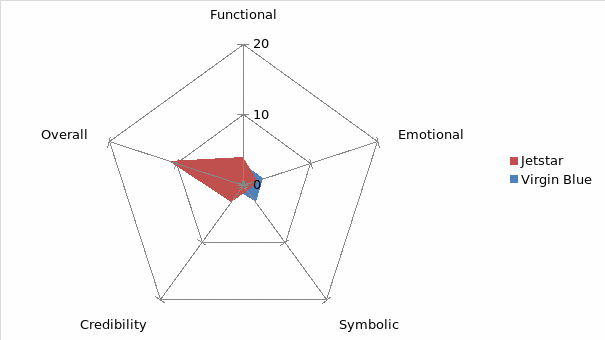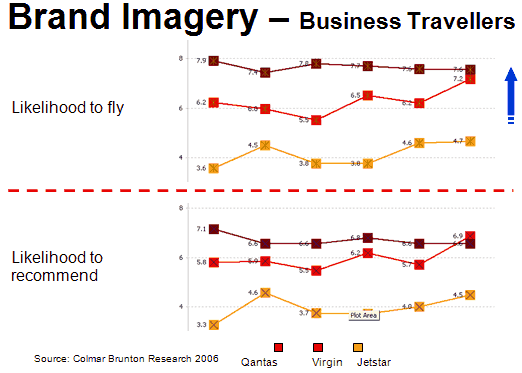 Conclusion
This research paper focused on the discussion about the two brands from an industry that requires branding. A new version of the aviation industry, the low cost sector, has fueled large growth in this relatively slowed down sector, and is making its presence felt.
Virgin Blue has been a renowned name in LCC airliners, operating across cities in Australia, working under the Virgin Group. Although much older than its successors and competitors Virgin Blue's growth has been slow and has faced negative publicity in wake of some decisions not famous with the customers. Virgin Blue survived the aviation industry crisis, only due to strong brand equity of the Virgin Group.
Jetstar, previously Impulse Airways, is a relatively new airline acquired by Qantas, in competition with Virgin Blue, when the Australian aviation market failed due to the sudden collapse of Compass and Anssett (Thomas, 2007). It has been growing relatively well, due to comparatively lower prices offered than Virgin Blue. The growth has been marked by attractive offers, as well as building on the already developed equity of Qantas, adding new routes to its current offerings, as well being the first airline to allow the passengers to choose their seats while booking.
In my conclusion, Virgin Blue still has some ground to cover. It has the emotional appeal, however the functional benefits are still lacking. The brand is still lacking in the area contributing to the reputation built by Sir Richard Branson, which it has to develop to gain further acceptance among the Australian business travelers.
Works Cited
Aaker, David A. (1996) Building Strong Brands. New York, The Free Press, 1996.
Asia Travel Tips (2007) Virgin Blue signs Sponsorship Deal with South Sydney Rabbitohs. [Online] Web.
BBC News. (2003) Virgin Blue flies on market debut. s.l. : BBC News, 2003.
Forsyth, Peter (2005) Competition versus Predation in Aviation Markets. s.l. : Ashgate Publishers Ltd.
(2008) 'Jetstar Airways scoops the World's Best Low-Cost Airline Award for 2007'. World Airline Awards. [Online] Web.
Keller, K.L., 2008. Strategic Brand Management: Building, Measuring and Managing Brand Equity. New Jersey: Prentice Hall.
PR Newswire (2001) 'Virgin Blue Plans to Fly Higher, Farther and Faster With First Boeing Next-Generation 737-700'. Brisbane : PR Newswire LLC, 2001.
Rochfort, Scott (2004) 'Qantas soars to great hypes'. Sydney : The Sydney Morning Herald.
Thomas, Geoffrey (2007) 'Jetting to the Top'. s.l. : Air Transport World.
Virgin Blue. (2008) 'Virgin Blue takes NBL Sky High'. Virgin Blue. [Online] Web.
Virgin Blue (2006) Innovation : More Than A Buzzword For Attracting New Business At Virgin Blue. [Online] Web.
Werner, D., Herbert, B., Stefan, A., Sascha, A. (2005) Strategic Management in the Aviation Industry. s.l. : Ashgate Publishing Ltd.
Xomba (2008) 'The Strategy of Low Cost Carrier – Virgin Blue, Australia'. Xomba. [Online] Web.
Footnotes
1 Low Cost Carrier