Introduction
The purpose of this report is to discuss the function of marketing in achieving business success for a mobile telephone operator such as Virgin, undertake a situational analysis of the Indian mobile phone market, Virgin's micro-segmentation strategy in India, advantages and disadvantages of this approach and the importance of the Virgin brand to enter the Indian Telecom Industry.
In only 3 hours we'll deliver a custom Virgin's Distinctive Market Segmentation in India essay written 100% from scratch
Get help
The given case study 'Ringing Youngsters' demonstrated that the Virgin is the late entrant into the Indian telecommunication market for which Virgin has to encounter diverse obstacles both from the regulatory authority TRAI and market players, however, the marketing potentiality of Virgin has provided a competitive advantage for the company by generating enhanced value for its customers that could give a boost for sales. Virgin Mobile India is offering a higher customer value to its target customers through its distinctive marketing capabilities and integrative processes appropriate to engage collective knowledge, skills, and resources to convene the market demands thus enabling the business to value-add its goods and services to match market conditions; having the advantage of market opportunities and encountering threats.
Although it was a difficult time for Virgin to enter into India's mobile market in 2008, it conducted a landmark market research of the market and identified its potentiality that was far richer than China in terms of market vitality and prospects. Virgin even identified that though the Indian players in the mobile phone market were already established; however, broadband was just at its infancy, there were only nine hundred thousand broadband users in 2005 out of a population of more than one billion that evidenced a 568.9% growth in 2006. Broadband connectivity and some other value-added services still have enhanced opportunities among the Indian youngsters, where Virgin is a market innovator (Saigeetha, Ravi & Syed, 2010).
The marketing strategy of Virgin has made it capable to explore its products and services in India by overcoming all the obstacles. The MD of TTSL1 Anil Sardana expressed their reaction to the criticism against Virgin arguing that Virgin is not at all an MVNO2 as there is no airtime contract, but just another brand of TTSL, Virgin at their end promotes the brand with value-added services. In response, the regulatory authority TRAI investigated this issue and identified that the agreement between Virgin and TTSL do not fall under MVNO and does not violate any existing regulation.
Saigeetha, Ravi & Syed (2010) explored that market trend demonstrated, it has gained dominance by targeting the youth and rural populace who only need voice and text options; however, to address this research finding, the UK based mobile operator Virgin Group procured 500 million old dead phones from the USA and refurnished them to enter the Indian market.
The market research identified very authentic data, such as, 215 million people of India were 14 to 25 year's age group, while the expected increase of the mobile users at this group would be 50 million by 2010 and the high net-worth customers would not change their operator for the new brand; consequently, low paid cost-conscious customers would choice Virgin. However, AFP reported that Virgin has a differentiable venture to provide value-added services in the Indian market and to offer more tailored music, relevant entertainment, current news, sports and Bollywood celebrities engagement; in addition, the cost-effective solution for mobile users would be the major attraction to the young people.
The 'Think Hatke Philosophy' of Virgin has explored its advertisement campaign, which aimed to communicate and attract the young generation of India to its brand and aware them about initial transformational appeal and highly structured service attributes along with benefits to the users, for instance, its transformational appeal give details to whom service would fit (Saigeetha, Ravi & Syed 2010, p.6). The objectives of such marketing campaign of this company were to explore its brand awareness, generate market segment for itself, give the idea to the young people, address customer's needs of the targeted age group, and consider the discussion between two young people to connect directly with them (Saigeetha, Ravi & Syed 2010, p.6; and Scribd 2012). The case study reported about the offerings of virgin to draw the attention of the customers, such as the customers of Virgin would receive 10-paisa credit for all incoming calls from other operators, 50-paisa per minute nationwide call after first two minutes, free CDMA upgrading of the handset, the safe secret folder for SMS and unlimited V-bytes for a minimum daily charge.
Academic experts
available
We will write a custom Case Studies essay specifically for you for only

$16.00

$11/page
Learn more
The given case study demonstrated that Virgin has deeply concerned with its market orientation that urged for market learning and the management of Virgin conducted a market survey to gather market information related to the target customers to deliver satisfactory customers value for its marketing approach. It has provided the company core spirit to establish its operation in India on the strong foundation of learning about the markets and relating the learning outcomes to address customers' needs pointing to the current requirements along with expectations as well as predicting the future needs to develop of new product or service offering by maintaining satisfactory relationships with customers. Thus, the given case study has demonstrated that the role of marketing is at the heart of Virgin to achieve business success overcoming the blame of late entry in the emerging market of India.
Ernst & Young (2012, p.4) stated that Indian Telecommunication Industry has experienced unparalleled growth and it became the second greatest market in the globe due to its large customer base through at the initial stage, the position and growth of this industry were not at all satisfactory level. According to the case study of Virgin Group, in 2007, India was the second-most populous country in the world and the fastest-growing market; as a result, the players of the national and international market were keen to enter this market with different products and services, which enhanced to develop the external market environment.
Situational analysis of the Indian mobile phone market
Market Situation
Ernst & Young (2012, p.4) further stated that the growth of the Indian Telecommunication industry would continue in the future for flexible tariff policies for the foreign investors, various proactive and positive decisions of the Government, technological advancement, low-cost human resources, the contribution of the public and the private companies, fair regulatory framework for offering telecom services. However, Sangeetha, Ravi & Syed (2010, p.2) stated that the Government operators particularly BSNL and MTNL generated about 90% of the profits from basic services; on the other hand, private sector services were accessible just in some specific urban regions (merely hold 5% shares). IBEF (2008, p.6) reported that Indian mobile phone market share has been captured by the private companies, for instance, these companies hold more than 70% of the total market share; however, the following figure shows that market share BSNL and MTNL had decreased from 2006 –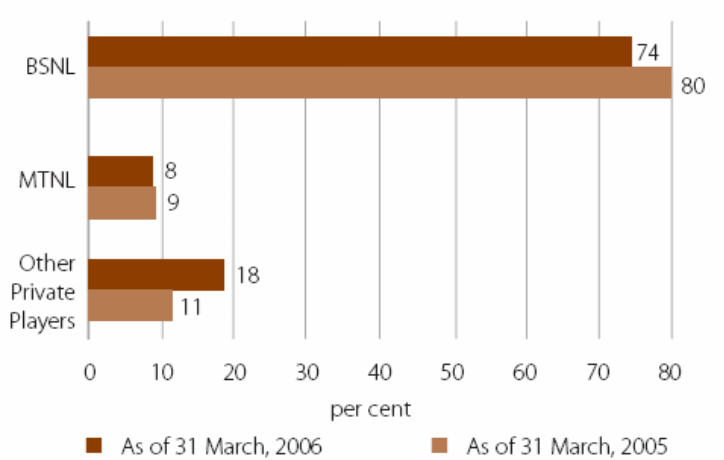 The increasing wireless support is reflected in the growing share of mobility of the entire Telecom foundation, for example, in 2002, India's Telecom base was only 5 per cent of 32 million while in 2008, it enlarged by 87 per cent of 300 million Telecom subscribers; however, the subsequent figure demonstrates more clearly –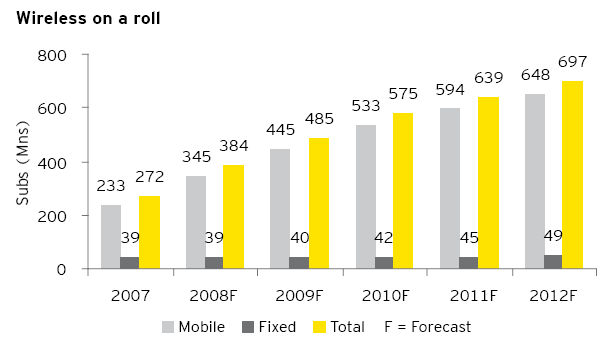 Product situation and lifecycle
IBEF (2008, p.5) reported that India is one of the few nations in the globe to have more GSM subscribers than fixed-line subscribers; as a result, mobile operators offer different services including SMS, mobile Internet service, chatting, conferencing, GPRS service and so on; the subsequent information is significant to analyze the product situation –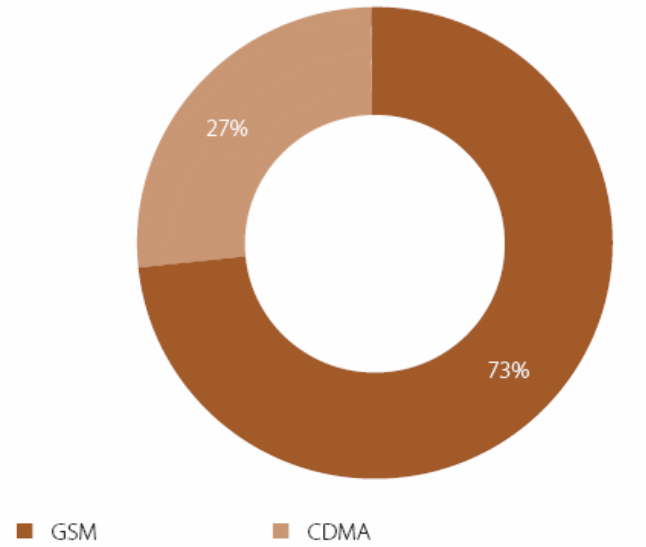 Saigeetha, Ravi & Syed (2010, p.2) argued that GSM is more popular than CDMA in India because GSM provides the facility to the customers to change SIM cards at any time; however, the above-mentioned figure also demonstrates that GSM captured 73% share while CDMA holds only 27% in 2007. At the same time, earnings per customer are also decreasing because of the low tariff rate, but the customer base is becoming strong because of different uses and enhancing affordability; however, the next figure shows the average profit per customer in India –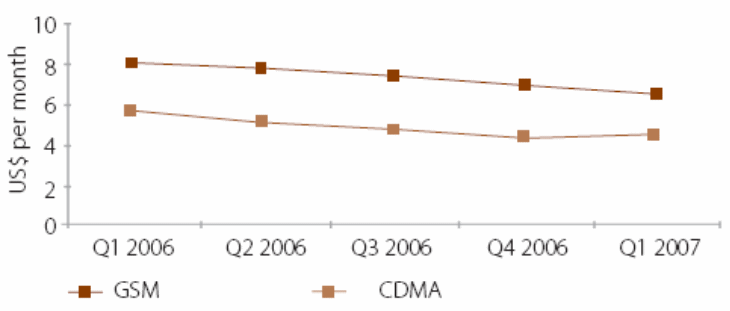 On the other hand, Saigeetha, Ravi & Syed (2010, p.4) pointed out that Broadband is one of the key services of the telecom sector in India because India had only 135,000 in 2006, but now it has about 27.3 million broadband subscribers; however, the following figure shows the broadband and Internet subscribers growth –
15% OFF
Get your very first custom-written academic paper with 15% off
Get discount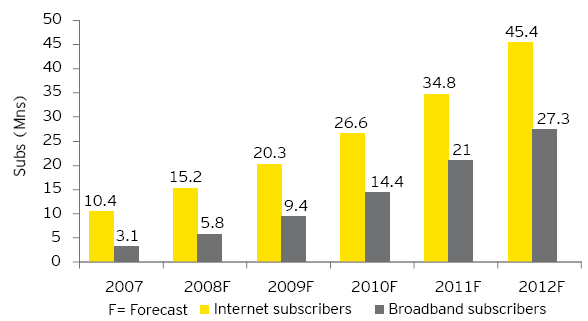 Competitive situation
Saigeetha, Ravi & Syed (2010, p.2) reported that Bharti Airtel, Vodafone and Idea cellular lead the GSM segment; on the other hand, Reliance and Tata Indicom control the CDMA segment. Market players have a specific strategy to compete with other operators, for example, Reliance decided to launch GSM services in 2007 to boost market share, which was a serious threat for the GSM providers in the Indian market, and Virgin Group intended to enter this market using a micro-segmentation strategy; however, the following table demonstrates competitive position in terms of subscriber base-
Group Company
Total Subscribers 2008
Total Subscribers 2010
VLR Subscribers
2010
Bharti Airtel (GSM)
66825935
152,495,220
139977470
Reliance (CDMA & GSM)
48696295
(48470610 + 54100760)
Vodafone
47466853
124,255,120
94304350
BSNL – GSM
36997418
81234680
46254450
BSNL – CDMA
5474860
NA
IDEA (GSM)
26140643
81,778,660
73634730
Tata (CDMA)
25476062
41890605
19478400
Aircel (GSM)
11491986
50,168,810
30153660
Spice (GSM)
4497675
MTNL (GSM + WLL)
3350437
5109260
1817450
MTNL (CDMA)
288510
76970
BPL (GSM)
1331261
HFCL (CDMA)
326150
269245
99840
Shyam (CDMA)
108396
Table 1: Main Telecom Companies in India. Source: Self-generated from Telecomindiaonline (2010) and Saigeetha, Ravi & Syed (2010, p.3)
Environmental analysis
Saigeetha, Ravi & Syed (2010, p.5) pointed out that the growth rate of this industry is outstanding, for instance, overall growth was 92.6% from 2000 to 2005, and the mobile customer further increased 18.7% within the first three months of 2006. However, this continues growth depended on several external and internal factors, such as, the global economic slowdown has decreased the purchasing power and changed the behaviour of the customers, which negatively affected this industry by increasing the cost of capital and decreasing foreign investment; therefore, the market players need to change their features of offerings (Ernst & Young 2012, p.32).
SWOT analysis
Kotler & Armstrong (2006) and Pearce & Robinson (2006) stated that SWOT-analysis helps to sum up the major environmental aspects –
Strengths
Saigeetha, Ravi & Syed (2010) reported that India is one of the most potentials and promising mobile markets in the world;
TRAI has added an array of anti-hoarding conditions to the licenses to control the industry;
Kalra (2012) stated that fast growth is the key strength of this industry;
High return on investment encouraged the private companies to enter this market;
Customer attitude is also playing a vital role;
Low operating costs help the companies to maximise profits;
However, the eagerness of the market players of the Telecom Industry to produce new products to attract target customers enhance market demand;
Weaknesses
It is essential to increase advertisement and other promotional costs to create a loyal customer and increase new customers to sustain in the competitive market;
Poor Telecommunication infrastructure cause a large number of call drops;
Late adopter of new technology, for instance, India is the last country, which adopted 3G technology;
India is the most competitive market as more than 20 strong competitors are offering similar services;
Opportunities
Saigeetha, Ravi & Syed (2010) stated that the Indian Telecom sector experienced outstanding growth; thus, the market players of this industry would enjoy a competitive advantage to operate in this market;
It has the opportunity to develop 3G Telecom services and 4G services;
The players of the industry have the opportunity to provide value-added services and change the operating system of other industries, for example, mobile banking creates a new dimension in the banking sector;
In addition, the government policy, flexible taxation policies, low cost and experienced labour force encourage the foreign companies and allow them to enter this market and invest more for the future development;
Threats
The existence of numerous competitors increase competition to offer services at low cost, which help to increase the number of subscribers, but decrease the profit margin of the companies from the Indian market;
Flexibility tariff policies and regulation decreased the share of public operators and enhanced the market of foreign investors (Global Equations 2006);
Global financial crisis can affect the telecom industry, for example, it is likely to take a toll in the short-term mergers;
It is essential to redesign products and services to attract the target customer group or compete with other operators.
Virgin's micro-segmentation strategy in India
According to the view of many scholars, micro-segmentation is crucial for the late entrant in the highly competitive telecom industry; therefore, the management of the company researched customer usage of the market to find out potential target groups to capture significant market share in Indian mobile phone industry (Saigeetha, Ravi & Syed 2010, p.1). However, the survey had undertaken by the management team and Richard Branson, Chairman and founder of Virgin Group, and they pointed out that the rural market demands simple phones with voice and text features; therefore, it decided to bring second-hand phones (Saigeetha, Ravi & Syed 2010, p.5). Moreover, the marketers of this company identified that young people would be the prospective target group because there were over 215 million people of India aged between 14 and 25; however, in 2008, less than 30% of total members of this group used mobile, but they contributed above 50% of the Indian telecom industry (more than Rs. 500.0 billion). Moreover, the marketers estimated that the number of young people would be more than 265 million within 2010 and this group would contribute the company to generating about Rs. 350 billion (60% to 70% of total profit from this sector); therefore, the top management of Virgin Group decided to target youth (aged between 14 and 25 years). In addition, the researchers had further addressed that high-net-worth customers would like to use the products of the luxurious brand and middle-class people shift the brand for low switch off costs; therefore, this company decided to consider poor people of India as its target market.
As the target customers of Virgin Mobile are teens, who treat mobile phones as not just a few calls of official talking or getting alarmed for appointment schedules, but it is for unlimited communicating with friends, preparing plans, exchanging ideas and stories and gossip all around. The teenagers are always trying to keep themselves with culture and entertainment, the quick and cost-effective communication with voice, text message, e-mail, music, art, and media, by nature they are stylish, dependable, nervous, and reliable for collective approach, deeply concerned about their community rather than individual utility. None of the existing market players of India has yet analyzed or addressed such needs of the teenagers; thus, Virgin is the pioneer company to keep its exclusive attention on this segment of customers to gain tremendous success.
Advantages of micro-segmentation strategy
The key purpose to follow this approach was to gain a competitive advantage over competitors;
The people of this group have large circles of friends for both making and receiving calls, which offers a revenue chance not just from the whole group switching to a common service provider, but also from customized services, for instance, closed user groups and so on;
At the same time, different mobile phone usage habits of the juvenile customers provide an enormous benefit to Virgin Group in India because they make more and longer outbound voice calls, which show vast billing perspective for service providers (Scribd 2012);
In the case of the handset business, the management team of this group identified that young customers have a shorter handset up-gradation cycle (under one year), which increase the opportunity of handset business besides mobile services;
In addition, young people use the mobile phone not only for making calls, but for versatile purposes, such as SMS, data services as mobile Internet, mobile shopping, video games, radio, television, and other value-added services including ring tones, caller tunes, wallpapers, and so on (Guenzi.& Troilo 2006). Therefore, this company had the opportunity to attract teenagers by giving value-added services at low costs and generating more profits from these services;
The marketers have considered this strategy considering its long-term objectives, for instance, the customers of this group would become self-independent within a few years and they would take upgrade products and services of this company;
In addition, this strategy would adversely affect the market segment of the key competitors of the Indian Telecom Industry (Scribd 2012)
Disadvantages of micro-segmentation strategy
Boost marketing costs: The main disadvantage of micro-segmentation strategy is higher marketing costs particularly costs for advertising and other promotional activities increase to develop a loyal customer base;
Product development: At the same time, it increases the cost to develop variations of the product because the company needs to design products considering the preference of the target group;
Consumer backlash: The success of the business mainly depends on the customers' positive feedback or the response of the customers. However, if the company fails to attract a specific target group, then it has to face huge losses;
Limits general popularity: In addition, Virgin Group had no intention to target all range of customers as a late entrant and existence of many strong competitors in the market, which limits general popularity of the products and services of this company in India;
Other: Finally, higher stock holding costs and proliferation of products are also major problems of micro-segmentation strategy.
The importance of the Virgin brand in helping to achieve rapid penetration in the Indian market
In the given case study, the Managing Director of TTSL3 Anil Sardana expressed that they were very delighted with the alliance, as Virgin had a strong brand image in the international market that enabled TTSL to address the young segment of the country with innovative products and excellent services. The UK's renowned Virgin brand has gained the licence for its Indian operation under the terms of agreement with TTSL for which TTSL gets a share of royalty for each subscriber at present and future expansion. The Virgin brand is the pioneer to introduce value-added services, for instance, video calling, entertainment, news, games from their handset and so on; however, these kinds of innovative ideas and marketing approaches of the brand extremely inspired the young generation of India to be the subscriber this brand, which helped to achieve rapid penetration in the Indian market. As a well-established brand, the management of Virgin Group used their experience in the research field to enter and expand the business in the Indian market; therefore, it was possible to use their investment to introduce value-added services by the market demands.
Get your customised and 100%

plagiarism-free

paper on any subject done for only

$16.00

$11/page
Let us help you
The brand management of Virgin has aimed to change customers' mindset with strong perceptions and positive attitudes towards the company as it addressed the actual needs of the teenagers with cost-effective solutions to attract them; in addition, each marketing campaign of the company has pointed to uphold its brand equity. The decision-makers of the company have introduced services considering unaddressed needs of the target customer base like password protected SMS system and V-Bytes where customers get a chance to enjoy a lot of entertainment from a single platform; such initiatives has once again reflected the strength of the brand to include new system. To get a competitive advantage on the matured competitor of the Indian telecommunication sector, Virgin mobile has presented its brand in such a technique where the customers could become aware of the difference and distinguish the uniqueness of the brand. The Virgin brand has conveyed its sparkling image consistently and promoted by the trustworthy youths with new looks who considered the red trademark of Virgin as a combination of cost-effective product information and cultural encouragement along with easier to browsing attributes and simple to buy.
Thompson (2000) stated that Virgin Group started its journey with controversial sex pistol, but the management concentrated on the differentiation of the products along with vertical and horizontal brand expansion; in addition, it became a leading branded venture capital organization and the fifteenth largest private company in the UK.
Abdul (2003) argued that Virgin brand name was one of the most significant assets to the company because international business organisations showed their interest in joint ventures with this group considering its brand image, investment capabilities, annual turnover, advancement of technology, and so on. However, Microsoft (2010) reported that Virgin Group has expertise in designing, marketing and other sectors, which encouraged to establish first national youth-focused mobile service and helped to develop strong distribution channel (more than 50,000 outlets), developed good customer relationships, and created customer base in 3,20,000 towns and villages across India.
According to the case study, the Indian telecommunication market has more prospects than the Chinese mobile market, for which the UK based brand Virgin Group has entered this market through collaboration with TTSL; however, TTSL has admired for Virgin brand because of its strong brand awareness, which provided the opportunity to gain a competitive advantage over the competitors.
Reference List
Abdul, R 2003, Virgin corporate strategy Case Study.
Ernst & Young 2012, India 2012: Telecom Growth Continues.
Global Equations 2006, Opportunities & Overview of Mobile Industry in India.
Guenzi, P. & Troilo, G 2006, The joint contribution of marketing and sales to the creation of superior customer value.
IBEF 2008, Telecommunication: Market & Opportunities, Web.
Kalra, R 2012, SWOT Analysis of Indian Telecom Industry, Web.
Kotler, P. & Armstrong, G. 2006, Principles of Marketing, Prentice-Hall of India Private Limited, New Delhi.
Microsoft 2010, Virgin Mobile India.
Pearce, J. A. & Robinson, R. B 2006, Strategic Management. 8th ed. London: McGraw-Hill.
Saigeetha, C. Ravi L & Syed A 2010, Ringing Youngsters – Virgin's Distinctive Market Segmentation in India, IBS Research Center, India.
Scribd 2012, Virgin Group, Web.
Telecomindiaonline 2010, India Telecom Stats – December 2010.
Thompson, J, L 2000, Virgin Web.
Footnotes
Tata Teleservices Ltd.
Mobile Virtual Network Operator
Tata Teleservices Ltd.