Executive Summary
This report is in two parts. The first part analyses Wieden+Kennedy as an independent advertising and marketing agency that is involved in the marketing of sporting footwear. Since Nike is the biggest brand in the organization's portfolio, the second part of the report evaluates the marketing strategy that is applicable to this brand. By using the information obtained in the first part of the report and focusing on men aged between 15-40 years, as Nike's main demographic, the second part of the report proposes an elaborate marketing mix strategy that should improve Nike's brand awareness, profitability, market share and sales volume. The last section of this report proposes doubling Nike's customer numbers as its main goal. We formulate the objectives for achieving this goal through the SMART model.
Introduction
Wieden+Kennedy is a reputable marketing agency located in Portland, Oregon. Founded in 1982, the company has grown from a small marketing and advertising agency in North American into one of the biggest agencies in the global marketing space (Hamadeh 2004). It has offices in different capitals of the world, such as London, Amsterdam, New York, Tokyo, and Delhi (just to mention a few). The advertising agency has employed 1,500 employees who work for the company's to give different services, including brand marketing, marketing automation and more (Wieden+Kennedy is a full-service advertising agency). It has also won numerous awards in the global marketing and advertising space, such as the Emmy Award for the campaign titled the Morning After" and Adweek's "Global Agency of the year," in 2007 (Hamadeh 2004).
The company's corporate culture identifies with the informal ("laid back") business style where employees could write rules on napkins and managers encourage creativity through informal business structures (Elefante 2008). In this regard, its employees rarely have bosses to define their planning and creative processes (Mogel 2010). The company's corporate culture also encourages individualism where workers make their space and undertake their duties whenever they want (Banks et al. 2002; No Author 2015). This corporate culture strives to promote an environment where employees learn to sell brands and not products (Berger 2006). Its superb marketing work with Nike is largely responsible for its regional reputation as among the best marketing agencies in the business (Smith 2004). Some of its most notable works with the American footwear company include the "Just Do IT" campaign, Air Jordan Ads, Lance Armstrong "LIVESTRONG" campaign (to raise funds for cancer research), Bo Knows Campaign, which featured professional baseball player, Bo Jackson, and Charles Barkeleys Campaign titled, "I am not a Role Model." This report is in two parts. The first part evaluates the Wieden+Kennedy as an independent company and the second part analyses Nike, which is its main brand. The goal is to find out ways that Wieden+Kennedy could use to increase the brand's performance.
Environmental Analysis
Analysis of External Environment
To analyse Wieden+Kennedy's external environment, we adopt the PESTLE analysis framework as the main analytical tool. It evaluates the political, economic, social, technological, legal, and environmental factors affecting the company (Solman 2008a). The analysis appears below
Political: The political environment does not have a strong impact on Wieden+Kennedy's operations because the company mostly has different operations in liberal/democratic countries where politics only play a facilitative role in business (Goldman & Papson 1996).
Technological: The global advertising and marketing space has changed throughout the decades (Tungate 2007). The move towards virtual marketing and advertising is arguably the greatest change agent in the industry (Grabher 2002). Wieden+Kennedy has adapted well to this change and even worked with some of the biggest technological companies in this field, such as Facebook. Indeed, the company has created some of the most impressive viral campaigns on YouTube, Facebook and other virtual platforms (Tungate 2007).
Economics: The primary marketing space that Wieden+Kennedy operates in is a cut-throat marketing space that is dominated by many players (Ryan & Conover 2004). Consequently, competition is a challenge for the company because it has the potential of reducing the company's profit margins (No Author 2008). Furthermore, many of the companies that work with Wieden+Kennedy could easily terminate their contracts with the company and work with another marketing agency (Langwost 2004). For example, in 1998, Nike outsourced some of its marketing business to a rival firm, Goodby Silverstein. This move reduced Wieden+Kennedy's revenue, from Nike, by close to $100 million (AdBrands 2015). Based on this move alone, the company laid off 10% of its employees (AdBrands 2015). In 1999, the risks associated with the competitive marketing space also affected the company after Microsoft moved its business to a rival firm, Miller Genuine. Weiden+Kennedy lost $60 million in business (annually) from this move (AdBrands 2015). Comparatively, the company has also won back some of the businesses it lost to rival firms. For example, it successfully managed to win back the Goodby Silverstein contract (Lussier & Kimball 2013). In this regard, economics has a big impact on its operations.
Social: In a country that demands increased social awareness/responsibility for local and international companies, Wieden+Kennedy has excelled in contributing to the community in ways that transcend advertising (Grabher 2001). For example, the company has supported the Portland Institute of Contemporary Art and the American Indian College Fund as some of the most notable social institutions in the company's state. Nonetheless, social forces have a moderate impact on its operations.
Technological: Wieden+Kennedy operates in a versatile technological environment. Social media trends, new marketing methods, and changing customer preferences are some products of this environment. The company has consistently had to adapt to these changes to remain relevant and meet the demands of its clients and audiences alike. Therefore, technology has a profound impact on the company's operations.
Legal: The unstable nature of the global legal environment is a challenge for Wieden+Kennedy because it has to navigate some of the legal hurdles of operating in different jurisdictions around the world (U.S. Census Bureau 2002). For example, it had to work hard to service its Microsoft account after the US government flagged down Microsoft's activities for violating anti-trust laws after it introduced Netscape (AdBrands 2015).
Environmental: Being a marketing and advertising agency, the success of Wieden+Kennedy depends on developing a creative environment that fosters innovation (Griffin & Morrison 2010). Creativity is part of the company's corporate culture because it needs it to come up with new ideas that would resonate with its audience and its clients. In fact, some of the most successful campaigns created by Wieden+Kennedy have come from its creative mantra (Napier & Nilsson 2006). In this regard, environmental factors have a significant effect on the company's activities.
Analysis of Internal Environment
To analyse the internal environments of Wieden+Kennedy, this paper uses the SWOT analysis tool that analyses the strengths, weaknesses, opportunities and threats of the company.
Strengths: The cutthroat marketing and advertising industry is a barrier to entry for new firms in the marketing space. Therefore, companies that have made a name for themselves in this field enjoy more prominence in the industry, as they get more business compared to new firms. Wieden+Kennedy is one such company. Although its most prominent work is with Nike, it has also partnered with other multinationals, such as Coca Cola, Facebook, ESPN, Honda and Microsoft in designing marketing campaigns (No Author 2007a). Wieden+Kennedy also has a global clientele that includes people from different demographics (children, teenagers and older adults) (No Author 2001). This clientele profile gives the company more exposure for the brands that it promotes around the world. Lastly, Wieden+Kennedy has a pool of loyal employees who are responsible for some of the company's most innovative marketing campaigns. This strength is a key competency for the company because employees are key drivers in the cutthroat marketing and advertising space (Kung 2003).
Weaknesses: Many researchers have cited high costs as the main weaknesses of Wieden+Kennedy (Langwost 2004; Solman 2008c). They say high costs of operations stem from high loan rates associated with financing some of the projects that the company engages in (Langwost 2004). Since Wieden+Kennedy has different operations in multiple countries, different government regulations are bound to affect its market entry strategies (Fryxell & Lerner 1989). Changing customer needs and preferences undermine Wieden+Kennedy's operations because it makes it difficult for the company to always keep its clients happy (Solman 2008c). For example, Parekh and Mullman (2008), say it has experienced this problem by trying to keep its flagship client, Nike, happy. The same pressure has seen the company change its business model by outsourcing some of its marketing/creative business to affiliate companies (Kavanagh, O'Brien, & Linnane, 2002). For example, in 2007, it transferred some of its creative business to Crispin Porter & Bogusky, in line with efforts to keep its customers happy (Solman 2008c). Comprehensively, high operation costs and changing client needs are its biggest weaknesses.
Opportunities: Wieden+Kennedy's high growth rate and profitability depend on the company's will to expand its operations beyond its traditional markets. The company's high growth rate could potentially increase the scope of the company's operations in the short-term (Fryxell & Lerner 1989). Its high profitability could be beneficial in financing this growth rate. Increased global opportunities for new businesses complement this trend because the company has a chance of working with other companies to improve its global presence. Its experience working with major global corporations could improve the company's prospects as well.
Threats: Increased interest rates in the financial sector could jeopardize Wieden+Kennedy's operations by undermining its growth potential and potential to finance large-scale business operations (Redmond & Trager 2004).
Analysis of Organization's Competitive Edge
In the past five years, Wieden+Kennedy has consistently shown remarkable growth in different aspects of its performance (CSI Market 2015). In 2014, the marketing agency won the coveted prize of being the Top Agency of the Year (CSI Market 2015). It also emerged as the most consistent performer in its market segment (Hoovers 2015). Analysts measured the firm's rating along several performance indicators, such as financial performance, client satisfaction, and peer recommendation (Hoovers 2015). Since Wieden+Kennedy is a private company, there is little financial information available to explain its performance because it is not required to publish its financial data. However, according to Kung (2003), the total estimated revenue for Wieden+Kennedy is $145 million. Relative to these findings, Kung (2003), says the total billings for the company are in excess of $910 million. Its top three competitors include Detroit Royalty, Incorporated, Fallon Group Inc., and WONGDOODY Inc. (Hoovers 2015).
Evaluation of Current Marketing Strategy
Wieden+Kennedy's marketing strategy hinges on innovation and creativity (No Author 2007b). In this regard, the firm's marketing strategy is boundless. Its employees are at the core of this marketing strategy because they have the power to develop innovative ideas without supervision from their bosses (Ives 2004). This marketing strategy has created significant hurdles for the business, in terms of building relationships with its clients because some of them do not expressly understand the concepts they try to convey in their marketing campaigns (Hancock & Tyler 2007). This challenge has forced many clients to request revisions to finished marketing campaigns, at the expense of Wieden+Kennedy's employees who have to redo the marketing plans, or spend a lot of time explaining their concepts to the clients. The company's top management team acknowledges the importance of this marketing strategy to its success because Diaz (2013) says,
"If anything characterizes Wieden's year, it is the agency's unapologetic dedication to its mantra of creativity above all. We really value our people and creativity, said Ms. Hoffman. I am not sure it is as easy to get great work out as it was in the past, but even with those higher hurdles we have to try like hell because otherwise, there is no reason for us" (p. 11).
Since 2013, the company has chosen to be the innovation powerhouse of America's marketing space because every year, it strives to set higher creative bars. Dan Wieden, one of the company's founders said, its creative mantra is a central part of the company's marketing plan because without it, employees would be bored (Diaz 2013). He also says it would be difficult to convince employees to move to Oregon without the excitement they would experience by working for a creative company like Wieden+Kennedy. The company's marketing strategy is responsible for its success in winning the Creativity Agency of the Year award in 2014 (Diaz 2013).
As highlighted in the first part of this paper, Wieden+Kennedy has worked with different brands around the world. Similarly, as shown in this study, Nike is the biggest brand that the company has worked with. Based on this analysis, this section of the paper chooses the Nike brand for further analysis of Wieden+Kennedy's marketing plan. Here, we evaluate the key customer segments of the brand, highlight ways of increasing its awareness, market growth, and market share through increased sales growth and profitability by setting clear marketing objectives. Lastly, we recommend different marketing strategies based on the application of a chosen marketing mix of the brand.
Segmentation, Targeting and Positioning
Nike's market is relatively broad because its typical customer includes "all athletes" (No Author 2011). However, this fact does not mean that the company fails to use market segmentation strategies to deliver its marketing campaigns. Indeed, the footwear company uses different segmentation strategies, such as demographic segmentation, geographic segmentation, behavioural segmentation, and psychographic segmentation to develop unique marketing campaigns (Andreff & Szymanski 2006). In this paper, we focus on demographic segmentation because it is the most commonly used segmentation strategy for the company. Although the company targets both men and women equally, this paper focuses on men, between the ages of 15-40 as the main target market because they account for most of the company's sales (Andreff & Szymanski 2006).
Marketing Objectives to Increase Brand awareness, Market Share and Growth in Sales Volume and Profitability
Analysts have ranked Nike as among the best performing companies in the Textile and apparel industry (Baymard Institute 2016). A recent ranking by CSR Hub, which uses Corporate Social Responsibility (CSR) and sustainability metrics to evaluate companies within this market segment, found out that the North American Company outshone most of its rivals by securing position 62 out of 100 points (the industry average for its peers is 53) (Baymard Institute 2016). The Baymard Institute (2016) conducted a different analysis of Nike's performance by benchmarking different companies in the apparel and accessories segment and found out that the brand ranked number 10 out of a total of 22 sites. This finding means that the company did not perform as well as some companies in the apparel and accessories segment. Despite the relatively good performance of Nike in the industry, it could still improve its brand awareness among men aged 15-40 years using the following strategies.
Brand Awareness
Nike has had the advantage of being a traditional brand in the global footwear market. In this regard, it enjoys relatively strong brand awareness in this market compared to its rivals in the same segment. Increasing the company's brand awareness would warrant the adoption of unconventional marketing strategies because of an increased saturation of marketing campaigns in mainstream marketing platforms (McCracken 2012). Concisely, globally, the move towards social media advertising has been phenomenal (Keller & Fay 2012). However, this trend has created a neglect of traditional advertising channels, such as print media advertising (Gunkel et al. 2007). Nike needs to exploit this emerging opportunity by negotiating lower advertising rates in these advertising platforms because people still buy and read magazines and newspapers (Hill, Jones, & Schilling, 2014). The company also needs to continue leveraging the web as part of its vibrant virtual marketing strategy. Nonetheless, at the same time, it needs to display its products prominently in stores to be within the first line of sight for customers (Keller & Fay 2012). This strategy should be part of its brick and mortar marketing plan.
Market Share
According to the diagram below, Nike commands more than 60% of the global footwear market.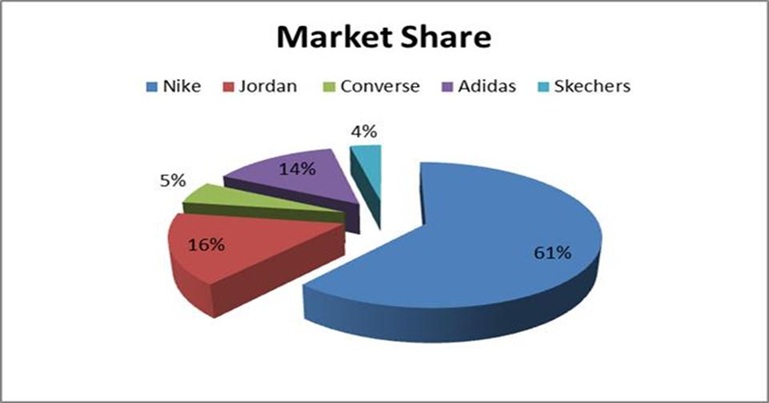 Its main competitors are Adidas, Jordan, Converse, and Skechers. Traditionally Nike has often battled with these competitors for dominance in the market. However, going into the future, the company needs to adopt a more subtle approach to increase its market share by merging, or collaborating, with some of these competitors. This strategy has proved successful, in the past, because the company has historically purchased small footwear companies, for the benefit if its shareholders (VIABACI 2015). While monopoly laws in America and other jurisdictions may make it difficult for Nike to merge with Adidas or any other giant footwear company, the company is at liberty to seek partnerships with Jordan, Converse or Skechers (Birkinshaw, Crainer, & Mol 2007). Based on the above pie chart, by doing so, the company could increase its market share by up to 23%.
Growth in Sales Volume and Profitability
Improving Nike's sales volume and profitability would depend on the execution of a six-pronged strategy that would include controlling expenses, increasing margins, reducing marketing costs, managing inventory, developing a database, and seeking add-on sales (Davis 2007). Already, Nike has executed some of these strategies. For example, it has a credible database to track purchases and sales in different parts of the world (Bartlett, Gratton, & Rolf 2010). This data helps the company to keep track of customers' preferences and purchasing patterns. The company also has an effective inventory management system that stays abreast with products that yield the highest sales and doing the same for those that do not (Hill & Jones 2011). The company needs to keep focusing on these processes (Bedbury 2002). However, it also needs to capitalize on other strategies, such as introducing ad-on sales, to increase its sales volume (Vinikas 1992). For example, it should provide its customers with a free sample product whenever they make a purchase. The sample would increase the value of the first purchase and increase sales.
Alternatively, Nike could increase its profitability by controlling its expenses by seeking more innovative ways of reducing its costs and operating expenses (Steel 2006). For example, it could outsource some of its manufacturing processes overseas to save on costs by capitalizing on cheap labour offered in other countries around the world (Solman 2008b). Apple is one such multinational that has adopted the same strategy successfully. Lastly, the company could reduce its marketing costs by identifying marketing strategies that yield the most results, and focusing on improving them more than those that do not yield high returns.
Recommended Objectives and Goals
In formulating future objectives and goals of Nike, we will use the SMART tool for goal assessment, which recommends that goals should be specific, measurable, attainable, relevant, and time-bound (Aldoory 2007). The goals proposed in this section of the report are products of the market mix analysis proposed above.
Goal: Double the number of People who buy Nike Shoes
Objectives
Increase brand awareness by placing print ads in four regional markets, located in four upcoming markets, and by airing radio ads in two major markets by March 2017
Attract first time customers through ad-on sales by offering a $1,000 giveaway for online purchases by May 2017
Cultivate prospective customer leads by introducing a weekly-based newsletter service to 2,500 subscribers by June 2017
Convert 20% of prospective subscribers to paying customers using email reminders, starting August 2015
Conclusion
In the first part of this paper, we analysed Wieden+Kennedy as an independent marketing agency that has a global presence in different countries around the world. We also found that although the company has worked with different brands around the world, its biggest client is Nike. This was the second focus of our analysis. We also used men as the main market segment for our analysis. Our marketing mix strategy for this brand strived to increase the company's market share, profitability, and brand awareness. By adopting the proposed marketing mix, this paper suggests that the main goal for the company is to double its number of customers. To do so, the company needs to focus on improving a combination of its traditional and virtual marketing strategies that would improve customer numbers and, at the same time, reduce the cost of acquiring new customers.
References
AdBrands 2015, Wieden + Kennedy (US), Web.
Aldoory, L 2007, Women in Mass Communication, Sage Publications, Thousand Oaks.
Andreff, W, & Szymanski, S 2006, Handbook on the Economics of Sport, Edward Elgar Publishing, London.
Banks, M, Calvey, D, Owen, J, & Russell, D 2002, 'Where the art is: Defining and managing creativity in new media SME's', Creativity and Innovation Management, vol. 11, no. 4, pp. 255-264.
Bartlett, R, Gratton, C, & Rolf, C 2010, Encyclopedia of International Sports Studies, Routledge, London.
Baymard Institute 2016, Nike, Web.
Bedbury, S 2002, A New Brand World: 8 Principles for Achieving Brand Leadership in the 21st Century, Penguin, New York.
Berger, W 2006, American's 25 most fascinating entrepreneurs: Dan Wieden,
Wieden+Kennedy, Web.
Birkinshaw, J, Crainer, S, & Mol, M 2007, 'Special report: Management innovation', Business Strategy Review Journal Compilation, vol. 2, no. 7, pp. 60-87.
CSI Market 2015, NKE Sales vs. its Competitors Q1, Web.
Davis, J 2007, Magic Numbers for Sales Management: Key Measures to Evaluate Sales Success, John Wiley & Sons, London.
Diaz, A 2013, Wieden & Kennedy Is Creativity's Agency of the Year, Web.
Elefante, P 2008, The Temple: A case study of the organizational dynamics in Wieden+Kennedy, Web.
Fryxell, G, & Lerner, L 1989, 'Contrasting corporate profiles: Women and minority representation in top management positions', Journal of Business Ethics, vol. 8, no. 5, pp. 341-352.
Goldman, R, & Papson, S 1996, Sign Wars: The Cluttered Landscape of Advertising, Guilford Press, New York.
Grabher, G 2001, 'Ecologies of creativity: The village, the group, and the heterarchic
organisation of the British advertising industry', Environment and Planning, vol. 33, no. 1, pp. 351-374.
Grabher, G 2002, 'The project ecology of advertising: Tasks, talents and teams', Regional Studies, vol. 36, no. 3, pp. 245-262.
Griffin, W, & Morrison, D 2010, The Creative Process Illustrated: How Advertising's Big Ideas Are Born, HOW Books, New York.
Gunkel, M, Lusk, E, Wolff, B, & Li, F 2007, 'Gender-specific effects at work: An empirical study of four countries', Gender, Work and Organization, vol. 14, no. 1, pp. 56-79.
Hamadeh, S 2004, Vault Guide to Top Internships, Vault Inc., New York.
Hancock, P, & Tyler, M 2007, 'Un/doing gender and the aesthetics of organizational Performance', Work and Organization, vol. 14, no. 6, pp. 512-533.
Hill, C, & Jones, G 2011, Essentials of Strategic Management, Cengage Learning, London.
Hill, C, Jones, G, & Schilling, M 2014, Strategic Management: Theory: An Integrated Approach, Cengage Learning, London.
Hoovers, 2015, Kennedy Wieden Inc Company Information, Web.
Ives, N 2004, School of real-life advertising, Web.
Kavanagh, D, O'Brien, C, & Linnane, M 2002, 'Art, work and art work', Creativity and Innovation Management, vol. 11, no. 4, pp. 277-286.
Keller, E, & Fay, B 2012, The Face-to-Face Book: Why Real Relationships Rule in a Digital Marketplace, Simon and Schuster, New York.
Kung, L 2003, 'Editorial – Culture and the media industry', International Journal on Media Management, vol. 5, no. 3, pp. 168-170.
Langwost, R 2004, How to Catch the Big Idea, John Wiley & Sons, London.
Lussier, R, & Kimball, D 2013, Applied Sport Management Skills, Second Edition (With Web Study Guide), Human Kinetics, New York.
McCracken, G 2012, Culturematic: How Reality TV, John Cheever, a Pie Lab, Julia Child, Fantasy Football, Burning Man, the Ford Fiesta Movement, Rube Goldberg, NFL Films, Wordle, Two and a Half Men, a 10,000-year Symphony, and ROFLcon Memes Will Help You Create and Execute Breakthrough Ideas, Harvard Business Press, Cambridge.
Mogel, L 2010, Making It in Advertising, Leonard Mogel, New York.
Napier, N, & Nilsson, M 2006, 'The development of creative capabilities in and out of creative organizations: Three case studies', Creativity and Innovation Management, vol. 15, no. 3, pp. 268-278.
No Author 2001, Business week/Architectural record award 2001 winner: Wieden+Kennedy headquarters, Web.
No Author 2007a, Creativity award winner: Coca-Cola: "the coke side of life" campaign, Web.
No Author 2007b, Advertising: Dan Wieden – 'The secret of my success is failure and uncertainty'. Web.
No Author 2008, Agency report cards: Wieden+Kennedy, Web.
No Author 2011, Nike Segmentation and Targeting, Web.
No Author 2015, Idea Industry, Rockport Publishers, London.
Parekh, R, & Mullman, R 2008, Nike, Crispin partnership ends after 13 months running-Shoe account is going back to longtime agency Wieden, Web.
Redmond, J, & Trager, R 2004, Balancing on the wire: The art of managing media organizations, Atomic Dog Publishing, Cincinnati.
Ryan, W, & Conover, T 2004, Graphic Communications Today, Cengage Learning, London.
Smith, R 2004, Wieden talks about Nike relationship, Web.
Solman, G 2008a, 2007 Global AOY: Wieden+Kennedy, Web.
Solman, G 2008b, Wieden's new ECDs post help wanted ad, Web.
Solman, G 2008c, Updated: Starbucks, Wieden to part ways, Web.
Steel, J 2006, Perfect Pitch: The Art of Selling Ideas and Winning New Business, John Wiley & Sons, London.
Tungate, M 2007, Adland: A Global History of Advertising, Kogan Page Publishers, London.
U.S. Census Bureau 2002, Industry statistics sampler, Web.
VIABACI 2015, NIKE Market Share, Web.
Vinikas, V 1992, Soft soap, hard sell: American hygiene in an age of advertisement, Iowa State Press, Ames.