Introduction
Marketing is a set of activities whose major goal is to create awareness, build customer relationships, deliver products, develop business and most important of all create value to the customer. This paper aims at illustrating the value of marketing to an organization by analyzing its impact on revenue generation and consumer behavior. It also seeks to bring out the aspects involved in marketing research considered by a company before embarking on a given market. Unilever Greece, a multinational consumer goods company, is the main focus of this paper. Through the company's analysis, this paper illustrates how the company anticipates the needs of its customers. The paper also gives an analysis of how the company owns the market by anticipating what the customer needs are and making sure that these needs are satisfied effectively.
Information on the company
Company background
Unilever Greece is a multinational company whose mission is to create a better future every day. It started from the merging of independent companies that were producing fats, oils, soaps and margarines. These companies expanded to form a new organization that enabled them to protect their market interest as one. Continuous expansion and venturing into new markets through market research and development has seen Unilever tremendously expand its product range. The expansion has been to a point of meeting every nutritional, personal, and home care products need that customers can anticipate. Today, Unilever is concentrating on core products and brands to market the whole range of products. For instance, Heart brand ice-creams promote food products while Omo leads for the homecare products. This has helped the company in building its portfolio and rationalizing its business strategies to concentrate on core products through technology and innovation. This company has also invested in the human resource to improve on corporate image and consumer satisfaction (Wilson, 1970).
Sales and revenue Generation
Unilever in Greece has invested the most on research and development which has seen 6.5 % sales growth, and 1.6% volume growth in the year ending 31st December 2010. Personal and home care products contributed 23% while food products contributed 57% (Unilever, 2012).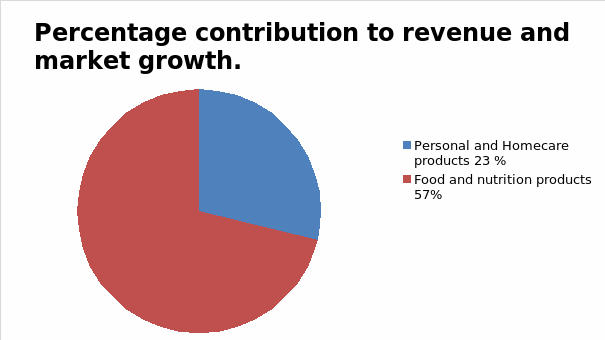 Basic product categories
Unilever Company has three main categories of products that make consumers look and feel good (Lorenz, 1996). The following table briefly describes these categories and the major brands for each category.
| | |
| --- | --- |
| Category | Brands |
| Food and Nutrition | Algida ice cream, Blue band and Rama margarines, Skippy peanut butter, Knorr mayonnaise, Jif lemon & lime juice, Klondike ice cream sand witches, Knorr stock cubes, Bertolli, Becel Flora lipton tea, heart brand ice creams, slim fast food products, Hellmanns and Amora. |
| Personal care products | Motions hair care; white beauty skin lightning cream; mist soap; life bouey soap; impulse deodorant and body spray; lux women's soap lynx men's deodorant; Vaseline jelly and body lotion; St. Ives hand and body care; just for me kids hair range; matey children's bubble bath; Rexona soaps; signal and close up tooth pastes; pond's skin care, Tigi; Axe masculine product; Dove soaps and shampoos; fissan baby products; Radox shower range; ponds skin beauty products; and VO5 Hair care. |
| Home care products | Omo laundry detergent; Domestos bleach; coccolino softener; Cif Vim surface cleaning products; Neutral laundry detergent; Lysoform homecare; Inerva dishwasher detergents; Domestos disinfectant; Sulight bar soaps and washing powders; Radiant bleach; Surf detergent and Comfort fabric softener. |
Information on the market
Market description
All age and gender groups are captured from baby products to men's and women's products as well as the old through anti-ageing products. This has been realized through the wide range of products associated with the Unilever Company. In terms of income, Unilever's wide range of products has accommodated both low and high income earners. This is especially through the different sizes in packaging that allow customers to obtain what they can afford. Location and market distribution have also been achieved. This has been facilitated by the fact that the company products have been strategically distributed mainly through chain supermarkets that help consumers in accessing products conveniently. These products have been customized so as to address the needs of customers in terms of changing lifestyles and cultural differences that consumers may have. Therefore, the company's supply meets the market demand (Lorenz, 1996).
Size of market segmentation and the needs that drive the market
The first indicator to determine the stage at which Unilever Company is in terms of market share and segmentation is the needs that drive the market (Weinstein, 1994). In this case, it is Personal, home care products and nutrition, by the time consumers realizes that the need for a given product, there is the availability in the market. This is further determined by age, gender, level of income, lifestyle and culture (Futris, Nielsen & Barton, 2011; Weinstein, 1994).
Unilever was able to acquire market share through this procedure by staying at par with changing lifestyles and technology, as well as the changing economy (Mcdonald & Dunbar, 2004).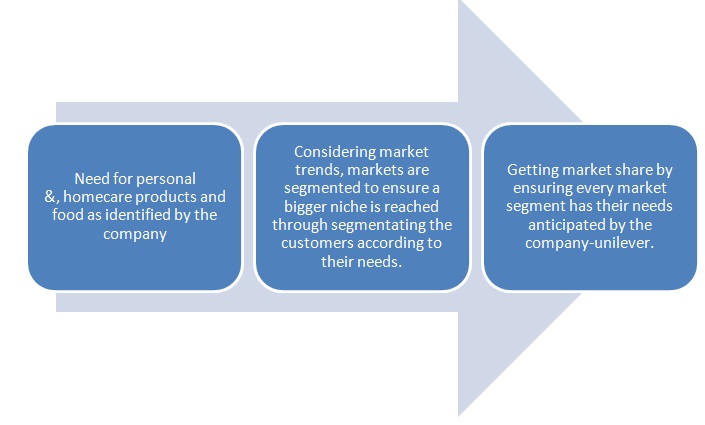 Important trends in the marketing environment
Technology is a major trend in marketing. With the web changing at an extra ordinary pace, new inventions are coming up every so often. Competition is bound to increase because every organization will want to outdo the rest in adopting the new invention (Tamarkin, et al, 2010). Therefore, for Unilever to keep up with the rest of the competitors, it is expected to work hand in hand with communications inventors so that they are aware of new inventions as they are introduced. This gives an organization an upper hand in marketing if it is the first one to roll out a new product. This was particularly noted during the invention of the ice cream machine in Greece by Unilever. It made the heart brand ice creams very popular which consequently led to increased sales (Panglaykim, 1974).
Change in lifestyle is also another trend and this call for market research to ensure that the products offered match the consumer requirements. This will enable the organization to have a ready product for the consumers once a need arises. These changes contribute to increased product range leading to increased revenue for the company (Wells, Chang, Oliveira-Castro & Pallister, 2010).
The worsening of the economy affects the consumers buying power. This is because Unilever assumes operating in slow economic growth which is not the case for Greece. Therefore, products that are cost effective to consumers should be introduced so as to make consumers get the value for their money. This will also ensure purchase of products in the future and maintain consumer confidence. If consumers cannot afford products, they will tend to purchase less to get what is within their budgets leading to less revenue. This is overcome by introducing less costly products that will still fit consumer needs and be within their means (Ferguson & Fuller, 1985).
Competitors to Unilever Greece
Direct competitors to Unilever in Greece are Companies such as Nestle; Tyson foods; ConAgra foods; Smithfield foods and Danone which directly compete for the same market as Unilever especially in food products. Others include the Procter & Gamble Company; Kraft Foods; and the Colgate-Palmolive Company.
Indirect competitors include non-consumable producers such derm-care clinics solutions to consumers and medicines. This may replace the hygienic products provided by Unilever Greece. Fabric producing companies may not offer products are compatible with detergents provided by Unilever (Unilever, 2012).
The marketing strategy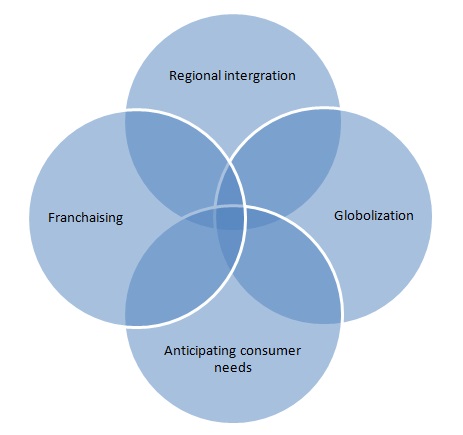 One of Unilever's smart strategies was being at par with changing lifestyles and living standards, as well as spending patterns. This was through understanding the consumer needs of food, hygiene, and personal care, as well as sustainability (Cann & George, 2003). Secondly, Franchising in emerging markets for non-consumer businesses also helped in growing the market share for their products by influencing service quality in delivering their products. This was also enhanced by investing human resources so as to maintain a good corporate culture (Ferrell & Hartline, 2011).
Unilever took advantage of globalization and diversified its markets across borders. This was especially with innovations in transportation and communication, and the first idea of the global economy was born. This climaxed with the introduction of personal computers and the birth of the internet was a major lift up (Ferrell & Hartline, 2011). Unilever introduced products that marched the new lifestyle by taking advantage of these innovations in communication and transportation. For instance, having initially invested in food consumables, they realized that leisure was also taking its place. This led to the introduction of pocket size consumables that consumers were in dire need of while travelling. This created another market yet for soaps and lotions and other non-edible goods that were initially not in their products. Monitoring the changing lifestyle and technology helped to identify goods that would otherwise not be required before the change (Douglass, 2008).
Regional integration
Retailers and manufacturers were the main players before the growth of large multinational companies such as the chains of supermarkets selling similar products in diverse markets. Therefore, Unilever penetrated these markets through the new invention of supply chain by using the supermarket brands to be part of their standards goods they were selling. That way the products are brought to the clients door steps (Drozdenko & Drake, 2002).
Practically, they focused on providing a product for every step in the daily running of activities – consumer needs. At first, it was food stuff, and then they realized they could influence everything the consumers did. A consumer would need to eat after waking up. For this case, margarine was needed. The individuals would also need to wash their hands before the meal. In this respect, a sanitizing soap needed to be available. In addition, the individuals would need cleaning, and so, detergents were required. In case of travelling, tinned food products were the next option, in this case consumers felt their every move was practically anticipated for by Unilever with their products (Unilever, 2012).
The Marketing elements
Product
Through anticipating consumer needs and monitoring the changing lifestyles, Unilever has captured the consumer needs by outlining the daily activities of a consumer and conveniently providing the goods they require. These include home and personal care products such as detergents, lotions, soaps and food requirements. It has marched consumers' daily activities with its products. These activities include cleaning, sanitizing, personal hygiene and of course a consumer will need to grab something to eat while running the chores. All these are integrated together, and products are available for every stage of the processes.
Price
Unilever made their products distinct and created the impression of superiority. In this case, it is an indication of better quality other than expense and maintaining this distinction implies best quality as viewed by consumers. Therefore despite having higher prices than competitors, the consumers still prefer them. This has especially been achieved by generating similar products to replace those which cost of production has gone high necessitating higher prices. For instance, the introduction of surf detergent to replace Omo in Greece can serve as a good example (Jones, 2005).
Promotion
Unilever is recognized as one of the world's largest media buyers with its main campaign being advertising in the television media, social sites and magazines. The company uses individual sub brands to segment markets; for instance, its core product in Greece is "skip", and its secondary brand is the Omo detergent.
Place
Unilever products are strategically placed in supermarkets and shopping malls. It is easy for consumers to shop in one place given that most of these products are household goods. Therefore, this arrangement provides consumers with convenience to shop from the comfort of their neighborhoods (Best 1997).
Conclusion
Research and development is a core requirement in marketing. It is through research that an organization keeps up with the technology that is growing at a very high rate. Technology simplifies processes in businesses and thus makes an organization to be more efficient and competitive as the case with Unilever in Greece. Changing lifestyles and inventions should also be observed by the company to ensure that it anticipates consumer needs, which helps in widening the product range. Increased product range calls for advertising and promotions. This keeps the consumers informed of the products, and this translates to sales and revenue increase. This acts to keep an organization in business and gain a competitive advantage over the competitors in the industry.
Reference List
Best, RJ 1997, Market-based management: Strategies for growing customer value and Profitability, Upper Saddle River, NJ: Prentice Hall.
Cann, C & George, M 2003, Key Elements of a Successful Drive toward Marketing Strategy Making, Journal of Marketing For Higher Education, 13(1-2). pp. 1-15.
Douglass, J 2008, A World of Competitors: Assessing the US High-Tech Advantage and the Process of Globalization, Higher Education Management And Policy, 20(2). pp. 34-62.
Drozdenko, RG & Drake, PD 2002, optimal database marketing: strategy, development and data mining, SAGE, Thousand Oaks, Calif.
Ferguson, MC & Fuller, JP 1985, Research and development limited partnerships, Practicing Law Institute, New York, N.Y.
Ferrell, OC & Hartline, MD 2011, Marketing strategy, South-Western Cengage Learning, Australia.
Futris, T, Nielsen, R & Barton, A 2011, Financial Management and Relationship Skills Education: Gauging Consumer Interest and Delivery Preferences, Journal Of Extension, 49(4). Web.
Jones, G 2005, Renewing Unilever: Transformation and tradition, Oxford University Press, Oxford.
Lorenz, A 1996, Unilever Changes Its Formula, Management Today, pp. 44, 46–48.
Mcdonald, M & Dunbar, I 2004, Market segmentation: how to do it, how to profit from it, Butterworth-Heinemann, Oxford.
Panglaykim, J 1974, Trends in marketing, Centre for Strategic and International Studies, Jakarta, Yayasan Proklamasi.
Tamarkin, M, et al, 2010, You 3.0: The Most Important Evolving Technology, EDUCAUSE Review, 45(6), pp. 31-32.
Unilever, 2012, Vim. Web.
Weinstein, A 1994, Market segmentation: using demographics, psychographics and other niche marketing techniques to predict and model customer behavior, Probus, Chicago [u.a.].
Wells, V, Chang, S, Oliveira-Castro, J & Pallister, J 2010, Market Segmentation from a Behavioral Perspective, Journal Of Organizational Behavior Management, 30, 2, pp. 176-198.
Wilson, C 1970, The history of Unilever: a study in economic growth and social change, Cassell, London.