Introduction
Not too long ago, the airline industry in the Middle East became extremely dynamic, with Etihad Airways as one of its prominent representatives. The national airline of the UAE, it was created in 2003 and remains competitive today, positioning itself as the fastest-growing airline. This organization strives to give its clients a positive vision of Arabian hospitality. By adapting to challenges, Etihad Airways has constantly improved its performance, allowing it to be recognized both locally and globally. It carries both cargo and passengers but is mainly known for its first and business class segments.
The airline has already received many awards for successful operations in different areas, including human development, and it has become one of the world's leading airlines (Etihad Airways). Eight years ago, the company was recognized for its marketing strategy, which proves that its marketing approaches are worth analyzing and discussing. The company was able to increase its revenue from passengers significantly due to a focus on long-term targets, partnerships with various organizations, and other innovative approaches. Indeed, the management of the airline operates efficiently and effectively, allowing the company to retain one of the leading positions on the market. Given the progress maintained by this organization, it can be presupposed that by resorting to the best practices of Etihad Airways, other airlines may also grow and attract more customers over time. The available literature claims that Etihad Airways operates rather successfully, but it is also claimed that its performance should be improved and the ante of business excellence raised. This opposition is an issue that should be addressed.
This paper will discuss, analyze, and critique the outstanding practices of Etihad Airways within the framework of marketing and provide it with a possibility to reach business excellence. In addition, a set of recommendations will be developed on the basis of the obtained information as well as theoretical knowledge for the organization to reach its full potential and overcome probable challenges. Different perspectives of marketing will be thoroughly discussed in order to identify existing gaps and point out possible improvements for the company.
Marketing Trends
Etihad Airways pay a great deal of attention to its marketing communications. It utilizes a set process that defines how the company deals with different audiences and provides an opportunity to attract as many clients as possible. Focusing on the values and needs of these populations, Etihad Airways conveys messages that are aligned with its clients and encourages them to have a particular response. In this way, their clients can change their attitudes, emotions, and behaviors ("Marketing strategy of Etihad Airways").
The effective use of marketing communications allows the airline to adapt to market changes and avoid critical problems. Marketing and loyalty programs cannot constantly be maintained in the same way, something that Etihad Airways realizes. The organization pays significant attention to online spaces ("Marketing strategy of Etihad Airways"). It has increased its social media budget and focuses on finding opportunities to discover more information about its customers. For example, the organization collaborates with LinkedIn (Li). As a result of these strategies, the management team constantly updates its knowledge of client needs and expectations, allowing it to adapt to any changes and remain competitive. All in all, the company's marketing communications are based on elements of the marketing mix, which will be discussed later.
Etihad Airways has many competitors but still remains one of the leading airlines both in the UAE and around the world, and a great reason for this achievement is digital marketing. This avenue gives the company a chance to maintain two-way communication with all its consumers. In addition, personalized dialogues make customers feel highly valued. Beyond LinkedIn, Etihad Airways can be found on Facebook, Twitter, Google+, and YouTube. The company even allows potential clients to look through direct travel trips so that they have an idea of the services that can be obtained. The airline also encourages its customers to contact its representatives online. For example, they respond within 10 minutes of receiving a message on social media ("Marketing strategy of Etihad Airways"). The organization is ready to help its clients find and book hotels, restaurants, and other attractions in all parts of the world. It offers a mapped-out service that gives clients the opportunity to interact with other stakeholders, arrange meetings, and more. In fact, this technology was implemented specifically to benefit business travelers. It makes it easier for them to get in contact with other people and display geographic connections.
Marketing Mix
Objectives
Marketing mix strategies are critical for Etihad Airways because they affect market share and determine the airline's position among its competitors. By analyzing their components, it is possible to determine how successful the company is in reaching business excellence within the discussed area.
The airline aims to reach the break-even point; thus, it tries to increase yield through the reduction of expenditures and costs. Company's financial performance improves with the course of time, so this target is likely to be met soon. According to Fig. 1, Etihad Airways continues increasing its revenue constantly. Its earnings increase because the majority of the representatives of the general public start using its services due to their reduced prices and additional offerings that are not provided by the majority of company's competitors. In this way, customer value is likely to be strengthened. Moreover, emphasis is placed on the development of initiatives that allow the airline to provide luxurious, or at least improved, services for the least cost (Cole). As a result, Etihad Airways hopes to enhance customer loyalty and reach more potential clients. This objective proves that the airline is ready to pay attention not only to its first and business class populations but also to its economy-class travelers. However, it is clear that these short-term considerations are not enough to make much progress and provide benefits equally to all market segments.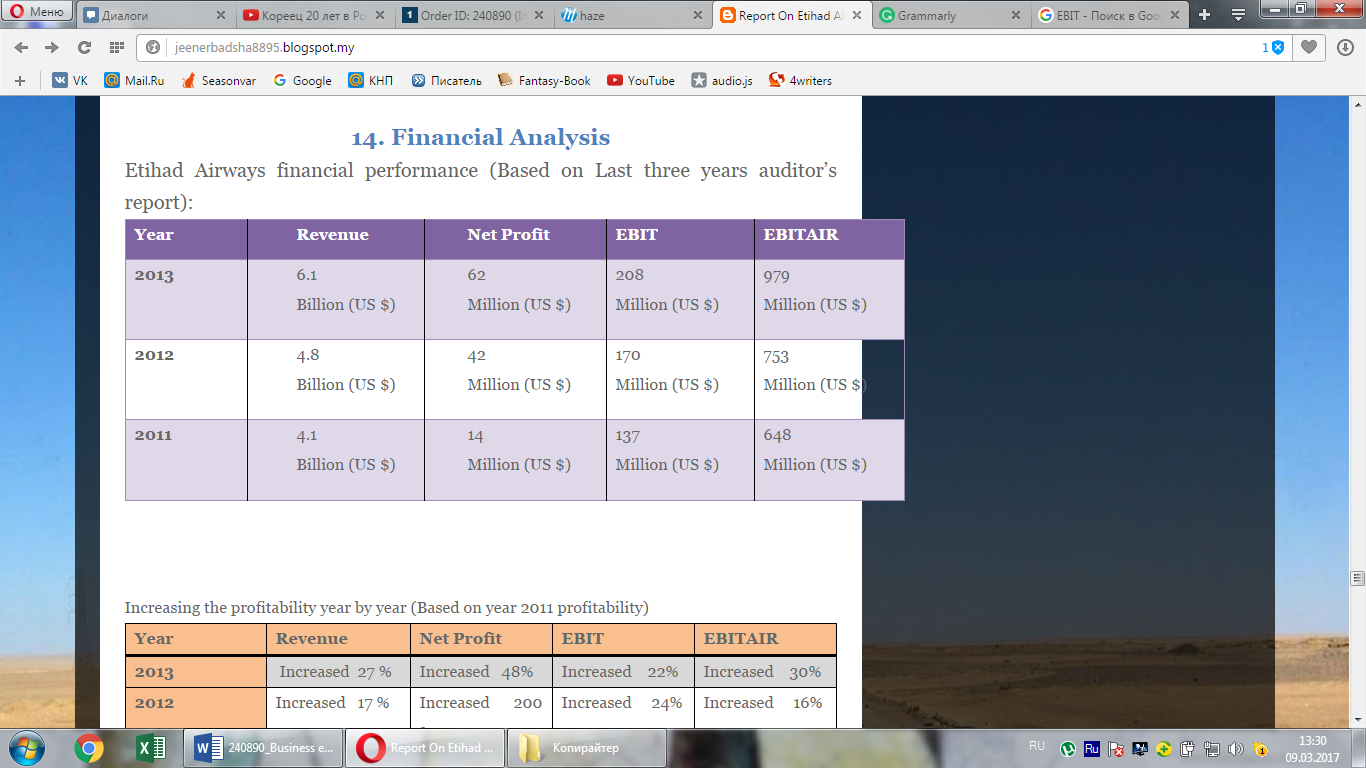 When focusing on the future of the organization, Etihad Airways management determined a range of long-term objectives that the airline must fulfill in order to enhance its competitiveness and reach business excellence. First of all, Etihad Airways seeks to maintain an annual increase in profits (see Tab. 1). The company is currently targeting a 5% to 10% raise, which would definitely allow it to streamline growth (Etihad Airways PJSC 27).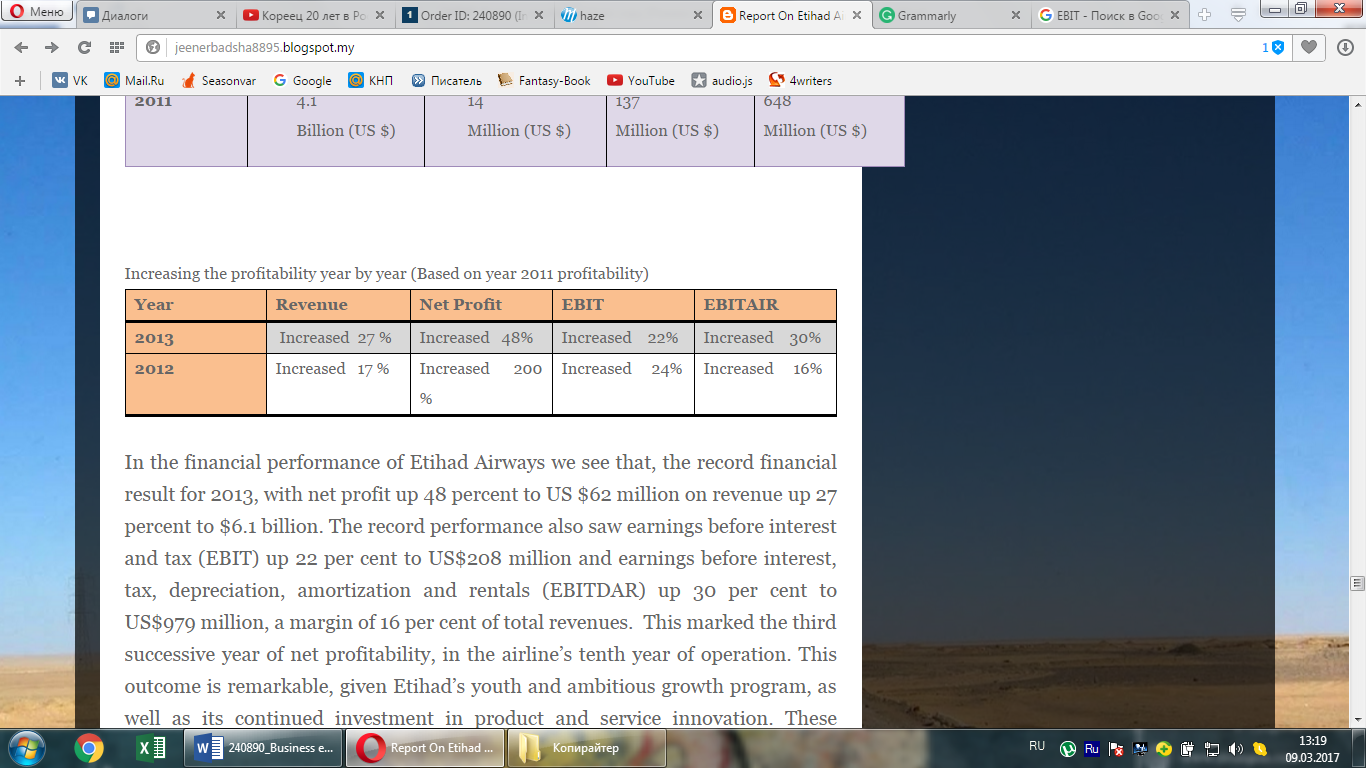 According to the Fig. 2, the financial performance of the company increased with the net profit of 48% to more than $60 million and the revenue of 27% with $6.1 billion. In addition to that, earnings before interest and tax (EBIT) of 22% reached more than $200 million. Earnings before interest, tax, depreciation, amortization and rentals (EBITDAR), in their way, increased from 30% to almost $1000 million. In this way, these recent 3 years of net profitability out of 10 years of operation turned out to be rather advantageous for the organization. This outcome is remarkable because it improved company's operations significantly and attracted more attention to it. An increase in customer value within the same range is also expected within the next five years. Because the company will serve more clients and provide them with better services, more staff members will be required. All in all, about 15% more personnel will be added to Etihad Airways over the course of time so that the company can educate and train them all (Cole). Finally, the airline has realized the necessity of being aligned with international representatives of the industry. Having a stable global position is likely to provide it with a chance to become the preferred company for the extended market. With a focus on inbound activities and holidays, the organization will have more opportunities to maximize revenue (Etihad Airways PJSC 29). In fact, some improvements can be already observed. Fig. 3 shows that Etihad Airways increase its income every year by hundreds of millions of dollars. For example, passenger revenue increased from almost $2,000 to $2,960 million in three years. The difference is almost $1,000 million, which is an enormous improvement for a company that can also ensure an opportunity to implement additional benefits to clients without any critical losses and to meet long-term targets. In other words, the implementation of short-term goals is likely to experience almost no adverse influence of such changes so that resistance will not be faced as well. Improvements in the framework of cargo revenue cannot be denied. The amount of income almost doubled since 2009, which is an undeniable proof of the fact that the company becomes more known among the representatives of the general public. In addition to that, changes of this kind reveal the fact that customer loyalty improved. It also presupposes positive influences of new marketing initiatives. Such tendency can be explained by the fact that company attracts more and more clients with the course of time. Thus, the initiatives that it tends to develop and implement prove that organizational performance becomes better and business excellence can be reached.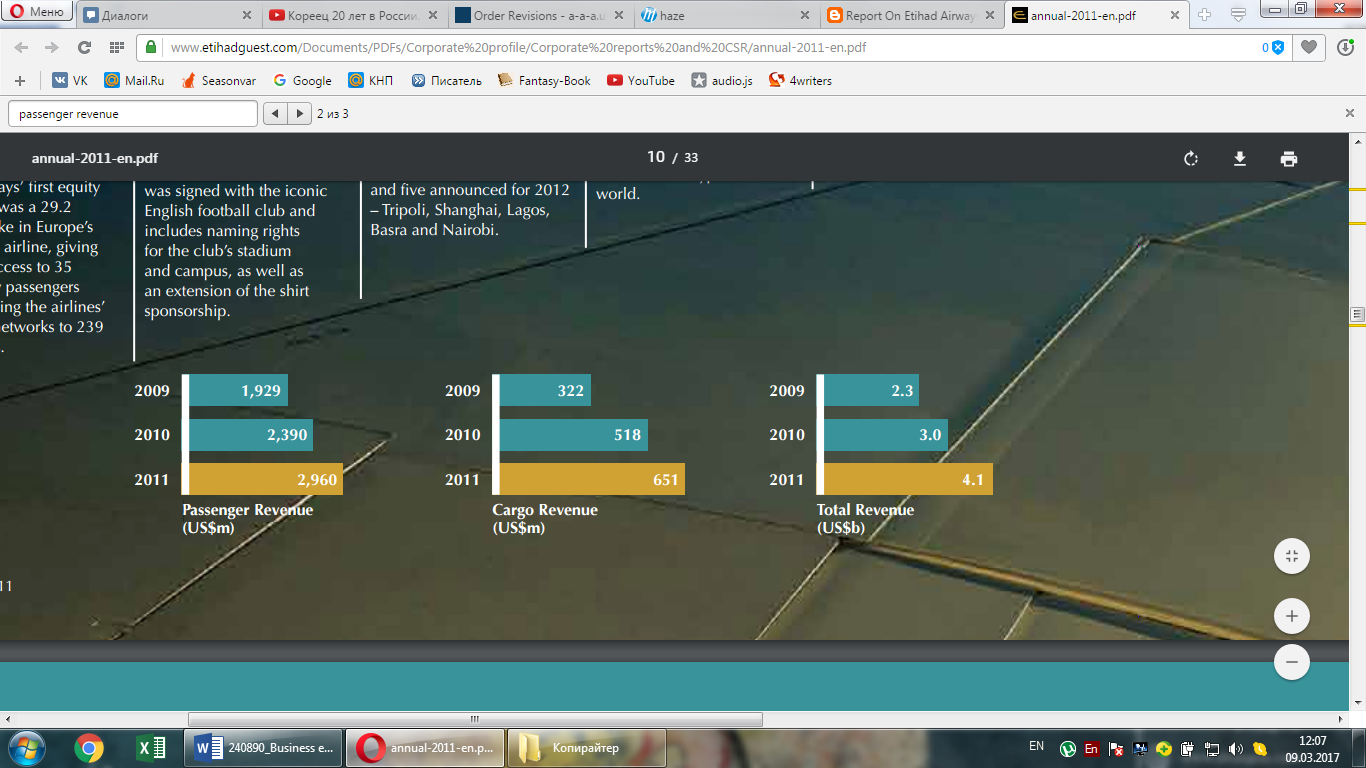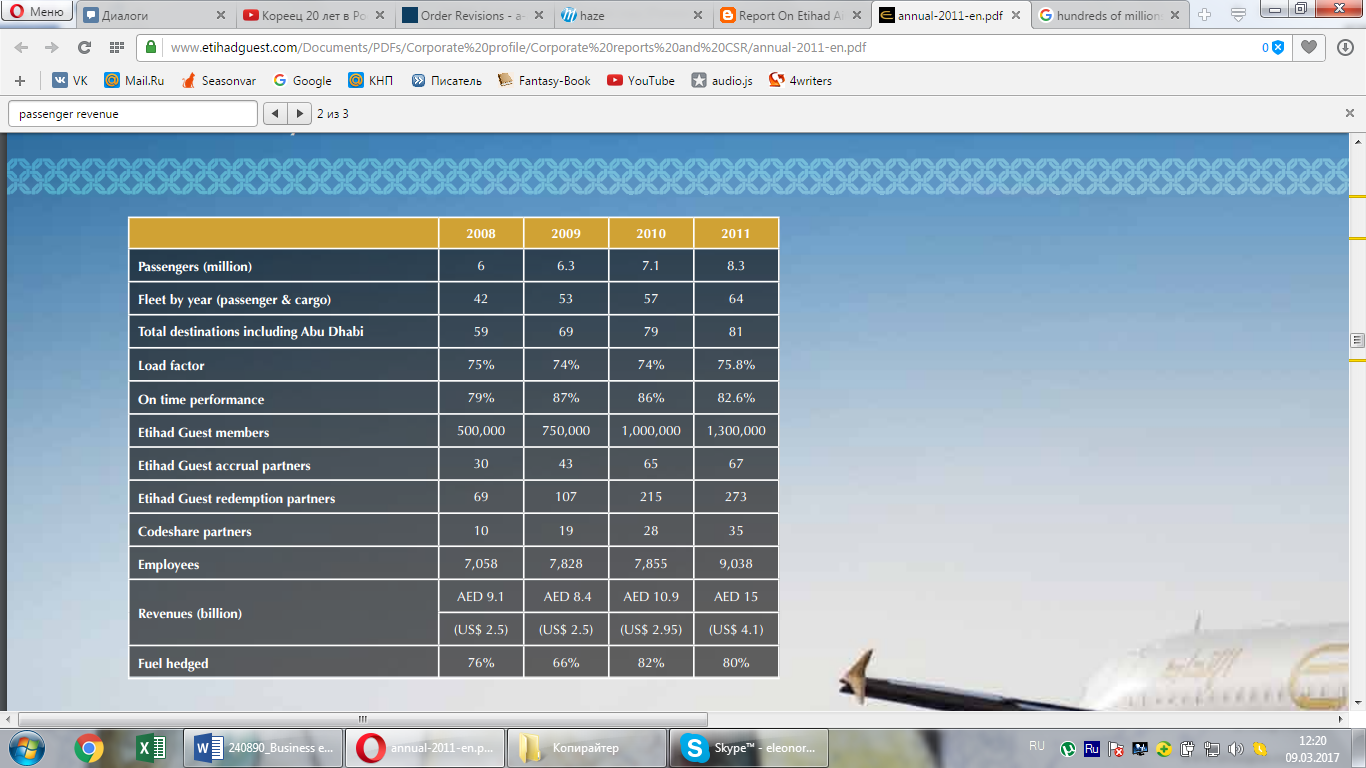 According to Fig. 4, Etihad Airways are on their way to become global leaders in the industry. The improvements they make provide an opportunity to increase the number of passengers who provide the main revenue by more than 2 million in four years. In fact, this industry depends greatly on company's clients. If their demands and desires are ignored, they tend to become not loyal. In this way, increased number of customers proves that Etihad Airlines focuses on long-term goals. Professionals get to know what alterations they can implement to make all clients satisfied. As a result, they also obtain an opportunity to enhance competitiveness, as passengers tend to select those options that allow them to get more benefits. Such change can be explained by the fact that the airline started serving 32 more destinations during the same period of time. As a result, its targeted audience increased greatly. Almost 40 new partnerships were created, which allowed the company to improve its marketing enormously. Other companies started providing information about it and enhancing advertising. In this way, it was critical to ensure that there is enough personnel to maintain all required processes, and the company hired 2 thousand employees.
Product Strategy
Etihad Airways tends to make its first and business class services look as attractive as possible because it believes these populations to be a main source of income for the company. Basically, the primary service difference that can be observed between Diamond First Class, Pearl Business Class, and Coral Economy Class is limited to the number of staff serving clients and the availability of various cuisine choices. Thus, the presence of augmented services and products allows the airline to improve its competitive advantage. Because Abu Dhabi currently attracts a vast number of tourists, Etihad Airways has an opportunity to serve a wide customer market. As it tries to acquaint these people with the Arab world through its offerings, the airline attracts individuals who are interested in its culture. In addition to the cultural component, Etihad Airways ensures that its clients can easily fulfill their most necessary needs without issue. For example, it provides them with opportunities for chauffeur services and 24-hour departure facilities. As a rule, these services are available to passengers who travel in first or business class and are enough to ensure their loyalty. The airline also allows passengers to have an arrival one hour early, which is two hours less than the usual offering provided by most competitors in the airline industry.
Etihad Airways began differentiating Diamond First Class services about eight years ago. The airline decided to implement this innovation in luxurious services to become better known, to increase customer loyalty, and to attract new clients. In this class of service, emphasis was placed on the personal space available for each individual passenger, giving them the opportunity to keep to their lifestyle in the air just as comfortable as on the ground. The passengers who use this type of service also have access to airport lounges, where they can visit spas, take a shower, and spend time in bars and cigar lounges. In addition to the luxury element, the company focuses on family-friendly spaces. There are many rooms for entertainment in which clients can watch TV or use the Internet. On board, the first class cabin is separated from others and consists of private suites with doors, luxurious seats, power sockets of different types, a wardrobe, and even a bathroom (Taylor). There is also the opportunity for passengers to order different food and beverages. The airline even provides special menus for birthdays and anniversaries if they are booked beforehand. Etihad Airways also assists its clients in finding five-star hotels and restaurants so that they do not need to spend time doing it themselves.
Pearl Business Class is not as expensive as Diamond First Class, but the lower price does not have a negative effect on the quality of service. Basically, the difference between these two service offerings is limited access to the additional entertainment services discussed above. In addition to that, some alterations can be observed in the menu available on board. Still, the airline's business class has claimed to be the best one in the world for four years, which proves its exceptional quality.
Even though Etihad Airways mainly focuses on its first and business classes, the airline did improve its Coral Economy Class along with the others so that clients' amenities would be enhanced. In general, the alteration had to do with the provision of additional support to individuals and families. Moreover, leg room was increased, and power sockets and personal entertainment screens became available on board.
Price Strategy
Considering the situation in the market, Etihad Airways decided to resort to a penetration pricing strategy. The airline tends to offer services similar to those presented by its competitors but for a lower price, which makes many clients choose their services over others. Such an approach is used to the relatively low price of oil, which is a critical factor due to the fact that the UAE government in Abu Dhabi is one of the biggest shareholders of the airline. The company has different types of aircraft, which affects the total cost of flights through operational costs. Etihad Airways does its best to fill the majority of the seats on its flights. In this way, when it reduces the price of tickets, more clients fill the plane, which allows the airline to cover its operational expenses. Still, the same seat can be sold for a different price depending on the season and time of booking or purchasing. Tickets bought in advance are usually much cheaper.
Place Strategy
As mentioned above, Etihad Airways is a representative of the Arab world and of the UAE in particular. However, the airline has extended itself over the course of time and has obtained an opportunity to reach many foreign markets. As a result, the company has many offices all over the world. Such growth allows the organization to serve its clients in different locations effectively. In those places where Etihad Airways personnel are not available, customers are encouraged to refer to the airline's online services. They can book flights and request additional services by phone. Because the call center is available 24/7, every passenger can resort to it as necessary, regardless of the time zone.
People Strategy
The company operates in different locations around the world and has many offices in addition to its headquarters in Abu Dhabi, which means that it employs a lot of personnel. However, the existence of a large staff has not prevented Etihad Airways from developing a strong organizational culture. All members of the staff attend special training programs that help them obtain the knowledge and skills required to provide clients with high-quality service. In this way, the main values of the airline are shared as well. Etihad Airways carefully selects its employees because they represent the organization as a whole and need to be a source of useful information and positivity. The uniform for the staff has been created by an Italian designer so that even their clothes reflect Arabian culture within a larger international context.
Promotion Strategy
As the airline expands to foreign locations, it needs to promote its services to the target market. In order to create product awareness, the company launches various programs that differ depending on the geographical region. First of all, Etihad Airways gathers information about its clients; it identifies the needs of potential travelers and reflects them in advertisements, loyalty programs, and more.
In order to promote itself online, the company created a website that allows it to stay in touch with clients and share the most important information with them. Travelers can use this website for a variety of important services: to book a ticket, ask some questions, select a seat or order particular food, check flight status, and more. Through the website, clients also have a chance to join programs offered by the airline, such as the Etihad Airways loyalty program. New features are constantly added so that the website becomes easier to use and offers more useful experiences. The airline also advertises on TV and social media, such as Facebook and Twitter. In addition, it has an Apple iPhone loyalty program, which allows passengers to share information and redeem vouchers (Gough). This intervention allows the company to promote its services in the digital market and develop more customer-oriented offerings. It also is used as a tool to align the marketing strategy.
Sponsorship is critical for Etihad Airways and is considered part of its marketing strategy. Mainly, its sponsors represent sports such as football, cricket, and golf. This kind of promotion is primarily targeted at business class people who travel a lot and are occupied in various social activities. Through these sponsorships and related promotions, the airline positions itself as a catalyst for change. It takes an innovative approach to its operations in order to support and promote the local culture. Participation in such events gives an opportunity for the airline to reveal its hospitality, team spirit, and desire to develop a global community. Etihad Airways has sponsored many sports teams and events already, making the stadium a critical part of its welfare program.
Physical Appearance and Process
The majority of clients are greatly affected by an airline's physical appearance, even though they may not realize it in most cases. For example, everything that customers can see influences how they perceive the services offered by Etihad Airways. Realizing this fact, the company pays significant attention to factors such as its logo and exterior and interior environments. To this end, Etihad Airways offers several variants of the menu so that every client can find one that fits his or her preferences. It hires designers to help create attractive cabins and uniforms. It closely regulates the temperature inside the airplane so that it is always comfortable. Passengers are able to change the intensity of overhead lighting and turn on the music they like. Spa services attract them with relaxing and calm experiences as well as pleasant smells. No loud noise disturbs clients due to the efficient noise insulation. Similar to the physical environment of aircraft and lounges, a great deal of emphasis is placed on corporate branding. People instantly recognize the airline's ads, brochures, interior, planes with its name on the side, and more. Seeing these things often or having at least one positive experience makes clients keep Etihad Airways in mind. As a result, they want to try Etihad Airways' services because they find them attractive, which improves their loyalty and allows the company to achieve success.
Etihad Airways maintains a complex process that starts with the booking of a ticket and ends with the client's arrival. It requires strong systems that allow it to avoid possible problems and keep passengers satisfied. For instance, this process includes an online information system, as well as booking, scheduling, and support systems. With the help of these computer-based systems, the airline performs in the way it is expected to. These systems are maintained with the help of the company's website, through offices and IT personnel. A particularly insightful example of the power of computer systems is the company's connection with Amadeus, which allows it to more effectively manage the business. Amadeus helps select the inventory for its sales outlet and allows management to see whether seats are filled and whether tickets were sold as planned. It determines the most productive agents and markets, streamlining basic operations (Vallantin). Amadeus cooperates with different travel agencies and even individual travelers. It has access to flight information and additional services provided by airlines. Under the company's agreement, Amadeus makes Etihad Airways' content capabilities more efficient and effective. It displays the airline's products and services so that travelers and travel agents do not need to visit the company's website and can compare it to others. In this way, it can also be viewed as a tool for promotion because it enables the development of visual enhancement ads and provides additional information about benefits, which not all clients are able to find themselves. It is advantageous that even people who are not well aware of Etihad Airways' offerings can book a ticket with the help of Amadeus.
Position among Competitors
Etihad Airways deals with a number of local competitors in the industry, including Emirates Airlines and FlyDubai, as well as international competitors such as Singapore Airlines and Air Arabia. The latter employs a low-cost market strategy, making it Etihad Airways' main competitor. Airline services are not unique, and the airline must deal with the budget carrier easyJet as well. It can be stated that Air Arabia is a great threat to the Etihad Airways, especially when thinking about the future. This airline is increasing its number of aircraft each day, which allows it to satisfy more clients, increase its market recognition, and gain more revenue.
The bargaining power of customers is low in the airline industry. Clients usually pay the price determined by the airline with no changes. Thus, Etihad Airways can benefit greatly from resorting to price reduction. In this way, the company will be able to compete with Air Arabia, which allows its clients to pay less. In fact, this airline provides customers with two advantageous opportunities: first, it gives the opportunity to travel to people who were not able to afford it previously; and second, it benefits travelers who are used to flights.
Etihad Airways does not follow the approach of its prominent competitor, Emirates Airlines. Instead, it focuses on reduced prices for the same service. In this way, it can obtain a better position in the market. The company allows customers to integrate additional services and provides spa services, lounge access, multi-cuisine facilities, and more. As a result, the airline becomes more valued by customers than Air Arabia or Oman Air. Moreover, Etihad Airways has developed a powerful range of promotional strategies. Sponsorship of F1, for instance, enhanced its recognition in Asia. However, Air Arabia remains at the high stage in this territory due to its low cost. All in all, these airlines focus on different amenities and factors, which allows them to attract more clients and contribute to the national economy.
Recommendations
Etihad Airways is a rather young organization in the aerospace industry, which presupposes that it has a lot of opportunities for development and growth. Although it strives to enhance its performance constantly, the airline still faces some barriers on its way to business excellence. For example, when focusing on the sphere of marketing, it can be seen that Etihad Airways mainly targets its first and business class clients. It does not focus on all types of passengers, which prevents the company from reaching its full potential. By altering its priorities and offering more benefits to different types of customers, the airline is likely to increase its market share and enhance clients' loyalty, which will surely lead to positive changes in revenue.
The company emphasizes that it is willing to benefit first and business class customers, which is why it has developed such a wide range of service offerings for them. However, it would be advantageous for Etihad Airways to pay attention to the fact that many individuals who travel economy class also significantly contribute to the airline. It seems rational, then, that this population should be treated in a similar way as the airline's currently emphasized segments of the target market. Etihad Airways underlines its philosophy of treating its first and business class passengers not just as clients but as guests, which means that they are more valued. Still, given the fact that the number of people who travel economy class every day is greater than those of other sectors, the airline should not ignore this population. In limiting its market scope, Etihad Airways makes itself rather vulnerable. If one of its competitors begins to offer luxury services or products to all classes of customers, the airline will face customer decline.
Etihad Airways has flexible prices, which allows it to cover operational costs and appeals to travelers because they have an opportunity to purchase cheaper tickets. The airline can benefit by reducing its prices in existing markets. The low-budget market competition has spread widely and has turned out to employ a rather effective business model. While those passengers who travel in first and business class can afford to pay more, people who travel in economy class tend to choose airlines that offer cheaper flights in the majority of cases (Kabir). Taking this fact into consideration, Etihad Airways can also seek to benefit corporate clients. For instance, discounts provided within the framework of loyalty programs can be used. With the help of promotional offers that provide additional benefits to those customers who travel with Etihad Airways often, client loyalty will be enhanced greatly. Moreover, as soon as the organization reaches its break-even point, it can raise its prices a little bit. The issue is that many customers tend to view Etihad Airways as a low-cost airline, while the airline itself wants to be mainly known for its first and business class offerings and its high quality of service. Thus, by increasing the price by about 5%, it will still remain competitive in the industry and selected by customers, but it will also get rid of its undesirable image as a low-cost carrier.
The company's loyalty program can also be used as a tool of promotion because it encourages clients to choose Etihad Airways whenever they are going anywhere. For example, the airline could offer customers the opportunity to accumulate guest miles, which could be used to obtain a wider range of additional services or to reduce the price of a flight. This program is also likely to gather customer information on a regular basis, one of Etihad Airways' primary goals. It would allow management to become more aware of clients' needs, changes in demographics, and other vital factors that have an influence on their travel decisions. In this way, it is also possible to develop personalized offers that will definitely appeal to customers.
It will be advantageous for the company to pay more attention to its compensations and liabilities when trying to provide all types of customers with more attractive services and additional offerings. The information related to product strategy discussed above reveals that the company already does a lot to reach business excellence. However, opportunity for improvement still exists. For instance, it would be rather advantageous for the company to provide its targeted market segments with a lounge or baggage pick-up service. In this way, passengers would be more loyal as they would have an opportunity to travel with enhanced convenience, which is especially valued by first class clients. In this program, baggage would be picked up by a special facility and delivered where needed. The easiest and the least expensive initiative that is likely to appeal to the majority of customers, making them feel valued, is the provision of hot towels. When receiving them upon departure, clients tend to have more positive attitudes towards a flight and the airline that maintains it.
The airline still has an opportunity to enhance its place strategy as well. For instance, it can expand its selling network. By having several selling spots in popular malls, Etihad Airways would definitely enhance clients' access to its services. Another opportunity would be to provide support in more languages so that clients do not have to wait for an interpreter or call one. In addition, the airline should concentrate on a particular geographical area to identify how it can increase its profit within it. For example, emphasis can be placed on the Asian region, which has a lot of potential clients who travel frequently within and outside of this territory.
To increase market penetration, the company should pay more attention to direct marketing, especially because the airline is located in Abu Dhabi, which is always full of tourists who are interested in getting to know Arab culture and traditions. Indeed, the airline could take advantage of the opportunity to reach more clients by taking part in various travel and tourism events. Even people who do not use the airline currently will start recognizing Etihad Airways over the course of time. They will become more interested in it and more likely to try its services. In addition to this strategy, word-of-mouth promotion can be used. The organization has thousands of employees who regularly contact different people all over the world. That is why such a method of promotion is likely to be rather effective. It is also critical to mention that word-of-mouth promotions do not require additional costs, which means that all advantages will be reached without expenditure.
Conclusion
It is clear that Etihad Airways is an airline that has already achieved much success and has been rewarded for business excellence in marketing, human development, and other areas of operations. The company has obtained numerous advantages by undertaking a collaborative approach, allowing it to boost business prospects and build beneficial alliances and networks. Indeed, Etihad Airways tends to have a good position in the market despite its powerful competitors. Given this fact, it is likely to become the leading carrier in all categories over the course of time. The company is appreciated by a diverse targeted population due to the quality of its services and its emphasis on Arabian hospitality. This approach is aligned with the airline's location and environment, as Abu Dhabi has recently become one of the world's most popular tourist destinations. Its focus on first and business class services is also closely connected with Abu Dhabi's position as a well-known business center of the Middle East. These focuses are significant for the company and have a crucial influence on its choice of marketing strategy.
Etihad Airways categorizes its services into three different classes, which allows it to meet the needs of different populations and attract more clients. Still, all of these passengers are treated in the same way, as the company implements a customer-centered approach. Etihad Airways reaches various destinations and has not only a main office in Abu Dhabi but also branches in cities all over the world. The airline can be reached by customers through its website and through Amadeus, both of which provide a wide range of benefits and additional services that appeal to customers. Etihad Airways promotes itself using media advertisements and sponsorship mainly. Its prices are reasonable and lower than those of its competitors, which allows it to attract and retain more loyal clients. Etihad Airways also pays much attention to its employees to ensure that they have enough skill and knowledge to provide clients with the services they need.
Etihad Airways operates efficiently and is likely to remain competitive and popular among travelers with its current focus on outstanding services and a low-price penetration strategy. However, the company should implement several improvements and new approaches to reach business excellence. For instance, it can consider upgrading economy class services, adjusting prices, expanding loyalty programs, planning for future expansions, and offering additional services to customers.
It Works Cited
Cole, Alex. "Analysis of the Etihad Airways." Grin, 2011. Web.
Etihad Airways. "The National Airline of the United Arab Emirates." Etihad, 2017. Web.
Etihad Airways PJSC. Business review 2010. Etihad Guest, 2011.
Gough, Andrew. "Etihad Launches iPhone Loyalty App." Business Traveller, 2010. Web
Kabir, Faisal. "Report on Etihad Airways." BlogSpot, 2014. Web.
Li, Guen. "5 Reasons Why Airlines Need to Move Beyond Usual Marketing Tactics to Engage the Connected Traveler." Simpliflying, 2013. Web.
"Marketing Strategy of Etihad Airways." Basantash, 2017. Web.
Taylor, Lee. "Etihad Unveil Luxury Diamond First Class." Courier Mail, 2009. Web.
Vallantin, Candice. "Etihad Airways and Amadeus Expand Rich Content Capabilities, Improving the Booking Experience for Travellers and Travel Agents Worldwide." Amadeus, 2016. Web.