Introduction
During the past twenty years, several lesser economically developed countries have become much aware of the importance of technological progress, acknowledging that economic development is unattainable without consideration of technological progress. Thus, across various sectors, several attempts are being made to modernize industrial processing technologies with innovations. Furthermore, those countries are recognized as having centrally planned economies as having re-established and positioned themselves as stronger market economies. Accordingly, there is fierce competition amongst world markets owing to the rapid changes in economic activities, which have been witnessed about globalization and technology. Typically, that is particularly considering markets, which may have previously been inaccessible. Notably, firms are now seeking to establish new customer-oriented solutions and opportunities, as has been advocated by (Sakolnakorn et al., 2009, p. 37).
With the above in mind, several different life disciplines have experienced significant changes due to computer utilization, which has subsequently assisted in the manufacturing industry and induced different system developments, amongst other improvements. It is important to note that, such newly developed technologies necessitate the involvement of skilled professionals with the necessary prerequisite skills, resources, and expertise.
Significantly, the overall capacity to adapt to change is recognized as fundamental in any industrial revolution. As such, the main activity underpinning manufacturing is not only manufacturing but also knowledge processing, which helps to ensure customers achieve value for money, as argued by (Sakolnakorn et al., 2009, p. 37).
With the above reflections, this proposal details the project aims and the study method to address the current research inquiry. In addition to that, the literature review is conducted with focused attention toward manufacturing-related dilemmas about the current situation of clothing factories.
Literature Review
Despite a significant increase in the abundance of cloth manufacturing and the success of clothing sales—both wholesaler and retailer—across the globe, this sector currently lacks in Saudi Arabia. Thus, the country is recognized as dependant on imported manufactured textiles from countries such as China. However, Saudi Arabia is not the only country making use of the Chinese manufacturing industry in this regard as argued by (Abernathy, 2005, p. 2). On the other hand, China is likely to become the 'supplier choice' for several other importers, such as those operating within the United States of America, because it currently offers manufacture textiles of with most textiles of varying levels of quality which facilitate price competitiveness.
Unquestionably, one of the common issues in terms of manufacturing within China and other such countries is evident when considering increasing costs, with typical examples clearly illustrated in the case of the USA. For instance, during January-August 2005, a significant 85% increase in growth was experienced across the clothing sector as a whole, with several other subsectors, such as cotton shirts, experiencing far more significant growth, as was witnessed in 2004 when growth exceeded 250%. A similar situation has also been evident in EU importations, as highlighted during early 2005. However, rising costs following surges in demand are not the only issues to consider, but there are several problems experienced by both customers and investors alike, with subsequent impact on the overall economy. These include exportation, importation, investor monopolies, and product quality. Therefore, the question arises: why have the prices offered by manufacturing countries, such as China, increased so much? About the latter question, it is clear that manufacturing countries work to enhance management levels to overcome obstacles and barriers facing the industry, thus ensuring quick product development.
In 2002, a study was conducted by Abas, which focused on the effects of technology. Throughout the research, Abas highlighted that business-related successes could only be attained if firms keenly strategized to attain and maintain up-to-date technological changes, being necessitated to adopt modern production processes and technologies geared towards ensuring quality. As such, it is necessary to afford technological changes with emphasis on organizations if they were to attain work environment-related changes and success.
However, in a more recent study, Napoca (2010) states that competitiveness must be assigned attention, with a competitive edge achievable only if some value is afforded to enhance management. The scholar further emphasized the fundamental issue of enhanced enterprise management is only attainable in three different ways: production management improvement, enhanced product marketing, and the implementation of integrated processes.
Furthermore, when considering the context of management approaches, it is highlighted by Johns et al. (1987) that technology should be taken on-board alongside several different factors, with the researchers emphasizing that technology is shifting and shaping the US industry on a changing regulatory environments baseline, international trade growth, and changes in demand patterns. Notably, such forces are known to be affecting what is produced and how, as well as who carries out such tasks. Therefore, it is worth stating that technology is affecting the overall structure of business sectors and industry networks.
There is a great deal of support for the aforementioned views and works, with Shetty (2001) agreeing with some of the above opinions and suggesting in the context of the above argument that several actions be taken to improve apparel organizations. These include eradication of structural irregularities within the industry, improving technology, enhancing the overall quality of the manufactured goods, eliminating market access barriers and decreasing tariffs within the textile industry, and ensuring investors are motivated to promote trade and invest in the industry.
Moreover, Napoca (2010) affirms that implementing management systems should be flexible to ensure aims and objectives are attainable, using flexible changes reflecting internal and external business and manufacturing environments. In this regard, the scholar highlighted that organizations should ensure awareness of the ever-changing business environments and the subsequent intensification of competition, thus requiring that innovative products and business approaches be applied to ensure survival. In that context, Napoca (2010) provides several suggestions to improve the business and manufacturing environment leading to economic and social transformations. Typically, that is based on the income generated from the creation, manufacturing, and sale of innovative products, in this case from the textile manufacturing industry. Among the proposed methods, include enhancing specific focus on the management structure of the textile manufacturing industry, enhancement of industry representatives especially SMEs, evaluating company objectives to address unit functions that lead to market competitiveness, and ensuring the management structure is acquainted with the economic and social factors that influence the performance of such enterprises (Napoca, 2010).
With the above in mind, however, it is important to note that, although several countries have active, well-established clothing industries, Saudi Arabia is lacking in the factors of production. Nader (2008) argues that despite the country having a sound workforce, consumer purchasing power, and financial wealth — all of which can together achieve success there are nevertheless several problems requiring attention further explain this situation. These problems hinder any progression. Some such problems include inadequate factory management or the closing of various sections.
Following this literature review, the theme of this paper is again emphasized here, improving the clothing industry is an imperative strongly related to advances in textiles and related technologies. In an attempt to highlight further the value and importance of the issues in this scenario, the adoption and innovation of various mechanisms, the economy of the country as a whole, and the training of females are discussed further.
Objectives
Main Study Objectives
This study has three main objectives, as highlighted below.
Objective 1: to establish the main issues in the arenas of the clothing industry within West Saudi, and make recommendations for an appropriate management approach considered suitable for overcoming such problems.
Objective 2: to consider the individual elements impacting the organizational development of the clothing industry, and to direct attention toward advances in technology about both the operation and management of clothing industries.
Objective 3: to consider the potential to train females following the completion of education within Clothes and Textiles College, and the policies associated with such.
Furthermore, there are also several secondary objectives to be addressed during this research, as detailed below:
to establish the individual aspects of the Saudi clothing industry
to consider both national and global industry-relevant developments for the future
to establish the main elements apparent within the clothing sector
to identify and consider the potential opportunities concerning the application of modern manufacturing systems within Saudi Arabia
to consider supply and demand regarding the clothing market in Saudi Arabia
to establish improvement-related opportunities in the arena of clothing production management
to consider ways in which females can be trained to find textile-related roles
to detail the criteria applicable in the context of females finding industry-relevant roles
To consider how the private and public sectors can collaborate to define sector-wide criteria for females.
Methodology
The methodology of this research is based on gathering a large body of relevant data related to several environmental factors in the textile industry in Saudi Arabia, thus necessitating the use of different methods to conduct the study. Notably, gaining access to a documented body of knowledge on relevant areas in the industry will be the baseline for recommendations to partially or completely alleviate problems identified affecting the textile industry in Saudi Arabia.
The researcher will undertake to collect both primary and secondary data relevant to the current study, a research approach Salha (2006) argues provides the basis for providing empirical evidence to rely on in decision making in the context of the social research. Importantly, secondary data is that information, which is readily available due to research conducted by another scholar. Typically, secondary data is gathered for another purpose and may come from one or more sources. On the other hand, primary data is new data gathered through several different methods for the research at hand. Some of the primary gathering methods include interviews and questionnaires. Markedly, primary data will be the first focus of the researcher.
Importantly, both inductive and deductive methods will provide further support for the Ph.D. dissertation. The latter is the second methodology adopted throughout this study, which is characterized by a much in-depth view of the issues at hand and utilizes a big-to-small approach. In this regard, the investigator must begin by selecting the problem area and accordingly making various recommendations by establishing the case and subsequently formulating the working hypothesis. Thus, data is collected in an attempt to address and provide answers for the detailed hypotheses. Finally, the researcher evaluates the research to establish its validity as is shown in Figure 1 below.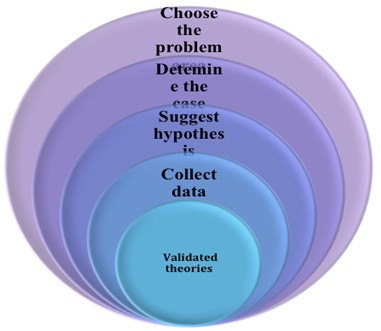 Essentially, information gathering should be carried out with attention directed toward achieving the overall objectives of the study, to help organize how the research should be conducted alongside its activities. Accordingly, the investigator chose to implement a descriptive-analytical approach, which is known to facilitate in-depth descriptions and encompasses all relevant knowledge and related phenomena to establish links between facts. This analytical approach has been established based on precise information, which enables the researcher to objectively provide results and interpretations as recognized by Alwah (2006, pp. 9–10) as being a fundamental factor in the methodology.
Furthermore, in an attempt to gather useful secondary data, a bibliography detailing articles, books, and websites comprising information from both home and abroad in several relevant areas—namely business administration, information technology, management marketing, and societies, etc.—has been utilized, following which it has been established that there is much discussion surrounding this study arena. Notably, however, it seems there has been less attention directed toward business-related management improvements within the clothing sector from a scientific standpoint, with professionals in the field predominantly responsible for this discussion, as similarly recognized by Napoca (2010).
Interviews & test sampling
Following the identification of the issues and obstacles facing the Saudi Arabian clothing industry, attention will be focused on the specific case of the Basha factory, which manufactures school apparel and may benefit from political administration changes. Accordingly, the management of various factory aspects will be considered in terms of how improvement can be made, with a new plan devised and the implementation of technological devices recommended in an attempt to augment production efficiency.
In-depth interviews lasting 45 minutes to two hours were conducted between 18 to 20 entrepreneurs in the clothes industry in five categories: 1) man-made fiber; 2) spinning; 3) weaving and knitting; 4) dyeing and printing, and 5) clothing.
Notably, test sampling will be utilized; in this context, the sample will comprise a group of students enrolled in education at the Clothing and Textile College. The sample—comprising 15–20 females—will be trained in the utilization of technological devices, which is carried out in an attempt to measure the acceptance of females concerning factory work as well as to establish the response from society In Saudi Arabia concerning such roles.
Analysis
Data obtained from the interviews will be analyzed using modern data analysis software tools to determine the validity of the testable hypothesis formulated to guide the study. Thus, the analysis will draw on quantitative data analysis that provided the basis for collecting data to address the qualitative aspect of the study and provide a link between qualitative and quantitative approaches in the current study. Typically, amalgamating both approaches provide a clear foundation for the study to overcome some critical assumptions that might have significant implications on the current study.
Results and Conclusion
An analysis of the results from the literature review and the secondary and primary data collection will form the basis for addressing the context of the problem of the textile industry in Saudi Arabia. In addition to that, the results will provide the basis for validating the research hypothesis. On the other hand, the results will form the baseline for recommendations on various issues related to the clothing industry in Saudi Arabia. In addition to that, the results will provide a basis for the clothing and textiles industry in Saudi Arabia to formulate strategies both in industry and in the management, in business cycles, and other related enterprises to formulate strategies to address the lack of textile manufacturing industries in Saudi Arabia. In addition to that, economic and social benefits likely to accrue from the development of the industries, and strategies to position competitively the local industries against Chinese manufacturers to create local jobs will be another benefit to consider. Moreover, it is recommended that further research based on competitive intelligence be conducted to determine why Chinese products have a significant share in the market considering issues such as factors of production to avert a situation of setting up a textile manufacturing plant without a market to sell its products. Typically, competitive intelligence is a legal approach used to gather information from the market on competitors without infringing upon the rights of the competitor.
References
Abernathy. F, Volpe. A Weil. D. (2005). The Future of the Apparel and TextileIndustries: Prospects and Choices for Public and Private Actors. Web.
Alwah, A. (2006). The readiness to e-learning in the private education for boys in jeddah province. PHD, The American University Of London.
Greenfield, S. (2011). Modern technology is changing the way our brains work, says neuroscientist. Mail online e- Magazine.
Johns, L. Kelly, H. Ruttenberg, R. Berkstresser, R. Chenok, D. Wyckoff, A. Williamson, N. Michael, L. Barrier, A. (1987). The U.S. Textile and Apparel Industry: A Revolution in Progress.
Nader.K. (2008). factoies in saudi arabia. PhD. Education and learning college. Mecca (Makkah).
Napoca.C. (2010). Contributions Regarding the Improvement Of Enterprises' Management From Clothing Industry.
Sakolnakorn,T. Aim-Im-Tham, S. Khamanarong, S. (2009). Management Strategy For Administration Of Textile Industries In A Developing Country: Case Study Thailand. Journal of Business Case Studies. Vol 5. Khon Kaen University. Web.
Salha, S. (2006). Applying knowledage management strategy within a higher education ,Master Huddersfield University.
Shetty. S. (2001). India's Textile and Apparel Industry: Growth Potential and Trade and Investment Opportunities. U.S. International Trade Commission.
Vidović. M. (2010). The link between the quality of knowledge management and financial performance – The case of Croatia. Working Paper Series. Paper No.