Globalisation and its Driving Forces
Globalisation is the multidimensional observable fact encircling with a wider variety of economic as well as social dimensions where almost every measure of trade and commerce including flow of foreign direct investment and traditional business culture has been restructuring with remarkable openness of economy and global views rather than backwardness towards barrier free global village (Audretsch and Thurik, 2000)1.
There are two fundamental driving forces that lead the modern economy towards the globalisation while the first force is highly skilled human resources with low-cost in less developed countries and the second one is the revolutionary development in telecommunications and microprocessor field that significantly reduced the cost of economic activity where the Information technology another catalyst (Audretsch and Thurik, 2000).
Researcher Martens and Raza (2010)2 pointed out that the primary significance of globalisation is to contributing the developed nations with comparative advantage, but it also evidenced that economy of less developed counties are forced to manifesting themselves upon a global scale where they failed to compete with the developed nations though the system has ensured greater movement of economic activity. Consequently, a protest against globalisation has started from decayed, and the move is on going with the rising question of sustainability of globalisation (Martens and Raza, 2010).
Globalisation and Foreign Direct Investments
FDI is usually well thought-out as a driving force for the less developed countries to welcome globalisation and in nineties LIDCs gained huge FDI inflow that contributed the counties to create employment opportunities and infrastructural development (Chudnovsky and López, 1999). Most of the LIDCs are continuously inviting FDI without any study or research that creating threats to the sustainable development and growth of local industries (Chudnovsky and López, 1999).
The globalisation has influenced the dramatic increase of FDI 3 inflow in the LIDCs4 and accelerated the role of the economic growth of those countries though the allocation of FDI is not smooth among the counties while such FDI brings theoretical development rather than real life scenario (Rahman, 2008). Corresponding to the FDI flow, the developed countries are transferring environmental hazards and industrial pollution from their home country to the host country, but recent evidence demonstrates that developed countries are not interested to compensate for such environmental hazards caused by FDI flow (Rahman, 2008).
Impact of Globalisation on Automotive Sector
Researcher Teresa Lynch pointed out that the globalisation has kept serious impact on the automotive sector with an innovative and divergent phase of organisational economic activities including development of technology, increasing market demand, production and workflow, investment and trade patterns, competition among the rival companies, as well as to facing the threats of global financial crisis (Lynch, 1999). Moreover, globalisation has affected the altitude skills and qualities of employer and employee relation in different countries and given a new shape in the economic activities crossing the border limit and raised unemployment in developed countries, mounting income discrimination with deteriorating of industrial relations within the less developed countries through industrialisation and FDI inflow.
The globalisation has changed the trade models of automotive sector, and the value chain of the industry may suffer from declining wage rate due to competitive pressures in less developed countries with comparatively lower per-capita income while trading increased among different level of countries and it influenced the intra-sectored allocation of income (Spatz and Nunnenkamp, 2002). Due to globalisation, the emergence of local production systems in the less developed countries have facilitated regional integration by creating opportunities of industrialisation in those countries linking their human resources and skills (Humphrey and Memedovic, 2003).
Impact of Globalisation on Toyota
The wave of globalisation flourished in nineties, but if the globalisation indicates strategic export through FDI flow and production in other counties rather than the home, then Toyota has started this process through its internationalisation strategy during seventies and eighties with successful record of accomplishment (Shimizu, 1999). Toyota introduced its overseas production in Australia in 1963, Thailand in 1964, New Zealand in 1966, Peru in 1969, and Indonesia in 1970 while the company engaged with 52 overseas production factories in 2006 (Shimizu 1999)
Toyota Motor (2003) explained that the company's forward-looking statements towards globalisation are more efficient to address future aspect in advance including unpredicted risks and prospects.
Health Issues and Impacts of Globalization on Toyota
Today, globalisation had changed the pace of the entire global commercial structure and the business environment affecting every sphere of the international trading issues both positively and negatively (The Library of Congress, 2010). The positive influences of globalisation include fact that together with many other industries, the automobile industry has also become open to the whole world and this has resulted in the business of Toyota Corporation to reach the market to an extensive level (Sturgeon, et al, 2009). More expanded market means increasing sales and consecutively, higher annual profit margins for the motor company (Sturgeon, et al 2009). However, despite of so many benefits that the organisations are receiving, a major alarming issue still remains with the impact of globalisation on environment and eventually on public health (CleanAir Systems, 2010).
Online Newspaper China Daily (2010) reported that with increasing rate of automobile trading in various parts of the world, the production of vehicle has increased in the automotive industry and a number of motor companies are now trying to meet the public demand of cars by producing low-quality products that emits high amounts of pollutants and toxic substances or gases. As the manufacturing companies including Toyota sell these highly polluting vehicles in many parts of the world, usage of those contributes to great environmental effluence, which in turn adversely affects human health (Brininstool, 2006).
It is therefore arguable that whilst globalisation of business world has given a lot to Toyota by contributing significantly to catch a wider range of global market, on the other hand, its negative impacts has lead the business to face higher barriers of strict rules and legislations regarding reducing public-health and ecological impact of car production (Kari and Rasiah, 2009). The recent health and environmental laws require companies like Toyota to ensure the fact that the manufactured cars should not emit high levels of hydrocarbons and CFCs 5 whilst the final consumers use those, amounting to potential damage to health (Huynen, Martens, and Hilderink, 2005).
Moreover, Toyota is indeed a motor vehicle producing company that emphasizes a lot upon business ethics and tries to fulfil its commitment to the society, community, environment, and stakeholders by the execution of its corporate social responsibility policies (Toyota, 2010) 6. According to Toyota Motor (2010), Toyota's CSR policy includes a very clear statement that dictates the extent to which the company should try to limit the damages to public health7. For the sake of both the company's CSR policy and governmental legislations, health issues remain one of the key potential impacts of globalisation over Toyota's business (Hill and Jones, 2007).
Effect of Hydrocarbon Emissions on Health and Toyota's Responses
Environmental Protection Agency (EPA) suggested that approximately forty-seven percent of hydrocarbon emanations have contributed from on-road and off-road automobiles; as hydrocarbons merge with NOx, and sunlight, ozone has produced which a dangerous type of air pollutant and a major element of smog (EPA, 2010) 8. The tanned mist of smoke, which afflicts countless city regions, causes burning sensation and harm to eyes, skin, and lungs; these also desiccates the defending membranes of the nose and throat, prying with the body's capacity to defend infections (CleanAir Systems, 2010).
Hydrocarbon emission rates in European countries like UK, France, Italy, and Germany are increasing day by day and the rate of illnesses in those countries are increasing accordingly; EPA (2010) 9 have showed that the components present in hydrocarbons can result in cancer, acute respiratory symptoms, headaches, light-headedness, nausea, abridged cardiovascular workings, arrhythmia, brain damage, and even early death.
As a response to reduce health affects of hydrocarbons, Toyota undertook several plans in 1991 like "realizing energy reductions and conservation via innovations in production-technology" and "promoting measures to curb global-warming"; implementation of these plans helped Toyota to attain 40 percent environment friendly technologies over a period of 1991-2009 and led to 40,000 ton CO2 emission reduction (Toyota, 2010)10: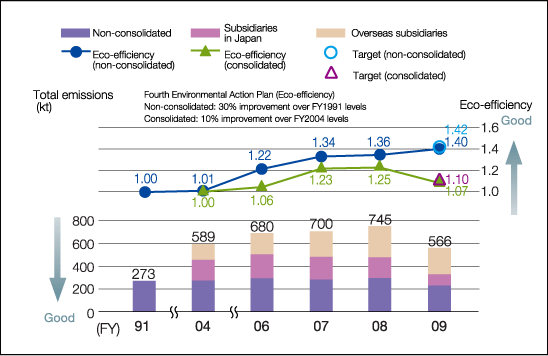 Toyota has also significantly reduced emanations of SOx in the environment by launching technologies that collects SOx 12 back from the air, by developments in the entire production process, and most importantly, by substituting harmful fuels with bio-fuels such as bioethanol (Toyota, 2010 13); however total NOx emanations raised because of greater use of city gas for the co-generation systems: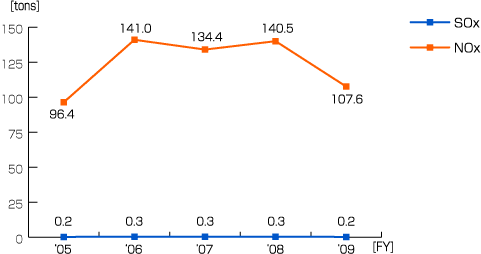 According to GreenCarSite (2010) 14 Toyota Prius Hybrid is currently the company's most popular environment friendly cars with 104g/km CO2 emanation rate and 65.7 mpg; its highly impressive features and low emitting rates have made it one of the most favourite cars of recent times and this contributed to increased sales for the company. Yahoo News (2010) stated that the company has sold 21,769 Prius cars in October 2010 for which Toyota experienced great augmentations in profit15.
One of the most eco-friendly cars of Toyota is Toyota FFV that cut down conventional fuel application by substituting it with E85 ethanol (Landahl, 2009). According to the report of Landahl (2009), FFV was successful products in entire European Market; especially it facilitated to boost the Sweden market in 2008 due to its internal combustion engine; however, Toyota initially introduced nearly 70,000 E85 vehicles and about 150 E95 busses (Landahl, 2009).
Environmental issues
Everybody involved in the car manufacturing companies keep the environmental concern in mind, starting from the lower level employees who gather waste materials for recycling to the top-level management who speaks with politicians on global warming issues (Johnson, Seholes & Whittington, 2006). According to the annual report of Toyota Corporation 2009, this company is outstanding for initiating environment friendly transportation elucidation for individual markets instigating non-economic purpose to the society.
However, the reduction of carbon emission is not only an issue of corporate social responsibility but it has significance to increase the profit of the companies (Hitt, Ireland and Hoskisson, 2001). For example, Ford Pinto was the oldest model of Ford, which had failed to compete with other automobile industries because it was not environment friendly car (McLaren, 2009); as a result, it was firetrap for the passengers and the company omitted the ecological aspects, as the flimsy technological design failed to reduce the carbon emission (HSSE, 2008).
Bio-ethanol produces from sugar cane, sugar beet, and cereal crops, which helps to reduce carbon emission by 90% and decreases the damage of atmosphere; therefore, it would have positive impact on global warming (Anon, 2010). At the same time, Biodiesel and biofuel have prospective future, because these fuels are carbon-neutral with all the CO2 discharged through use of the fuel; so, car-manufacturing companies now heavily relied on the Bio-ethanol, and other biofuel considering their responsibility to save the environment from adverse impact of carbon emission.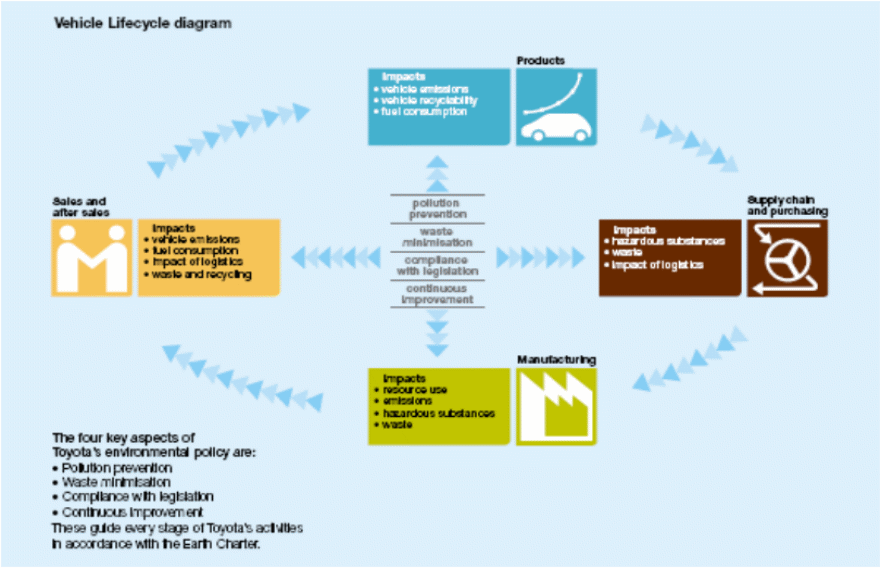 The car manufacturing companies committed to introduce environmental friendly cars by using latest technology as the government body US Environmental Protection Agency reported that hydrocarbons were the forerunner to ground level ozone, which created for imperfect fuel combustion and from fuel evaporation and it is a grave air pollutant in urban areas across the US (US Environmental Protection Agency, 1999).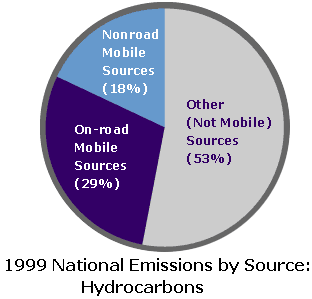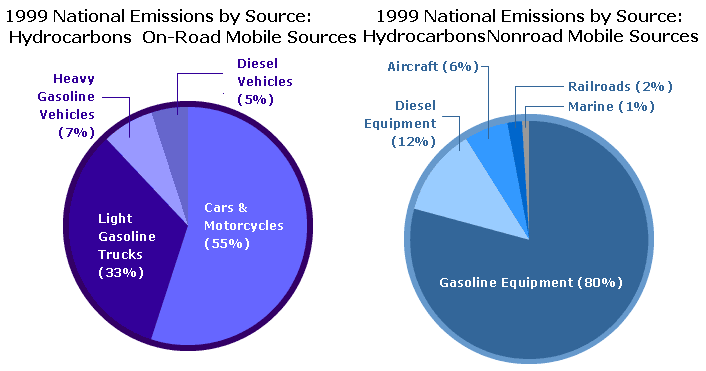 Corporate Social Responsibility
The researcher Stoner, Freeman & Gilbert (2006) pointed out that CSR is the route of assessing an organization's impact on society and evaluating their responsibilities; and CSR is about more than environmental responsibility or having a recycling policy- it is about considering the whole picture (Thompson, et al, 2007). President of Toyota Tetsuro Toyoda reported that in 2003, Toyota introduced the Global Environmental Commitment in order to explain its environmental concern; such as, it has developed its technology to decrease energy consumption, utilizing raw materials, and minimize environmental risk factors (Toyoda, 2005).
According to the annual report of the company, it promotes different technological experiments for adopting environmental harmony with a core intension of cordial relationship with individual and corporate bodies for this purpose (Toyota Corporation, 2009). For example, innovative re-use of wastewater in the car manufacturing procedure has facilitated the company to decrease water consumption (up to 18%) and discharge (up to 19%) by 2006, and the company has commitment to minimize water consumption up to 23% in its environmental action plan (Business Community, 2010).
In addition, Toyota invest huge amount of money for celebrity endorsement to protect the environment from greenhouse effect by creating positive image of hybrid vehicles, for instance, it has arranged various environmental awareness activities naming as "arrival of a revitalized recycling- based society", "Global Warming Countermeasures", "Biodiversity Conservation" and so on (Toyota Motor, 2010). [Article: "Toyota Environmental Activities Grant Program"]


Comparison with Other Companies
Honda launched Insight model to prevent high-level fuel consumption and reduced the price of the car (McCauley, 2009); at the same time, Toyota gained emotional support of community for the production of environmentally friendly cars with Prius (Rodriguez & Page, 2004). On the other hand, Toyota captured a significant part of the market only rely on this brand (Rodriguez & Page, 2004). However, Toyota arranged IMC16 promotional program in order to aware people about the environmental eco friendly cars, develop better co- operation and co- ordination with public agencies, academic centres, environmental agencies, and other social institutions and to increase the market share of Prius in the UK market (Beauchamp, 2006).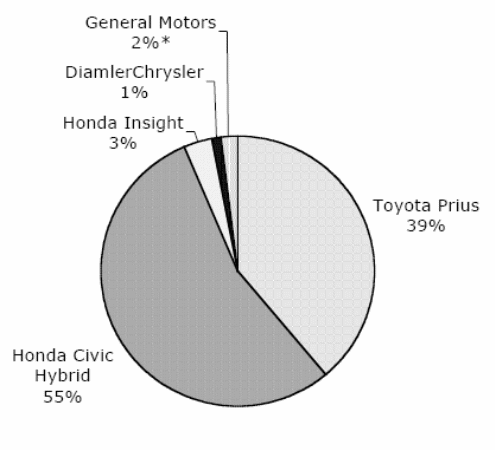 In addition, Car manufacturing companies like Toyota, General Motors, Honda, Ford, Mitsubishi, Land Rover, BMW, Vauxhall, Rolls-Royce, Volvo, and other renowned companies launch eco-friendly cars in order to uphold the market position by increasing net sales (Department of Trade and Industry, 2000). For instance, Chartered Institute of Management Accounts (CIMA) pointed out that famous car manufacturing company Jaguar Land Rover has reduced water consumption effectively by 28% between 2002 and 2007, carbon productions by 21percent between 2003 and 2008, and waste to landfill by 39 percent between 2002 and 2007. CIMA (2008, p.4) also reported that the demand of new brand XJ, 3L V6 Diesel increases due to decreasing CO2 emission
Core Initiatives of Toyota to reduce Carbon emission
Professor Capon Erin and Berthiaume Joshi stated that the hybrid motor vehicles play significant role to protect environmental damage as well as public health. As a result, Toyota has adopted differentiated or segmented marketing strategy to target several market segments; such as, it has manufactured hybrid Plug- in car (PHEV) for the customers who want to use an environmentally friendly vehicle (Capon & Berthiaume, 2007).
However, Toyota has introduced several models of eco friendly trucks; such as, GENEO (8FG/D) produced with electronically controlled fuel injection system, which is able to reduce Co2 emission by 57%, NOx and HC emissions by 99% (Toyota Motor, 2010), and flexible- fuel vehicles (FFV) helped to reduce fuel consumption by 30% for using energy content of E85 (Landahl, 2009).
Conclusion
The first part of this paper has considered globalisation and foreign direct investments, impact of globalisation on automotive sector, and impact of globalisation on Toyota. Main body one addressed mainly two issues, such as, health issues and impacts of globalization on Toyota, and effect of hydrocarbon emissions on health and Toyota's responses. Main body two focused on the issue of corporate social responsibility, compared the position of Toyota with other car manufacturing companies, and core initiatives of Toyota to reduce carbon emission to save the world from global warming.
To face the challenges of globalization, the company has already designed its globalisation strategy integrating modification of economic conditions, ensuring competitive environment, business transactions in home currency, EURO & USD, reducing capital expenditure including planned management. However, Toyota also attentive to modification and development of its product with environmental friendly technology as well as hybrid autos with low fuel consumption and ensuring country wise eco-friendly production facilities. Moreover, the impact of globalisation has driven Toyota to look for cost effective raw materials sourcing and solid supply chain management including hybrid engines.
Recommendation
As the international automotive market is getting more and more competitive in terms of producing environment friendly products and capture the market as well,
Toyota should recheck the strategy of the competitors to develop product range;
It should develop integrated marketing communication system in order to aware people about positive side of eco friendly cars for environment;
In addition, Toyota should increase expenditures for the R&D than the previous year, which would help to produce new eco friendly, creative, and differentiated vehicles. It needs to increase its integrated marketing communication effort in order to aware customers about the positive side of its products and the importance to use of eco friendly products to reduce global warming.
Reference List
Anon (2010) Bioethanol and biodiesel. [pdf]. Web.
Audretsch, D. B. & A. Thurik, R. (2000) What's New About The New Economy? Sources of Growth in the Managed and Entrepreneurial Economies. [pdf]. Web.
Beauchamp, M. D. (2006) Integrated Marketing Communications Strategy: Launching the Prius Diesel into the UK market .Web.
Brininstool, J. (2006) Off-Road Vehicle Emissions and Their Effects on Human Health. [Online] Web.
Business Community (2010) Toyota Motor Manufacturing (UK) Ltd – recycling waste water using reverse osmosis. [Online] Web.
Capon, N. & Berthiaume, R. (2007) Toyota Marketing Strategy for Plug-in Hybrids. Web.
China Daily (2010) Automobile emissions. [Online] . Web.
Chudnovsky, D. & López, A. (1999) Globalization and Developing Countries: Foreign Direct Investment and Growth and Sustainable Human Development. Web.
CIMA (2008) Jaguar Land Rover Case studies: Embedding sustainability through enterprise governance. Web.
CleanAir Systems (2010) Hydrocarbon Emissions. [Online]Web.
Department of Trade and Industry (2000) The Environmental Impacts of Motor Manufacturing and Disposal of End of Life Vehicles: Moving Towards Sustainability. Web.
EPA (2010) Technical Factsheet on: POLYCYCLIC AROMATIC HYDROCARBONS (PAHs). Web.
GreenCarSite (2010) Toyota Prius Hybrid 1.5 VVTi. Web.
Hill, C. & Jones, G. (2007) Strategic Management: An Integrated Approach. 8th ed. London: South-Western College.
Hitt, M. A., Ireland, R. D., & Hoskisson, R. E. (2001) Strategic Management. 4th ed. South-Western Thomson Learning.
HSSE (2008) Ethics in Engineering: Case Study #1: Ford Pinto. Web.
Humphrey, J. & Memedovic, O. (2003) The Global Automotive Industry Value Chain: What Prospects for Upgrading by Developing Countries. Web.
Huynen, M. M., Martens, P., & Hilderink, B. H. (2005) The health impacts of globalisation: a conceptual framework. Web.
Johnson, G. Seholes, K. & Whittington, R. (2006) Exploring Corporate Strategy: Text & Cases. 8th ed. London: FT Prentrice Hall.
Kari, F. & Rasiah, R. (2009) Automobile emissions and the environment: The Malaysian experience. Web.
Landahl, G (2009) Incentives Promoting Clean Cars. Web.
Lynch, T. M. (1999) Globalization in the Motor Vehicle Industry: Final Conference Summary. Web.
Martens, P. & Raza, M. (2010) Is Globalisation Sustainable? Web.
McCauley, J. (2009) Honda Insight review. Web.
McLaren, C. (2009) The Pinto Disaster. Web.
Rahman, K. M.A. (2008) Globalization and the Climate of Foreign Direct Investment: A Case for Bangladesh. Journal of Money, Investment and Banking, 28(5). Web.
Rodriguez, A. & Page. C. (2004) A Comparison of Toyota and Honda Hybrid Vehicle Marketing Strategies. Web.
Shimizu, K. (1999) Maverick at the Age of Mega-Fusion and Mega-Merger? Toyota's Global Strategies. Web.
Spatz, J. & Nunnenkamp, P. (2002) Globalization of the Automobile Industry – Traditional Locations under Pressure? Web.
Stoner, J. A. F., Freeman, R. E., & Gilbert, D. R. (2006) Management. 6th ed. New Delhi: Prentice-Hall.
Sturgeon, T. J., et al., (2009) Globalisation of the automotive industry: main features and trends. Int. J. Technological Learning, Innovation and Development. Vol. 2. Web.
The Library of Congress (2010) Modern Global Automobile Industry. Web.
Thompson, A. et al (2007) Strategic Management. 13th ed. Tata McGraw- Hill Publishing Company limited.
Toyoda, T. (2005) Environmental Policies. Web.
Toyota Corporation (2009) Annual Report 2009: The Right Way Forward .Web.
Toyota Motor (2003) Toyota's Global Strategy —Moving toward Global Motorization. Web.
Toyota Motor (2010) CSR Initiatives. Web.
Toyota Motor (2010) Development of Environmentally-Friendly Lift Trucks. Web.
Toyota Motor (2010) Reduction of Air Pollutants. Web.
Toyota Motor (2010) Reduction in the volume of CO2 Emissions. Web.
Toyota Motor (2010) Toyota Environmental Activities Grant Program.Web.
US Environmental Protection Agency (1999) Mobile Source Emissions – Past, Present, and Future. Web.
Yahoo News (2010) Toyota Prius tops October sales in Japan. Web.
Footnotes
David B. Audretsch and A. Roy Thurik are the researcher of Erasmus Research Institute Of Management.
Pim Martens and Mohsin Raza (2010) Is Globalisation Sustainable?
Foreign Direct Investment.
Low-income Developing Countries.
CFCs – Chlorofluorocarbon.
Toyota Motor (2010) CSR Initiatives. Web.
Toyota Motor (2010) CSR Initiatives. Web.
Web.
Web.
Toyota Motor (2010) Reduction in the volume of CO2 Emissions. Web.
Toyota Motor (2010) Reduction in the volume of CO2 Emissions. Web.
Sulfur Oxides.
Toyota Motor (2010) Reduction of Air Pollutants. Web.
FREE online environmental resource.
Yahoo News – Online News.
Integrated Marketing Communications.