Examine the differing perspectives of human resource management
Guest's Model
According to Guest, there are two dimensions of HRM, hard and soft. Following the hard HRM, managers refer to employees as resources to realise business strategies and achieve a competitive advantage. This approach is rational and business-oriented, and it contributes to improving managerial control over employees. The soft model of HRM is more focused on employees' attitudes and motivation as well as on the role of communication and involvement (Armstrong 2006, p. 13).
Relations between managers and employees matter in this model because of improving the quality of employees' performance. Guest also refers to loose and tight variants of HRM in the form of compliance-based and commitment–based systems of control. Focusing on compliance, HR policies are designed to make employees perform according to standards. Referring to commitment, managers stimulate the employees' desire to work effectively (Collings 2009, p. 12). Both approaches are actively followed in organisations because of the companies' different missions and goals, but soft and loose variants of HR policies provide more feedback from employees because of the focus on their interests, attitudes, and motivation.
Differences between Storey's definitions of HRM and Personnel and IR Practices
Storey discusses HRM not only as an approach to managing people but also as a combination of policies associated with the decision-making process and references to levers to control the relationships between managers and employees. If Storey's definition of HRM involves the focus on the philosophical meaning of the practices, personnel, and industrial relations practices are characterized by the traditional approach to management.
Storey determines many aspects to distinguish between HRM, personnel, and IR practices (Figure 1). The main focus is on the fact that personnel and industrial relations practices are business-oriented, and the interests of the employer are prioritized. As a result, high standardization and rules play a key role in managing the organization (Armstrong 2006, p. 19). HRM is focused on values, relations, and integration. Such leading companies as L'Occitane en Provence follow HRM because they require highly-motivated and flexible employees (The Sunday Times Best Companies 2014).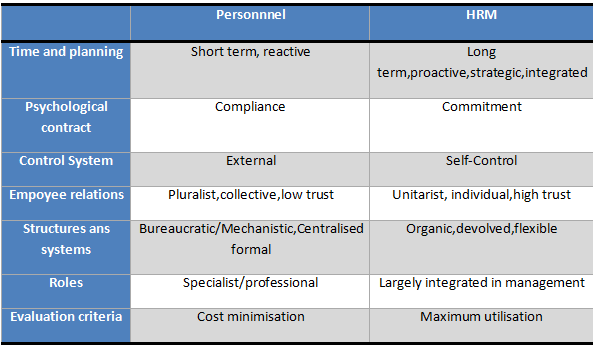 HRM from a Strategic Perspective
A strategic approach to HRM is realized when managers organize the work of employees with a focus on companies' goals. Performance becomes improved, and certain objectives are achieved effectively. In this situation, line managers perform a specific role of transformational leaders who are oriented to motivating and stimulating employees. A good line manager chooses to contact the employee directly to discuss his performance, understands what can motivate the employee, proposes training programs to improve skills, and creates a positive environment.
Another approach to realizing the effective strategic HRM is the focus on building a team of satisfied and goal-oriented employees who understand the company's mission. In this case, employees are empowered and inspired (Thompson 2011, p. 355). In leading companies employees are focused on the organization's values and culture, they evaluate their performance and determine the paths for further development.
Review ways of developing flexibility within the workplace
A Model of Flexibility
The core/periphery model is an actively used model of a flexible organization, according to which full-time employees present the core of the organization when part-time employees form the 'periphery' (Figure 2). While applying such a model to practice, managers focus on using flexible working policies and manipulating numerical, temporal, functional, financial, and locational factors (Armstrong 2006, p. 290).
White Stuff, a flexible organization, determines how many full-time employees it needs to perform the core tasks, including the activities associated with production and custom services (The Sunday Times Best Companies 2014). At this stage, the manager demonstrates his flexibility about the numerical and functional factors. The other step is hiring part-time employees who can work at a distance and have more flexible schedules. At this stage, the manager manipulates the temporal and locational factors. The results of such flexibility are employees' satisfaction, increased commitment, increased productivity, and the response to the demands in resources, training, and other costs because of focusing on flexible schedules, locations, timeframes, and on empowered employees.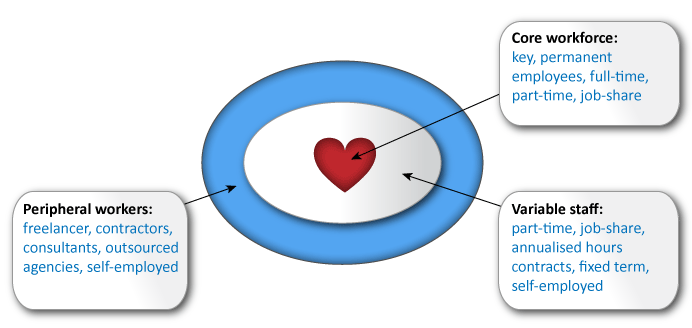 Types of Flexibility
The need for flexibility is a result of increased competition because organizations have to become more adaptable to respond to global changes in the spheres of business, marketing, and technologies. An organization can use various types of flexibility differentiated according to numerical, temporal, functional, financial, and locational factors. Focusing on the numerical aspect, the part-time and temporary personnel are hired by organizations to respond to the workforce demand effectively (Armstrong 2006, p. 54). Job sharing is also used to address the need for part-time workers.
Benefits of the temporal flexibility are in opportunities to pay employees according to annual, staggered, or compressed hours. An employer is often more interested in the actual outcome of the working process, and an employee is paid for the actual number of hours spent on completing tasks.
Financial flexibility is observed when an employer chooses the zero-hours contracts to pay employees because workers become responsible for completing tasks without the set number of hours or set amount of compensation. In contrast, such types of locational flexibility as teleworking and home-working are actively supported by employees because they can work from their homes. IT companies and designers often choose home-working or teleworking to complete their projects in a positive atmosphere.
Advantages and Disadvantages of Flexible Working Practices
For employers, the advantages of flexible working practices are in savings and opportunities to receive more profits while providing minimal resources for employees. For instance, by proposing home-working, employers reduce costs associated with the equipment and organization of the workplace environment. Disadvantages for employers are in the increased turnout of part-time workers and the limited supervision and control over the employees' work at home (Foot & Hook 2008, p. 54). In their turn, employees receive the opportunity to decrease stress and improve work-life balance while choosing to freelance, but the challenge is inflexible contracts, such as zero-hour contracts, because of the possible exploitation of employees.
Determine the need for equal opportunities within the workplace
Forms of Discrimination
Discrimination is observed when an employee is deprived of the right to be paid and treated equally to the other employees, despite differences in age, race, or gender. Gender discrimination is observed when a manager refuses to hire a female because of the issue of pregnancy or refuses to pay her equally to men. Racial discrimination is observed when an employer provides the representative of the minority with fewer rewards or benefits (Kulik 2014, p. 130).
Discrimination against age is observed when only young persons are hired in the concrete company, despite education and experience. Discrimination of disabled persons is observed when they are not provided with equal rights in the workplace. Religion, sexual orientation, and education play the key role to stimulate discrimination when employers regularly avoid hiring and treating, for instance, Muslims, lesbians, or college graduates.
Anti-Discrimination Legislation
Anti-discrimination legislation and regulation are realized with references to the such UK act as the Employment Equality (Sex Discrimination) Regulations of 2005, the Employment Equality (Age) Regulations of 2006, the Race Relations (Amendment) Act of 2000, and the Disability Discrimination Act of 1995 (Kulik 2014, p. 130). These acts address the issues associated with discrimination against gender, race, age, disability, religion, and sexual orientation.
For instance, such a company as Janssen actively promotes the principles of the Employment Equality (Sex Discrimination) Regulations of 2005 while focusing on the problem of sexual harassment of employees and customers. Principles of the regulation are reflected in the company's code of conduct (The Sunday Times Best Companies 2014). Proposed additions to the legislation include changes in a discussion of the status of an employer accused of sexual discrimination and in the arrangement of discrimination law aspects into one bill addressing the issue of equality. Planned changes can affect employers directly because they need to review their management and corporate culture policies according to law.
Initiatives and Practices
The idea of providing equal opportunities for employees is realized through many practices and initiatives implemented in organizations. For instance, employers propose flexible contract terms for pregnant women or women with children. This practice is effective because increases the productivity of female workers. Moreover, employers provide training for young and older workers to avoid discrimination against age and education. This strategy is effective to improve performance. Seminars on cultural and religious differences and teamwork are effective to reduce race prejudice in companies (Foot & Hook 2008, p. 80). Flexible schedules and networking are important initiatives to support disabled workers.
Equal Opportunities and Managing Diversity
The 'equal opportunities' approach is used when a manager provides people with equal access to resources, treatment, and benefits, without references to differences. The 'managing diversity' approach is used when a manager focuses on the individual needs of diverse personnel. Similarities in approaches are in the focus on reducing factors that prevent employees from effective work. Differences are presented in the table (Table 1).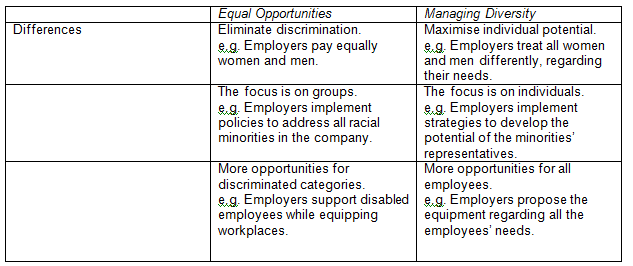 Explore topical human resource practices and issues
Performance Management in Practice
Performance management is a continuous process of appraising employees' work depending on managers' expectations and set goals. The purpose of line manager activities is to state whether employees' performance is linked to set goals and expectations. The purpose of the provision of formal appraisals is to report on success in performance. Managers fill in formal blanks while providing the appraisal according to definite standards (Armstrong 2006, p. 500).
The '360 degree feedback' model is used to promote the individual's further learning because an employee receives the feedback from the manager, peers, customers, and he can refer to the formal reports (Figure 3). The model is used before deciding on the necessity of on-job training. Setting performance indicators, managers can expect concrete levels of performance. Individual and team targets are important to promote improvement to the expected degree. To take a certain position, an employee should demonstrate a certain level of competence. Reward management is used when it is necessary to stimulate employees, and leaders can conclude about the overall performance referring to this approach.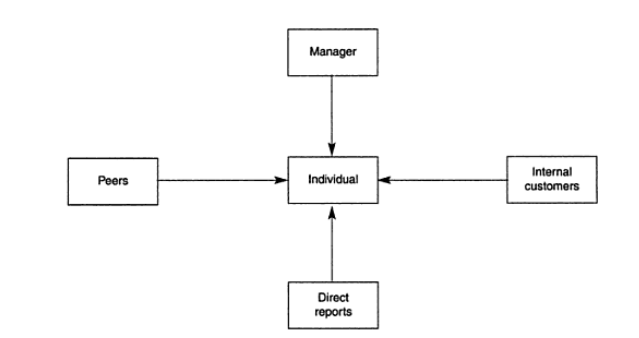 Human Resource Practices in the Workplace
Recruitment is effective when managers focus on the company's goal and understand how a person can add to the organization's progress. The focus on employee motivation is effective at all stages because it increases productivity and improves performance. Training and development are necessary and effective because of the focus on the employees' continuous development. A good manager stimulates the employees' relations because of the positive outcomes of cooperation. Such organizations as Lindum Group focus on the involvement of line managers and empowerment of employees. Equal opportunities and legislation should be followed by good managers to address employees' needs. Thus, positive atmospheres and equal opportunities promoted at Bravissimo contribute to increasing productivity (The Sunday Times Best Companies 2014).
The Impact of Globalisation
Globalization is the focus on employing multinational workers with different backgrounds. The modern labor market becomes global, and managers need to address globalization in their organizations. The impact of globalization on human resource planning is in the necessity to apply different legislation principles while treating workers (Foot & Hook 2008, p. 50). For instance, there are different safety standards in many countries.
The next challenge is the difference in cultures. Thus, managers in international companies should address cultural diversity to avoid biases and promote understanding. It is also important to overcome language barriers. Organizational practices are affected through differences in time zones and schedules. Stakeholders' needs are affected with references to the quality of services because of different standards.
Impact of Different National Cultures
National cultures affect the organization's work because of differences in values, traditions, and beliefs. To manage a culturally diverse workforce, managers choose to focus on the primary differences presented in Hofstede's model (Figure 4). Referring to this model, managers can conclude about the diverse workforce's motivation, leadership, and conflict management. For instance, Muslims often focus on following religious traditions, and managers can adapt schedules. Japanese prefer to work in teams. Chinese prefer to work according to set standards. Knowing this information, managers address employees' needs and companies' goals. The needs of the diverse workforce are met positively when managers' practices result in increased productivity.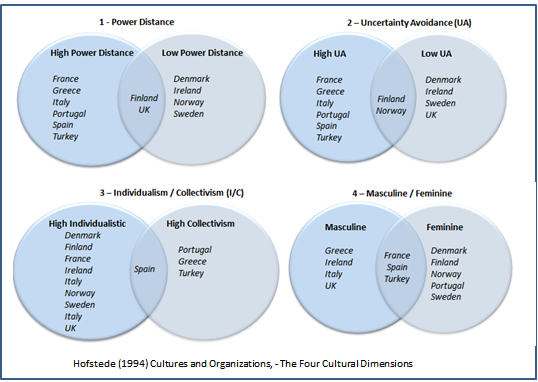 Reference List
Armstrong, A 2006, A handbook of human resource management practice, Kogan Page Publishers, London.
Collings, D 2009, Human resource management: a critical approach, Routledge, London.
Foot, M & Hook, C 2008, Introducing human resource management, Pearson Education, Harlow.
Kulik, C 2014, 'Working below and above the line: the research–practice gap in diversity management', Human Resource Management Journal, vol. 24, no. 2, pp. 129–144.
The Sunday Times Best Companies 2014. Web.
Thompson, P 2011, 'The trouble with HRM', Human Resource Management Journal, vol. 21, no. 4, pp. 355–367.