Research Methodology and Analysis
Introduction
I had proposed for Ben Foods Co. concerning the Enterprise Resource Planning for the online data management and electronic transactions. By adopting an appropriate approach of research methodology, my proposed system will satisfy the business requirements and meet the intended objectives. Since this new system is aimed at improving of the company's business operations, transactions and efficient data management.
Over time, most of their operations were done manually with little technology being applied. After the international award to the company as a super brand, the company is undertaking various changes in order to suit into an increasingly competitive market. We shall first analyze their existing operational system as clearly discussed in the succeeding sections. To vividly expose the kind of methodology approach I adopted, the preceding sections will seek to clarify the components of both qualitative and quantitative research consists as well as how the two research methodologies can be combined. This is mainly because my research methodology makes use of both in the derivation of the analysis results (Kaplan & Duchon 1988, p.578).
Qualitative Research
It is targeted at gaining a deeper insight of a particular group or cluster instead of random selection from general population. It is meant to give a superb understanding about the respondent's intentions, ambitions, concerns and cultural background. Morse (1991, p.335) says:
The characteristics of a qualitative research problem are:
The concept is immature due to a conspicuous lack of theory and previous research.
A notion that the available theory may be inaccurate, inappropriate, incorrect, or biased.
A need exists to explore and describe the phenomena and to develop theory.
The nature of the phenomenon may not be suited to quantitative measures.
The inclusion of the respondents' names and careers exposes them to a higher risk especially when answered against the organization's context (Strauss & Corbin 1990, p.234). Surveys are the primary source of data collection for field studies conducted as part of this research. Just like Mingers (2001, p.253) claims, survey research is an appropriate method to generalize from a sample to a population, allowing in this sense, to establish inferences over the entire population. Additionally, this study chooses using surveys because of their economy of design and quick turnaround of data collection (Creswell 2003, p.34). From a time dimension, this research adopts a one-time cross-sectional perspective.
Quantitative Research
This is a systematic and scientific method which aims at simplifying information through collection and construction of statistical or graphical models to develop the sequence of observable aspects. Creswell (2003, p.19) says;
The use of quantitative methods is recommended when the researcher:
Tests or verifies theories or explanations.
Identifies variables to study.
Relates variables questions or hypotheses.
Uses standards of validity and reliability.
Observes and measures information numerically.
Uses unbiased approaches.
Employs statistical procedures.
Mixed Method Research
It is all about observing and analysing reality with the intention of deriving a theory that will define a natural occurrence (Robey, Ross & Boudreau 2002, p.39). Qualitative data gathered from the initial phase can be utilized in direct classification using questionnaire (quantitative method) that can review the mean percentile of an answer across different phases of human behavior. This research method amalgamation is important since a wide spectrum of data is needed to convey a substantial and resounding idea (Stewart & Gable 1999, p. 56).
Research: survey
The Mixed Method Research was deemed suitable for the framework since there was an initial diagnosing of problems relative to the sales and marketing strategies of Ben Foods Co. to enhance their profit margin and service provision as their business enlarges. The business management availed to us all the relevant sorted business data such as the size of business structure, its location, sales and purchases documentation procedures, customer information documentation, number of employees and type of stocks available (Hunter & Brewer 2003, p.587).
In the first two weeks, I chose to do mystery shopping at the different product outlets of Ben Foods at different times and days. I conducted this in five countries namely; Philippines, Vietnam, Bangladesh, China, and Indonesia. Different amount of purchases were made from the outlets and food trucks to verify the type of customer service offered by different or same staff at different outlets. This gives me a clear understanding on whether the pre-own process was fully utilized by the employees so that I can design a selective module database to be included in the system implementation stage.
I also realised that employees only update the customer information if they exceed certain amount of purchases as opposed to the management's concept of creating a close relationship with all customers so as to increase the customer base and loyalty. I also carried out interviews to various shoppers who purchased and those who did not purchase products from Ben Foods outlets and trucks to verify their level of satisfaction.
During the third week, I did a distant observation at different locations around their outlets and food trucks while sending my agents to buy food and beverages each of the outlets. This mode of data triangulation helped reduce the probability of false documentation by staff since I took record of all sales in certain selected outlets (Kaplan & Duchon 1988, p.578).
I also interviewed employees to verify their satisfaction and what they thought about the company's service provision. I tested their individual level of honesty. I verified whether all the supplies were correctly recorded without any vandalism. This was to double assure that the staffs do not remove any excess stock for personal usage and declaring as missing stock. I had an opportunity to interview suppliers on their trust and satisfaction of the company's system of making orders and receiving supplies.
Additionally, I proposed to the management to install surveillance cameras in their shop outlets to observe staff action after disclosing their misconduct based on the previous research findings. This observation was carried out for weeks and there was a drastic change in the sales performance by the employees without them realizing they were being monitored. This boosted our self-assurance to implement a programmed system to be run by trustworthy employees with properly specified modulation.
At the beginning of week five, I engaged the manager to get his staff to use laptop in recording all related business data and transactions; this was then checked to surface any errors as opposed to the manual method. I also networked various computers in several offices and allowed the respective employees to share data via the Local Area Network created. This was to test on the efficiency brought about by the new system of ERP. I also recommended to the management to test employees and observe their working behavior and attitude under strict supervision. Supervisors would purposely place the stock in wrong locations; impose new and wrong tags for stock and filling in the wrong amount in the logbook after sale.
Throughout the study I examined and made notes on the staff's reaction with or without their supervisors' presence and to see whether they are keen on using Microsoft Office for documentation for promotion posters and taking down potential customers' contact information to send emails to them on monthly new stock arrivals. These observations are key pointers to distinguish the level of enthusiasm and difficulty they are encountering with their daily operations.
During the last week, I reviewed the qualitative research data and write up a list of survey question with discreet so as to minimize the intention to create anxiety when answering it. To determine the type of issues that affect the daily operation as business thrives, as attached is a 9 question survey with proper charted data. In order to obtain a precise and concise result, I persuaded and issued similar survey questionnaires to the neighboring shops to minimize any bias conclusion.
Conclusion
In order to accomplish the research aims of this research, we proposed a mixed method research framework that combined various research methods, both quantitative and qualitative, with predominance of qualitative ones (Glaser & Strauss 1967, p.133). The use of multiple methods increases the robustness of results because findings can be strengthened through triangulation – the cross-validation achieved when different kinds and sources of data converge and are found congruent (Holland, Light & Gibson 1999, p.99).
Results
Data Analysis Gathered from Survey Questionnaires
From the data collected from survey questionnaires distributed to 150 persons including Ben Foods Co. employees as well as neighboring businesses that utilize similar business flow with the one I am collaborating with. I found out that 75% of the employees find it difficult to track the inventory when it comes to the end of month when they conduct their routine month end stock count. Survey is done in accordance to the company's regulations whereby employees and other participating outlets have good and formal stock classification to minimize any bias confirmation.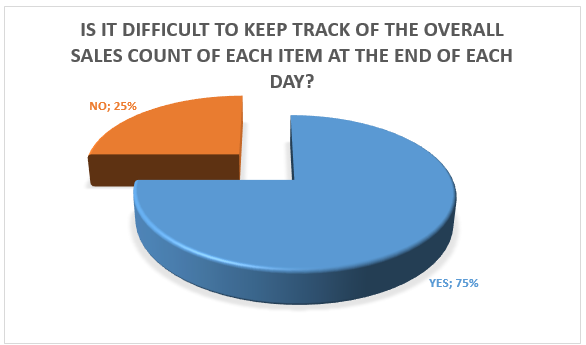 Of the 150 participants surveyed, there are 100 of them agreed that for business to thrive, employers should invest on a system with a keyboard to allow the customers to type their contact information to be saved into a database instead of troubling customers to write on a logbook as this is how it is being run by the business as per current procedures to attract the potential customers to sign up for the mailing list where monthly emails are sent to update them on new product arrivals and promotions. The remaining responses from the 50 out of 150 surveyed, 30 do not like the idea of investing money in a system to collect customer information whereas 20 remained neutral to the idea.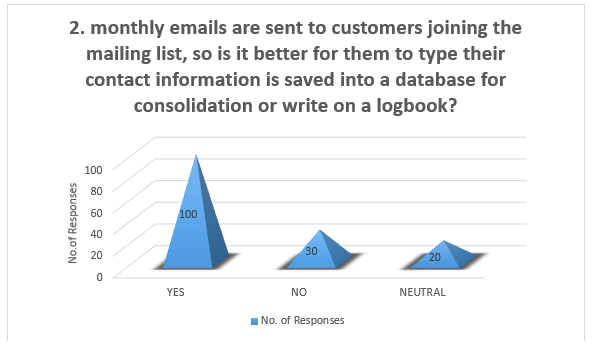 Basing on the feedback I collected from the respondents, 60% of them agreed that operations will run smoothly and more efficiently if a point the ERP is installed instead of using the manual way of issuing cash invoice and giving the carbonized copy to the customer as their receipt for the items they purchased from the shop. The remaining 30% stood by neutral perspective to the idea. The remaining 10% totally disagreed on incorporating the ERP because they still feel the current system is sufficient to meet both the business and customer needs.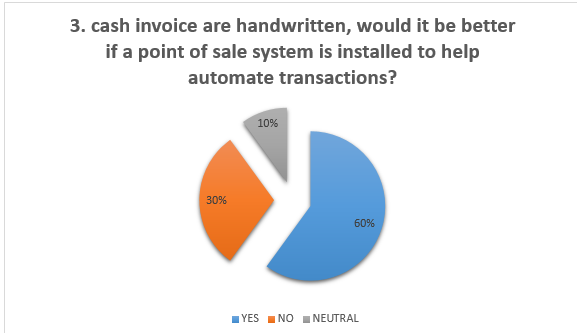 In the retailing industry, just like any other business deals, there are transaction exchanges between the buyer and the seller. It may be seen as a simple transaction but when it comes to tremendous transaction exchanges, the workload gets hard-hitting and complicated at times when it comes to customers doing exchange of product whereby the sales employee need to manually trace the sales invoice book from the sales logbook (Patton 1987, p.167).
When asked whether the participants would like that the tedious old system to be simplified, majority of them ticked the options of "Totally Like" and "Partial Like" to answer the question. Only 7 out of 150 states "Partial Dislike" on the idea while 5 "Totally disliked" the idea. Respondents were reminded to answer with respect to balance of business and self-benefit.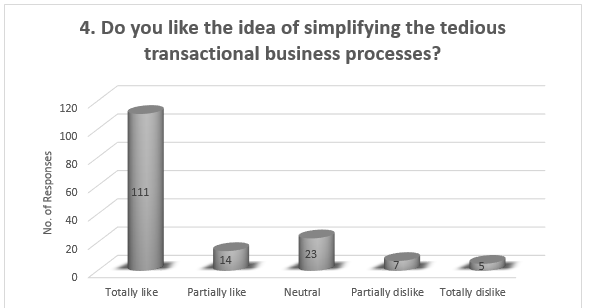 With the rapid technology advancements these days, it is a norm that many businesses are making use of information technology to help streamline their business and boost their employee's performance to achieve optimum result so as to bring about higher profit margins to the shareholders (Lincoln & Guba 1985, p.198). Hence, the feedback gathered as shown in the figure shows that out of the 150 participants surveyed, 113 of them agreed that the business should invest on a system to help with the operations. The remaining 37 who highly disagreed stated that their employees are too old to cope and operate with complex programs.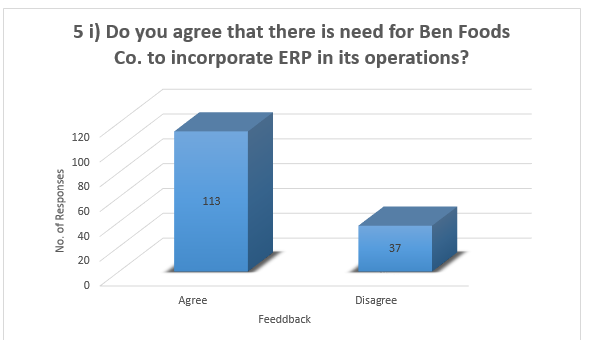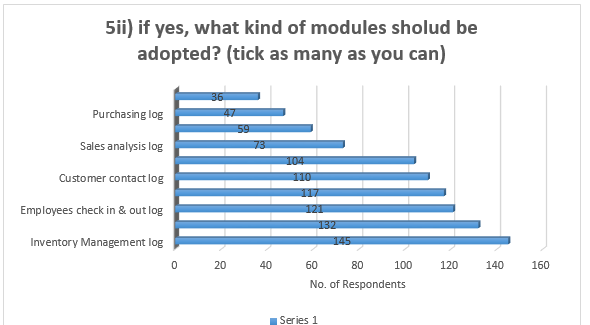 Based on the data collected, out of the 150 respondents surveyed, 117 of which form the majority whom have actually operated and hands-on experience with different type of systems before in their past employment history.

Basing on the initial question, among the 117 who had experience on the ERP systems, 50% of them had used a cash register before and 32% of them used an ERP system in their business operations where the minority of the other individual 6% had experience on systems like SAP, CRM and SCM. The collected data is not subjected to experience level.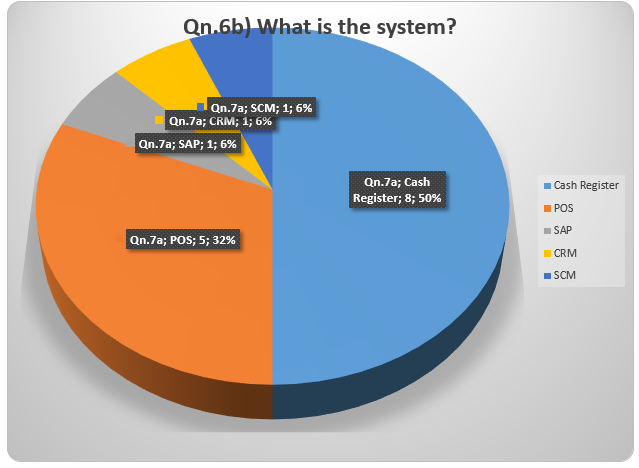 As a sequel to Qn. 6a and b, there is a need to test the employees to distinguish how many of them understand that Enterprise Resourse Planning is related to automated system without explaining to them what it is about. 70% of them gave a solid comfirmation that they had heard of it and were able to give a brief explanation on it. 20% of them were uncertain how both of it is correlated and the remaining 10% had no idea what the term "ERP" means.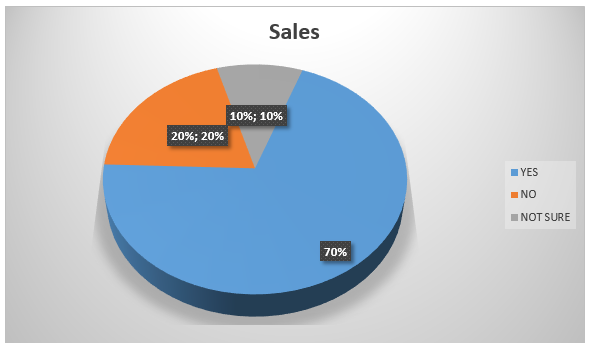 Those employees who understand what ERP means and had sufficient experience with related system, were prompted to give an unbiased opinion if it is worthy to adopt such advancement pertaining to different type of modulation. Such were the reason to determine from their experience if there is likelihood that overall cost would exceed the benefit even after pro-long implementation.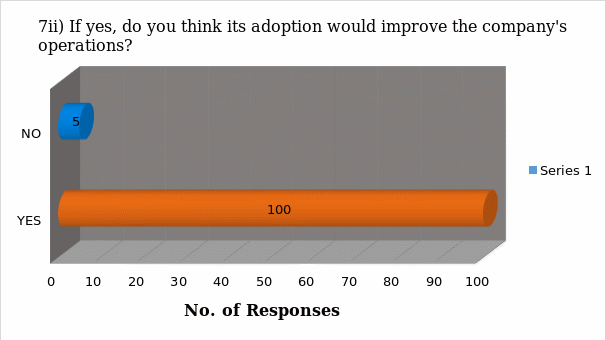 Conclusion
The research made and results obtained from the questionnaires is not guaranteed as the most accurate but largely exposes the weaknesses and flaws in the current system of customer service in Ben Food Pte Co. Basing on this data, it is therefore easier for me to successfully carry out the installation of the new ERP system in the company's operations. From the results obtained, it is true that the ERP system will work for the company and improve its efficiency.
References
Creswell, J., 2003. Research Design: qualitative, Quantitative, and mixed methods approaches. 2nd ed. London: Sage publications.
Glaser, B. & Strauss, A., 1967. The Discovery of Grounded Theory. Chicago: Aldine.
Holland, C., Light, B. & Gibson, N., 1999. A Critical Success Factors Model for Enterprise Resource Planning Implementation. European Conference on Information Systems, 1, pp.273-97.
Hunter, A. & Brewer, J., 2003. Multimethod Research in sociology, in Tashakkori and Teddlie, pp.577-594.
Kaplan, B. & Duchon, D., 1988. Combining Qualitative and Quantitative Methods in Information Systems Research: A Case Study. MIS Quarterly, 12(4), pp.571-586.
Lincoln, Y. & Guba, E., 1985. Naturalistic inquiry. Beverly Hills, CA: Sage.
Mingers, J., 2001. Combining Research Methods: Towards a Pluralistic Methodology. Information Systems Research, 12(3), pp.240-259.
Morse, J., 1991. Approaches to qualitative-quantitative methodological triangulation. Nursing research, 40(1), pp.120-123.
Patton, M., 1987. How to Use Qualitative methods in evaluation. Newbury Park (CA): SAGE publications.
Robey, D., Ross, J. & Boudreau, M., 2002. Learning to Implement Enterprise Systems: An Exploratory Study of the Dialectics of Change. Journal of Management Information Systems, 19(1), pp.17-46.
Stewart, G. & Gable, G., 1999. Applying the Case Study and Action Research Methods to Postgraduate Studies of Enterprise Processing System Implementations. 3rd annual SAP ASIA Pacific forum.
Strauss, A. & Corbin, J., 1990. Basics of Qualitative Research: Grounded Theory Procedures and Techniques. Newbury Park, CA: Sage Publications.