Introduction
IKEA is an international company located in Sweden. It engages in the design, production, and selling of furniture and different kitchen accessories and equipment. The organization also offers interior planning and restaurant services. Since IKEA constitutes one of the leading users of wood around the globe, it is crucial for it to adopt the principles of total quality management (TQM). This strategy helps it to reduce wastes that may lower its profitability. From the perspective of IKEA's quality assurance executive, this report presents the foundation of TQM and the components of performance measurement tools applicable to the company.
Explanation of TQM, Its Purpose, Principles, and Importance for IKEA
The concept of TQM involves calling people and organizations to continuously upgrade their services, commodities, procedures, and work culture to guarantee a sustainable competitive advantage. According to Thorne (2015), the purpose of TQM entails enhancing customers' satisfaction as the foundation of organizational success. TQM involves various principles, including continuous improvement, just-in-time (JIT), and six-sigma. TQM practices are important for IKEA because they help the company to record benefits that range from improved work morale among employees, competitiveness, flexibility, enhanced accountability, and higher productivity to increased profitability. For instance, the concept of continuous improvement has enabled the company to maintain a never-ending process of upgrading in relation to human resources, machinery, service providers, materials, and procedures (Owida et al. 2016).
Under the just-in-time principle, IKEA has witnessed reduced response time to customers' and suppliers' requests. The principle minimizes flow time in manufacturing systems (Thorne 2015). Overall, IKEA stands to gain from the reduced accumulation of materials, work-in-process, and finished products scheduled for delivery to customers. As Owida et al. (2016) assert, minimal material handling eliminates operations and warehousing costs. According to Thorne (2015), the just-in-time concept guarantees that activities and processes are accomplished as expected to eradicate defects.
According to Madhani (2017), six-sigma helps in improving quality by reducing flaws and unnecessary expenses. Through the six-sigma principle, IKEA has recorded a production accuracy of 99.99966% after deploying statistical or experiential modeling approaches to various manufacturing processes (Madhani 2017). Hence, through the six-sigma strategy, IKEA has managed to attract new clients while at the same time retaining its pool of loyal consumers. However, the principle requires strong commitment among top management officials.
The European Foundation for Quality Management as a TQM Model
Total quality management emphasizes the need for constantly improving performance in different aspects of an organization's operations. Under the EFQM framework, a company should ensure continuous improvement in sustainability practices, efficiency, and the quality of products and services. Hence, TQM concepts are the key pillars of the EFQM model. According to Hauer et al. (2016), more than 30,000 European-based firms deploy the EFQM business excellence tool to upgrade their performance. The model provides a benchmark from which other organizations learn. As a result, European organizations can collectively contribute to sustainable economic development.
Learning is a permanent process anchored on the TQM theory of continuous improvement. This principle allows organizations to remain ahead of competitors through efficient operations witnessed in different business processes (Hauer et al. 2016). For companies such as IKEA, process efficiency entails a major area of focus in the effort to improve productivity, profit margins, and agility. Hence, continuous improvement is an essential principle of the EFQM business excellence tool that can guarantee long-term success. The model consists of several key aspects, including management, human resources, joint ventures, and processes (Doeleman, ten Have & Ahaus 2014). Other elements entail results-oriented measures, clients, the public, and key performance indicators.
As shown in Figure 1 below, implementing the EFQM framework requires an organization to read it from right to left in a continuous manner.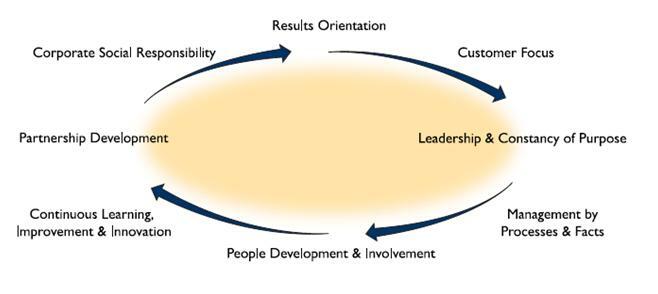 The objective is to arrive at well-thought-out and conclusive decisions regarding the necessary areas of focus, including determining how to achieve the desired results. It encourages companies to continually measure and evaluate their EFQM activities to ensure innovation and creativity that result in advanced TQM initiatives. Through EFQM, IKEA can assess the progress of its quality processes. It can begin by reviewing the results of its operations that are founded on TQM principles.
Components of Performance Measurement Tools Beneficial to IKEA
Performance measurement entails quantifying the effectiveness of an organization's operations (Hauer et al. 2016). Efficiency implies compliance with various customers' requirements and the utilization of organisational resources to attain satisfaction among clients. To achieve the goals of these measures, components such as people and the flexibility of measurement tools are highly applicable to IKEA.
A feedback-oriented performance assessment mechanism is beneficial to IKEA. For example, as Doeleman, ten Have and Ahaus (2014) reveal, an important measure of a company's productivity level entails determining the success of strategies deployed to enhance performance by altering managerial techniques with a view to promoting workers' commitment to their tasks. Hence, employees' cross-cultural variations may be managed effectively to enhance growth. Providing the required feedback may call for the development of a business scorecard.
The flexibility of a measurement tool ensures that IKEA's performance activities are constantly updated. Performance measurement systems should undergo continuous reviews and upgrades. This strategy ensures that all measures are adjusted to match the changing business situations. According to Hauer et al. (2016), any performance measurement systems should incorporate processes that guarantee periodic reviews of all measures currently in use. Hence, no performance measurement mechanism can be deemed accurate under all circumstances. Consequently, it is crucial to challenge IKEA's strategic assumptions through performance measurement systems. Since such assertions change continuously, performance measurement tools should also be modified.
Conclusion
IKEA has maintained a competitive edge in its product lines for more than a decade. The company's interior design products have gained popularity due to their eco-friendly nature. From the views of IKEA's quality assurance executive, this report recommends the company to implement TQM principles, including continuous improvement, JIT, and six-sigma. However, implementing TQM from empirically proven and results-oriented models such as EFQM is vital. This framework can help IKEA to practically determine areas of performance maturity and focus on them to build long-term competitive advantage.
Reference List
Doeleman, HJ, ten Have, S & Ahaus, C 2014, 'Empirical evidence on applying the European foundation for quality management excellence model, a literature review', Total Quality Management & Business Excellence, vol. 25, no. 5-6, pp. 439-460.
Escrig, A & de Menezes, L 2016, 'What is the effect of size on the use of the EFQM excellence mode?', International Journal of Operations and Production Management, vol. 36, no. 12, pp. 1800-1820.
Hauer, G, Kroll, J, Yen, DC, Chen, PS & Lin, SC 2016, 'A performance measurement framework for service-oriented marketing', Total Quality Management & Business Excellence, vol. 27, no.11-12, pp. 1373-1395.
Madhani, P 2017, 'Six sigma deployment in sales and marketing: enhancing competitive advantages', IUP Journal of Business Strategy, vol.14, no. 2, pp. 40-63.
Owida, A, Byrne, PJ, Heavey, C, Blake, P & El-Kilany, KS 2016, 'A simulation based continuous improvement approach for manufacturing based field repair service contracting', International Journal of Production Research, vol. 54, no. 21, pp. 6458-6477.
Thorne, J 2015, 'Developing an improvement-driven plant', Plant Engineering, vol. 69, no. 6, pp. 52-55.