McDonald's and Fast-Food Industry
McDonald's Corporation is one of the leading companies in the global fast-food industry with a well-established brand. The organization operates in 119 countries across the globe, with almost 40 thousand restaurants (93% out of which are franchised) (McDonald's 2021, p. 3). McDonald's restaurants serve a "locally-relevant menu of quality food and beverages" and offer diverse dining experiences, including eating out and drive-in options (McDonald's 2021, p. 3). Although menus in different countries vary, the restaurant has a set of conventional products, such as burgers, juices and Coca Cola, ice cream, and coffee. McCafé is one of the most popular items in McDonald's and one of its competitive advantages (Kee et al. 2021). The company is predominantly a franchisor, which is seen by its executives as one of its strengths. The corporation provides marketing support to its franchisees, helping them with financial and marketing management. Since McDonald's is a well-established brand globally, the model is quite effective, and partners benefit from fruitful collaboration.
The global fast-food industry is characterized by a focus on health and convenience. The modern dynamics of people's life have caused considerable shifts in people's eating habits as an increasing number of people choose quick-service restaurants worldwide (Baker et al. 2020). Quick-service restaurants address these changing needs and offer their customers the eating-out experience they find appropriate. In 2019, the global fast-food market earned almost $650 billion, and the estimated earnings by 2027 are over $930 billion (Allied Market Research 2020). The industry has seen a growth of 26%, and this trend is apparent these days (Tien 2019). Alongside McDonald's, the leaders of the global fast-food industry include Auntie Anne's, Inc., YUM! Brands, Inc., Hardee's Restaurants LLC., Domino's Pizza, Inc., and Restaurant Brands International Inc., among others.
Although the COVID-19 pandemic had a substantial negative effect on the global economy, the fast-food industry recovered and adapted to the new environment rather rapidly. Moreover, fast-food restaurants managed to perform considerably better compared to full-service restaurants (Kee et al. 2021). At that, it is important to stress that the fast-food market is highly competitive, and companies have to develop effective strategies to retain their leading positions. This paper includes an analysis of the current position of McDonald's, as well as some recommendations regarding generic strategies that would be the most appropriate for the corporation.
Organization's Internal Environment
In order to understand the exact potential of the corporation in question and its standing, it is necessary to implement an analysis of its internal environment. One of the most effective tools to conduct this assessment is the so-called VRIN test that encompasses the consideration of the company's resources (Thompson 2020). The resources are grouped in terms of the following features: valuable, rare, inimitable, and nonsubstitutable (see Table 1). This analysis enables the researcher to evaluate the ability of the resources to support the organization's competitive advantage (with the help of the first two categories) and whether this advantage can be properly sustained (with the focus on the two latter categories).
Valuable
McDonald's is characterized by high-value resources and capabilities that have enabled the company to evolve and succeed globally. The company pays much attention to the quality of sold products and makes sure that all franchisees follow the existing guidelines rigidly (Annual report 2020 2021; Kee et al., 2021). The corporation has numerous manuals providing details regarding all the procedures that are carried out when preparing food or providing services to customers (Kee et al. 2021). The availability of these well-developed procedures is instrumental in ensuring high quality at reasonable prices.
Table 1. VRIN Test.
V
valuable
R
rare
I
inimitable
N
nonsubstitutable
Food quality
√
Service quality
√
√
Pricing policy
√
√
Staff training
√
√
√
Established procedures
√
√
√
Partnerships
√
√
√
√
Well-established brand
√
√
√
√
Such resources as diversified partnership arrangements also contribute to the creation of the competitive advantage of the corporation. McDonald's tries to customize menus and experiences to the needs and preferences of the local market, so the company creates partnerships with local businesses, which enhances its position and brand recognition locally (Tien 2019). Clearly, the well-established brand that is known worldwide is an important asset contributing to the creation of competitive advantage.
Importantly, the sold products and overall customer experience are consistent with the company's strategy that is grounded on the commitment to providing quality meals to customers in the most convenient way for them. Notably, the pandemics made the products even more relevant and valuable to millions of people due to the restrictions and the changes that took place in many spheres of people's lives (Kee et al. 2021). Therefore, it is possible to note that the organization's capabilities and resources are highly valuable and are a source of the company's competitive advantage.
Rare
As mentioned above, the fast-food industry is highly competitive, and companies tend to offer foods and meals that may seem similar. For instance, McDonald's is not the only quick-service restaurant chain offering burgers and beverages as its rivals offer similar foods. However, McDonald's provides quite a unique eating-out experience ensuring that the staff is properly trained and prepared to make every visit a positive event (Kee et al. 2021). In addition to high-quality customer service, McCafé can be seen as a rare resource creating a competitive advantage. This item on the restaurant's menu is famous for its high quality and rather low prices, which is not attainable for many chains, including Starbucks that is one of the leaders in coffee beverage sales (Kee et al. 2021). Again, the company's partnerships can also be referred to as capabilities contributing to the development of competitive advantage.
Inimitable
Inimitability is an important feature of any company's assets that can make the organization's leadership sustainable. This feature is important in any industry, which is specifically true for highly competitive markets (Thompson 2020). As for McDonald's, the corporation's major assets with high inimitability are its customer service, quality, and highly recognizable brand. As mentioned above, the products offered by the corporation can be imitated, although in some cases, they can hardly be offered at the prices McDonald's has established for its customers (Kee et al. 2021). Nevertheless, the detailed procedures developed to ensure the provision of high-quality products and services and the associated manuals are the capabilities and resources with a high level of inimitability. Although many popular chains are well-known across the globe, McDonald's still holds its leading position among fast-food restaurant chains with its specific atmosphere and message. The corporation is one of the symbols of the globalized food patterns where people change their traditional local habits to more globalized (often western) experiences (Baker et al. 2020). The famous arcs are now associated with high quality, convenience, globalized eating patterns, which are inimitable assets.
Nonsubstitutable
The final feature of the capabilities and resources to be analyzed is nonsubstitutability. This feature is a threat of substitution, which is a common phenomenon in any industry and market (Thompson 2020). This is the most serious weakness of the corporation's resources and capabilities as the threat of substitution is quite high. People may buy food from local vendors or prepare their meals quite easily as the market of processed and ultra-processed foods is growing rapidly (Baker et al. 2020). However, the experience McDonald's offers can hardly be substituted, so the company still has capabilities contributing to its competitive advantage.
Internal Environment
Based on the implemented VRIN analysis, it is possible to conclude that McDonald's has a good standing in the global market of quick-service restaurants. The strengths of the corporation include the high quality of products and services, reasonable prices, and well-established brand. Although many chains offer similar products and services, McDonald's manages to retain its leading position due to the corporation's focus on quality. The company ensures that all franchisees and the company's own restaurant are managed in strict accordance with the developed manuals and guidelines. The corporation's effective partnerships contribute to the creation of its competitive advantage.
Competitive Environment
In order to develop an effective strategy for a company, it is also important to evaluate the external factors affecting its development. The assessment of the organization's competitive environment can be implemented with the help of Porter's Five Forces. This tool, developed in 1980, is widely utilized to examine "strategic implications for individual firms within an industry" (Dobbs 2014, p. 32). Porter's Five Forces imply the focus on such aspects as competitive rivalry, supplier power, buyer power, the threat of new entry, and the threat of substitution (Thompson 2020). These forces can be seen as the most influential factors affecting companies.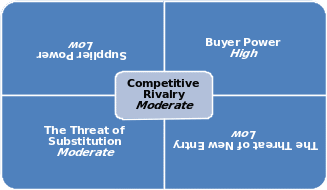 Competitive Rivalry
As mentioned above, the fast-food industry is highly competitive, but it is one of the most dynamic markets as well. Quick-service restaurant chains have become an indispensable part of people's lives in many countries due to the offered convenience and affordability. Urbanization and globalization (as well as companies' glocalization) have made this type of business widespread across the globe. For instance, over a third of Americans consume fast food on any given day, which makes up more than 84 million people (Rosal 2021). It is noteworthy that franchising is one of the most common types of doing business in this sector. For example, the estimated number of franchise owners in the USA in 2020 was 785,316 (Rosal 2021). These include franchisees of such leading brands as McDonald's as well as smaller quick-service restaurant chains.
The industry is characterized by a high level of rivalry, and the market is expanding gradually. It has been estimated that the fast-food market will grow by approximately 5% each year (Baker et al. 2020). The market is saturated with a variety of brands that are known globally and locally. McDonald's has to compete with such well-established brands as Burger King, Subway, Domino's, and many others (Allied Market Research 2020). At the local level, numerous smaller brands are competitive in all countries. Therefore, the strategy to be adopted by the organization in question should be appropriate for a highly competitive market.
Supplier Power
One of the forces affecting the development of any company is the supplier power. This factor encompasses the influence of suppliers on the company's operations and strategic growth. Supplier power is rather low when it comes to McDonald's due to the corporation's wise policies regarding their interactions with partners (Tien 2019; Kee et al. 2021). First, the corporation has contracts with multiple suppliers, which reduces the economy of scale and makes the company flexible. Companies of different sizes and even entrepreneurs can be the organization's partners, so suppliers do not have significant power.
Secondly, McDonald's, due to its well-established brand globally, can enter partnerships and gain benefits from partnerships with other leading companies. For example, McDonald's has an agreement with Coca-Cola that does not allow this beverage to be sold in other chains at a price that is lower than it is offered in McDonald's restaurants (Kee et al. 2021). Even such giants as Coca-Cola agree to comply with such rules as the collaboration between the two leaders is beneficial for both. Hence, supplier power is low, creating a considerable competitive advantage for McDonald's.
Buyer Power
One of the most influential factors affecting the development of any fast-food company, including McDonald's, is buyer power. Quick-service restaurants depend on their customer's preferences and loyalty, as well as their financial stability (Baker et al. 2020). The founders of McDonald's and current executives understand that buyers are a central factor that has an impact on the sustainability of their company. Low prices and high quality are the components of the products and services McDonald's has to offer, which has proved to be an effective strategy.
The power of buyers has become specifically apparent during the pandemic when various restrictions were imposed and when people had to endure considerable financial losses. For full-service restaurants, the lockdowns that took place in 2019-2020 were disastrous. Fast-food chains adapted quickly due to their drive-in and delivery services that have already been available for decades (Allied Market Research 2020). At that, the chains that could not set lower prices had considerable losses as customers were unable and unwilling to pay more. Hence, it is important to ensure that the needs of customers will be satisfied and new offers can be introduced.
The Threat of New Entry
The threat of new entry is not very high, but it may be significant for many players in the industry. Local entrepreneurs and companies can try to develop brands that would be a combination of local peculiarities and globalized patterns, which can be an effective approach due to the existing trends (Baker et al. 2020). As mentioned above, global food consumption trends become accepted by an increasing number of people. Fast food with some culturally-based peculiarities have become the most common eating preference for people worldwide.
At the same time, for McDonald's, the threat of new entry is not as high as for other players in the market. The corporation in question has a well-established brand famous for its quality and low prices, so it is difficult for a new entrant to offer products of such quality and at such prices. Moreover, new entrants do not have the recognizability of such brands as McDonald's, which makes them much less attractive to customers. Therefore, it is possible to note that the threat of new entry is not high for McDonald's.
The Threat of Substitution
The threat of substitution is the final force within the model to be discussed. This factor has a certain influence on the potential of the company under consideration, but this effect is not substantial. One of the possible threats to quick-service restaurant chains is the growing volume of processed food. Modern people choose fast food as they have limited time for preparing food, but the availability of quality processed food is often seen as a good option for many (Baker et al. 2020). At that, this type of food and eating experience does not include the aspects associated with McDonald's or other leading brands. McDonald's added value is associated with the chance to have a globalized experience of consuming some foods and dining out. McDonald's has been a symbol of the American way of life in many countries, and it is now becoming a symbol of the globalized culture. Thus, the threat of substitution is moderate or McDonald's, although less well-standing brands can suffer from this force.
Generic Strategies to Be Employed
The company has been using the cost leadership strategy for decades, which has been a good choice helping McDonald's to be one of the leaders in the industry. This strategy implies the focus on the reduction of costs and offering the lowest prices possible (Thompson 2020). One of McDonald's strongest competitive advantages is their low prices and high quality. The company manages to attract an increasing number of customers (Tien 2019). They can offer high-quality food at reasonable prices, which is critical for many, especially during times of the financial constraints many countries are now facing.
At the same time, the company has also adopted the differentiation focus strategy, which contributes to its competitive advantage. McCafé is one of the fruits of this strategy and one of the products that attract customers (Kee et al. 2021). McDonald's penetrates other market niches, and these attempts are quite successful as the company has acknowledged and effectively assessed the potential of new trends. The increasing popularity of coffee in many countries is now exploited by many companies, including McDonald's.
These two strategies should be used in the future as they have proved to be effective in the changing environment. The current fast-food market is undergoing certain changes, and the cost leadership and differentiation focus can help McDonald's grow in a sustainable manner. The company is able to control costs and offer products at low prices, but it also searches for new options. Differentiation focus is the optimal strategy to attain this goal as the company can penetrate new niches without considerable investment.
Conclusion and Recommendations
In conclusion, it is possible to note that McDonald's has good chances to retain its leading role in the market due to the correctly chosen strategies. The company should concentrate on the implementation of such strategies as cost leadership and differentiation focus. The brand is famous for its high quality and low prices, and it is also one of the symbols of the modern globalized world. In addition to satisfying their basic needs, people enjoy being McDonald's customers as they receive a specific experience of eating out. Be it a visit to a restaurant, a drive-in experience, or even meal delivery, customers feel they are part of the modern culture and globalized world, which is highly valued. The corporation is likely to remain one of the leaders in the industry if it follows the developed strategic plan.
Reference List
Allied Market Research. (2020) Global fast food market to reach $931.7 Billion by 2027: Allied Market Research. Web.
Baker, P. et al. (2020) 'Ultra-processed foods and the nutrition transition: global, regional and national trends, food systems transformations and political economy drivers', Obesity Reviews, pp. 1–22.
Dobbs, M. E. (2014) 'Guidelines for applying Porter's five forces framework: a set of industry analysis templates', Competitiveness Review, 24(1), pp. 32–45.
Kee, D. et al. (2021) 'Critical success factors in the fast food industry: A case of McDonald's', International journal of Tourism and hospitality in Asia Pasific, 4(2), pp. 124–143.
McDonald's. (2021) Annual report 2020. Web.
Rosal, M. L. (2021) US fast food industry statistics [2021]: revenue, trends, and predictions. Web.
Thompson, A. (2020) Crafting & executing strategy: Concepts and cases. New York: McGraw-Hill Education.
Tien, N. H. et al. (2019) 'Customization and standardization of the business strategy of foreign enterprises in Vietnam. The McDonald's case and the fast food sector', International Journal of Research in Marketing Management and Sales, 1(2), pp. 44–50.