Introduction
Personnel or people management is concerned with matters of employment and management of people and workforce for completion of their specific tasks and responsibilities. The basic purpose of this branch is to manage recruitment, people resourcing, employees' training, and developing relations with employees. Recruitment is a crucial part of personnel management as it is concerned with hiring competent candidates and filling vacant position through a fair selection process. Job analysis, job description, and specification are vital parts of the recruitment process. In order to design a job description or specification, it is necessary to conduct a job analysis to identify the requirements of any specific vacancy in the organisation (Bach, 2009).
Job Analysis
Job Analysis is the process through which a personnel manager collects relevant information and conducts an analysis of the requirements such as responsibilities, knowledge or expertise needed to accomplish the task to fill a job position. Job Analysis is an important part of recruitment, as it ensures that the right people are hired to achieve business success (Deb, 2006).
Job Description
The job description provides an examination of the roles and responsibilities for a specific position to perform various tasks. It provides an understanding of the legal requirements, which are documented and are used to evaluate the performances of the selected employees. If employees fail to meet the expectations and requirements of their assigned roles, then, they can also be terminated. In short, job descriptions are job summary consisting of short descriptive details of job functions that are according to the legal and ethical practice without any discriminatory behaviours. They provide information relating to working hours, leaves, reporting structure, etc. (Deb, 2006).
Job Specification
Job specification provides requirements for a specific job position including the level of qualification and educations, skill requirement, experiences, and any specific qualities and abilities to carry out job tasks in an effective way (Deb, 2006).
In regards to the selection of competent candidates, the following Seven Point Plan of Alec Rodger could be considered.
Seven Point Plan
Rodger's "Seven Point Plan" provides an assessment of applicants in seven areas of evaluation. A personnel manager is required to evaluate applicants in seven main areas and shortlist or audit qualifications, skills and other attributes of candidates for the vacant post (Deb, 2009).
Job Analysis
Training needs assessment will be carried out on the basis of discussions and meetings with departmental heads at 'SAVOY' Fairmont Hotels.
Aim: "To identify the positions that can help in achieving organisational goals through relevant knowledge, skills, and abilities required to carry out the tasks".
Process:
Establishing data inventory.
Collecting information about job descriptions of the existing employees.
Asking employees to participate in focus groups for identifying competencies required for performing jobs.
Case:
The hotel needs a front desk operator or customer sales representative as it is the holiday season, and many visitors and business associates are expected to stay at the hotel. Thus, after a series of meetings and discussions, it is decided that the hotel requires a new customer service representative to handle its front desk operations.
Vacant Post Identified: Reservation Agent at "SAVOY" Fairmont Hotels & Resorts.
After the vacant post is decided, a survey questionnaire would be implemented so that focus groups can identify and set requirements for filling the vacant position.
Job Description "SAVOY" Fairmont Hotels & Resorts
Job Title: Reservation Agent
Job Code:
Department: Customer Services
Job Grade:
Revision Date:
Fair Labor Standards Act (FLSA):
Position Overview
The position offered by us is Reservation Agent at 'SAVOY' Fairmont Hotels & Resorts
Main Purpose of the Job
The main purpose of the job is to handle front desk operations and deal with customers' bookings and reservations.
Essential Job Functions
Room reservation.
Providing professional customer services.
Ensuring room lists are maintained with accuracy.
Making a reservation by using check-in and check-out procedures.
Marketing hotel facilities.
Answering telephonic and electronic queries.
Ensuring that hotel policies and safety measures are followed.
Non-essential Job Functions
Coordination with the marketing department to launch new promotional schemes.
Coordination with sales and other departments.
Working Conditions
The candidate should be able to work under special working conditions, as mentioned in the work description, including working in night shifts or working with challenging clients.
Reporting Line
The candidate would be reporting to the Customer Service Manager.
Job Specification
Qualifications
The candidate should have specialised knowledge of front desk operations
The candidate should have minimum secondary education
He/she should have good communication skills
He/she should have the ability to solve problems
Computer literate
Other Skills/Abilities
He should have problem-solving skills
The candidate should be able to work under pressure
Previous Experience
At least three years' experience in the same field.
Physical Requirements
The candidate would be required to be physically active and in a standing position for extended hours, and he or she would have to perform repetitive tasks with no breaks.
The following job specification can be drawn using Rodger's Seven Point Plan to hire competent workforce.
Job Specification
Physical makeup
The applicant should be attentive, polite, well dressed, and groomed.
Attainments
The candidate should have minimum secondary education and prior work experience of two or three years. He or she must be proficient in computers.
Intelligence
The candidate should have strong communication and problem-solving skills, and he or she should understand the responsibilities and follow the rules of the hotel. He or she must be able to manage time effectively.
Special Aptitudes
The candidate should be able to work under pressure in a team or individually in order to work smoothly in the organisation.
Disposition
The candidate should remain agile as the hotel may change job roles according to the needs of the customer.
Circumstances
The candidate is required to have legal permission and authorisation to work in the UK as the company may not be able to assess candidates who require a work visa.
Job description and specification are set out for advertisements and candidates are shortlisted according to the criteria drawn in these areas. Shortlisted candidates would undergo a series of tests and interviews before a job offer is made.
Employment Legislation about Recruitment
In the United States, equal employment opportunity is exercised, but it has been noted that individuals with certain disabilities or problems of alcohol or drug abuse do face some discriminatory behaviour in the selection process.
In this regard, a Civil Act was passed in 1964, which had the aim of reducing unfair recruitment practices and protecting individuals from any practice that degrades them on the basis of their colour, race or ethnic backgrounds. The Civil Act was passed with a special reference to the selection, promotion, and training of individuals by organisations, and the failure of businesses to comply with this act could result in a penalty and other charges (Daly, 2012, p.51).
In the United Kingdom, the1976 Race Relations Act was proposed to deal with the issues related to employment and job performance. According to this Act, a person or organisation should not indulge in unfair practices on the basis of nationality or colour intentionally or unintentionally. In addition to these attributes, marital status or gender differences should not form the basis of selection. Particularly, issues of hiring single parents are highlighted in the act as many mothers try to work singly or divide responsibilities with their husbands to get an additional source of income (Taylor & Emir, 2012, p.281).
The United Kingdom Employment Equality Law ensures that organisations implement employment contracts that include details of salaries, wages, number of working hours, and holiday and benefits entitlements, which should be subject to equal treatment and ethical grounds. The primary legislation exercised in the UK is the Equality Act 2010, which prohibits discrimination in social affairs, including employment. The Equality Act 2006 was established to strengthen the implementation of the UK legal framework. Every organisation, which places a job advertisement, needs to make sure "equal employment opportunity" and avoid questions in the recruitment process that are biased or paves the way for making illicit judgments based on family circumstances of applicants (Taylor & Emir, 2012, p. 280).
The UK legislation provides guidelines for the recruitment and selection process in any company. In this regard, the company exercises "equal opportunity employer" and hires candidates on merit. There is no bias on the basis of colour, race or religion. The legislation affects the recruitment process because the legislation allows expatriates to work in the UK under certain conditions, and the company may facilitate work visas for foreign applicants. However, in some companies hiring of only local applicants is made, and expatriates are not given the opportunity to apply for available jobs. Inequality may also take place if individuals who are hired do not have a British accent or fluency in English. The hotel requires applicants who are residents of the UK. However, it may hire individuals with other nationalities provided their credentials to meet the criteria present in the job description.
Planned Legislation: Legislation should promote the hiring of disabled individuals and applicants with language disabilities by having a translator or an interpreter so that they can be hired for dignified positions.
The recruitment and selection process
After the job vacancy is identified, it should be posted in any newspaper, as well as the company's website in order to attract a large number of job applicants.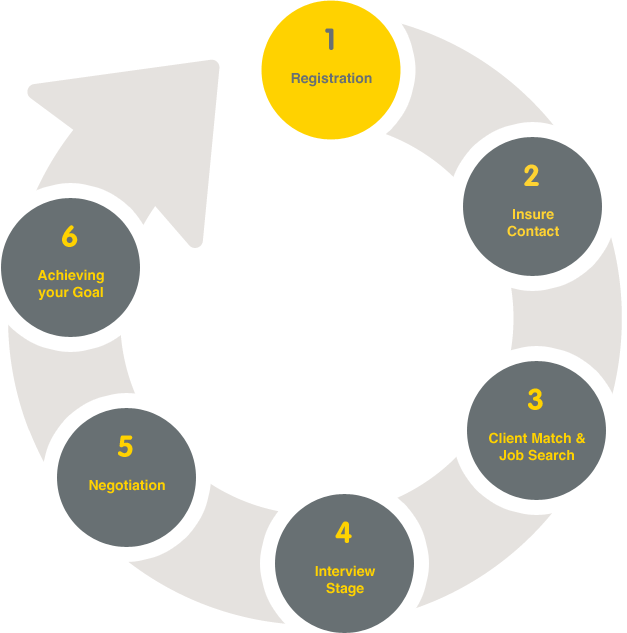 For registration purposes, the recruitment department would fulfil the following aspects:
Position: Hotel Customer Service Representative
Posting date: 10 October 2014
Job Location: London, UK
Salary: GBP 20,000 annually
Job Type: Permanent
Job Advertisement
Responsibilities
He or she would ensure that customers are given professional assistance with accurate information.
A successful applicant would be responsible for answering queries of customers regarding any booking and reservation.
He or she should be able to track check-ins and check-outs and update data and records.
The company shall match matching the credentials of a potential candidate with the job description.
The above flow chart of the recruitment process shows that after the credentials of the candidate are matched with the job position; he would be subjected to interviews. The resumes of applicants would be reviewed with confidentiality. The candidates with relevant experience and education would be shortlisted. Upon successfully passing the interviews, their salary shall be negotiated before he is placed in the organisation. Though the recruitment process is easy and unbiased, there are few shortfalls in the recruitment process.
Recommended Recruitment Process
After conducting the need analysis and identifying the job position, the recruitment department should meet the customer service department to determine and evaluate the requirements of the position. At this stage, job contract or registration is not needed. The important step should be to shortlist candidates according to the specified credentials provided in the job description and specification. Shortlisted candidates should go through an informal interview on the phone to evaluate his or her communication skills. If the interviewer is satisfied with the respondent, then the on-site test and interview will be conducted. In this regard, a typed invitation letter would be sent to the candidate that would include the time for interview and contact details to answer any queries (Brown, 2011). The following flow chart is recommended.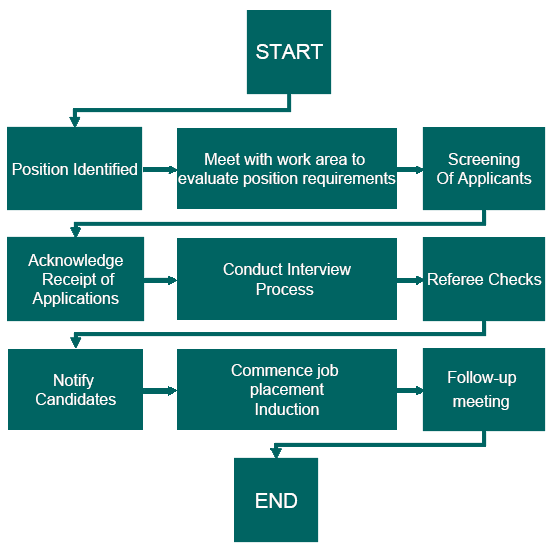 After the applicant undergoes the test and personal interview, he shall undergo situational questions about his personal profile to evaluate the strengths and weaknesses of the position identified.
At this point, it is important to identify whether the applicant can understand laws and procedures, and he or she can commit to the organisation's policies. Moreover, assessment should be made to evaluate whether he or she has good marketing and customer service skills such as display of empathy and problem-solving skills. In addition, it is important that the applicant must show his or her willingness to learn and grow to achieve the organisation's objectives (refer to Appendix 1). Reference Check was not a part of the company's policy, which is considered to be a major weakness. Thus, references provided by the candidate should also be checked as it is an important part of the recruitment process, and a job offer letter should be sent. It would include the date of joining and details of induction in the company and orientation (Brown, 2011). The applicant meets the job requirements should be asked to submit his or her documents, such as educational certificates and previous employment letters. A follow-up meeting with the company's customer service manager is necessary to evaluate if the right candidate has been hired.
Recommendations
The employer should check all requirements before posting a job vacancy in order to avoid any discrimination and ensure legal and ethical problems could be avoided.
If external hiring is necessary, then, references provided by applicants need to be checked for the information related to previous employers, work experience, training, and achievements.
It would be feasible to recruit people from within the organisation (internal hiring) as candidates would have knowledge about the company, and advertising costs could be saved.
It is also recommended to check the profile of the candidate and ensure that it matches with the job description and specification to avoid inefficient hiring.
Conclusion
Recruitment and selection processes lead organisations to successful attainment of goals. Therefore, it is important that fair recruitment and selection are carried out so that competent individuals could be hired by the organisation, and they could contribute positively to the company's objectives.
List of References
Bach, S 2009, Managing Human Resources: Personnel Management in Transition, John Wiley & Sons, New York.
Brown, J N 2011, The Complete Guide to Recruitment: A Step-by-step Approach to Selecting, Assessing and Hiring the Right People, Kogan Page Publishers, London.
Daly, J 2012, Human Resource Management in the Public Sector: Policies and Practices, M.E. Sharpe, New York.
Deb, T 2006, Strategic Approach to Human Resource Management, Atlantic Publishers & Dist, New Delhi.
Deb, T 2009, Managing Human Resource And Industrial Relations, New Delhi: Excel Books India.
Taylor, S & Emir, A 2012, Employment Law: An Introduction, Oxford University Press, Oxford.
Appendix 1
Hiring Profile
Job Title
Tangible Qualities
Untangible Qualities
Skills
The individual has communication skills.
Personalities
The individual has a courteous personality.
Knowledge
The individual has secondary education.
The individual has a good understanding of
customer service.
Talents
The individual has problem solving skills.
Experience
Has three years of experience.
Culture Fit
Team player and committed