Introduction
The key to the growth of a business is through expansion. The carpet cleaning industry in the US has grown from providing business to customer services to business to business services. The carpet cleaning industry is a pure service industry and falls in the category of a small business segment. So this business takes the shape of an entrepreneurial effort. Marketing the product or services to the target customer at the right price is the aim of marketing. The key success of any services is to provide quality service and gain customer satisfaction (Christopher, Payne, & Ballantyne).
The purpose to draw a marketing plan for an already existing carpet cleaning business of American Carpet Makers is to aid the company to increase its domestic customer base, retain customers and increase customer loyalty as well as attract business customers. Thus, the marketing strategy that is presented here is targeted at residential and business clientele.
Industry Analysis
According to the US Census Bureau data, in the state of Ohio there are 385 carpet cleaners and they provide a turnover of $12 million annually (US Census Bureau, 2007a). In Dayton city, there are 45 carpet cleaners (Ethical Services, 2008). As the carpet, cleaning is competitive due to the presence of a large number of sellers, and large number of buyers. The entry and exit barriers are low. The startup cost for the business is low at about a minimum cost of $19000 (Business Start-up Series, 2009). If the target customers are both residential and commercial then more equipment are to be added. As this is a competitive situation, the prices that are to be set should be competitive in order to retain as well as attract new customers. The market has potential for both residential and commercial customers.
Market Analysis
This part of the analysis is presented to understand the market of the carpet cleaning industry in Dayton, Ohio where the company operates. In this section, we will describe the market of Dayton. We will analyze the potential the market holds for carpet cleaning business. In the market analysis of the plan, we will describe the target market. The description of the potential clientele is usually known as customer profiling.
Carpet cleaning industry has been growing at a very fast rate. As figure 1 show, the industry in US has experienced a continuous path of growth since 2001, except for 2006 when there was a fall from 14 percent to 6 percent. But after the fall, there has been again a rise in revenue growth in the industry. Given this feature of the industry, we will try to ascertain the kind of target market that the company may aim for in the state of Ohio where it operates.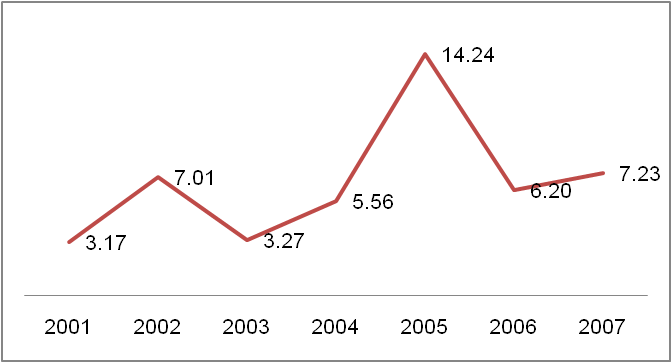 Number
In the carpet cleaning industry all residential and commercial building which has wall-to-wall carpeting are a prospective target customer. Here we will ascertain the number of customers that American Carpet Makers can target. For this section, we use secondary data from the U.S. Census Bureau statistics. Here it must be made clear that the company wish to serve two different types of customer: domestic and business. First, we will consider the kind of domestic customers the company can target.
In a state with household units of 4.5 million, it is not difficult to choose a large enough target market (US Census Bureau, 2007b). In these 4.5 million households, 66 percent are made up of families. We intend to target households with annual income of $75,000 or more. This shows that in Ohio we have a target customer base of 26 percent of the population of the state1. Apart from this, we can target houses which have 7 rooms or more. This would amount to 33 percent of the population of Ohio2. Moreover, there are 23 percent of the families who have multi-unit housing structures, which implies that these houses are big and may require carpet cleaning services (US Census Bureau, 2007b). So roughly, American Carpet Cleaner targets at around 25 percent of the households in Ohio.
Then considering the number of business enterprises that the company can target are shown in figure 2. Target business firms and enterprises should be the ones, which has employee strength of over 500 employees. This comprises of 15 percent of the total number enterprises and targets the firms which have more than 100 employees. This will come to 4.2 percent of the total number of firms in the state.


If Dayton alone is considered (where the company is primarily based), the company may target establishments like schools, libraries, colleges, museums, etc. Then it has an option of targeting movie theatres, restaurants, bars, libraries, museums, schools, and colleges. Thus, in that case they can target a total of 1457 establishments.


Target Customers
So far, American Carpet master catered to household consumers who cleaned their carpets probably once or twice a year. But with increased competition in the industry, there is need for higher number of customer base and also attain business clients who will require carpet cleaning services more often. These customers belong to an age group of 35 and more and belong to upper income class group. The target customers of the company are those business organizations, medium to big size that require carpet cleaning facility on a regular basis. Apart from business clientele, the company wants to retain its existing domestic customers as well as make new ones.
Value and Customer Loyalty
Services industries are value driven. Here value refers to the customer perceived value i.e. the difference between the customer's evaluation of the cost of the service and the benefits of the offering vis-à-vis perceived alternatives (Kotler & Keller, 2006). The key to increasing the value to the customer is through raising the functional or emotional benefits of the offering to the customer and by reducing the cost of the offering. For instance, the value of carpet cleaning can be increased by providing a quality cleaning service to the customer, along with cleaning a few things extra, like the upholstery. This will increase the customer's perception of the value of the service provided as he/she receives extra service at the same price. Thus, customer perception of the value of the offering is very important in the services industry. So in case of selling the services to households this concept is applicable. Then what are the customers' perceived values in case of business to business selling? Well in this case the buying agent is responsible and has to be satisfied with the service provided. For instance, the buying agent may be under order to buy the services at the lowest possible price. So he will give the order to the company which quotes the least possible price. So it is important to have a definitive value proposition.
Kotler and Keller (2006) argue that the key to generating high customer loyalty is to deliver high customer value. So a company must a competitively superior value proposition, aimed at a specific market segment, backed by a high quality value delivering system. Now the question that arises is what are value propositions? It is basically, what the company has to offer to its customers. So American Carpet Makers have to have a proper value proposition.
So the value proposition that the company should have to its customers are:
To provide superior quality cleaning experience to the customers. The basic offering of the service has to be perfect. For instance if we go to a restaurant with a fantastic ambience and service, but the food is not palatable, then are we satisfied as customers? So the main offering i.e. clean carpets are the basic offering of the service and this has to be done properly.
Apart from this, the company can provide additional services which the customers may value. For instance if the contract was to do the carpet you clean the upholstery for free in that room. This will create a perception in the customer that they have gained more. This process will increase their value perception and so will increase their loyalty.
Take feedback from the customer regarding the service delivery. If the customer seems to be dissatisfied with some area of the work, redo it without any extra charge. Usually no faults are detected by customers in the first place, but if this proposition is told to them in advance, they will be delighted, and will most likely call back for the second time.
Another aspect is to set customer expectation. Customer expectations have to be set at the very beginning. One must not set too low an expectation as this will not attract enough customers. So a carpet cleaning company must tell its customers as to what services they expect for the price they have paid. The technique and the results must be completely explained so that the customers know what to expect once the service of delivered. As expectations cannot be set too low, they are set high and company tries to achieve such high standards. This can be done by two ways:

Tell the customer what they can expect in the service package.
Provide a guarantee for the work that you do.
Customer loyalty may arise when a customer is satisfied and/or he/she receives high value. But these solely do not ensure customer loyalty. Relationship equity with the customer has to be strengthened to increase customer loyalty. This can be done through the following methods:
Loyalty Programs: Anybody who takes your service twice, provide him with an extra benefits, like monetary discounts, or additional service, or follow-up service, etc. This program is an important tool for household clients.
Financial Benefits: Customer bond may be created by adding financial benefits. Financial benefits are usually of two types' frequency program and club marketing program. Frequency programs are designed to provide customers who buy frequently with rewards. This a useful tool when say 20 percent of the company's customers account for 80 percent of the business. This program is said to be a useful tool to establish long-term relationships with customers. Club membership on the other hand is open to all who buys the product or it can be limited to an affinity group or those who are willing to pay a small fee. In case of American Carpet Maker, we suggest that:

They open a Frequent Purchase program. This is so because with a few customers the company will be in a better position to handle them. This loyalty building program is useful for business clients.
In case of club program, they should opt for limited customer club, where the customers pay a token fee to enter the club and gain certain privileges. This program should be used for household customers.
Special Recognition and Treatment Program: this can be used for customers who provide large accounts. So if a customer places a big order, he/she gets special benefits. For corporate customers this program is important. For instance, for a corporate client who is a big customer, treat them with special care. Do their work on time. Provide special services and offers. Again social benefits can be added to all customers through very simple means like if a customer places an order online, instead of filling in an online order form, a provision for text message chat with the customer support can be provided so that the customer does not feel that filling the form is of inconvenience.
Community building program: building a feeling of bondage with the service provider can enhance the customer's loyalty. Establish a relationship wherein you send your clients greeting cards on Thanksgiving and Christmas, keep record of their personal history, maintain a customer database management to keep them remember your name.
Adding Structural Ties:

Create long-term contractual ties with the customers allows the company may get into a contract with the client to serve him for a long period.
Another option is to lower price from customers who buy a large account. For instance if an office requires cleaning every week, they can be charged with a lower, special, offer.
Another key is to turn the cleaning service to a long-term service. For instance apart from cleaning of carpets provide services like cleaning of upholstery, curtains, etc.
Attracting New Customer
In order to expand, it is imperative that the customer base is increased. To attain new set of customers in services sector it is important to maintain the backend as well as the service delivery. This is required due to the variable nature of the services. The quality of service delivered to the customer varies due to the intangible nature of services. So it is necessary that the company take the following steps to prevent the variability issue:
Good hiring procedure should ensure that people who are meticulous and have experience are hired for the cleaning purpose. Recruitment of the right employee is imperative, as competence in the area of work will increase the quality, responsibility, problem solving ability and goodwill at work.
Standardization of the services delivered to the customers is important, as this will give same amount of quality to the customer every time you provide him with the service. This can be done by preparing a service blueprint. For instance, take the order for steam cleaning two rooms at a certain locality. The cleaners must be sure of the address and arrive at the house of the customer precisely at the time requested. Ensure that the right equipments are taken. Ensure that the van that they drive is clean and well maintained, as this will form the service scape. Even the cleaning personnel are neat and tidy. Once the job is completed, a quick feedback is taken from the customer. A follow-up is done after a week regarding the customer's satisfaction with your job.
Monitoring of customer satisfaction is important as this will increase the company's service credibility as well as help retain older customers.
Further, as services are to be produced and delivered at the same time it is important that the demand and supply consistency have to be maintained. Carpet cleaning business, like all other business, undergoes a seasonal cycle. So differential pricing will help the company to shift some demand to the off-peak period. For instance as in case of offices, they would like to avail carpet cleaning services on weekends or maybe post office hours. So the domestic customers should be serviced when the offices are not to be cleaned. Again, in certain months the demand may be low. Then the company should push their sale through special discount offers to lure customers. Following these ways, will help the company retain its old customers as well as attract new customers through increased quality service delivery.
Market Strategy
Market Segment
American Carpet Master will have two market segments (a) households and (b) business. In order to attract new customers the company has to offer more than the competitors, at less cost and must have recognition in the market.
In case of residential customers, so far, 100 percent of the company's revenues are attached to residential services. They comprise of housing units with wall-to-wall carpeting. These houses may have number of rooms differing from 5 to 9 or more. In age demographics, they fall in the group above 40. The target household's income group is $100,000 or more which comprises of a higher income group.
Residential customers want (a) quality service, (b) on time delivery, (c) no hassle payment and booking, (d) additional services in a bundle which are convenient, and (e) competitive price. For residential customers price plays a vital role, as there are many carpet cleaners in the city who provide almost similar services. So the pricing of the services has to be done competitively.
Residential customers want spotless cleaning along with a few freebees. As residential customers make 100 percent of the company's sales, it is imperative to provide them with extra services which will help retain these customers. Some examples of these extra services are as below:
Air Duct Cleaning: most of the residential customers require air duct cleaning and for this purpose, they hire a different person to do it. It is a waste of time and effort on their part. If both the service can be offered simultaneously, the customer enjoys both the services at the same time.
Tile & Grout Cleaning: this could act as an add on for both residential and commercial customers. Residential places have ceramic tiles in kitchens and baths. So you can clean these along with the carpets and upholstery.
Ceiling Cleaning: this additional service can be marketed for the commercial customers. Residential customers usually do not require professional help to clean their ceilings. But commercial buildings usually require this service to clean and maintain their ceilings.
Marketing Strategy for Residential Customers
For residential customers the marketing mix that we suggest is as follows:
Product/Service: the quality of the services should be maintained. For services as the product is intangible, it encompasses right from the customer calling to place an order till the time the cleaning staff leave their residence. So it is important that all phone calls are attended and the frequency of phone attendance should be monitored. The services must be standardized and customer feedback taken.
Price: The price of the offering must be competitive. For customer retention new and discounted offers should be started. Further frequent purchase programs and club programs help in increasing customer loyalty.
Promotion: Promotion must be done in the local newspaper. Most of the residential customers look for carpet cleaners in the newspaper. Further, the website of the company must be updated and interactive to ensure the customer gets all the information he requires.
Place: as the service is delivered at the customer's residence, the service scape is lessened. But the van acts as a service scape. So a dirt and unkempt van decreases the trust of the customer on the cleaner's cleanliness credibility.
Marketing Strategy for Commercial Customers
For commercial customers the services and service offerings have to be more standardized. The prices lower than the average, as they would most probably be asking for quotes to give a contract to a service provider. Their criteria will be to enter into a contract with the cleaner who quotes the least price. Commercial customers demand on-time delivery of quality service. They require competent professionals who know what to be done. The marketing strategies for commercial customers are:
Identify the commercial establishments that have to be targeted. We suggest that initially American Carpet Master targets only commercial establishments in Dayton. As figure 3 shows, there are 1457 commercial establishments including schools, banks, colleges, etc. who need to be targeted.
The best method to promote your services to commercial customers is through newspaper advertisement, yellow pages, and direct marketing. In B-2-B, marketing direct selling has an impact as you get to speak directly to the purchasing officer in position to make buying decisions. It is important to establish a relationship with the buying agent as relationship management in b-2-b marketing assumes a lot of importance.
Post-service delivery customer feedback will help you to monitor your service quality as well as understand customer's satisfaction with the service you provided.
Pricing should be best in the industry so that the commercial customer has no problem choosing. Provide discounts to them so that they have a reason to hire you. Further, it is advisable to enter into a long-term contract with the commercial customers to ensure re-purchase of services.
So in both the cases the total value chain of the service that needs to be standardized for customer satisfaction, retain existing customers, gain loyalty, and attract new customers is by following flowchart (see figure 4).


Promotion Strategy
For identifying the promotion strategy for carpet cleaning services it is important to understand the composition of the target market. We need to divide the two segments: residential and commercial. For residential customers it is important to understand the composition of the target group as this will help us identify the promotion strategy that needs to be employed. The target customers are a group of people who are in their late 35s or above 40 years of age and belong to higher income bracket. But in order to ensure new customers too are attracted the customer target has to be expanded. This will reduce our target income group from high to upper-middle class. The promotional strategy that is best for this group is advertisement in the local daily. The cost of placing a newspaper advertisement is $40 for 10 days (Dayton Daily News, 2009). Newspaper advertisements are a lucrative option for the following reasons:
They are less costly than other forms of advertisements like radio or television ads.
As the target, groups of customers are people above 35 years of age, well educated as they belong to an upper income group (assuming higher level of education provides for a better livelihood). This group of people read newspapers regularly and the chances of a newspaper advertisement to be read is higher.
Advertisement in a well-respected newspaper increases credibility of the company as well as the advertisement.
Apart from newspaper advertisements, the company may place ads in the yellow pages and develop the company website which generates a lot of customers. These two promotion strategies are important for both commercial and residential customers. Another form of promotion which is important for commercial clients is direct promotion. Here the company calls the commercial establishments to promote their services. This method helps in coming in close contact with the clients as well as continuously reminding them of your presence.
For retaining customers strategies like frequent purchase programs, club programs, loyalty programs need to be continuously adhered to in order to establish a bonding with the customers.
All promotional material should clearly mention the service offerings of the company, the special offers, and the company's focus. This will help in attracting customer attention. Another good method is to advertise customer endorsement of the services. Print in the comments of satisfied customers also increases credibility of the advertisement.
Conclusion
Carpet cleaning industry is a pure services business. It offers cleaning services. American Carpet Masters solely served residential customers. They intend to diversify into commercial establishments as well as increase their customer base. Here clear identification of the market segment and the target market is required. In the residential segment, they intend to target households with upper-middle class to high income which approximates to 31 percent of the population of Dayton city, Ohio. In commercial segment, their targets are establishments like schools, colleges, offices, restaurants, etc. which has an employee strength of 100 or more. Presently their operational area is Dayton city and a few allied areas. So in the city their commercial targets come to more than 4000 establishments. The marketing strategy of the company is to provide best quality service and customer follow-up. We understand customer retention and gaining customer loyalty is an important part of marketing strategy so customer relationship management acquires utmost importance in case of American Carpet Masters. Further in order to gain new customers promotion has to be done. The suggested promotional plans include advertising in the local newspaper, yellow pages and marinating the company website. Direct selling is also an option.
American Carpet Masters operates in an industry which is highly competitive. In Dayton itself, there are more than 20 carpet cleaners who provide to various localities, and to various establishments both residential and commercial. So in such a competitive market, pricing has to be done competitively. It is not advisable to reduce the prices which they currently charge. Instead, they should provide additional services in order to attract customers and then at a later stage, once customer loyalty is gained, they can be charged on it. So differential pricing is the key to success in a competitive service industry.
Customer relationship management assumes great importance in our analysis. It is the lifeline for customer retention and inculcating customer loyalty. There are needs for CRM programs which will help the company to maintain a database of the customers and provide them with personal attention. This increases empathy in service delivery. Loyalty programs helps in retaining customers, as it is more profitable to retain older customers than to try and acquire new customers.
Given this marketing strategy, American Carpet Master can try to gain new customers as well as retain old ones. Further, this plan will help the company to target commercial establishments.
References
Business Start-up Series. (2009). Carpet Cleaning Service. Web.
Christopher, M., Payne, A., & Ballantyne, D. Relationship Marketing: Bringing Quality, Customer Service and Marketing Together. 1991: Butterworth-Heinemann.
Dayton Daily News. (2009). Place a classified ad. Web.
Ethical Services. (2008). Web.
FedStat. (2006). County Business Patterns. Web.
Homeinsight. (2008). HomeInsight for Dayton, OH. Web.
Kotler, P., & Keller, K. L. (2006). Marketing Management 12th Edition. Singapore: Pearson Prentice Hall.
US Census Bureau. (2007a). Administrative and Support and Waste Management and Remediation Services Remediation Services Ohio. Web.
US Census Bureau. (2007b). Ohio Selected Economic Characteristics: 2005-2007. Web.
US Census Bureau. (2007c). Service Annual Survey. Web.
Footnotes
Estimate was done from own calculation using American Community Survey 2005 , Household Income data.