Abstract
This paper looks into the Organizational Behavior of the UAE-based Thuraya Communications Company and analyzes the different aspects of the issues that are affecting the company's productivity and performance.
Introduction
This paper examines and analyzes the organizational behavior model of Thuraya Telecommunications Company. The company had been through some significant changes in its strategy and has faced a couple of challenges after an excellent start. Revenues declined significantly in the last 5 years and large numbers of employees left the company. The company has not been reaching its financial goals and there have been notable communication issues between the employees of the company.
Research data and information about the company were collected through different sources. One major type was a research survey questionnaire distributed to Thuraya employees through an online portal from where they filled it and returned it via the same portal. In this case, the use of a questionnaire was very relevant in collecting information on the variables of interest such as perception of leadership abilities while also taking into consideration the anonymity factor. The type of questions that were included in the questionnaire forms were matrix questions that relied on the Likert Scale. It was a self-administered questionnaire that did not require the guidance of a research assistant since all the questions that were included therein were straightforward.
Objectives
The major focus of this analysis is to investigate:
The Organizational Challenges that the company is facing
The relationship between Leadership and the Organizational Challenges
Some recommendations that will help overcome those Challenges
Company Profile
Thuraya is a United Arab Emirates-based Mobile Satellite Telecommunication Company, the concept company emerged from Etisalat in 1995 and the company was established around 1997 by leading Telecom Operators and financial investors in the Middle East and North Africa. Boeing (formerly known as Hughes) was contracted to build the Satellite System and Ground Network for Thuraya.
In 2000, Thuraya successfully launched its first satellite and soon after a year, it commenced its commercial services. The company's core service is Satellite phones that can be used within Thuraya's coverage and in rural areas where National GSM networks are either available or unreachable. By the end of 2005, Thuraya has reached 250,000 thousand subscribers in its coverage which made the company decide to expand and launch its second satellite. Currently, Thuraya covers around two-thirds of the globe (Figure 1) and is authorized to operate in more than 102.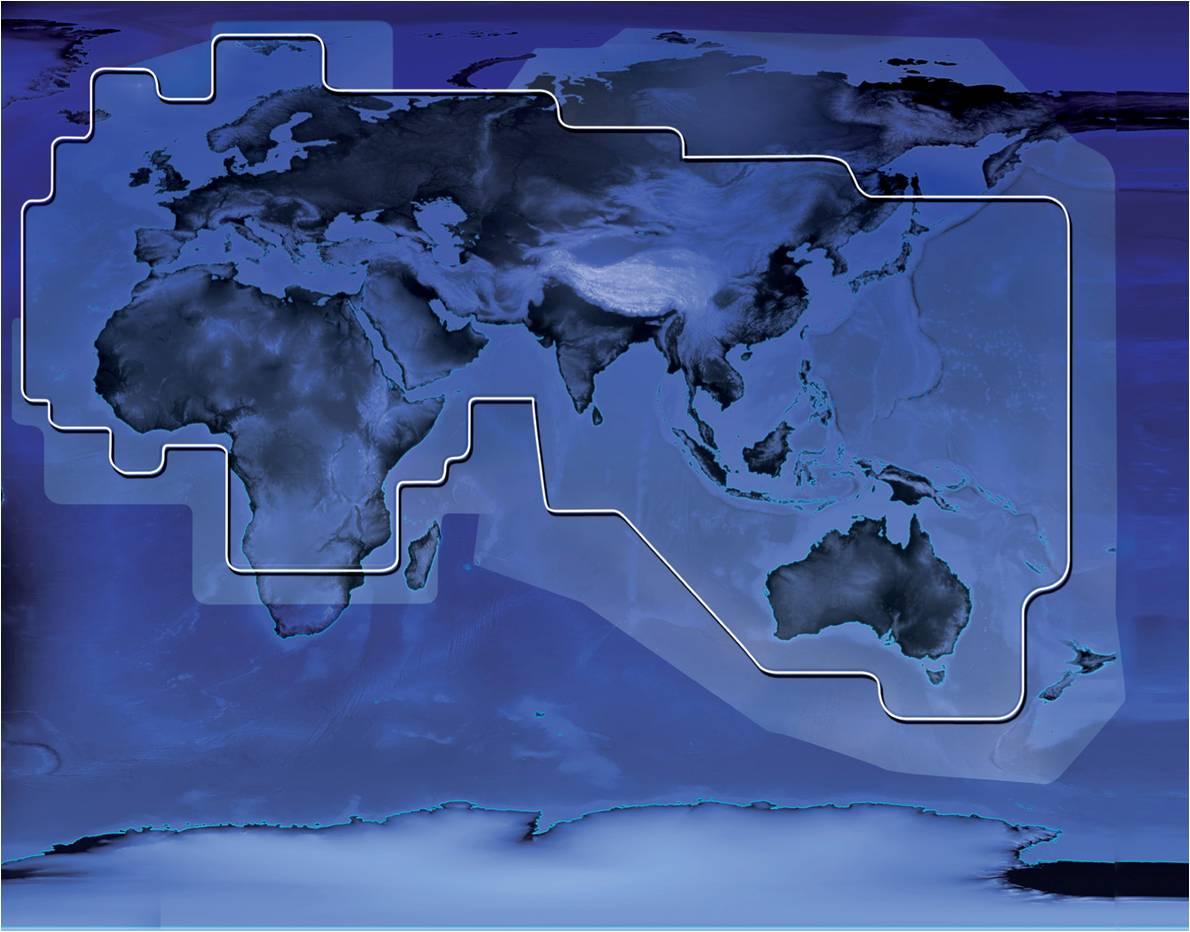 However, even though the company was expanding and covering more territories where there weren't any GSM networks available, the number of subscribers did not increase nor did its revenue. In fact, Thuraya's revenues fell drastically from $322 Million in 2005 to very low numbers in the years after. The CEO of Thuraya Yousef Al Sayed had made statements then in several Satellite Magazines that the performance was not "as strong as expected". Meanwhile, the number of subscribers rapidly fell below 230,000 subscribers.
The company changed its strategy and started focusing on data services as opposed to voice services through their Satellite Phones, it designed and built new terminals that provided data connectivity and internet with innovative technologies and high speeds. Despite these changes, this strategy did not boost the number of subscribers; currently, the number of subscribers is approximately 200,000. Currently, its business strategy has just changed again, Thuraya no longer builds its own terminals and instead relies on third-party companies that invest, build and market the products with their names while Thuraya just provides them with the communication platform.
At the time, during the beginning of 2008, the company had 369 employees. This number dropped down to approximately one third. Over the years between 2007 and 2010, the company lost some of the most skilled and experienced employees who worked it, the major ones were the resignation of the Chief Commercial Officer in 2008 and now the resignation of the Chief Technical Officer. Currently, the Company has a total count of employees 186 in both locations of it head offices, in Dubai and the Satellite gateway in Al Dhaid area.
Organizational Behavior Model
Productivity
Productivity levels have been at the lowest since Thuraya's establishment. Upon questioning the issue, Chief Financial Officer, Sayed Sharaf believes that the Economic Crisis is the main driver for the decline of productivity within the company. He acknowledges, "we are barely meeting ends". Another factor, as he believes, is the proliferation of GSM networks and their expansion in those rural areas where Thuraya targets as its market. However, the explanations provided for the dismal performance of the organization is not consistent with other available information that has been collected regarding the organization.
Foremost, Thuraya Telecommunication's financial performance and overall productivity level started dipping way before the first effect of the just-ended financial crisis started in late 2008, so it is unlikely this was the reason that negatively affected the organization. Indeed, a survey that sought to investigate the Company's leadership style and employee work quality provides a glimpse of what might be ailing the Organization. The survey sought to determine the nature of the work environment at Thuraya based on more than 20 variables of interest such as job satisfaction, motivation, management style, mentorship, decision-making and level of communication among others (Surveymonkey, 2010). For each variable employees were assessed and categorized into various levels; almost all the variables investigated except one had the majority of respondents reporting less than average or just average perception. This is an indication that the organizational culture which includes leadership style and employee motivation is probably the major reason for the declining performance of the Company.
This fact is supported by a research study done by Boga and Ensari which sought to establish the determinants of success; the findings of the study indicated that employee motivational and "transformational" leadership styles are vital for the success of any organization (Boga and Ensari, 2009). Transformational leadership style is a process of employee management based on two major focuses; furthering organizational output and motivating employees beyond their career development, which is described as "beyond self-interest" by Boga and Ensari (2009). Unfortunately, this is not the case in Thuraya Telecommunication Company.
Absenteeism
The company has seen a high level of tardiness and absenteeism; employees do not adhere to the strict policy of the 7 AM – 3 PM official working hours and most of the time they tend to come up with extended sick leaves. This is a typical example of reduced motivation levels among employees. A recent research study done by Babcock-Roberson and Strickland found that the type of leadership style found within an organization has a more profound impact on employee motivation levels rather than other motivational efforts per se. In this study, charismatic leaders were found to positively influence employees at the workplace, which directly translated to heightened motivational levels. This motivation in employees was attributed to the ability of charismatic leaders to promote a "sense of meaningfulness and empowerment" which enabled them to achieve "higher work engagement" (Babcock-Roberson and Strickland, 2010). This would mean that what Thuraya telecommunications lack is probably an effective leadership style rather than motivation per se.
Turnover
The company has seen so many employees leaving the company and resigning in the last 4 years. This is not even surprising given that high employee turnover in an organization is usually correlated with employee job satisfaction and motivational levels. For years basic needs have been defined in three levels only until Maslow's hierarchy of needs redefined them anew the actual needs of a person at every stage of their development. According to Maslow physiological needs are the first and the most important that a person requires such as food, shelter and clothes but are not limited to this as was traditionally the case. Safety needs are those that come after physiological needs. They include requirements such as job satisfaction, security and financial freedom (Hoffman, 1990).
The safety needs are divided into two parts that which satisfy the physical and which satisfy emotional needs (Hoffman, 1990). After safety needs come social needs, which are entirely emotional, in this category a person needs, are friendships, love among others, and for some reason, at this level, these needs are important to a person. Then esteem needs come thereafter, they are the likes of social status, self-respect, recognition, and accomplishment, this category too serves to fulfill the emotional requirements. The last level in the hierarchy of needs is self-actualization, which comes after all the other, needs have been met and satisfied. In this level, a person seeks to have wisdom instead of knowledge, questions the meaning of life and values such as truth and justice are central to his life. This is the highest and the last category of emotional needs (Hoffman, 1990).
The implication of Maslow's hierarchy of need indicates that organizational leaders must be aware of how best to satisfy employee needs in order to motivate them and keep them on the job for long.
Deviant Workplace Behavior
Deviant behavior in the workplace is described by Duan et al as "negative organizational behaviors that are detrimental or destructive behaviors that may hurt colleagues or organizations" such as retaliatory behavior or what is described as "employee silence" (2010). This occurrence of deviant behavior is attributed to the nature of leadership justice that exists in the organization. In Thuraya Telecommunications, it is seen that the company employees do not trust each other and most of the time get into verbal attacks when they go through a conflict and start throwing the blame on each other or on different departments. Based on the research survey, coordination between departments and overall teamwork is described to be below average with 20% of the respondents reporting it to be at its lowest level (Surveymonkey.com, 2010).
A research study by Mao et al found a direct correlation between bureaucratic leadership style and workplace friendship among employees because of this style of bureaucratic attitude (2009). Lack of workplace friendship among employees is unfavorable because of the many benefits that close relationship in the organization has what Mao et al describe as information sharing, job satisfaction, job commitment and reduced employee turnover (Mao, Chen and Hsieh, 2009)
Organizational Citizenship Behavior
The company has no citizenship behavior; in fact, there is no trust and a lot of fear because the culture is very bureaucratic. Organizational behavior is a factor of employee motivation, which in turn determines organizational success; it is, therefore, one of the key areas that organizational leaders strive to focus on in improving overall efficiency. Organizational citizenship is a leadership approach that requires a manager to adopt a management style that emphasizes the bottom-line goal of the organization.
In achieving organizational citizenship, Brightman and Moran advise leaders to focus their efforts on three key areas; personnel citizenry, organizational laws and practices and internal governance (1999). Overall organizational citizenship is desirable since it has been determined to promote the internal cohesion of employees, establish core practices that are desirable to the organization and address the internal weaknesses of organizations such as the one facing Thuraya Telecommunications (Brightman and Moran, 1999)
A key aspect of organizational citizenship is Organization behavior which dictates how members of the same organization relate to each other and interact, it spells the code of conduct within the workplace and elsewhere and incorporates ideas and concepts found in job ethics and work guidelines (Brightman and Moran, 1999). It is these behavioral values that define the organizational best practices, traditions, vision, and expectations that are unique to an organization (Whiteley and Whiteley, 2003).
With every organization in a condition of change, it is becoming essential that outcomes of change such as employee behavior be positively influenced to ensure that organizations desired behavioral values are fostered. One of the research studies on the subject indicates that the nature of "leadership justice" found within an organization is a key factor that determines organizational behavior that employees are likely to adopt (Duan, Lam, Chen and Zhong, 2010). Indeed the research survey indicates that the majority of respondents think that the work environment is not supportive enough to enable them to cultivate relationships that would ensure they "get along with each other easily and foster work relations" (Surveymonkey.com, 2010).
Job Satisfaction
A good motivation system should be integrated into any effective personnel management plan. Its benefits to employees include a suitable job environment, health and job satisfaction all of which contribute to the success of an organization and advertently the reason why an organization should strive to ensure employees are always motivated at the workplace (Borgadus, 2009). Based on the research study many employees indicate that they feel isolated from the organization and believe their managers do not listen to them, therefore most of them are unsatisfied with their jobs. Low job satisfaction is well captured by this research survey; three of the research questions that attempted to analyze the nature of the working condition and the prospects of rising through the ranks found employees in the organization to be generally very skeptical of both.
For instance, when asked if they feel properly rewarded for their achievement or whether employee satisfaction is appropriately factored in by the organization, more than half of all the respondents interviewed indicate this not to be the case. This is probably the main reason why job satisfaction is generally low among employees in this Company. This response is consistent with what Harris et al describe as the negative effects of Perceived Organizational Support (POP) and Perceptions of Organizational Politics (POP) (2007). From the survey results, we can determine that both the aspects of POP and POS are significantly higher.
This study by Harris et al that investigated the effects of POP and POS in organization concluded, "managers should endeavor to decrease POPs and increase POS, such an environment would be one in which fair policies and procedures are evident and managers adhere to them" (Harris, Harris and Harvey, 2007).
Organizational Challenges
Although the productivity level has been declining in Thuraya, management has been always inclined to attribute the cause to external factors without addressing internal factors or behaviors. Based on the analysis of the research survey it appears that Thuraya Telecommunications weakened internally; this is a factor that can best be investigated through complete SWOT analysis.
There are issues about communication in the organization both upward and downward. In general, there are seven types of barriers that prevent effective communication in an organization; physical barriers, perceptual barriers, emotional barriers, language barriers, cultural barriers, gender barriers and interpersonal barriers (Borgadus, 2009). Among all these types of barriers, perceptual and cultural barriers are among the most common type of barriers found within Thuraya Company.
Perceptual barriers are the type of challenges in communication that are encountered due to differences of opinions on a subject or individual while cultural barriers occur because of cultural stereotypes or simply because of differences in culture. Given that, Thuraya Telecommunications Company has based in UAE the impact of culture is certainly one of the major factors that contribute to the communication breakdown in the organization.
There is also a lot of fear in the company's culture and politics are very high, it is a bureaucracy; a number of factors such as leadership and employee management systems could cause this problem. There is a great issue with HR, HR goes by the book but most of the time treats employees unfairly according to their position in the company. They promote school-like environments and are very old school. This approach of enforcing organizational policies appears to be antagonizing employees rather than achieving the desired effect. It is this personnel enforcement compliance that is responsible for the high rate of absenteeism among the workers at the Company. Rather, a Company approach of enforcing compliance management should aim to achieve commitment from personnel rather than enforce compliance. This approach increases employee work output in the long run.
Indeed a research study done by Konst and Vlist indicates there is a correlation between employee perception of their leaders and the effect of the resulting leadership style. The results from this study provide empirical evidence that suggests leadership is central to the success of the organization because of its motivational effect on employees which arises from employee perception (Konst and Vlist, 1999).
Due to the high level of tardiness and absenteeism, the Human Resources department had to come up with drastic measures to ensure that employees come to work on time and take fewer days off. The number of leave permitted for employees was equalized between all grades of company employees; it went down from 45 calendar days to 33 calendar days in addition to 12 certified sick leaves and 4 uncertified sick leaves per year. Two attendance systems has been put in place, one is a biometric system that unlocks the door to the office areas and the other is a manual system, where each employees must register once he comes to work and signs his attendance and sign out at the end of the day. In this regard, the HR management strategies also fail as well since an organization should strive to evaluate employee work quality rather than measuring employee work output in terms of attendance.
Leadership
The leadership style found in Thuraya Telecommunication Company is characteristic of what might be described as autocratic, bureaucratic or even leissez-faire. Autocratic or authoritative style, as the name would suggest it refers to an approach where a leader maintains and run an organizational with a tight leash on the apparatus of power. A manager is this type of style expects his word to be law and employees do not have room to present their suggestion for consideration as is the case in enforcement of organizational policies by HR department. Decisions are made at the highest level of an organization and handed down through established protocols to be implemented across the appropriate levels by the employees through existing organizational procedures. In this type of leadership style motivation among employees is minimal or nonexistent and the techniques used to provide motivation apply a combination of threats and promises such as benefits and retributions (Tannenbaum and Schmidt, 2008; Arjoon, 2006).
Eeden et al describe Leissez-faire as a leadership style that "implies avoidance or absence of leadership" it is a French word that loosely translated describes lack of interest, and rightly so because in this case a manager is almost detached away from the intricacies of organization and employee management (2008). Much leeway is given to employees to use their best judgment and achieve individual or teamwork requirements, meet targets and work deadlines. The manager hardly ever supervise employee or follow up on their progress but will instead rely on internal organizational systems to manage employees (Eeden Cilliers and Deventer, 2008)
The other type of leadership theory that appears to be present in Thuraya Telecommunications is a bureaucratic style of leadership. In this type of management, a manager requires that all work procedures within the organization be done in such a way as clearly outlined in the organizational manual or according to the set policy. Regardless of situations that are unique and in which the organizational policies might not apply, a bureaucratic leader is more likely to insist on sticking to the organizational way of doing things. This leadership kills creativity in the workplace and is likely to give rise to work burnout (Tannenbaum and Schmidt, 2008).
Behavioral Analysis
Pfeffer has identified seven key factors in an organization that determines employee behavior at the workplace and directly contribute to the company's performance. The key areas are employment security, self-managed teamwork, pay rise pegged to personnel performance, selective recruitment process, regular personnel training, communication facilitation in an organization and reduction employee differentials (cited in McCourt and Edridge). In Thuraya Company employee work quality and motivation levels are low because the seven factors highlighted above are lacking; to start with a sizable proportion of the workers do not have job satisfaction which is a key factor of motivation. In addition, the nature of the job does not provide or encourage self-managed teamwork which we have seen to be crucial in effective work output. The other factors are increased employee differentials which are responsible for the employee conflict that is being witnessed in the Company and communication breakdown that hinders employee work output
Recommendation
Thuraya Telecommunication should foremost implement an effective employee management strategy such as the Strategic Human Resource Management (SHRM) system. SHRM is a concept that had been advanced more recently by human resource specialists that recognizes employees as a key factors to the success of the organization (Pinnington and Edwards, 2000). SHRM is different from traditional personnel management in that it recognizes the need to incorporate and align employee work procedures with the organization's long-term business operations strategic objectives (Pinnington and Edwards, 2000).
Unlike personnel management, SHRM goes beyond the routine activities of human resources that involve recruitment, training, personnel development, and salary processing. The key concept of an SHRM is to achieve an efficient human resource that complements the organizational business goals and visions builds on a framework that integrates the external factors of the organization as well (Pinnington and Edwards, 2000).
Another area that Thuraya Telecommunication Company requires to change is in the type of leadership strategy; I suggest democratic style, transformational leadership or charismatic leader. This is because a good leadership style provides a forum where employees are able to present their opinions on where they feel the direction of the organization should head, in fact, they are normally involved in decision making at all levels of the organization. This, therefore, serves to motivate employees by making them feel important besides the fact that different ideas are contributed towards decision-making. In addition, this style of leadership promotes job satisfaction and rewards hard work and employee achievements that are necessary for preparing and motivating employees to achieve career growth. The management in this case strives to directly involve employees towards shaping their future within the organization (Arjoon, 2006).
Finally Thuraya Telecommunications Company should put in place an ethics program. The integral components of an ethics program include six major considerations; ethics codes, communication structures, ethics committees, ethics officers, education programs and an element of enforcement such as disciplinary procedures (Arjoon, 2006). An organization's code of ethics can be designed in three different ways i.e. as a statement of standards and rules that employees should observe, as a statement of the organization's values or as a statement of corporate vision (Arjoon, 2006). I would choose to have the ethic codes written as statements of organizational values which will make it easier for employees to adopt and therefore easy to implement in the process; in this part of ethic codes, I will include the A to Z of do's and don'ts that personnel should strive to abide by.
Conclusion
The future of Thuraya as a company lies in employee management, its business strategic plans and quality of leadership style. What Thuraya needs to do is ensure there is a significant improvement at every level of these core areas; indeed as we have seen what ails the Company is largely its internal weakness rather than external factors. It is my opinion that if these recommendations are implemented Thuraya should be able to attain a complete turnaround within a few years.
References
Arjoon, S.2006. Striking a balance between rules and principles-based approaches for effective governance: a risk-based approach. Journal of Business Ethics, 68(1): pp53-82.
Alma, Whiteley and Jervis, Whiteley. 2003. Core Values and Organizational Change. Melbourne, Australia: Curtin University Press.
Borgadus, A., 2009. PHR/SPHR Professional in Human Resource Certification Study Guide. London, Sybex Publishers.
Boga, I. & Ensari, N. 2009. The Role of Transformational Leadership and Organizational Change on Perceived Organizational Success. The Psychologist-Manager Journal, 12(1): pp 235–251.
Babcock-Roberson, M. & Strickland, O. 2010. The Relationship between Charismatic Leadership, Work Engagement, and Organizational Citizenship Behaviors. The Journal of Psychology, 144(3): pp 313-326.
Brightman, B. & Moran, J. 1999. Building Organizational Citizenship. Management Decision, 37.9: pp678-685.
Duan, J., Lam, W., Chen, Z. & Zhong, J. 2010. Leadership, Justice, Negative Organizational Behaviors, and the Mediating Effect of Affective Commitment. Social Behavior and Personality, 38(9).pp 1287-1296.
Eeden, R, Cilliers, F & Deventer, V. 2008. Leadership styles and associated personality traits: Support for the conceptualization of transactional and transformational leadership. South African Journal of Psychology, 38.2: 253- 267.
Harris, R, Harris, K & Harvey P 2007. A test of competing models of the relationships among perceptions of organizational politics, perceived organizational support, and individual outcomes. The Journal of Social Psychology, 147.6:631-55.
Hoffman, E. 1990. The Right to be Human: a Biography of Abraham Maslow. Florida: John Wiley & Sons Inc.
Konst, D, Vonk, R & Van Der Vlist, R (1999). Inferences about causes and consequences of the behavior of leaders and subordinates. Journal of Organizational Behavior, 20.2: 261-271.
Mao, H, Chen, C & Hsieh, T 2009. The relationship between bureaucracy and workplace friendship', Social Behavior & Personality. An International Journal, 37.2: pp255-266,
Pinnington, A., and Edwards, T., 2000. Introduction to Human Resource Management. Washington, DC: Oxford University Press.
Roth, K 1995, 'Managing international interdependence: CEO characteristics', Academy of Management Journal vol., no.1, pp200, from ProQuest.
Scott, D & Ashford, S 2010, 'Who will lead and who will follow? A social process of leadership identity construction in organizations', Academy of Management Review, vol.35, no.4, pp627-647, from Business Source Premier, EBSCOhost.
Shields, J 1999, 'Transforming organizations', Information Knowledge Systems Management, vol.1, no.2, pp105,  from Business Source Premier, EBSCOhost.
Tannenbaum, R. & Schmidt, W. 2008. How to Choose a leadership Pattern. Harvard Business Review, 733(23): pp 622-634.