Introduction
GlaxoSmithKline
GlaxoSmithKline is a multinational pharmaceutical and healthcare company headquartered in Britain. GSK is known for its science-based approach to the production of vaccines, drugs, and consumer products. Currently, the company's staff reaches about 99,000 employees in 95 different countries (GlaxoSmithKline 2019: 1). The corporation strives to achieve global leadership and make an impact on the life of people across the globe through technological and scientific advancements. The corporation's values focus on two main scopes –patient and employee well-being.
The size of the company and its multinational structure imply significant challenges for the management regarding the integrity of corporate culture. That is why the management and leadership processes are complex in such a multifaceted environment. The culture of GSK is based on its values, which prioritize diversity and inclusion of individuals of different ethnicities, races, genders, or religions (GlaxoSmithKline 2019).
The main priority of the leadership within GSK is the value of the opinion and contribution of each individual, so transformational leadership is mostly used at different levels. However, the top executive officials adhere to a more autocratic style, which allows them taking decisions within a defined strategy.
The Approach to Leaders and Managers at GSK
Leaders and managers are essential mediators for sharing companies' values among the employees and motivating people to adhere to them. At GSK, the leaders are crucial drivers of culture and values (GlaxoSmithKline 2019: 84). Although leaders and managers have many similar functions, their roles significantly differ. Both positions include coordination of the work of other people, goal accomplishment, and influence. However, managers are predominantly responsible for organization and planning, while leaders seek to empower and communicate goals (Northouse 2019: 53).
Some scholars question the differentiation between leaders and managers, as they all are the parts of a single process that aims at "enhancing the capacity of organizations and the people within them" (Bolden 2010: 117). Sir Jonathan Symonds, the chairman of GSK, is an example of a leader without managerial tasks who has an extensive influence.
The position of the company's CEO, Emma Walmsley, however, implies different roles. As a chief executive officer, she is responsible for the strategic management of the company's activity. However, her empowering role is immense, especially concerning gender equality issues.
Lower levels of leadership at GSK have even more complex structures with the increased interaction of management and leadership functions. Representatives of both positions are responsible for conflict resolution as they have to react to problems, give rewards or punishments or empower others (Saeed et al. 2014).
At GSK, this process is regulated by the standards of responsible leadership. The latter concept implies transparency and accountability of the leaders regarding their followers (MacTaggart and Lynham 2018). At GSK, this principle is reflected in the Code of Conduct and a Speak Up program, which allows an anonymous report of existing issues by the employees (GlaxoSmithKline 2019: 84). Such methods are used for the control of managers and leaders to ensure that corporate standards are followed in each of the global departments.
Structure of the essay
The paper begins the introduction, which gives a brief outline of the structure and values of the analyzed company. The main body discusses the styles of the leaders at GSK and their role regarding such a pressing issue as gender equality at the workplace. The focus of this part is on the theoretical perspective of the leadership styles of a particular company. This section is followed by a critical analysis of the methods used at GSK, their efficiency, and their applicability.
Leadership Styles at GSK
Leadership Styles at GSK
Leadership is a vital factor in motivation and performance facilitation in business. However, there is no one-size-fits-all recommendation as to what style is considered the best. Scholars highlight that the approach to leadership should be chosen with the consideration of the leader's personality, followers' expectations and attitudes, and local cultural context (Khan et al. 2016; Hussain and Hassan 2016). Sometimes large companies have different styles for separate sections or management levels.
However, it is necessary that leadership styles are not mutually exclusive and do not contradict the company's values. GSK emphasizes the importance of hiring the right people for leadership positions who can serve as role models and inspire others (GlaxoSmithKline 2019). However, leadership, as well as management, should not be limited to skills and traits, so the focus shifts to practice and practitioners who "apply systemic thinking competencies to catalyze organizational performance" (Sobratee and Bodhanya 2018: 54).
GSK, as many contemporary businesses, employs transformational leadership, as this is the theory that emphasizes process but also largely depends on the learned skills of the leaders.
Transformational leaders identify the necessity of change and inspire their teams to be proactive in the process of goal-achievement. This theory combines the focus on the leaders' and followers' personalities (Kovach 2018). Thus transformational leaders use their traits to empower others and to motivate them to engage in a decision-making activity. The purpose of such leaders is to encourage others and "cater to their higher needs and moral causes" (Tonsberg and Henderson 2018: 162).
GSK widely utilizes this model, especially regarding the lower ranks of leadership and management. It is an efficient approach as there is evidence that transformational leadership is more effective than other theories in the context of cross-culture that occurs in multinational corporations (Bonsu and Twum-Danso 2018; Nguyen et al. 2017).
According to Northouse, the key components of transformational leadership are idealized emotional influence, inspirational motivation to commit, intellectual stimulation of the creativity, and individualized consideration that enhances proactivity (Northouse 2019). Along with transactional leadership strategies, the transformational approach increases performance through motivation (Figure 1). GSK utilizes this style on many levels of leadership, including team leaders, HR managers, and local managers.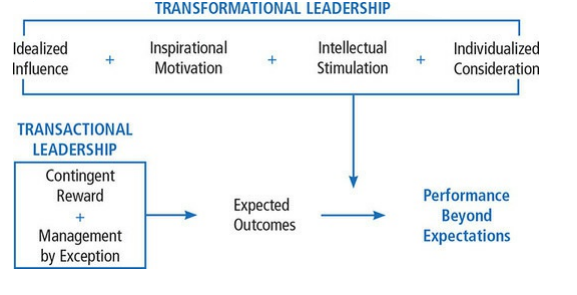 The leadership strategies reported by the company prove that transformational leadership is a priority, as they emphasize "straight talk and decision making" (GlaxoSmithKline 2019: 29). The feedback from the employees is taken into account in the design of corporate culture standards. The purposes of HR leaders are defined as "knowing their people, delivering results, and maximizing potential" (GlaxoSmithKline 2019: 36). The main advantage of this style is that it "inspires, energizes, and intellectually stimulates employees during times of uncertainty" (Cote 2017: 33).
Besides transformational leadership, GSK uses an autocratic style based on the personal traits of top leaders. These people are hired for their intellectual and managerial capabilities, skills, and knowledge.
Autocratic leaders among GSK top executives have a distinct top-down hierarchy and are responsible for key strategic decisions. The company's priority is that "leaders and managers should be role models of our desired culture" (GlaxoSmithKline 2019: 10). That is why autocratic leadership is supported by traits of the individuals in top positions.
According to Roe, the autocratic decision-making can happen according to two patterns: a leader decides alone based on known information, or a leader collects feedback from followers and still decides alone (Roe 2017). At GSK, top executives collect information from HR departments and base their decisions on the obtained data, so the second scenario takes place.
The challenge of leadership at GSK
At multinational corporations, like GlaxoSmithKline, leaders face a variety of issues. As the company has its facilities in 95 countries, the pursuit of its cultures with integrity is complicated by cultural disparities. GSK determines diversity and inclusion as their foremost goals, but a specific focus is placed on gender equality, especially regarding gender in leadership. Scholars highlight that gender leadership issue becomes complicated in the cross-cultural context (Fatehi and Choi 2019).
The reason is that gender equality is not addressed similarly in Western and non-Western countries, so GSK has to distribute its cultural culture to different environments. Although hiring women for leadership positions is harder in some countries than in the others, GSK prioritizes the increase in female proportion at the board to make a global impact.
Legislated quotas for gender inclusion are part of many corporate policies across Europe, as there is evidence that gender diversity among the leaders improves organizational performance (Flynn et al. 2016). GSK has also developed a similar strategy, which is based on voluntary targets instead of quotas. Women at GSK are underrepresented in leadership positions, so the company has taken many steps to remove the barriers and enhance equality.
The targets set by the board include the aim to have more than 37% of women in senior positions by 2022 (GlaxoSmithKline 2019: 35). The company's leaders in different countries educate, empower, and support women in the pursuit of high ranks. The transformational leadership style used in the company facilitates career opportunities for women.
The consequences of the challenge for the company
Gender inequality threatens the integrity of corporate culture, employee satisfaction, and human rights. Underrepresentation of women on top positions is a pressing issue even in the developed countries, as female leaders face multiple barriers that prevent them from inspiring others (Diehl and Dzubinski 2016). Traditional corporate cultures that are based on masculine and autocratic styles regard women as weak leaders (Northouse 2019: 587).
However, the scientific literature provides evidence women "use more effective leadership styles than men" (Bark et al. 2015: 478). Scholars claim that feminine leaders tend to demonstrate increased people-orientation and adhere to participative management styles, which are more efficient (Faizan et al. 2018). Thus, gender equality is not only the right of an individual, but an effective way to enhance a company's corporate culture, improve leadership practices, and increase performance.
Given the context in which GlaxoSmithKline works, the gender equality problem is complicated by the cross-cultural environment. Scholars claim that culture is an essential aspect of leadership that "affects the kind of leadership characteristics, attributes, and behaviors desired and believed to be important in a society" (Hanges et al. 2016: 64). The traditional paternalistic national cultures are less ready to accept women in leadership roles than the Western world.
In the era of international communication, many companies tried to adapt their strategies to each culture, but globalization sets new standards. Instead of developing cultural policies that affect each participant country, scholars suggest a need for a single global approach that prioritizes the company's core values and delivers them to every nation (Bird and Mendenhall 2016). Although GSK strives to be inclusive for the representatives of different cultures and their authentic selves, the leadership strategy utilizes a global approach based on the integrity of their values.
Critical Analysis of GSK's Successes and Failures in Tackling Gender Inequality
GlaxoSmithKline reports the presence of such issues as female underrepresentation in leadership roles and the gender pay gap, which might compromise the core values of the corporation (GlaxoSmithKline 2019). However, these problems have got immense attention from the board, and significant advancements can be observed today.
The proportion of women in senior positions has grown from 30% in 2016 to 36% in 2019, while the rate of female employees has increased from 43% to 47% (Figure 2). The changes take place not only in Britain but also across the world, as GSK India was recognized as the best employer for women (GlaxoSmithKline 2019). Thus, leadership strategies and efficient management applied at GSK have enhanced significant progress in female representation in leadership.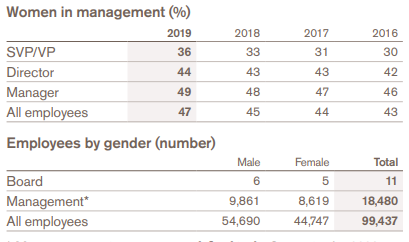 GlaxoSmithKline recognizes that the gender pay gap exists within the company and, thus, develops specific guidance that ensures pay equity in all markets (GlaxoSmithKline 2019). Transformational leadership allows employees to speak up when a case of unequal pay occurs. However, remuneration depends on the position an employee takes, so the underrepresentation leads to disparities in salaries. Among the UK health organizations, in 2019, "the average salary for women was 13.5% lower than for men" (O'Dowd 2019: 1084).
Given such a background, the mean pay gap of 2.43% reported by GSK is a substantial improvement (GlaxoSmithKline 2019: 36). Thus, the transformational leadership that empowers for changes and innovative strategies turns out to be effective in dealing with gender inequality in leadership.
The transformational style has a strong potential to reduce gender tension in leadership. However, several issues have to be addressed separately. First of all, the stereotype that female leaders should possess masculine traits persists. Many scholars suggest to let go of the traditional perception of 'female masculinity' as the way of leadership (Pullen and Vachhani 2017). Moreover, it is essential not to consider leadership from two extreme dual-gender perspectives. Leadership, activism, and compassion should be treated without assigning gender characteristics (Shea and Renn 2017).
Although inspiration and emotional support are effective facilitators of female leadership, practical measures are also necessary to make it possible. As women often share a more significant proportion of domestic responsibilities, such as child care, work-life balance initiatives are critical factors in female leadership promotion (Fritz 2017). In addition to such women-oriented solutions, paternity leaves and shared responsibilities should also be promoted.
Conclusion
Leadership in business is a critical factor of a company's efficiency as leaders can motivate people, enhance goal achievement, and promote corporate culture. However, leadership styles should correspond to the cultural context and key values to be effective. Some large corporations, such as GlaxoSmithKline, use different methods for various leadership roles. At GSK, transformational leadership is prioritized, but top executives adhere to a more autocratic style based on trait theory.
The company has achieved significant improvements in combating this issue, having a steady increase in women representation in leadership roles. The success has been possible due to the transformational leaders who empower women to pursue promotion and the role models of female leaders.
Reference List
Bark, A.S.H., Escartín, J., Schuh, S.C. and Dick, R.V. (2015) 'Who Leads More and Why? A Mediation Model from Gender to Leadership Role Occupancy'. Journal of Business Ethics 139 (3), 473-483.
Bird, A. and Mendenhall, M.E. (2016) 'From Cross-Cultural Management to Global Leadership: Evolution and Adaptation'. Journal of World Business 51(1), 115-126.
Bolden, R. (2010) 'Leadership, Management and Organizational Development'. in Gower Handbook of Leadership and Management Development, 5th edn. ed. by Thorpe, R, Gold, J, and Mumford, A., Farnham: Gower Publishing Limited, 117-132.
Bonsu, S. and Twum-Danso, E. (2018) 'Leadership Style in the Global Economy: A Focus on Cross-Cultural and Transformational Leadership'. Journal of Marketing and Management 9 (2), 37-52.
Cote, R. (2017) 'A Comparison of Leadership Theories in an Organizational Environment'. International Journal of Business Administration 8 (5), 28-35.
Diehl, A.B. and Dzubinski, L.M. (2016) 'Making the Invisible Visible: A Cross-Sector Analysis of Gender-Based Leadership Barriers'. Human Resource Development Quarterly 27 (2), 181-206.
Faizan, R., Nair, L.S. and Haque, A.U. (2018) 'The Effectiveness Of Feminine And Masculine Leadership Styles In Relation To Contrasting Genders Performances'. Polish Journal of Management Studies 17 (1), 78-92.
Fatehi, K. and Choi, J. (2019). International Business Management: Succeeding in a Culturally Diverse World. 2nd edn. Cham: Springer International Publishing.
Flynn, P.M., Haynes, K. and Kilgour, M.A. (2016). Overcoming Challenges to Gender Equality in the Workplace: Leadership and Innovation. Saltaire: Greenleaf Publishing.
Fritz, C. and Knippenberg, D.V. (2017) 'Gender and Leadership Aspiration: The Impact of Work-Life Initiatives'. Human Resource Management 57 (4), 855-868.
GlaxoSmithKline (2019) Annual Report 2019. Brentford: Head Office.
Hanges, P.J., Aiken, J.R., Park, J. and Su, J. (2016) 'Cross-Cultural Leadership: Leading Around the World'. Current Opinion in Psychology 8, 64-69.
Hussain, M. and Hassan, H. (2016) 'The Leadership Styles Dilemma in the Business World'. International Journal of Organizational Leadership 5 (4), 411-425.
Khan, Z. A., Nawaz, A., and Khan, I. (2016) 'Leadership Theories and Styles: A Literature Review' Journal of Resources Development and Management 16, 1-7.
Kovach, M. (2018) 'An Examination of Leadership Theories in Business and Sport Achievement Contexts'. Journal of Values-Based Leadership 11 (2), 1-17.
MacTaggart, R. W. and Lynham, S. A. (2018) 'An Integrative Literature Review of Responsible Leadership: Knowns, Unknowns, and Implications'. Journal of Leadership, Accountability and Ethics 15 (3), 56-69.
Nguyen, T.T., Mia, L., Winata, L. and Chong, V.K. (2017) 'Effect of Transformational-Leadership Style and Management Control System on Managerial Performance'. Journal of Business Research 70, 202-213.
Northouse, P. G. (2019). Leadership: Theory and Practice. 8th edn. Los Angeles: SAGE Publications.
Pullen, A. and Vachhani, S.J. (2017) 'Examining the Politics of Gendered Difference in Feminine Leadership: The Absence of 'Female Masculinity.' Inclusive Leadership, 125-149.
Roe, K. (2017). Leadership: Practice and Perspectives. 2nd edn. Oxford: Oxford University Press.
Saeed, T., Almas, S., Anis-Ul-Haq, M. and Niazi, G. (2014) 'Leadership Styles: Relationship with Conflict Management Styles'. International Journal of Conflict Management 25 (3), 214-225.
Shea, H.D. and Renn, K.A. (2017) 'Gender and Leadership: A Call to Action'. New Directions for Student Leadership 154, 83-94.
Sobratee, N. and Bodhanya, S. (2018). 'Leading in a Global Context: The Balancing Act Between Leadership and Management'. Journal of Business & Retail Management Research 12 (4), 54-68.
Tonsberg, T.A. and Henderson, J.S. (2018). Understanding Leadership in Complex Systems: A Praxeological Perspective. Cham: Springer International Publishing.
O'Dowd, A. (2019) 'Health Organisations are Slow to Tackle Gender Inequality in Workforce, Report Finds'. BMJ, 1084.